William Aldridge, 1844 - 1902
by Brian Stevenson
last updated June, 2021
Microscope slides by William Aldridge are not very common, but they are likely to be of unusual specimens. The slide shown in Figures 1 and 2 contains microscope shells that were dredged from an ocean floor during the 1872-1876 explorations of the H.M.S. Challenger. In 1884, Aldridge offered to exchange his mounts of "New Zealand ruby sand" and foraminifera from the Torres Strait (Figure 3).
In addition, Aldridge was somewhat of an expert in the birds in the neighborhood of his home in Upper Norwood, Surrey (at that time, a semi-rural southern suburb of London). He published a series of newspaper articles on the local birdlife, which were compiled into a book in 1885. It included a number of illustrations by Aldridge, demonstrating that he was a fairly good artist (Figure 4).


Figure 1. A ca. 1884 microscope slide by William Aldridge, of specimens collected by the H.M.S. Challenger from an apparent depth of 1990 fathoms.
&nbsp

Figure 2. Figure 2. Specimens collected by the Challenger from 1990 fathoms deep.
&nbsp


Figure 3. Two 1884 advertisements from William Aldridge, offering to exchange slides of exotic foraminifera or sand. Both from "Hardwicke's Science-Gossip". Aldridge is not known to have published exchange offers in any other year.
&nbsp
William Aldridge was born on October 15, 1844, the youngest of four children, and third son, of Thomas and Sarah Aldridge. Father Thomas was an ironmonger in Brompton, Middlesex. He was also an early member of the Zoological Society of London, indicating interests that likely inspired son William's future hobbies.
Around 1869, William established a separate ironmonger business in the Newington Butts section of Southwark, London. He apparently partnered with an elder brother, Charles.
Coinciding with his independent business, William married Alice Triggs during the summer of 1869. They had two children, both boys.
The Aldridge family moved south of the Thames to Upper Norwood circa 1878; William wrote in his 1885 book on local birds that "my experience extends to seven years only". He again established a business as an ironmonger, with later census records further describing him as an "upholsterer" and "house furnisher".
Aldridge joined the Croydon Microscopical & Natural History Club on October 10, 1883. Little was written about his experiences with that group, other than a note that he exhibited at the club's 1889 Annual Soiree. He published three exchange advertisements in Hardwicke's Science-Gossip during 1884 (Figure 3), one in which he offered slides of foraminifera from the Torres Straits (between Australia and New Guinea), and two in which he offered mounts of ruby sand from New Zealand. The Aldridge slide shown in Figures 1 and 2 contains specimens that were dredged from the ocean floor by the H.M.S. Challenger in 1872-1876. Samples from that famous exploration were broadly advertised for quite some time after the ship returned to England.
In 1885, Aldridge published a little book, A Gossip on the Wild Birds of Norwood and Crystal Palace District. In the preface, he wrote, "I am not aware that any work has ever been published on the birds of this district; I hope, therefore, that this little book will be acceptable to my readers; it does not lay claim to any literary or scientific merit, but is simply a chat, in a homely way, about the Wild Birds of Norwood. Most of the matter in this volume has appeared from time to time as a series of articles in the columns of a Local Newspaper (The Norwood Review), during the months of March, April, and May, 1882, so that due allowance must be made by the reader for the interval between these dates and the time of publishing. In a few (very few) years, when, by the increase of population, Norwood will be a part of London, undivided by fields or hedges, most of the birds will have retired beyond our district, and be as extinct in Norwood as the Ichthyosaurus and Plesiosaurus nay, more so, for these monsters, or, rather, their restored figures may still remain in the Palace grounds - It is for this, if for no other reason, that I claim some interest for these pages". The book included a number of illustrations by Aldridge (Figure 4). J.A. Wright later described this book as, "William Aldridge discusses his observation of 51 different species within the area. His pamphlet is useful and engaging, but probably only partially accurate: he was a Norwood rambler first and a Norwood ornithologist second".
Aldridge's comments in his bird book indicate that he travelled extensively. He wrote of visiting the Luxembourg Gardens in Paris, and trips to Norway, Switzerland, Holland, and Prussia.
Wife Alice died during the 1880s, and William remarried. He and his new wife, Martha, had a son in 1890.
The 1901 census suggests that William Aldridge may have then suffered from a chronic illness. Although he was then only 56 years old, William, Martha, and their son had moved to Brighton. The census indicates that William had retired from business and was "living on own means". William died a year later, on February 25, 1902.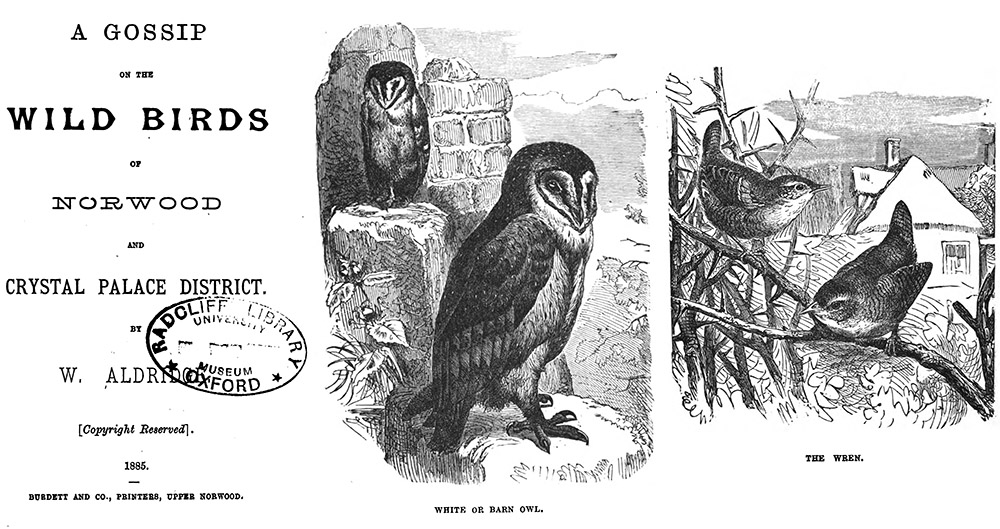 Figure 4. Title page and two illustrations from William Aldridge's 1885 "A Gossip on the Wild Birds of Norwood and Crystal Palace District". Noting that Aldridge reported only two glimpses of barn owls in the area, his illustrations were undoubtedly not produced from life studies, but were probably from preserved specimens or copied from other artists' works.
&nbsp
Resources
Aldridge, William (1885) A Gossip on the Wild Birds of Norwood and Crystal Palace District, Burdet & Co., Upper Norwood
England census and other records, accessed through ancestry.com
Hardwicke's Science-Gossip (1884) Exchange offers from William Aldridge, Vol. 20, pages 120, 216, and 240
Mullens, W.H., and H.K. Swann (1917) A Bibliography of British Ornithology from the Earliest Times to the End of 1912, Including Biographical Accounts of the Principal Writers and Bibliographies of Their Published Works, Macmillan, London, page 10
Probate of the will of William Aldridge (1902) "Aldridge William of 56 Stanford-avenue Brighton died 25 February 1902 Probate London 2 April to Martha Aldridge widow Robert Finch retired-baker and Sydney Thomas Aldridge merchant's-agent Effects £5090 5s 8d", accessed through ancestry.com
Proceedings and Transactions of the Croydon Microscopical & Natural History Club (1889) List of exhibitors of microscopes and objects of interest at twentieth annual soiree, November 20th, 1889, page cxx
Proceedings and Transactions of the Croydon Microscopical & Natural History Club (1890) "Members … 10 Oct. 1883. Aldridge, William, Westow-st., Uppr. Norwood, S.E.", page cxxxiv
Schüler, C.J. (2018) When skylarks sang in Sydenham, https://cjschuler.com/2018/05/13/birdsong-from-a-victorian-suburb/
Wright, J.A. (accessed June, 2021) Birds of Norwood in 1933, The Norwood Society, https://www.norwoodsociety.co.uk/articles/185-046-birds-of-norwood-in-1933.html