Herbert Francis Angus, 1872 - 1948
by Brian Stevenson
last updated January, 2017
H.F. Angus resigned as manager of the Charles Baker microscope firm in 1909, then opened his own business as a retailer of microscopes and accessories. He was the London dealer for numerous European and American makers, including Spencer, Reichert, Koristka, Zeiss, Bausch & Lomb, and others. Angus also sold high quality microscope slides, made by such renowned professionals as Ernest Hinton and Martin Cole. The business of H.F. Angus & Company initially consisted of Angus and Mansell James Swift (1854-1942), who was also a partner of the James Swift & Son microscope company. The Angus-Swift partnership dissolved in 1913, and was continued by Angus alone. In early 1920, Herbert Angus sold his business to Hawksley & Sons, a London medical instrument firm.

Figure 1. Examples of microscope slides that were sold by H.F. Angus. The handwriting on some labels identifies the makers: the slide on the far left was prepared by Martin Cole (1848-1928), and the slide on the fourth from the left was made by Ernest Hinton (1853-1909). The center two slides with Angus labels were acquired at some point by George H.J. Rogers (1854-1937), who placed his ownership labels on them. The slide on the far right appears to have been made by Clarke and Page, with their name label replaced by Angus' label. Angus' trademark, the Greek letters φ ω s (phi omega sigma,) spell "phos" (light), a key element of microscopy.
&nbsp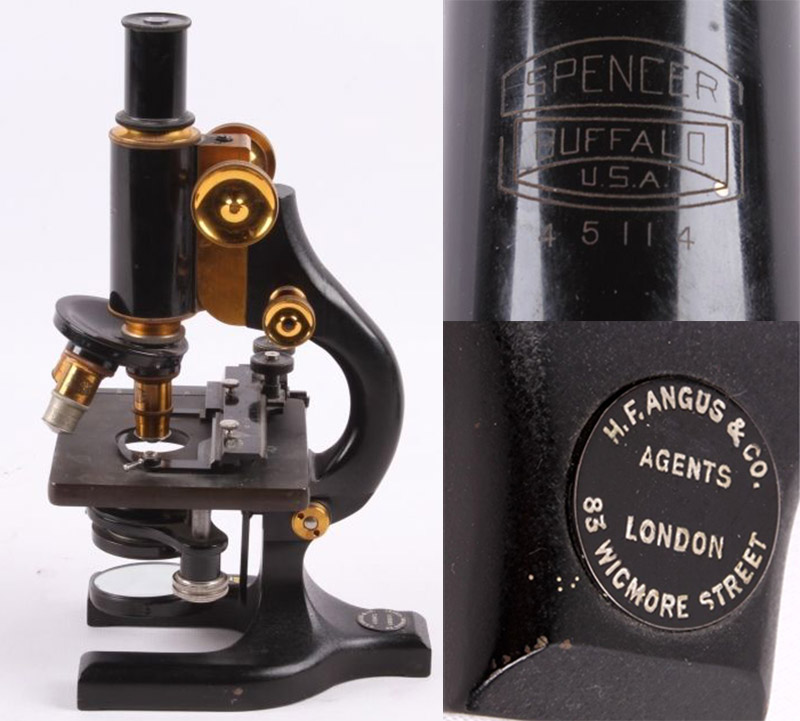 Figure 2. A Spencer microscope that was retailed by H.F. Angus. Adapted for nonprofit, educational purposes from an internet auction site.
&nbsp


Figure 3. A military telescope, retailed by H.F. Angus. Adapted for nonprofit, educational purposes from an internet auction site.
&nbsp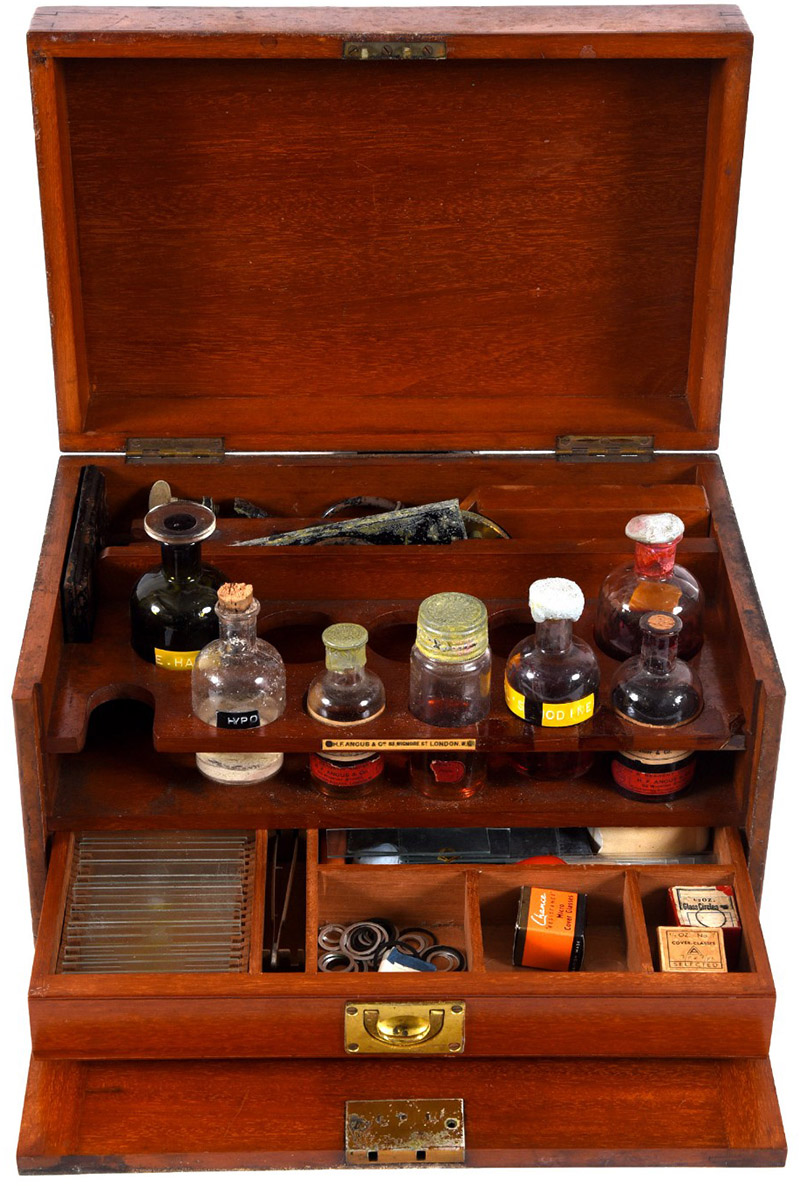 Figure 4. A slide-making kit, retailed by H.F. Angus. Adapted for nonprofit, educational purposes from an internet auction site.
&nbsp
Herbert F. Angus was briefly described in Brian Bracegirdle's Microscopical Mounts and Mounters, although most of the reported dates are incorrect.
H.F. Angus was born on April 13, 1872 in the Mile End section of London. He was the second of three children, all boys, of George and Emma Angus. George was a boot maker and retailer.
Herbert originally had different plans for his life. The 1891 census recorded him as being a "student of theology & teacher", living with Vicar Walter Petrie and family in Blackmore, Essex.
For unknown reasons, Angus changed his focus. The 1897 records of his marriage to Emmeline Hart described his occupation as "optician". In 1899, Angus was admitted to "Freedom of the City of London" as a member of the guild of Spectaclemakers (Figure 6). He was living in Leytonstone, Essex at the time, but it is not known with whom Herbert apprenticed. His later activities suggest that he was trained in making microscopes and telescopes.
Herbert and Emmeline did not have any children. She died on April 6, 1906.
Angus joined the Quekett Microscopical Club on December 15, 1899. On April 6, 1900, he presented to the Club a slide of "Parasite of Malarial Fever. The slide shows the form originally described by Laveran, and represents an advanced stage in the development of the parasite. The remains of the blood corpuscles in which the parasite developed are still visible, and the characteristic black pigment formed by the parasite from the haemoglobin of the corpuscles is also shown". The slide was most likely prepared by another microscopist.
Angus became a manager of the C. Baker optical company, around about 1901. The 1901 list of QMC members gave Angus' address as 244 High Holborn, which was Baker's business address. That year's census listed him as a "worker" and an "optician's assistant".
Also in 1901, he gave the Quekett Microscopical Club a presentation on "the apertometer and its use, with a description of two simple forms of the instrument". In a similar vein, in 1906 he presented on "axial substage illumination with artificial illuminant" and "darkground illumination, including the means of obtaining a darkground with objectives of high aperture".
Herbert Angus re-married in 1908, to Edith Maria Wiskar.
Angus partnered with M.J. Swift to form H.F. Angus & Co. in 1909. An announcement in the periodical Knowledge read, "H.F. Angus and Co. - I have received an advance copy of a circular and catalogue of this firm, who are newly established at 83, Wigmore Street, Cavendish Square, London, W., as manufacturers, importers, and exporters of scientific instruments. Mr. Angus was recently manager for Mr. Chas. Baker, and was, I believe, responsible for the excellent and scientific arrangement of the catalogues of these firms, which I have frequently recommended in these columns. H.F. Angus and Co. supply nearly all kinds of scientific instruments, especially microscopes and accessories, both of English and Continental make, but my main object in writing this note is to call attention to a series of demonstrations that will be given at the foregoing address, or elsewhere by arrangement, on the manipulation and use of the microscope and its accessories. These demonstrations are free to all who care to attend, and will be arranged at times suitable to them, each demonstration being complete in itself and lasting about one hour. They include The visibility of an object dependent on aperture; the utilisation of aperture; the testing and comparison of objectives; optical methods of increasing the visibility of very transparent objects, various methods of illuminating opaque objects; and apparatus for recording observations. Those interested should communicate direct with Messrs. H.F. Angus and Co".
The new business was further described that year in The British Medical Journal, "Messrs. H.F. Angus and Co., 83 Wigmore Street, London, W., have issued a new catalogue of microscopes and microscopical accessories, including apparatus for collecting, preparing, mounting, and storing specimens, microtomes, stains, haematological apparatus, and medical analytical apparatus. It contains also a list of mounted specimens and models illustrating human anatomy".
The partnership between H.F. Angus and M.J. Swift was dissolved on July 30, 1913. Angus continued the business under the same name.
He sold both new and used apparatus. Nature, in 1913 reported, "Messrs. H.F. Angus and Co., 83 Wigmore Street, London, W., have issued a catalogue of second-hand microscopes, objectives, and accessories, which they have for sale or hire. In addition to second-hand instruments, Messrs. Angus have in stock some forty or more different patterns in microscopes and an equal variety in accessory apparatus, which include specimens of English, American, Austrian, German, Italian, and Swedish manufacture. It should prove a great convenience to purchasers to be able easily to compare instruments of varied character and range".
Angus was elected as a Fellow of the Royal Microscopical Society in 1912. He was elected to be a member of the Society's Council in 1919.
The 83 Wigmore Street business was bought by Hawksley & Sons during early 1920. The 1920 membership list of the RMS recorded Charles W. Hawksley's address as 83 Wigmore Street, and H.F. Angus' address as 39 Empress Avenue, Ilford, Essex.
The Quekett Microscopical Club listed Angus' address as 73 Bushwood, Leytonstone, from 1922 until 1923. He was not listed as a member afterwards.
Edith Angus died on August 31, 1938, and Herbert died on February 12, 1948

Figure 5. Herbert F. Angus. Adapted from http://mv.ancestry.co.uk/viewer/8fa11178-69ab-4541-bee8-03f9302913e6/3175587/-1764679464
&nbsp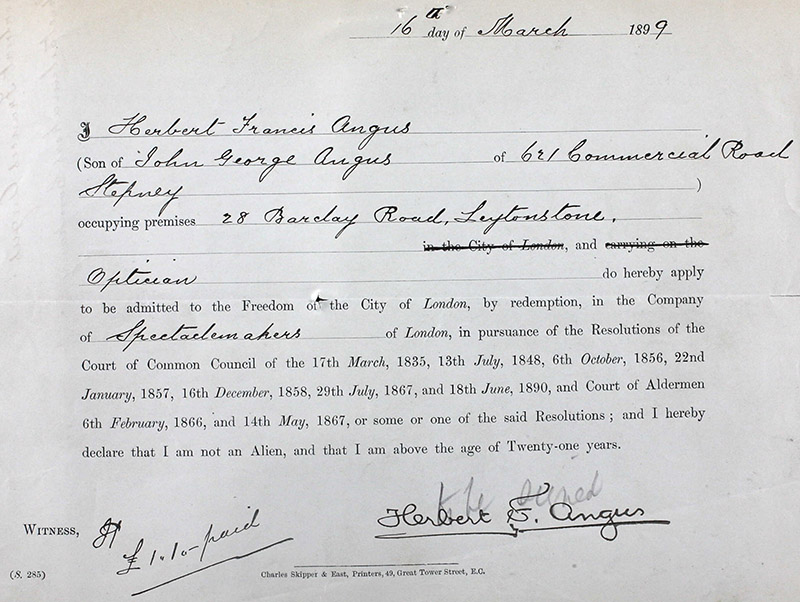 Figure 6. H.F. Angus' award of Freedom of the City, as a Member of the Guild of Spectaclemakers, 1899.
&nbsp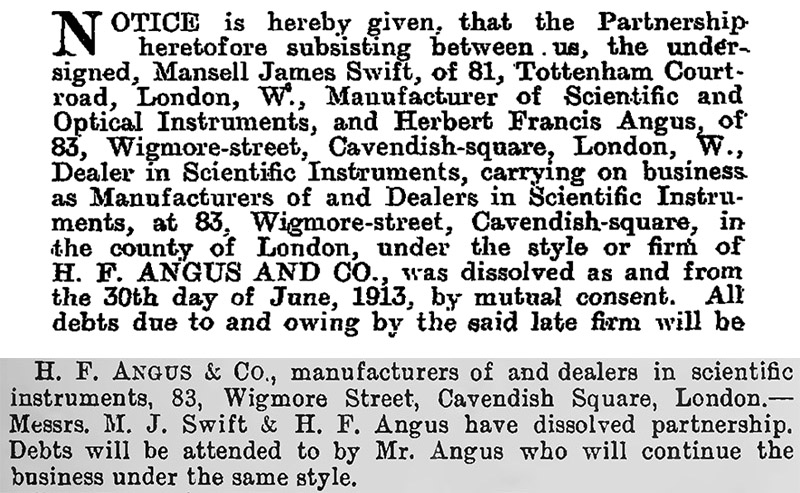 Figure 7. 1913 announcements of dissolution of the partnership between H.F. Angus and M.J. Swift.
&nbsp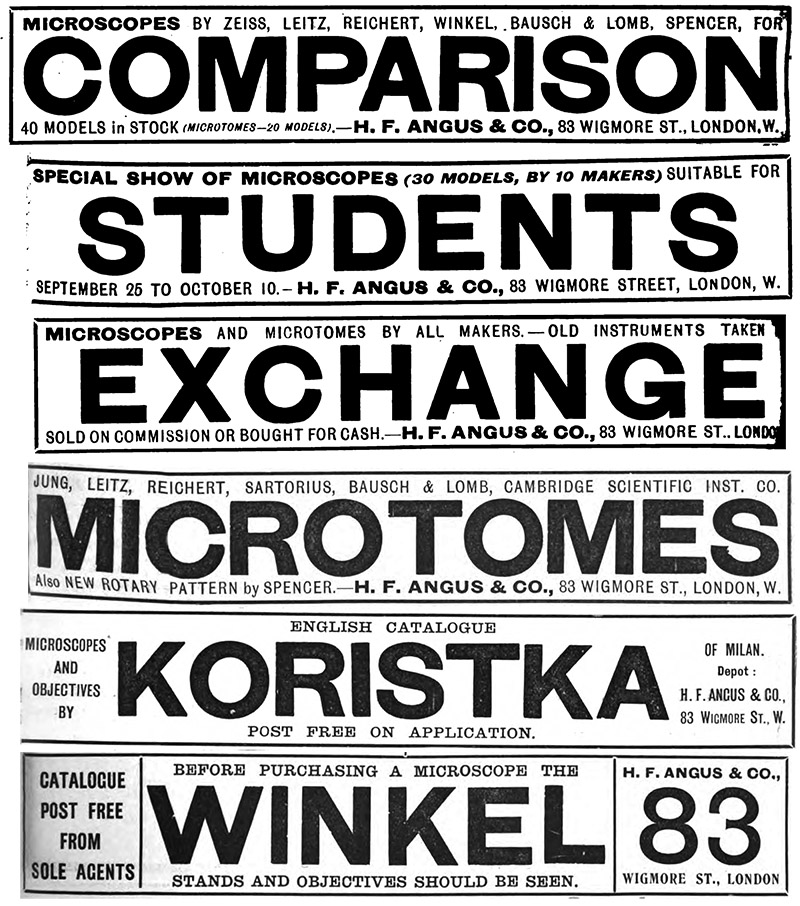 Figure 8. A series of advertisements that was run in 'Nature', 1912-1914.
&nbsp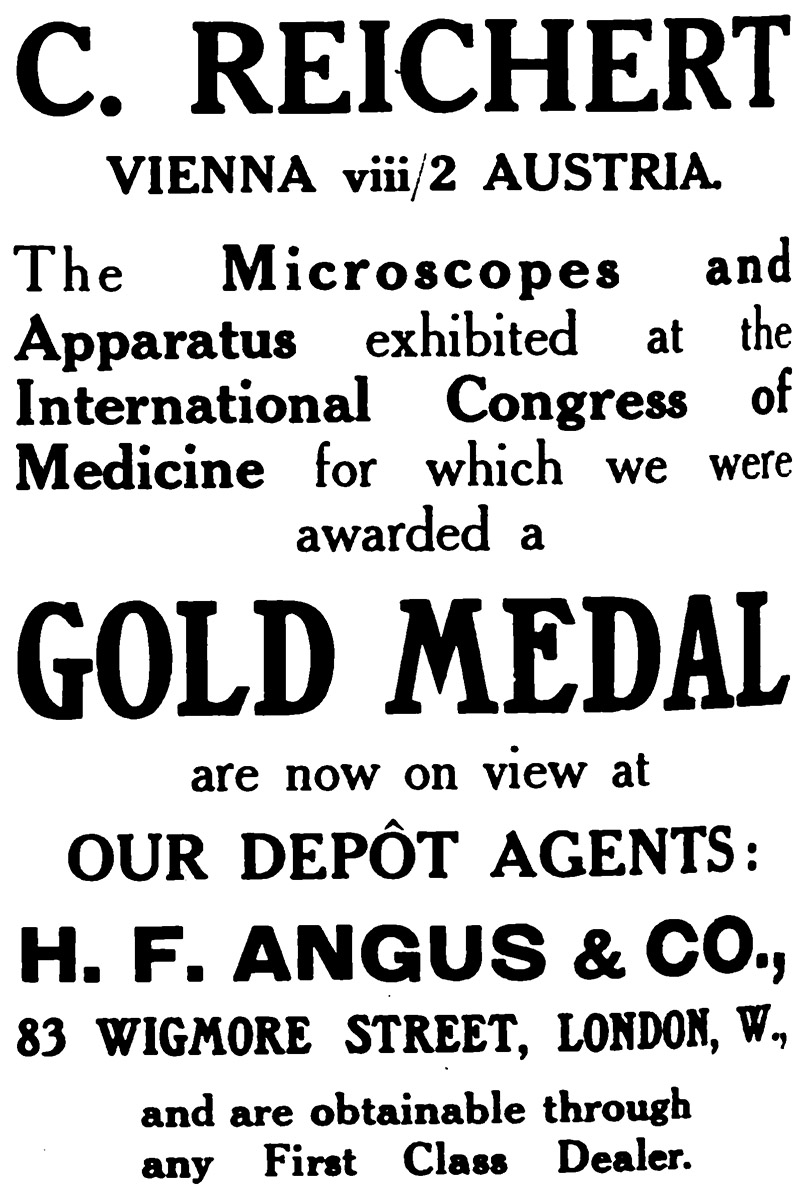 Figure 9. 1914 Advertisement.
&nbsp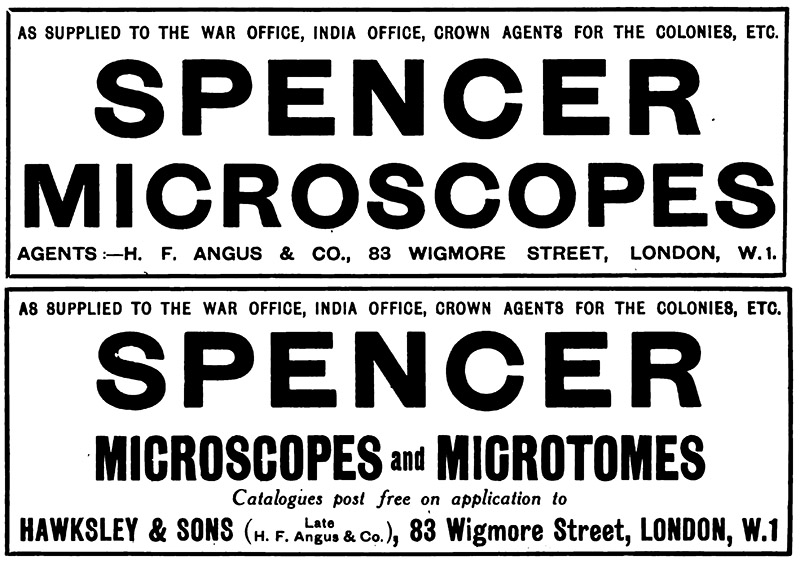 Figure 10. Advertisements from 1917 (top) and (1920).
&nbsp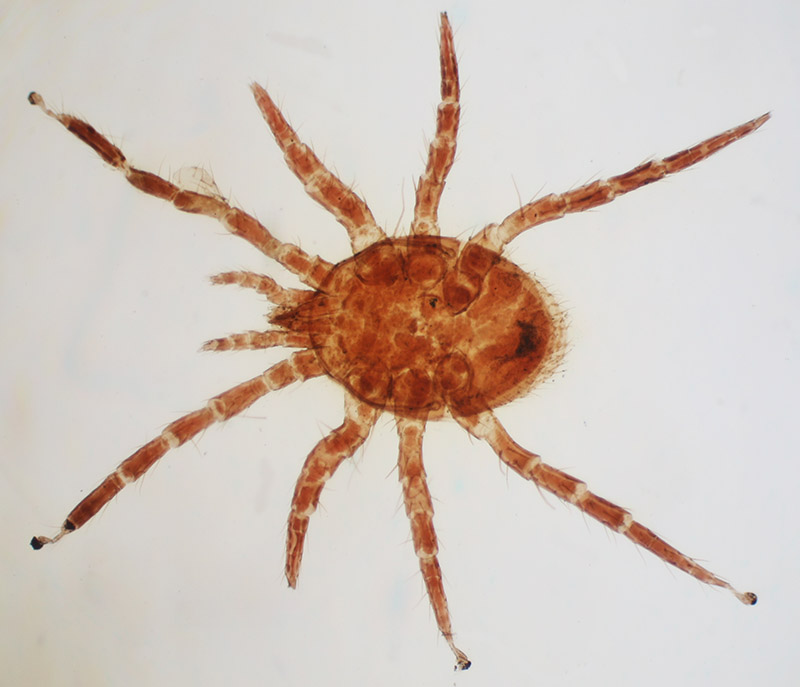 Figure 11. "Red mite", sold by H.F. Angus.
&nbsp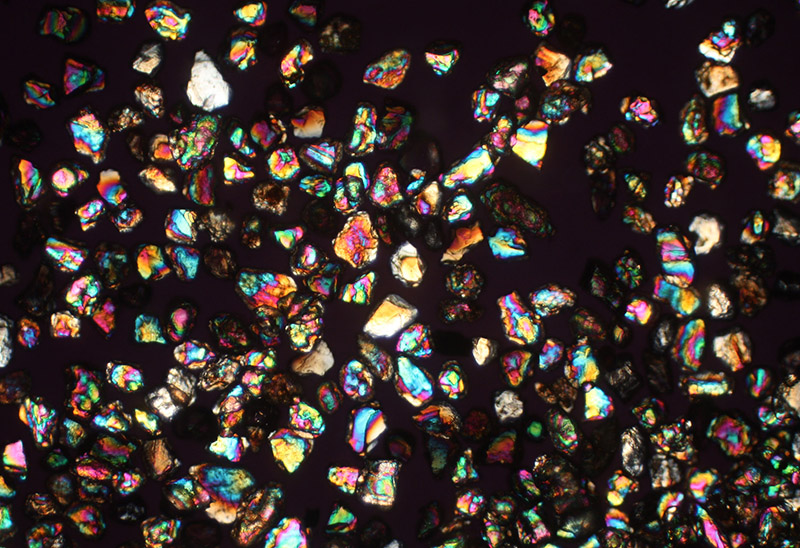 Figure 12. "Quartz sand from the Mediterranean", prepared by Ernest Hinton and sold by H.F. Angus. Photographed between crossed polarizing filters.
&nbsp
Acknowledgements
Thanks to Peter Paisley for deciphering Angus' trademark, and Ted Bernhardt for providing images.
&nbsp
Resources
Angus, Herbert F. (1901) The apertometer and it's use, with a description of two simple forms of the instrument, Journal of the Quekett Microscopical Club, Second series, Vol. 7, pages 209-214
Baptism record of Herbert Francis Angus (1872) Parish records of St. Dunstan, Stepney, accessed through ancestry.com
Bracegirdle, Brian (1998) Microscopical Mounts and Mounters, Quekett Microscopical Club, London, pages 3 and 110, plates 3-N and 3-O (note that most of the dates are incorrect)
The British Medical Journal (1912) "H.F. Angus and Co., of 83, Wigmore Street, have published a new catalogue descriptive of the hiring and second-hand scientific instrument department", Vol. 2, page 1250
Electrical Review (1913) Notice of the dissolution of the partnership between H.F. Angus and J.M. Swift, Vol. 72, page 53
England census, birth, marriage, death and other records, accessed through ancestry.com
Freedom of the City records of H.F. Angus (1899) accessed through ancestry.com
Journal of the Quekett Microscopical Club (1899) Election of Herbert F. Angus, Second series, Vol. 7, page 334
Journal of the Quekett Microscopical Club (1900) "Mr. H.F. Angus: Parasite of Malarial Fever. The slide shows the form originally described by Laveran, and represents an advanced stage in the development of the parasite. The remains of the blood corpuscles in which the parasite developed are still visible, and the characteristic black pigment formed by the parasite from the haemoglobin of the corpuscles is also shown", Second series, Vol. 7, page 437
Journal of the Quekett Microscopical Club (1901) Membership roll: "Angus, H.F., 244, High Holborn, W.C.", Second series, Vol. 8
Journal of the Quekett Microscopical Club (1904) Membership roll: "Angus, H.F., 28 Barclay Road, Leytonstone, E.", Second series, Vol. 9
Journal of the Quekett Microscopical Club (1906) Membership roll: "Angus, H.F., Enderley, Bushwood, Leytonstone", Second series, Vol. 9
Journal of the Quekett Microscopical Club (1909) Membership roll: "Angus, H.F., Enderley, Bushwood, Leytonstone", Second series, Vol. 10
Journal of the Quekett Microscopical Club (1911) Membership roll: "Angus, H.F., 83 Wigmore Street, Cavendish Square, W.", Second series, Vol. 11
Journal of the Quekett Microscopical Club (1918) Membership roll: "Angus, H.F., FRMS, 83 Wigmore Street, Cavendish Square, W.", Second series, Vol. 13
Journal of the Quekett Microscopical Club (1922) Membership roll: "Angus, H.F., FRMS, 73 Bushwood, Leytonstone, E.11", Second series, Vol. 14
Journal of the Quekett Microscopical Club (1927) Membership roll does not include H.F. Angus, Second series, Vol. 15
Journal of the Royal Microscopical Society (1919) Membership roll: "1912 Angus, Herbert Francis. 83, Wigmore-street, Cavendish-square, W.1"
Journal of the Royal Microscopical Society (1919) "An Ordinary Meeting of the Society was held at 20 Hanover Square, W., on Wednesday, June 18th, 1919 … Votes of thanks were accorded to Mr. Angus and Mr. Rheinberg for platinising the mirrors of the large lantern, and to Mr. Angus for the loan of microscopes at the meeting", pages 302-304
Journal of the Royal Microscopical Society (1919) "An Ordinary Meeting of the Society was held at 20 Hanover Square, W., on  Wednesday, November 19th, 1919 … Messrs. H.F. Angus and Co. were thanked for the loan of microscopes", page 393
Journal of the Royal Microscopical Society (1920) "An Ordinary Meeting of the Society was held at No. 20 Hanover Square, W., on Wednesday, March 17th, 1920 … A vote of thanks was accorded to Messrs. Hawksley and Sons for the loan of fifteen microscopes", page 250
Journal of the Royal Microscopical Society (1920) Membership roll: "1912 Angus, Herbert Francis, 39, Empress-avenue, Ilford, Essex … 1919 Hawksley, Charles Worthington, 83, Wigmore-street, W.1, and 13 Alma-square, St. Johns-wood, N.W.2"
Knowledge (1906) "Quekett Microscopical Club. The Hon. Secretary informs me that the arrangements for the series of 'Demonstrations in Practical Microscopy', mentioned in our October issue, page 573, are now complete, and will be given as follows: Friday, November 16, Mr. H.F. Angus, on 'Axial Substage Illumination with Artificial Illuminant'. Friday, December 21, Mr. H.F. Angus, on 'Darkground Illumination', including the means of obtaining a darkground with objectives of high aperture", Vol. 29, page 597
Knowledge (1909) Announcement of the opening of H.F. Angus & Co., Vol. 32, page 79
London Gazette (1913) Notice of the dissolution of the partnership between Herbert Francis Angus and James Mansell Swift, page 4910
Marriage record of Herbert Francis Angus and Emmeline Constance Hart (1897) Parish records of St. Leonard, Bromley, accessed through ancestry.com
Marriage record of Herbert Francis Angus and Edith Maria Wiskar (1908) accessed through ancestry.com
Nature (1912) Advertisement from H.F. Angus & Co., Vol. 88, Jan 8 issue, page cxix
Nature (1913) Notice of H.F. Angus & Co. catalogue of used instruments, Vol. 92, page 353
Nature (1914) Advertisements from H.F. Angus & Co., Vol. 92, multiple issues
Nature (1917) Advertisement for Spencer microscopes from H.F. Angus & Co., Vol. 99, multiple issues
Nature (1920) Advertisement for Spencer microscopes from Hawksley & Sons, Vol. 106, multiple issues
Probate of Emmeline Angus (1906) "Angus Emmeline Constance of "Enderley" Bushwood-road Leytonstone Essex (wife of Herbert Francis Angus) died 18 April 1906 Administration London 8 May to the said Herbert Francis Angus gentleman Effects £431 7s 6d", accessed through ancestry.com
Probate of Edith Angus (1938) "Angus Edith Maria of the Hythe Rosebank-road West Mersea Essex (wife of Herbert Francis Angus) died 31 August 1938 Probate Ipswich 19 November to Edgar Percy Angus silver-smith. Effects £362 18s 10d", accessed through ancestry.com
Probate of H.F. Angus (1948) "Angus Herbert Francis of the Hythe Rosebank-road West Mersea Essex died 12 February 1948 at The Prested Hall Nursing Home Feering Essex Probate Ipswich 18 May to Edgar Percy Angus company director and Wilfred Gordon Angus private secretary. Effects £6808 8s 4d", accessed through ancestry.com (Edgar Angus was Herbert's younger brother)