Woolf (William) Aronsberg, ca. 1833 - 1908
Maurice Aronsberg, ca. 1835 - 1911
by Brian Stevenson
last updated March, 2020
The Aronsberg brothers established successful optical businesses during the 1860s, Woolf in Manchester, England, and Maurice in Liverpool. A number of microscopes are known that bear their names, although most (if not all) were probably made by wholesale manufacturers. Both men were members of their local microscopical societies, indicating that they had more than a passing interest in microscopy.
Maurice Aronsberg is particularly noteworthy for his sales of customized microscopes that were sold as souvenirs during Liverpool's 1886 International Exhibition of Navigation, Commerce and Industry (Figures 1 and 2). Better known as "The Liverpool Shipperies Exhibition", this 6-month exposition featured items from throughout the world, and attracted nearly 3 million people. Maurice capitalized on the show's excitement with specifically-built microscopes, binoculars, and other items (Figure 3).
Aronsberg's "Liverpool Shipperies Microscope" was evidently manufactured by the same firm that also built the "Household Microscope" for James Queen in Philadelphia, USA (Figure 2).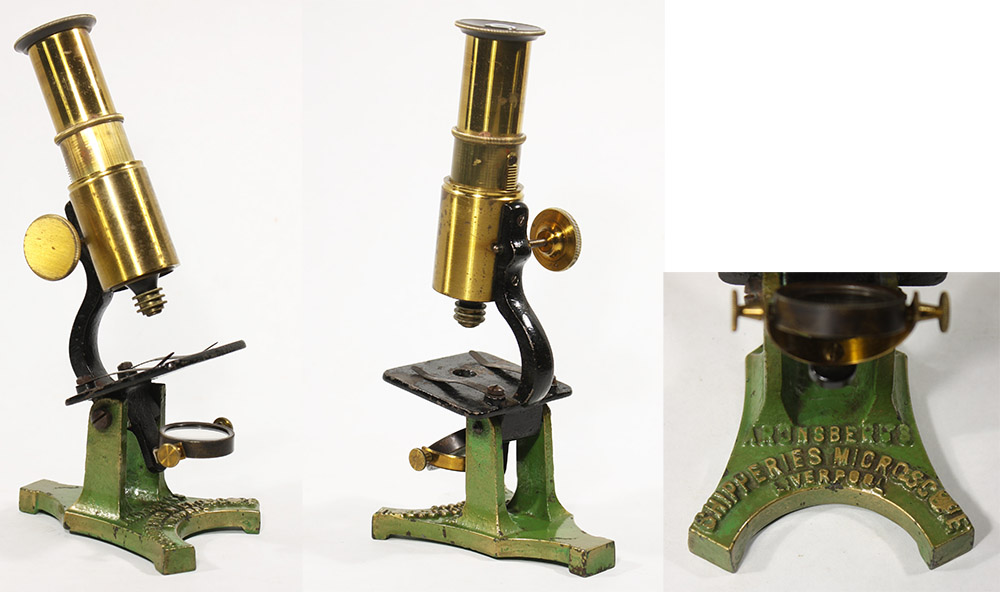 Figure 1. An 1886 "Liverpool Shipperies Microscope", custom-made for Maurice Aronsberg. The names are cast in the iron foot, and highlighted by gold-colored rubbing on top of bright green paint. It is about 8 inches / 20 centimeters tall.
&nbsp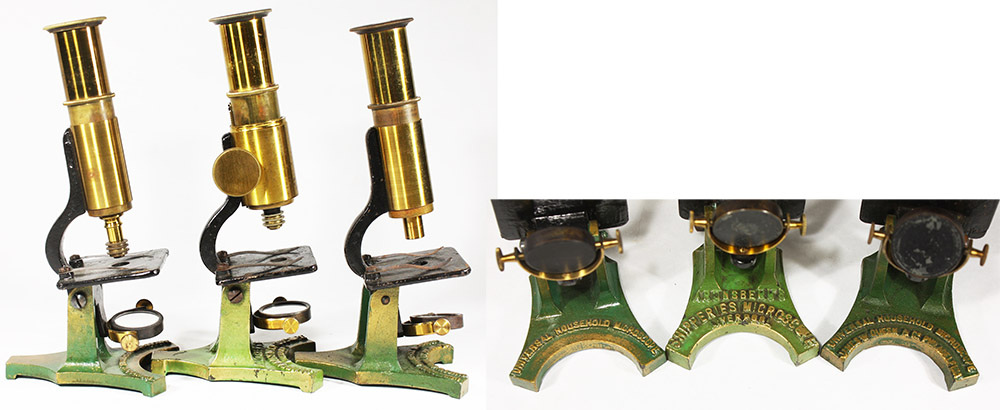 Figure 2. Aronsberg's "Liverpool Shipperies Microscope" is identical to the "Household Microscopes" that were sold by retailers such as James Queen & Co., of Philadelphia. Queen similarly ordered customized feet for their microscopes. The actual manufacturer has not been identified, but is generally assumed to have been French.
&nbsp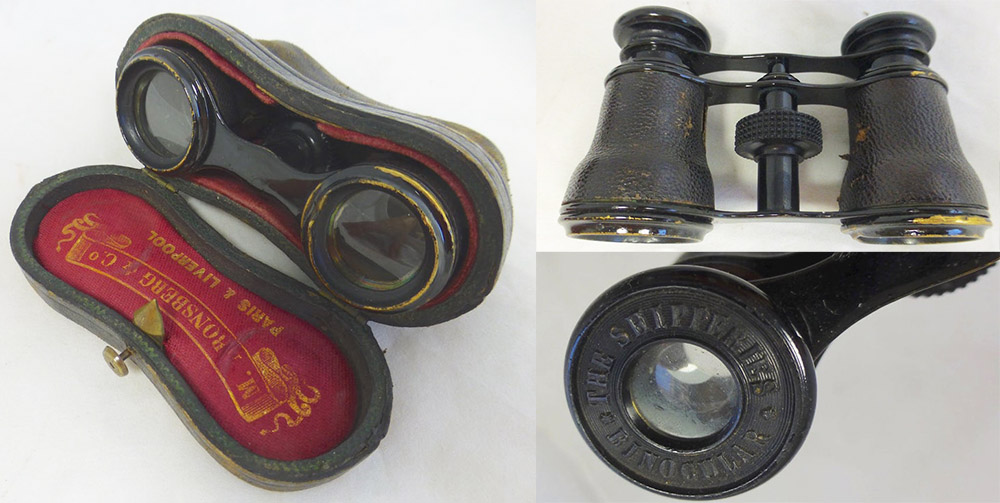 Figure 3. An 1886 "Liverpool Shipperies Binocular" from Maurice Aronsberg, which was undoubtedly brought in from a wholesaler. That maker may have been French, giving some truth to the words "Paris & Liverpool" that are printed inside the lid. Adapted for nonprofit, educational purposes from an internet sale site.
&nbsp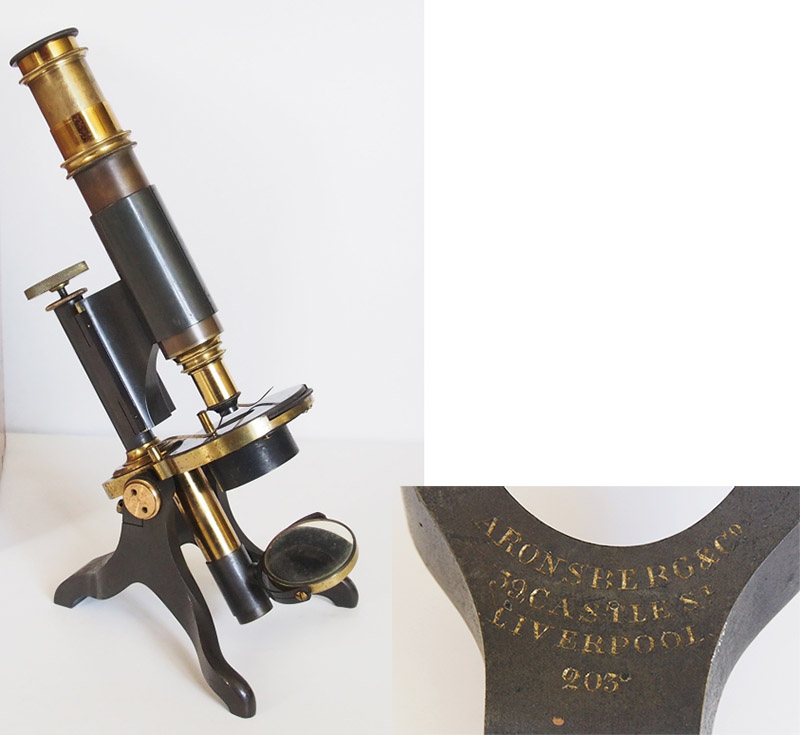 Figure 4. The foot of this microscope is signed "Aronsberg and Co., 39 Castle Street, Liverpool", indicating that it was sold by Maurice Aronsberg. It is identical to microscopes that were manufactured by C. Baker, implying that the body, at least, was brought in from a wholesale manufacturer. Images courtesy of Jurriaan de Groot.
&nbsp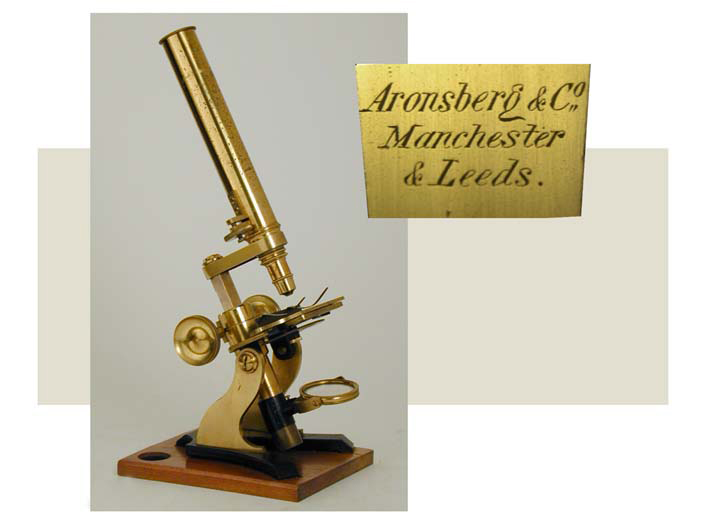 Figure 5. A bar-limb microscope, inscribed to indicate that it was sold by W. Aronsberg. He is known to have operated a branch in Leeds in 1886, but the duration of that shop is not known. The microscope was probably made by a wholesale manufacturer. Adapted for nonprofit, educational purposes from http://www.arsmachina.com/s-aronsberg1213.htm.
&nbsp
Woolf and Maurice Aronsberg were both born in Courland (Kurland), a region now within Latvia, but at that time was part of Russia. Their approximate birth dates, 1833 and 1835, respectively, are derived from their stated ages in census records.
They emigrated to Glasgow, Scotland during the early 1850s. Neither is identifiable in the 1851 census, but appear as owning a glazier business in an 1855 directory of Glasgow, "Aronsberg W. & M. 92 London st". That business was dissolved in 1859, "The company carried on by the subscribers, the sole partners, as Glaziers in Glasgow, under the firm of W & M. Aronsberg, was dissolved by mutual consent on the 9th May, 1959. Woolf Aronsberg, Maurice Aronsberg".
The Glasgow business had probably closed 6 months or more before the May, 1859 dissolution. Both brothers married in Liverpool, England during the autumn of 1858. Their brides were sisters, Woolf marrying Ernestine Prag, and Maurice marrying Eva. The Prag sisters were also Jewish immigrants, with censuses reporting origins in Prussia.
Both of the Aronsbergs initially established businesses in Liverpool, with the 1861 census listing both men's occupation as "optician". Woolf's business failed, and in December, 1863, "Aronsberg, Woolf, Liverpool, photographic portrait dealer" filed for bankruptcy. He then moved to Manchester, and began a very successful business.
An 1868 advertisement from Maurice shows the breadth of items that he offered (Figure 6). A list of products exhibited by Woolf in 1875 shows a similar diversity (Figure 7). Both brothers produced eyeglasses and frames in-house. This is evident from Woolf's exhibition of the processes of eyeglass manufacture, and of his raw materials. Almost everything else would have been acquired from wholesalers.
Maurice joined the Microscopical Society of Liverpool in 1869, and the Liverpool Astronomical Society in 1884. Woolf was a member of both the Manchester Microscopical Society and the Royal Meteorological Society. Such memberships would have helped them understand the needs of their customers, and served to network with new clients.
Maurice Aronsberg appears to have been a solid tradesman and member of the community, but does not appear to have created much news about himself. Woolf, who anglicized his name to "William" during the early 1870s, became well-known for several reasons.
William Aronson developed a reputation for service and financial generosity within the Jewish community and throughout the general population. He helped found several synagogues. From the 1870s onward, he made countless charitable donations, such as described in this 1876 article, "Mr. W. Aronsberg, of Manchester, has presented a complete set of meteorological instruments, with thermometers for every ward, to the Manchester Royal Infirmary; and a handsome revolving stereoscope, with views, for the amusement of the inmates of the Barnes Convalescent Home. He has also distributed 300 cases of mathematical instruments to the 32 schools in connexion with the Manchester and Salford Sunday Ragged School Union, and other institutions of a similar description, as prizes for the encouragement of the more advanced pupils". In 1879, he instituted "The Princess Alice Memorial Prizes" to educational institutions throughout the United Kingdom. He was appointed Magistrate of Manchester in 1877, the first Jew to hold that position. William was presented to Queen Victoria as an acknowledgement of his many services.
In 1888, Manchester Today wrote, "W. Aronsberg, F. R. Met. Soc, Optician and Instrument Maker to Her Majesty's Government, 12, Victoria Street. - This well-known concern forms one of the prominent and most important features of the neighbourhood of Victoria Street, and its reputation has extended not only throughout the length and breadth of Lancashire, but all over the country and abroad. The talented and enterprising proprietor (who, it may be mentioned, has occupied the position of magistrate for a period of eleven years), besides dealing in all descriptions of mathematical instruments, magic lanterns, and so on, among which he has introduced a large number of popular novelties of his own, makes a great speciality of everything connected with the eye. His skill as an optician has, more than anything else perhaps, caused his name to become so widely known, and his efforts on behalf of suffering humanity so generally appreciated. A short while back, Mr. Aronsberg published a concise, but most interesting and erudite, treatise on the eye, and this has enjoyed a wide circulation everywhere, and been pronounced - as the author's spectacles and other optical aids and appliances have been pronounced - by the press and the public alike, to be very valuable indeed. Mr. Aronsberg has the privilege of attaching the royal arms to his publications and premises, as being optician and instrument maker to her Majesty's Government, and his finely stocked and palatial establishment at 12 Victoria Street, is well worthy a visit by all interested in the trade. The stock always on hand is positively unique of its kind, and would be very difficult to equal elsewhere. The business has been flourishing for about thirty years. Mr. Aronsberg affords his customers exceptional satisfaction, and so much ability does he throw into his work, together with the very best of management, that his many patrons find absolutely nothing left undone by him that could well be desired. At his establishment may be obtained the very best of everything in the line followed at the very lowest of prices. Mr. Aronsberg has worked hard and steadfastly for public favour, and has obtained and is still enjoying his just reward".
William's wife, Ernestine, died in 1890. That loss may have triggered subsequent calamities:
During 1892, William pursued a romantic relationship with Amelia Sutton, who was more than half his age (she was 27, he was nearly 60). But he alternatively swore his undying love for her, then declared that "he would rather commit suicide than have her". He promised her a large house and expensive honeymoon, then plead poverty, that "his business was only making £9 profit per week". Their engagement was eventually broken off, and Amelia sued William for breach of promise. Details of their sensational trial were widely published. At the end, Amelia was awarded £500 in damages.
Shortly afterward, William filed for bankruptcy. This was rejected, when investigations revealed that William had attempted to shield money and property by secretly giving them to his son, Aaron.
In the late 1890s, William moved to Corfu, Greece. He returned to England later, and died on August 13, 1908. He left a small estate of only £100.
Maurice Aronsberg died on February 6, 1911, at his home near Liverpool.
Both of the Aronsberg businesses persisted for several decades. Maurice's sons maintained two separate businesses in Liverpool, one retaining the name Maurice Aronsberg, and the other as Charles Aronsberg & Co.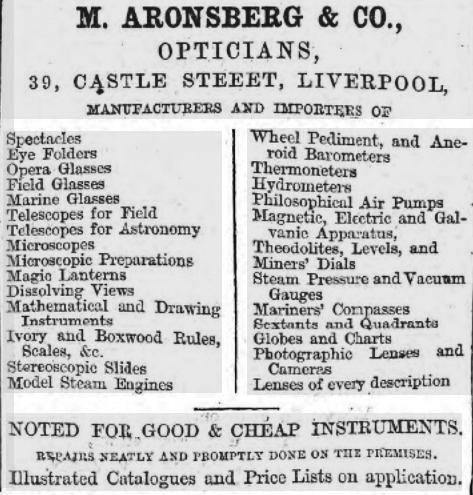 Figure 6. An 1868 advertisement from Maurice Aronsberg. In those days, an eyeglass maker would often have additional optical goods in stock, such as microscopes, telescopes, cameras, and magic lanterns. Other precision items that were made from glass, such as thermometers and barometers, could also be found. Some opticians, such as Aronsberg, dealt with precision engineering tools.
&nbsp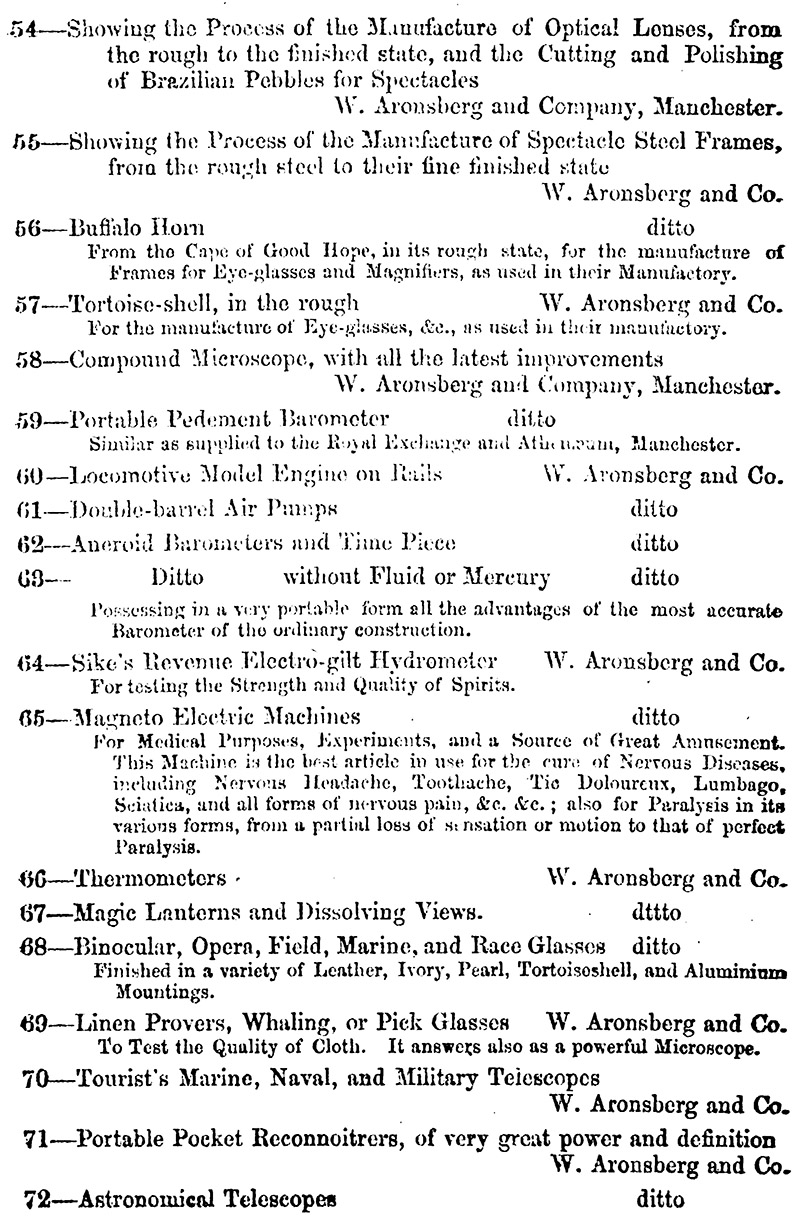 Figure 7. A page from the program of the 1875 Preston Exhibition, listing some of the objects displayed by William Aronsberg. The descriptions of exhibits 54-57 are consistent with Aronsberg being an eyeglass manufacturer. The remainder of the objects were probably brought in from wholesale manufacturers.
&nbsp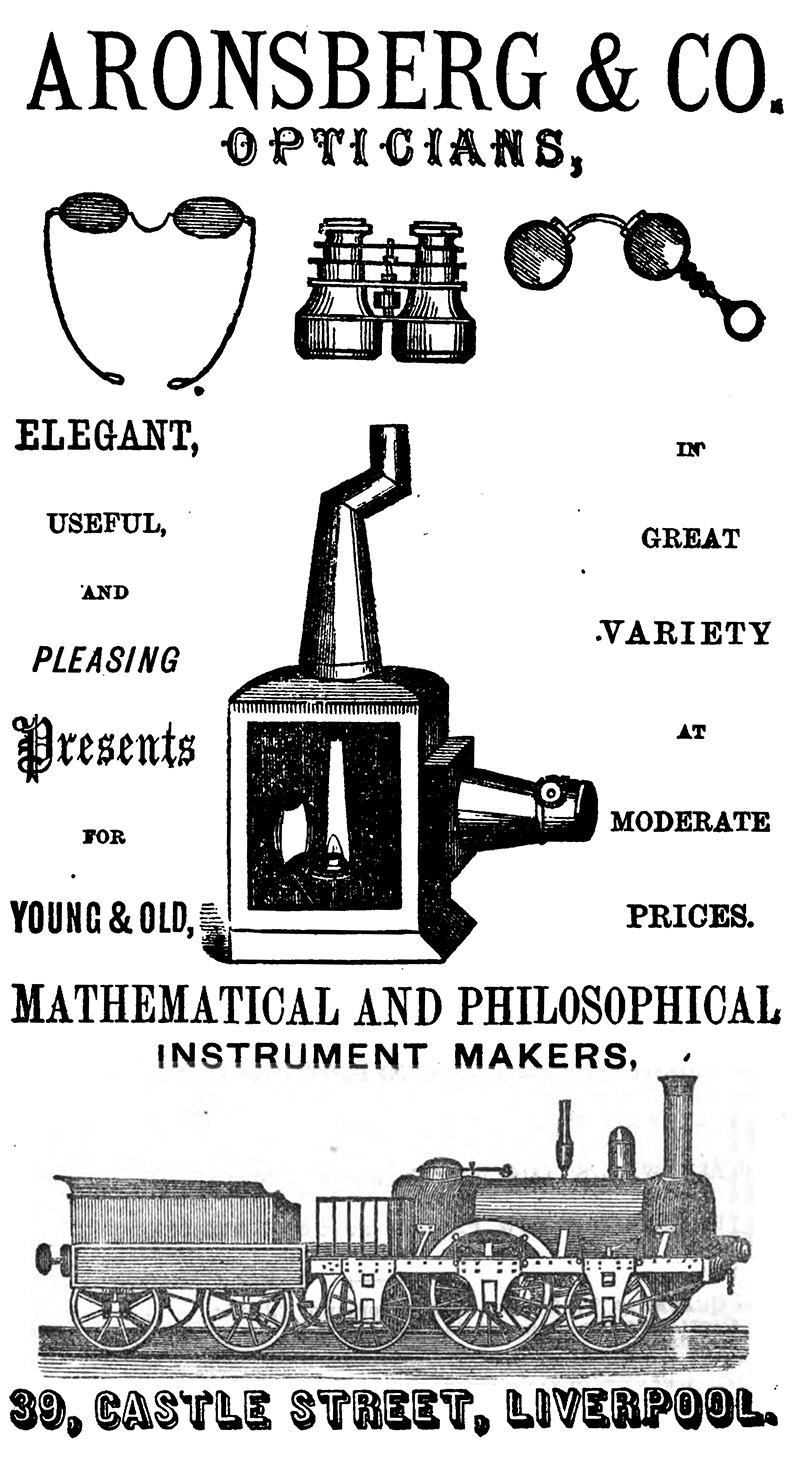 Figure 8. An 1874 advertisement from Maurice Aronsberg.
&nbsp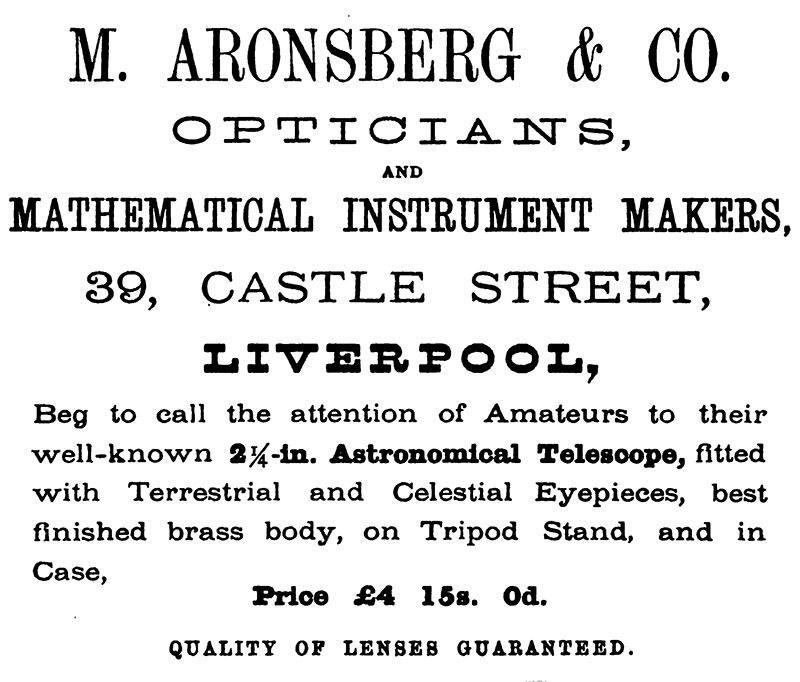 Figure 9. An 1884 advertisement from "The Journal of the Liverpool Astronomical Society".
&nbsp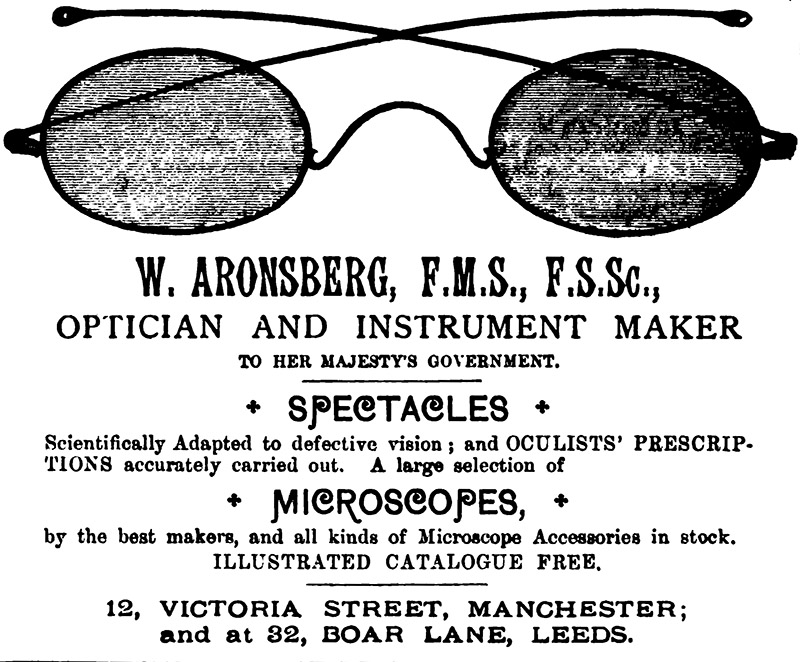 Figure 10. An 1886 advertisement from "The Annual Report of the Manchester Microscopical Society".
&nbsp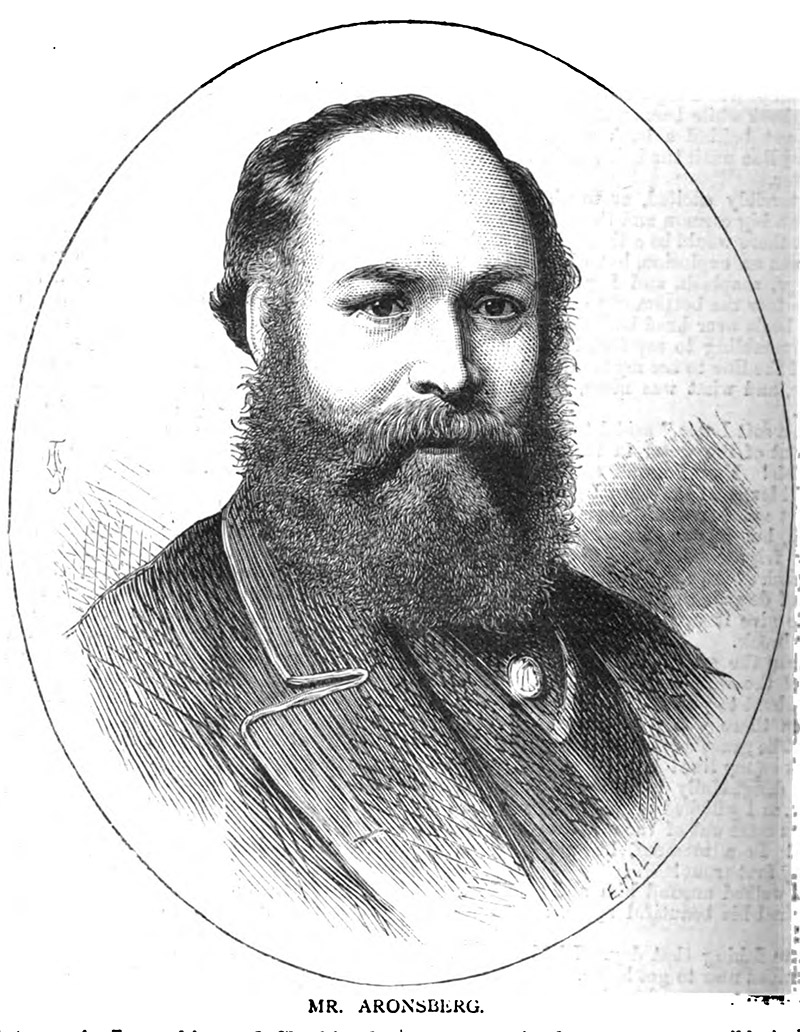 Figure 11. Woolf (William) Aronsberg, in 1875
&nbsp

Figure 12. A telescope that is marked as having been sold by William Aronsberg. Adapted for nonprofit, educational purposes from an internet auction site.
&nbsp

Figure 13. A hand-held telescope that was sold by Maurice Aronsberg. Adapted for nonprofit, educational purposes from an internet auction site.
&nbsp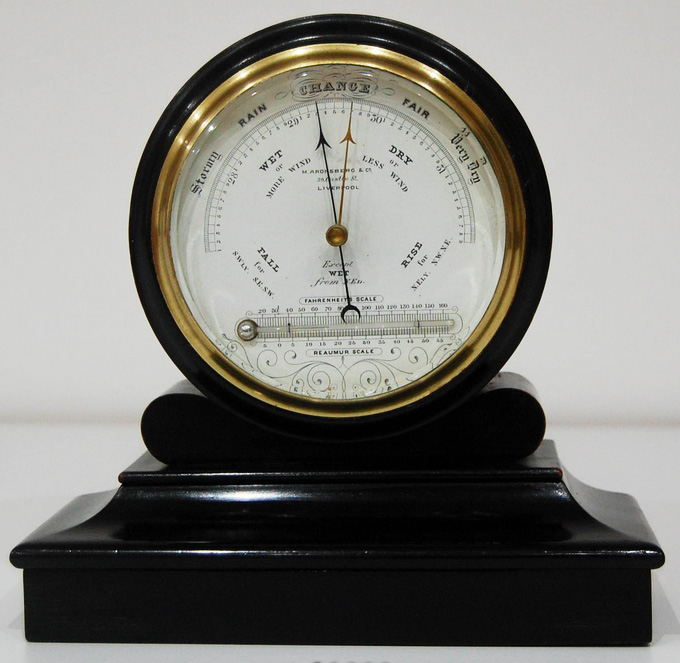 Figure 14. An aneroid barometer, signed on the face by Maurice Aronsberg. Adapted for nonprofit, educational purposes from an internet sale site.
&nbsp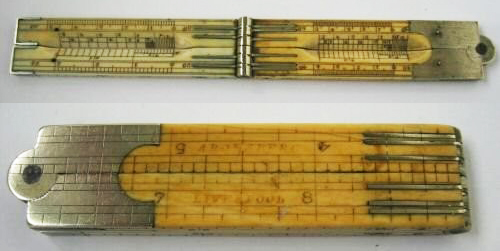 Figure 15. A folding ruler, of ivory and German silver, stamped "Aronsberg, Liverpool". Precision engineering tools such as this were often sold by opticians such as Maurice Aronsberg, but were invariably brought in from wholesale manufacturers.
&nbsp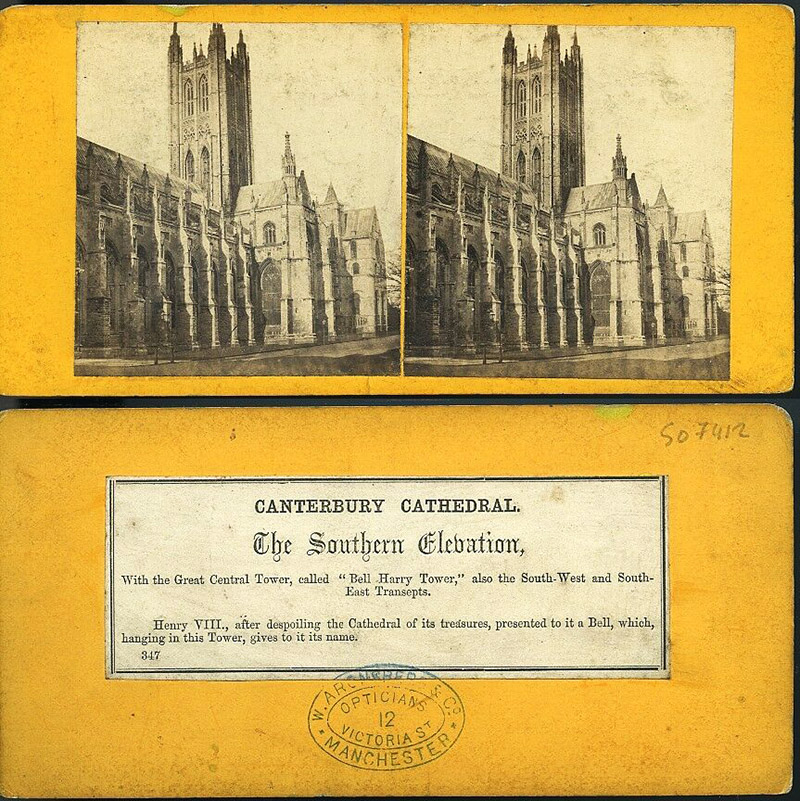 Figure 16. A photographic stereoview that was sold by W. Aronsberg. He was noted as retailing stereoviews as far back as his 1863 bankruptcy. The card was produced by a professional photographer, for retail by dealers such as Aronsberg.
&nbsp
Acknowledgement
Thank you to Jurriaan de Groot for sharing images of his Aronsberg microscope.
&nbsp
Resources
Annual Report of the Manchester Microscopical Society (1885) "Members: … Aronsberg, William, J.P., 12, Victoria-street", Vol. 6
Annual Report of the Manchester Microscopical Society (1886) Advertisement from W. Aronsberg, Vol. 6
Bookseller (1863) "Bankrupts: … Aronsberg, Woolf, Liverpool, photographic portrait dealer", Vol. 6, page 947
The British Juvenile (1875) The schoolboy's friend: Mr. William Aronsberg, pages 127-128
Catalogue of the Preston Exhibition (1875) pages 29-30
Edinburgh Gazette (1859)
England census and other records, accessed through ancestry.com
The English Mechanic and the World of Science (1884) Liverpool Astronomical Association, Vol. 40, page 174
Green and Co.'s Directory for Liverpool and Birkenhead (1870) "Aronsberg, M. & Co. opticians, mathematical & philosophical instrument makers & importers, 39, Castle st & 4, Manchester st.", page 172
The Jewish World (1898) "Mr. William Aronsberg, J.P. of Manchester has been residing in Corfu for the last twelve months, and has become conspicuous by his unfailing charity. The poor of every creed who knock daily at his door are certain of obtaining efficacious help at his hands. Although in very indifferent health, he is one of the regular attendants in the synagogue of the town, and takes keen interest in communal affairs, especially in the question of religious instruction. The Corfu correspondent of the Corriere Israelitico speaks of him in eulogistic terms", page 133
Journal of the Liverpool Astronomical Society (1884) Advertisements from M. Aronsberg
Kelly's Directory of Stationers, Printers, Booksellers, Publishers, Paper-makers, etc. (1921) "Drawing Instrument Manufacturers: … Aronsberg Chas. & Co. 24 Manchester st. Liverpool; Aronsberg Maurice, 38 & 40 Manchester st. Liverpl", page 881
The Lancet (1876) Useful gifts, March 25 issue, page 482
MacArdle, John Francis (1874) Grand Comic Christmas Pantomime, Jack and the Beanstalk, contains an advertisement from Maurice Aronsberg
Manchester of Today (1888) W. Aronsberg, Historical Publishing, London, page 102
The Montgomery County Times (1893) Extraordinary breach of promise case, July 22 issue
The Monthly Microscopical Journal (1869) Minutes of the Microscopical Society of Liverpool – note on the election of Maurice Aronsberg, pages 262-263
The Pall Mall Budget (1879) "It is the intention of Mr. William Aronsberg, of Manchester, to establish prizes to be called 'The Princess Alice Memorial Prizes' in various charitable educational institutions throughout the United Kingdom. Her Majesty has been pleased to express to Mr. Aronsberg her appreciation of the kindly feeling of sympathy which has prompted him to perpetuate the memory of the late Princess", Vol. 21, page 34
Photography (1893) An affair of love, Vol. 5, page 466
The Post-Office Glasgow Directory (1854) no listings for Aronsberg
The Post-Office Glasgow Directory (1858) "Aronsberg, W. & M., glass merchants and glaziers, 97 London st. ; ho. 15 So. St. Mungo st.", page 43
Probate of the will of Maurice Aronsberg (1911) "Aronsberg Maurice of Courland Seaview-road Liscard Cheshire died 6 February 1911 Probate London 1 April to Hendle Aronsberg and Bertha Aronsberg spinsters. Effects £1613 4s 2d", accessed through ancestry.com
Probate of the will of William Aronsberg (1908) "Aronsberg William of 12 Victoria-street Manchester died August 13 1908 Tithesbarn Road Southport Probate London 31 August to Rose Aaron Aronsberg (wife of Aaron Aronsberg). Effects £100", accessed through ancestry.com
Quarterly Journal of the Royal Meteorological Society (1882) Election of William Aronsberg, Vol. 8, pages 155-156
Scotland census and other records, accessed through ancestry.com
Slater's Directory of Glasgow (1855) "Glaziers: … Aronsberg W. & M. 92 London st", page 35
The Weekly Notes (1894) "Aronsberg, Wm, Manchester, Optician. County Ct, Manchester. (No. 43 of 1893.) Ord. Apr 25. Discharge refused", Vol. 29, page 303
Y Tyst Cymreig (1868) Advertisement from Maurice Aronsberg, October 23 issue