Arthur Wells Bawtree, 1857 - 1922
by Brian Stevenson
last updated November, 2015
A.W. Bawtree was a wealthy insurance broker who lived near London, and probably worked in the City. He was an amateur microscopist, with evident interests in botany and entomology. He was also very involved with photography, and may have been a professional photographer to some extent.
Bawtree's microscope slides are not especially common. He was a member of the Linnaean Society of London, and some local scientific clubs, but not of any large microscopy societies. No records have been found of him advertising sales or exchanges in magazines. This suggests that surviving slides came from his personal collection or from exchanges/gifts to colleagues or institutions.


Figure 1. A microscope slide from Arthur W. Bawtree, "pupa of Phytomyza obscurella" (a leaf-mining diptera), evidently on a holly leaf from his home, "Brambleacres", Sutton, Surrey. Bawtree dated the slide March 8, 1910.
&nbsp
Arthur was born in High Holloway, London, during the spring of 1857. He was the first child of Samuel and Phoebe Wells Bawtree (Arthur's middle name was his mother's maiden name). Samuel was an insurance underwriter for Lloyds, and most of his sons took up that same profession. The Bawtrees had 7 subsequent children, 6 of whom did not marry nor leave the family home. Arthur, likewise, did not marry. In about 1867, the family moved to Sutton, Surrey, outside London. Their home, "Brambleacres", on Worcester Road, was described in the 1911 census as having 17 rooms. The 1901 census listed the Bawtrees' servants as a cook, a parlour maid, a house maid, and a coachman.
The earliest record yet-found of A.W. Bawtree's scientific interests is a report of an October 14, 1885, meeting of the Metropolitan Scientific Association: "Mr. A.W. Bawtree exhibited a collection of English botanical specimens".
On December 16, 1886, he was elected to membership in the Linnaean Society of London. He remained a member of that Society for the remainder of his life.
Bawtree's expertise at photography was evident by 1888. The Sutton Scientific Society's January conversazione included a photographic exhibition. "Among the members' work shown was the frame of out-door views by A.W. Bawtree, which carried off the annual prize for the best set of views by a member; these were printed in platinum, and, though small, showed considerable taste and ability".
He provided two photographs for Edward Connold's 1908 British Oak Galls (Figure 2).
Several undated stereoscope photographs by Bawtree are known (Figure 3). They show a merger with his other interests in botany, entomology, and microscopy. The finish of these items suggests professional production. However, considering the professional appearance of Bawtree's amateur microscope slides, it is possible that Bawtree's stereoviews were likewise the products of a wealthy man who could afford to give his creations a fine finish.
In an intriguing hint at numerous outdoor scientific excursions, Grenville Cole dedicated his 1891 book, Aids in Practical Geology, to "Arthur Wells Bawtree, F.L.S., in memory of many expeditions".
Arthur's father and mother died in 1896 and 1902, respectively. He was listed as "Head of Household" on the 1911 census, living with 6 of his unmarried siblings at "Brambleacres". Although only 53 years old, Arthur had retired from work. The microscope slide shown in Figure 1 dates from 1910, and may represent a resurgent hobby. Arthur Bawtree died on 27 November, 1922. His unmarried brothers Harold and Bernard were executors of the will.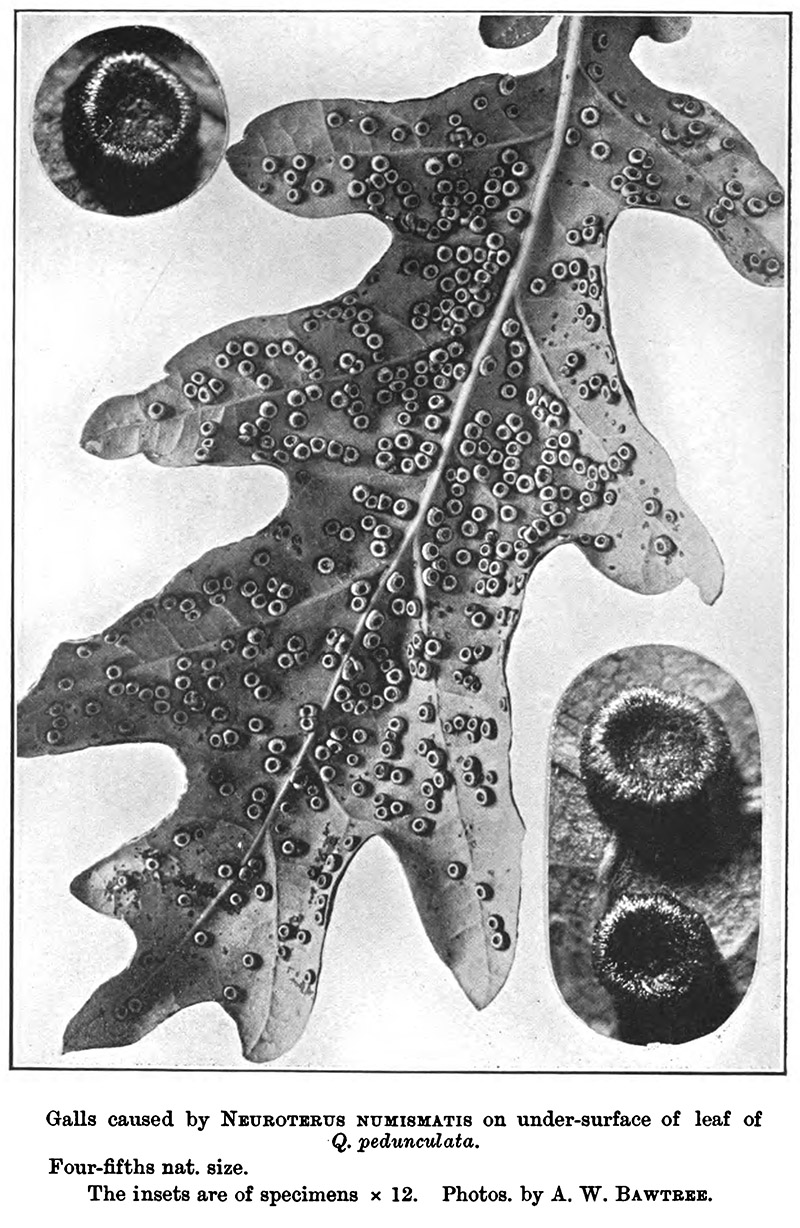 Figure 2. Photograph by A.W. Bawtree, of galls of Neuroterus numismatis on a leaf of Quercus pedunculata, from Connold's British Oak Galls.
&nbsp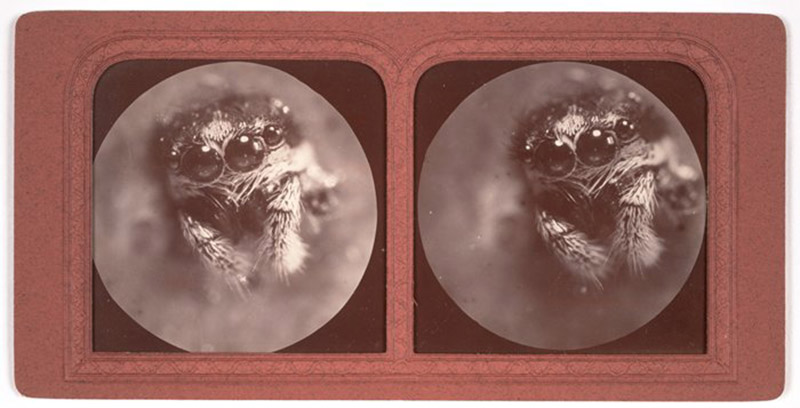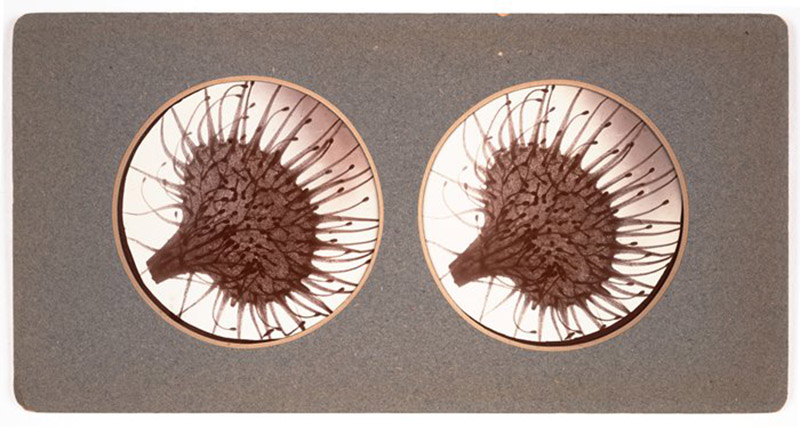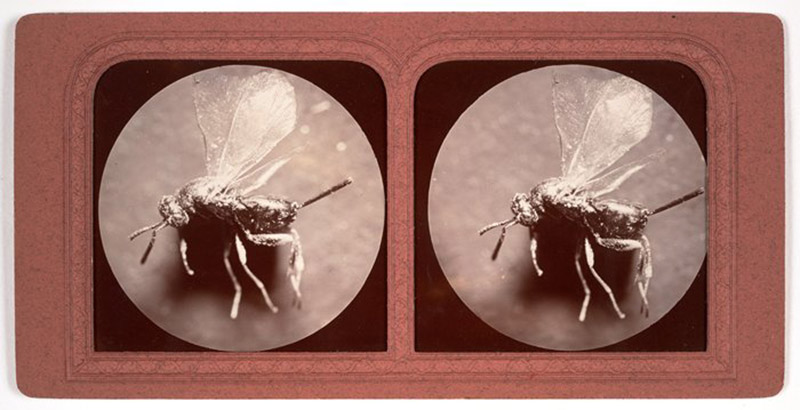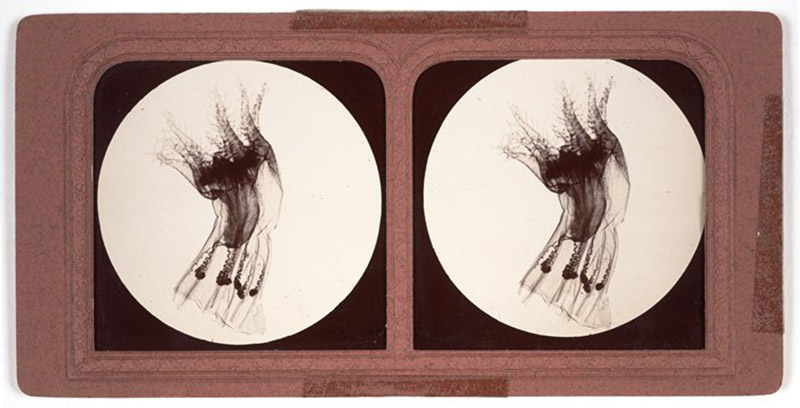 Figure 3. Stereoview photographs by Arthur W. Bawtree. Top to bottom, "Eyes of a jumping spider (Salticus), magnified twenty-five times", "Leaf of sundew, magnified six times", "Gall fly, magnified twelve times", and "Mermaid's fingers, magnified eight times". Adapted from images on the web site of the San Francisco Museum of Art, for noprofit, educational purposes.
&nbsp
Resources
Bracegirdle, Brian (1998) Microscopical Mounts and Mounters, Quekett Microscopical Club, London, pages 12 and 112, and plate 4-S
Cole, Grenville A.J. (1891) Aids in Practical Geology, C. Griffin, London
Connold, Edward T. (1908) British Oak Galls, Adlard & Son, London, plates XLVIII and XLIX
England census, birth, marriage, and death records, accessed through ancestry.co.uk
The English Mechanic and World of Science (1885) Report of the October 14 meeting of the Metropolitan Scientific Association, Vol. 40, page 174
Keller, Corey (2008) Brought to Life: Photography and the Invisible, 1840-1900, San Francisco Museum of Modern Art, Microscopes plates 22, 23, 24, and 27
London Gazette (1896) Samuel Bawtree, deceased, November 6 issue, page 6092
The Photographic News (1888) Report of the January 17-18 conversazione of the Sutton Scientific Society, Vol. 32, page 64
Probate of Arthur Wells Bawtree (1922) "Bawtree Arthur Wells of Brambleacres Worcester-road Sutton Surrey died 27 November 1922 Probate London 12 January to Harold Bawtree retired mercantile clerk and Bernard Francis Bawtree civil servant. Effects £1475 17s 11d", accessed through ancestry.co.uk
Proceedings of the Linnaean Society of London (1886) Minutes of the December 16 meeting, page 6
&nbsp
Illustrations of Arthur Bawtree's stereoviews, San Francisco Museum of Art:
http://www.sfmoma.org/explore/collection/artwork/119021#ixzz3p4Q5WtwA
http://www.sfmoma.org/explore/collection/artwork/119099#ixzz3p4R0F9S7
http://www.sfmoma.org/explore/collection/artwork/119020#ixzz3p4QV5NXV
http://www.sfmoma.org/explore/collection/artwork/119022#ixzz3p4SzRLdN