Tom Leonard Burrell, 1870 - 1920
by Brian Stevenson
last updated February, 2014
For his microscopical preparations, Tom Burrell used patterned paper to help hold down the cover slip, rather than paint ringing (Figure 1). His slides make a distinctively colorful addition to collections.
Burrell led a relatively uneventful life, leaving little behind in historical records. Thus, tracking down information on this microscopist's life proved to be a challenge. The vast majority of his slides bear custom labels printed "Prepd. by T. Burrell". Yet, database searches for "T. Burrell" failed to yield results. Fortunately, the Quekett Microscopical Club (QMC) has begun to digitize their slide collection, which is available to Club members at http://www.quekett.org (if you are reading this, you are obviously interested in microscopy and its history, and so should seriously consider joining Quekett). Among those archives is a slide that was obviously made by Burrell (Figure 2). Unlike most of his other known preparations, this one bears a handwritten set of initials, "T.L.B.", and a date, November 27, '06. Armed with that information, and his apparent association with the QMC, it become obvious that "T. Burrell" was Tom Leonard Burrell, who joined the QMC in April, 1906. He was still a member of the QMC when he died. Burrell's microscope slides, therefore, most likely date between ca. 1906 and 1920.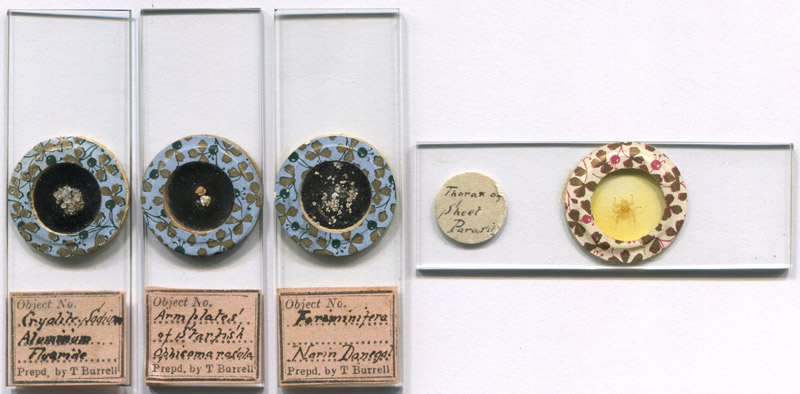 Figure 1. Microscope slides prepared by Tom Burrell. His unique preparations include a circle of patterned paper glued around the outside edge of the cover slip. This serves the same function as the more common enamel paint ringing, by protecting the cover slip from being dislodged.
&nbsp


Figure 2. A Burrell slide from the collection of the Quekett Microscopical Club, providing his middle initial and a date at which he was actively producing microscope slides.
&nbsp
All legal records of Burrell give his full name as "Tom Leonard Burrell", indicating that his given name was Tom, not Thomas. He was born during late 1870 in Staines, Middlesex (now Staines-upon-Thames, Surrey). He was the eldest child of William and Fanny Burrell. The earliest records of father William refer to him as a "butcher", but in 1881 he described himself as being a "cattle dealer".
During the spring of 1900, Tom married Ada Bullimore, in Blofeld, Norfolk. The following year's census described Tom as being a "sanitary inspector", an occupation that presumably was behind his move to Norfolk.
Shortly afterward, the Burrells move back to the London area. Their daughter, Kathleen Mary, was born in Islington on May 12, 1904. Her baptism record at St. Stephen's gives their address as 22 Fairbridge Road, Islington.
Tom Burrell was elected as a member of the QMC on April 20, 1906. The 1911 census elaborated on Burrell's occupation, naming him an "Inspector under the Sale of Food and Drugs Act". That profession likely involved use of microscopes, which probably led to Burrell's interest in hobby microscopy.
The 1917 list of QMC members gave Burrell's address as 20 Upper Hornsey Rise, Islington. He died there on June 13, 1920, at the age of 50 years old.
&nbsp
Resources
Baptism record of Kathleen Mary Burrell (1904) St. Stephen's Canonbury Road parish records, accessed though ancestry.co.uk
England census, birth and marriage records, accessed through ancestry.co.uk
Journal of the Quekett Microscopical Club (1906) Tom Burrell elected as member, April 20,Series 2, Vol. 9, pages 437-438
Journal of the Quekett Microscopical Club (1917) List of Members, Series 2, Vol. 12
Journal of the Quekett Microscopical Club (1920) Annual Report, including mention of the death of T.L. Burrell, Series 2, Vol. 14, page 240
Probate of Tom Leonard Burrell (1920) "Burrell Tom Leonard of 20 Upper Hornsey Rise Middlesex died 13 June 1920 Probate London 2 July to Ada Burrell widow. Effects £1025", accessed through ancestry.co.uk
Quekett Microscopical Club website, Members' Area (accessed February, 2014)