William Edward Challinor, 1852-1926
by Brian Stevenson
last updated September, 2016
Antique microscope slides are occasionally encountered that bear a gold-on-black label with the name "W. E. Challinor" (Figure 1). Such items were once in the collection of William Edward Challinor, a lawyer and amateur scientist from Leek, Staffordshire, England. He was a member of the North Staffordshire Field Club. His father, William Challinor (1821-1896), served for several years as the Club's President, and it is probable that some of W.E. Challinor's collection was inherited from his father. William Edward does not appear to have written any publications on microscopy or other scientific subjects.
W.E. Challinor was born on September 3, 1852, at the family home of Pickwood Hall, Leek. He began at Rugby School in 1868, and later attended King's College, London. He studied law, as had his father and other predecessors, and later served as Justice of the Peace.
Challinor married Katherine Allen in 1879. They had four children, Kathleen Mary (born 1880), William Francis (born 1882), Elizabeth (born 1883), and John (born 1894). Son William followed a military career, rising to the rank of Lieutenant Colonel.
The Challinor family presented their community with a considerable gift 1887, a large plot of land that "was intended to serve people on the eastern side of Leek (the town as a whole had limited green spaces) and the site was well chosen. The ground was easily accessible with a new path linking it to Grosvenor Street and Pickwood Road and it gave fine views across the open land that surrounded it including towards Leek and its impressive backdrop of high moorland and rocky outcrops". The remainder of the Pickwood estate was divided up by William E. Challinor's heirs, after his death in 1926.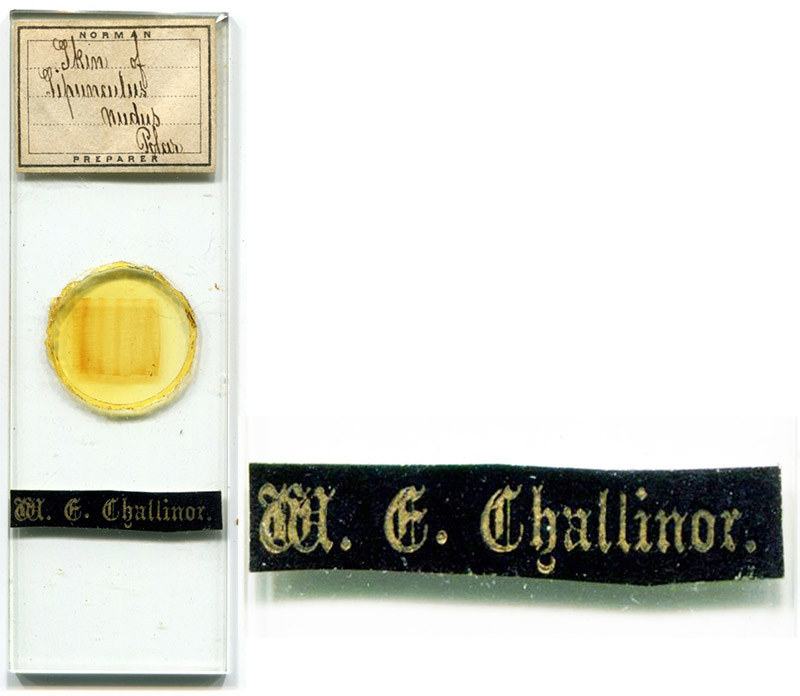 Figure 1. A microscope slide from the collection of William E. Challinor. The handwriting on the label is that of John T. Norman Jr. (1838 - after 1884), the eldest son of J.T. Norman (1807-1893). All of Norman's sons worked with their father. Some, such as John Jr., later operated their own slide-making businesses. It is not evident whether this slide was made by John Jr. when he was with his father, before 1878, or later, under his own management.
&nbsp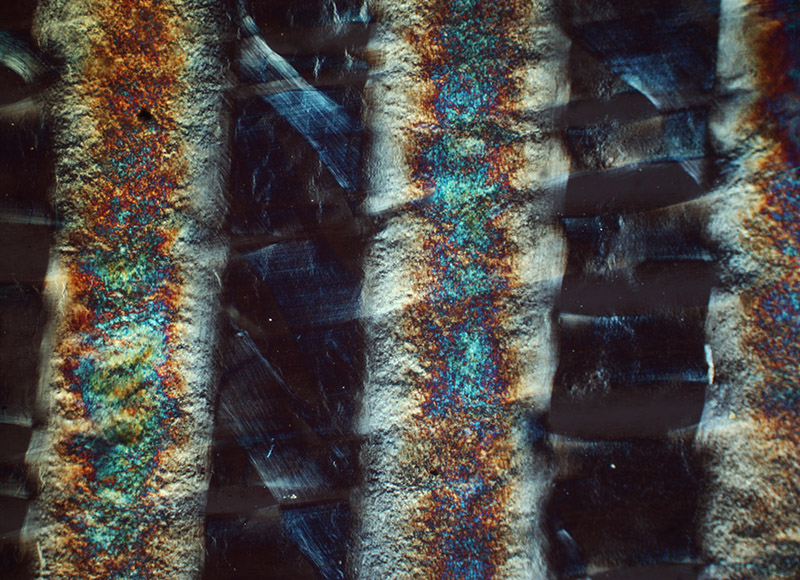 Figure 2. Photomicrograph of a slide that was once owned by W.E. Challinor: "Skin of Sipunculus nudus", by Norman, London (see Figure 1, above). The handwriting appears to be that of John Thomas Norman, Jr. (1838 - after 1884), the eldest son of famed slide-maker J.T. Norman, Sr. (1807-1893). John Jr. worked for his father until ca. 1878, then afterward operated his own business. S. nudus is a species of unsegmented marine worm (peanut worm). Photographed using a C-mounted digital SLR camera, a 3.4x objective lens, and crossed polarizing filters (polariscope).
&nbsp
Resources
Bevan, David (2015) Proof of evidence on the proposed residential development on land at Milltown Way, Leek, on behalf of the Moorlands District Council
Boase, Frederic (1906) Modern English Biography, Vol. 4, self-published, Truro, page 630
Challinor, William (1891) Lectures, Verses, Speeches, Reminiscences, &c., M.H. Miller, Leek
Crisp, Frederick A. (1919) Visitation of England and Wales, Vol. 20, self-published, page 45
England birth, marriage, death, and census records, accessed through ancestry.com
Probate of W.E. Challinor (1826) "Challinor William Edward of Pickwood Leek Staffordshire died 20 November 1926 Probate (save and except settled land) London 17 March to William Francis Challinor lieutenant-colonel HM Army and John Challinor gentleman. Effects £131724 9s 6d"
Rugby School Register: 1850-1874, "Challinor William Edward, son of William Challinor, Esq. Pickwood, Leek, Staffordshire, aged 15, Sept. 3 Hutchinson", page 153