William Henry Cheesman, 1858-1939
by Brian Stevenson
last updated June, 2015
A case of microscope slides that were made by William H. Cheesman during 1878-1879 recently came to light. These were made by the amateur microscopist when he was about 20-21 years old, and cover a range of subjects. William was involved with nature studies and collecting for at least another 30 years, so it is possible that he produced additional microscope slides during his life. Whether any have survived remains to be seen.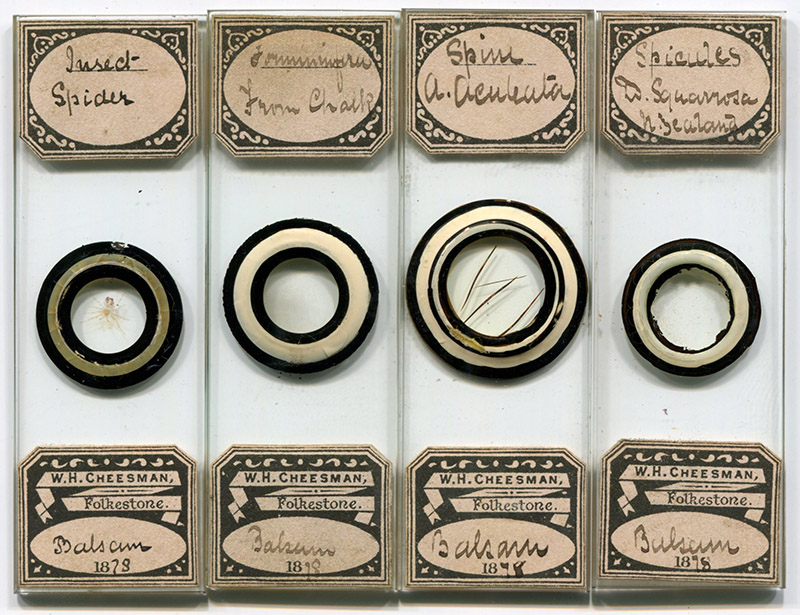 Figure 1. Examples of microscope slides that were prepared by William H. Cheesman, all dated 1878.
&nbsp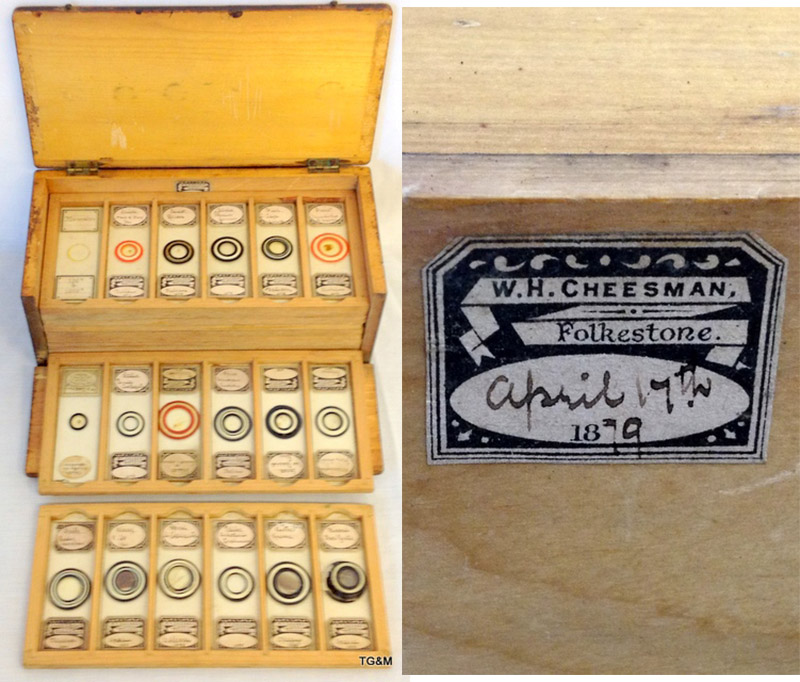 Figure 2. A 72-slide cabinet that once belonged to W.H. Cheesman, and contained primarily slides that were prepared by him. A personalized label in the cabinet gives the date April 17, 1879 – William was born between April 1 and June 30, 1858, so this may have been a 21st birthday present to him. The cabinet was auctioned during spring, 2015, and so had been relatively intact for over 135 years. Images adapted from an internet auction site, for nonprofit, educational purposes
&nbsp
William appears to have been the only child of John and Sophia Cheesman. He was born during the spring-early summer of 1858, in Gravesend, Kent, England. Father John worked for a railway (railroad), and, as a result, often lived away from home. The 1861 census recorded Sophia and William as boarders in Yadling, Kent, while John (occupation "porter") boarded in Whitworth, Surrey. Similarly, the 1871 census found William and mother boarding in Maidstone, Kent, while John (occupation "station and post master") lived at the railway station of Headcorn, Kent.
William began working for the railway in his early teens, possibly earlier. Records of the London, Brighton and South Coast Railway Company from 1874 show that he was then paid a rate of 18 shillings per week.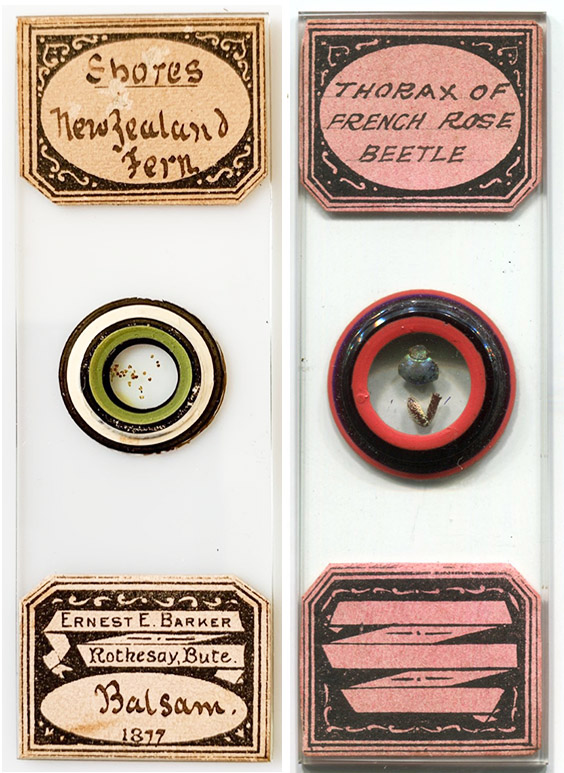 Figure 3. The earliest identified reference to W.H. Cheesman's involvement with microscopy. From "Hardwicke's Science-Gossip", 1877.
&nbsp


Figure 4. Evidence that William's 1877 Science-Gossip exchange request was successful: spines of Aphrodita aculeata, dated 1878 (see also Figure 1). The photomicrograph was taken using crossed polarizing filters, without selenite.
&nbsp
During 1877, he posted an exchange offer for a variety of subjects suitable for microscopical inspection (Figure 3). The following year, William requested entomological supplies, "Wanted, in exchange for 5-in. bevelled insect-board, bevelled boards under 2 1/2 in. - W. H. Cheesman, Coolinge, Folkestone".
For the 1881 census, father John was home with his family, at Rose Villa, Coolinge, Folkestone, Kent. John was working as a "station master", and William was a "booking clerk, railway". The Cheesman family remained at that home for several years. The Entomologist printed this notice in 1887, "On Sept. 3rd a labouring man brought me a specimen of (Sphynx) convolvuli in fair condition; I also saw one at rest on a gas-lamp on 7th inst., but was unable to effect a capture. - W. H. Cheesman; Rose Villa, Coolinge, Folkestone".
Later in 1887, William married Lucy Lavinia William, in Elham, Kent. They had two sons, William Frederick J. Cheesman (born 1890) and Henry Basil Cheesman (born 1892). Henry served in the Black Watch during World War I, and was killed in Flanders on April 26, 1918.
William was working his way up the ranks with the railway, which probably allowed him to afford marriage and children. An August, 1888, record of the London, Brighton and South Coast listed his weekly salary as £1 12s 6d. He was then stationed in Upper Warlingham, Surrey. Unlike his father, William evidently lived with his wife and children. The 1891 census showed them all at Valley View Villas, Warlingham. William was then the station master. The 1901 census placed them at St. Helen, Sussex, with William the "station master, railway and insurance agent". Four years later, they lived in Rochester, Kent.
The few identified records of Cheesman's scientific pursuits after 1880 indicate an interest in entomology. In 1889, he posted this exchange request in Hardwicke's Science-Gossip: "Wanted, entomological cabinet, drawers full size, in exchange for small turning lathe and tools - W.A. Cheesman, Valley View Villas, Warlingham, Surrey". The following exchange offer appeared in a 1905 Entomologist: "Duplicates – Pupa: Pavonia, Populi, Ligustri. Desiderata – Pupa: Machaeon, or offers. – W.H. Cheesman, Cuxton, Rochester, Kent" (all of the mentioned insects are butterflies or moths). It is not known whether he continued to prepare permanent microscope slides – those dating from 1878-1879 are the only known examples of his work (Figure 1).
No further records have been located with regards to William H. Cheesman leisure activities. He died on September 5, 1939, in Folkestone.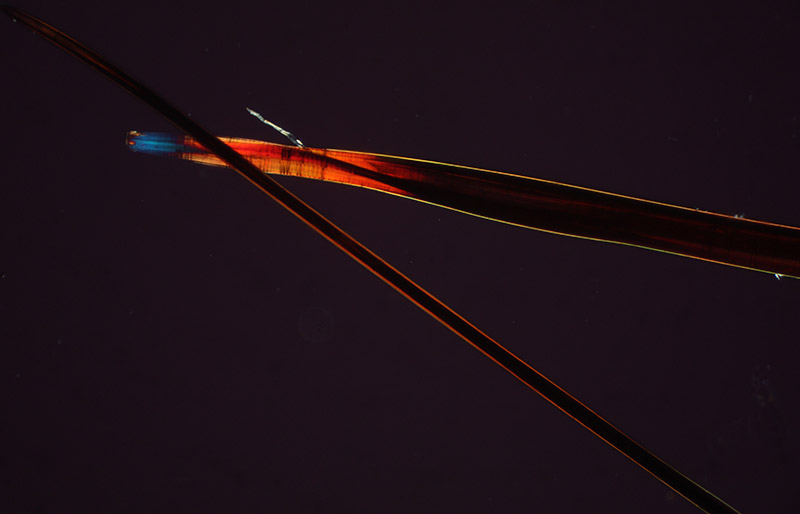 Figure 5. "Foraminifera from Chalk", by W.H. Cheesman, 1878.
&nbsp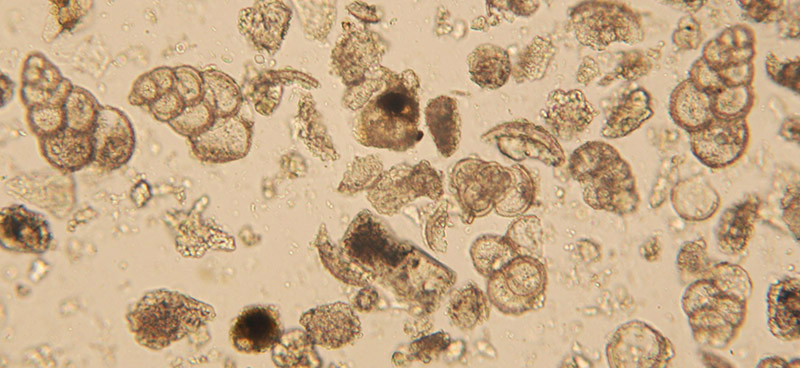 Figure 6. Detail showing mouthparts of "Insect - Spider", by W.H. Cheesman, 1878.
&nbsp
Resources
Employee records of the London, Brighton and South Coast Railway, accessed through ancestry.co.uk
England census, birth, marriage and death records, accessed through ancestry.co.uk
The Entomologist (1887) Note on Sphynx convolvuli, Vol. 20, page 273
The Entomologist (1905) Exchange offer from William H. Cheesman, Vol. 38, December issue
Hardwicke's Science-Gossip (1877) Exchange offer from William H. Cheesman, Vol. 13, page 240
Hardwicke's Science-Gossip (1878) Exchange offer from William H. Cheesman, Vol. 14, page 192
Hardwicke's Science-Gossip (1889) Exchange offer from William H. Cheesman, Vol. 25, page 72
Probate of William Henry Cheesman (1939) "Cheesman William Henry of 15 Grove-road Folkestone died 5 September 1939 at Hill House Lyminge Kent Probate London 23 October to Lucy Lavinia Cheesman widow. Effects £455 2s 2d", accessed through ancestry.co.uk
World War death record of Henry Basil Cheesman (1918) "Birth place: Upper Warlingham, Surrey; Death date: 26 Apr 1918; Death place: France and Flanders; Enlistment place: Maidstone, Kent; Rank: Private; Regiment: Black Watch (Royal Highlanders); Battalion: 8th (Service) Battalion; Type of casualty: Died of wounds; Theatre of War: Western European Theatre", accessed through ancestry.co.uk