George Arthur Clout, 1886 - 1976
by Brian Stevenson
last updated February, 2022
G.A. Clout was described by a colleague as "a working-man microscopist". He worked as a joiner in Kent, England throughout his life. During the early 1900s, Clout became keenly interested in springtails (Collembola). The scales of those arthropods had been used in years past as microscopical test objects, and were widely known as "Podura", although many other types of springtails were used.
Between around 1912 and 1917, Clout made a little money on the side by preparing and selling microscope slides of "Podura" scales. Each slide was identified by genus and species with type-set labels (Figures 1 and 2).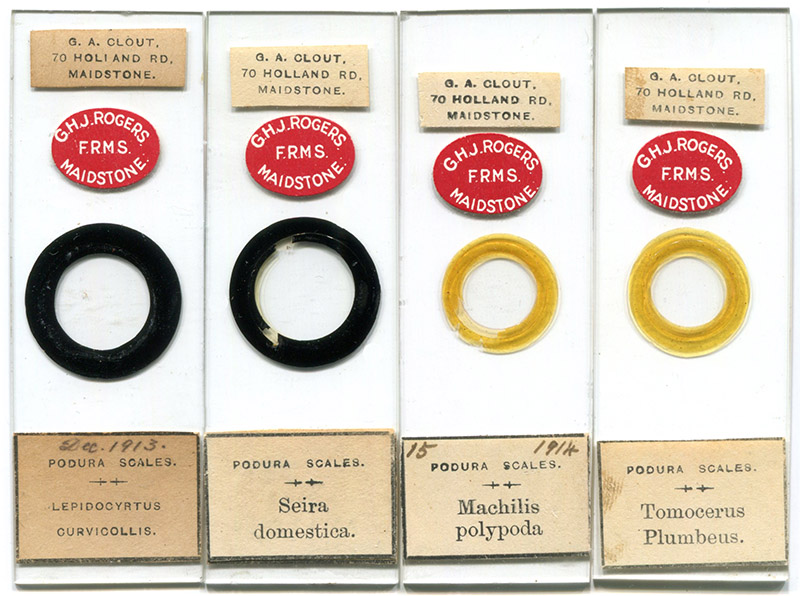 Figure 1. Microscope slides of "Podura" scales, prepared by George Arthur Clout. These slides bear his address of 70 Holland Road, Maidstone, Kent, where he lived until the spring of 1915. Other slides are known that carry his 1915-1917 address of 226 Tonbridge Road, Maidstone. Two of these slides bear dates of 1913 and 1914, presumably written by their purchaser, George H.J. Rogers (1854-1937). Rogers also lived in Maidstone, and the two men undoubtedly knew each other.
&nbsp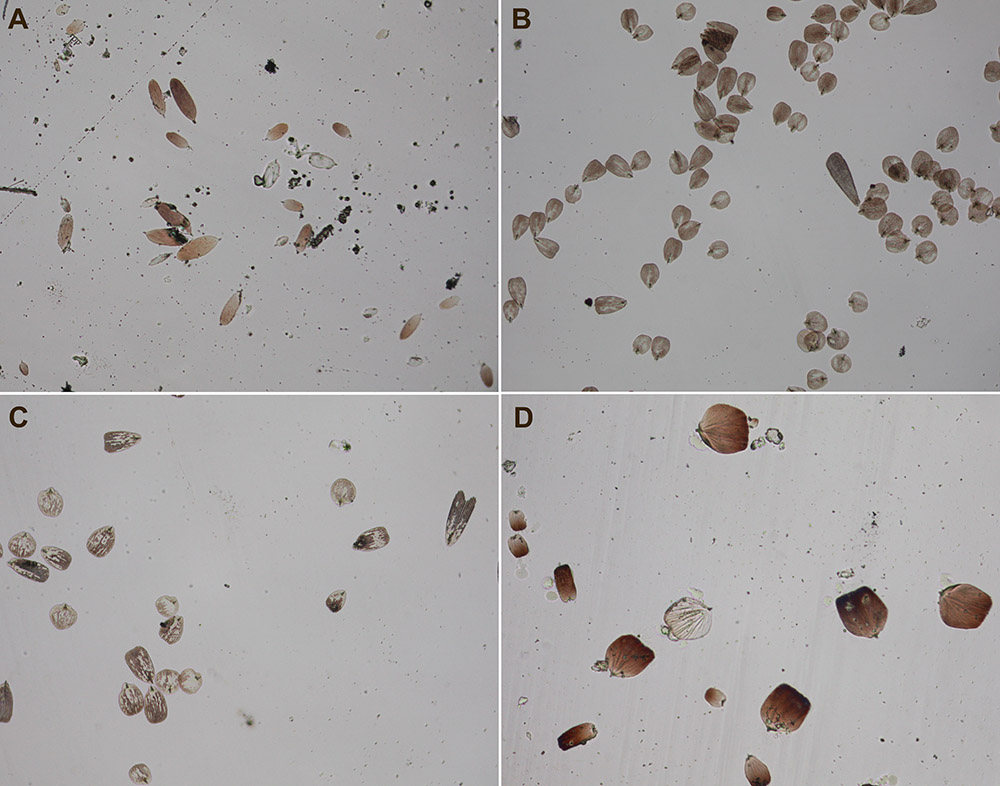 Figure 2. Photomicrographs of scales in the G.A. Clout microscope slides shown in Figure 1. All are shown at the same relative magnification. (A) Lepidocyrtus curvicollis; (B) Machilis polypoda; (C) Seira domestica; and Tomocerus plumbeus. Photographed through a 10x objective lens with transmitted light and a C-mounted digital SLR camera.

&nbsp

George Arthur Clout was born on April 15, 1886, in Maidstone, Kent, the first child of Alchin George and Fanny Clout. The father, who worked as a bricklayer, died in May, 1911. That loss may have been a motivation for young George to turn a hobby into a business that could help support the family. The 1911 census listed George as living with his widowed mother and 5 younger siblings (ages 14-23) at 70 Holland Road, Maidstone.

It is not clear just when G.A. Clout began selling microscope slides. A letter from a colleague and customer wrote to The English Mechanic and World of Science about Clout's "Podura" scale slides during November, 1912. One of the slides shown in Figure 1 was obtained by G.H.J. Rogers in December, 1913.

In 1914, Clout wrote a paper for The Journal of Microbiology and Natural History Mirror, "Some notes on the 'Podura-scale' insect". He began, "This little creature, which is the largest British species of the Genus Lepidocyrtus, is the furnisher of what used to be known as the "test" podura scales, and though these scales have gone out of favour as objects for testing the performance of object glasses designed for use with the microscope, the study of the group to which the creature itself (Lepidocyrtus curvicollis) belongs – though the whole group seems to be neglected, and to a very considerable extent to be unknown – will be found of considerable interest and to well repay the time expended in study and investigation." With this article, Clout makes it clear that he did not prepare his "Podura" scale slides for use as test objects, and that he was keenly interested in the general biology of the Collembola.

Clout published an advertisement in The English Mechanic and World of Science from 70 Holland Road during early 1915. He married Edith Holdaway during the spring of 1915. They settled at 226 Tonbridge Road, Maidenstone, and Clout continued to advertise slide sales from that address. Clout joined the Royal Air Force on April 24, 1917. Thus, slides with his 70 Holland Road address date from ca. 1913 through early 1915, and those with the 226 Tonbridge Road address date from later in 1915 until early 1917.

Clout published at least one article on a "Podura" after he returned from the World War, from his home on Tonbridge Road. It is not known whether he continued to sell slides after the war.

By 1933, the Clout family had moved to Rectory Lane, Brasted, in the Sevenoak district of Kent. Through the following decades, George Clout became somewhat of an authority on bees and beekeeping. He wrote several authoritative articles on bee parasites and diseases.

Wife Edith passed away on March 29, 1965. George died at home on December 14, 1976, at 90 years of age.

&nbsp

Resources

Bracegirdle, Brian (1998) Microscopical Mounts and Mounters, Quekett Microscopical Club, London, pages 23 and 122, and Plate 9-J

Clout, G.A. (1914) Some notes on the "Podura-scale" insect, The Journal of Micrology and Natural History Mirror, page 116

Clout, G.A. (1921) Pseudo-sira domestica, English Mechanic and World of Science, page 219

Clout, G.A. (1943) Acarine, Bee Craft, Vol. 26, pages 12-13

Clout, G.A. (1953) Acarine II, Bee Craft, Vol. 35, pages 16-17

Clout, G.A. (1956) Chalk brood and hunchback flies, Bee Craft, Vol. 38, page 135 Clout, G.A. (1961) The six stages of Nosema, Bee Craft, Vol. 43, page 48

England census and other records, accessed through ancestry.com

English Mechanic and World of Science (1912) Letter from an unknown correspondent, regarding G.A. Clout's microscope slides, page 396

English Mechanic and World of Science (1915) Advertisement: "Podura scales – Seira buskii and other species, 1s. per slide – Clout, 70 Holland-road, Maidenhead", page 192

English Mechanic and World of Science (1915) Advertisement: "Podura scales – Templetonia crystallina, and other species, 1s. per slide – Clout, 226 Tonbridge-road, Maidenhead", page 500

Probate of the will of G.A. Clout (1977) "Clout, George Arthur of 1 Tannery Cottage Rectory La Brasted Westerham Kent died 14 December 1976 Administration London 4 March £3972", accessed through ancestry.com

South Eastern Federation of Beekeepers' Associations Year Book (1933) "Mr. G.A. Clout, Rectory Lane, Brasted, Sevenoak", page 26

Walker, David (2011) Notes on a selection of old 'Podura' microscope slides, including two by G.A. Clout, http://www.microscopy-uk.org.uk/mag/indexmag.html?http://www.microscopy-uk.org.uk/mag/artaug11/dw-podura2.html (accessed February, 2022)