Charles Hyde Denison, 1821-1902
by Brian Stevenson
last updated April, 2020
C.H. Denison lived a varied life, from shopkeeper and state Senator in Rhode Island, USA, to official emissary to the 1862 London International Exposition, to managing insurance offices in San Francisco and New York. During the last 30 years of his life, Denison was also a very active microscopist. Among other things, he was a founding member of the San Francisco Microscopical Society (in 1872), and Chair of a New York-based committee that developed standards for geological mounts and their storage cabinets (1895).
Denison produced microscope slides during both his time in California (1870-1882) and in New York (1882-1902). All recognizable slides bear a large label with his initials, "C.H.D.", and some also carry a smaller label with "Chas. H. Denison, San Francisco, Cal." Those without an address label may be from Denison's time in New York, or may have lost a label.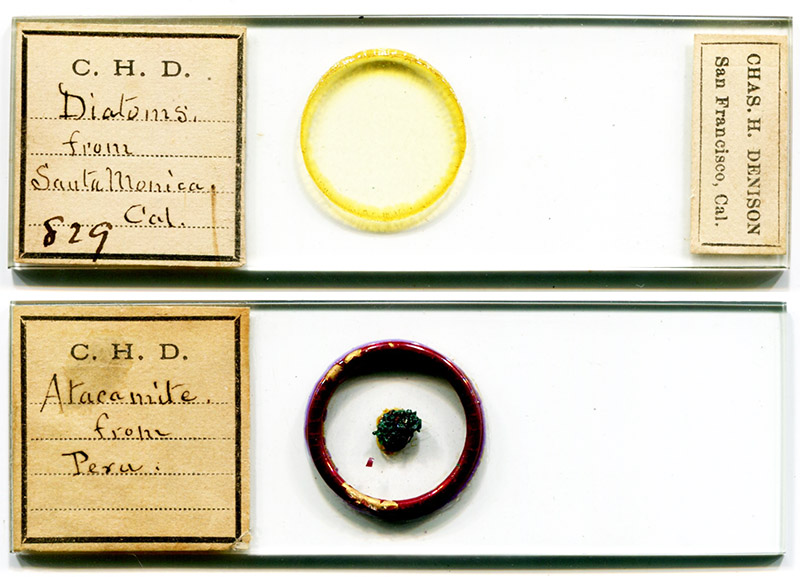 Figure 1. Microscope slides by Charles H. Denison. The upper slide, with his San Francisco address, dates from between 1870 and 1882.
&nbsp


Figure 2. Close-up view of C.H. Denison's micromount of a specimen of "Atacamite from Peru". Micromounts are small specimens that display features of a mineral, yet are small enough that an extensive collection need not take up much space. Denison glued a brass ring to a standard 1x3 inch glass slide, painted it, and cemented the specimen in the center. He did not use a cover slip, thereby allowing close examination of the specimen from many angles. The ring is both decorative and provides some protection against knocks.
&nbsp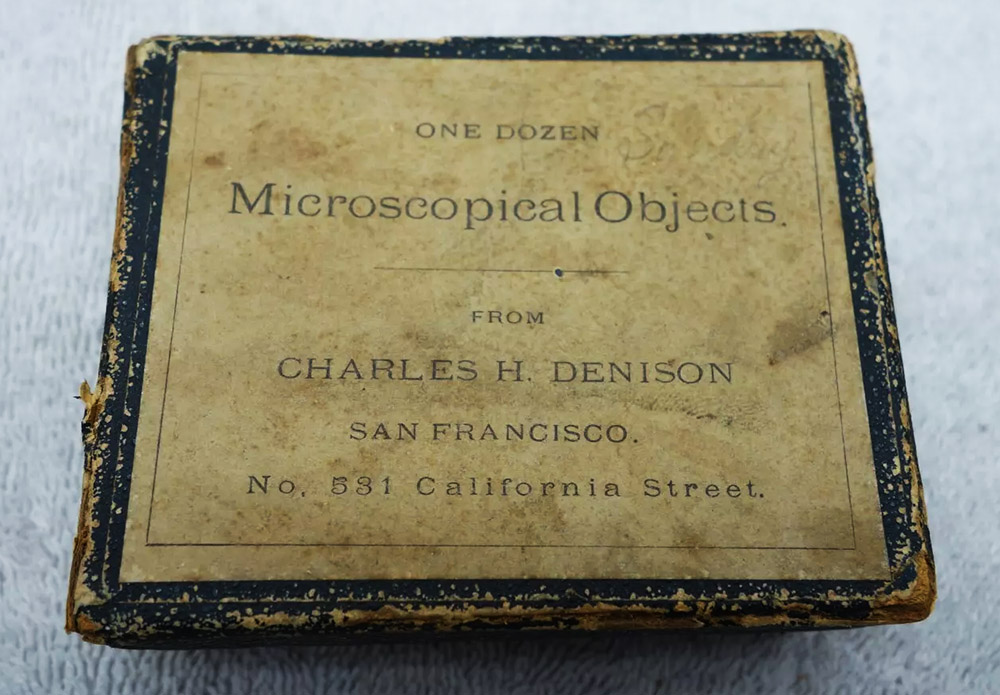 Figure 3. Charles H. Denison, from Alonzo Phelps' 1882 "Contemporary Biography of California's Representative Men".
&nbsp
Charles Hyde Denison was born in Connecticut during 1821 (probably in the town of Mystic). He listed that state as his place of birth on all census records except 1870, when he reported Rhode Island. At that time, he had recently moved from Rhode Island to California. In California, he joined the Rhode Island Association, and an 1876 poem that he published indicated a strong affection for that state. Yet, Denison was buried in Mystic, Connecticut alongside his parents and grandparents.
Charles was the fifth of seven children of Gilbert and Sophia (née Culver) Denison. Charles' interest in intellectual improvement was evident early-on: by 1847 he was a member of the American Art-Union, a national organization for promotion of American arts and artists.
Around 1847, Charles Denison began working as a book keeper for the White Rock textile factory, in Westerley, Rhode Island. A few years later, he began a mercantile business in the same town.
In 1848, Charles married Mary Ann Stanton Cottrell. They did not have any children.
Denison was elected to the Rhode Island Senate in 1860, and again in 1862. He resigned shortly afterward to travel to London, England, as a commissioner to that year's International Exposition. The Denisons returned from England in 1863, and settled in Mystic, Connecticut. There, Charles took up work as an insurance agent. He also served as a town Selectman. Although he had no real construction experience, he was hired to supervise building of a swinging railway bridge over the Mystic River, between Stonington and Groton (by all accounts, the bridge was an engineering success). In 1868, he was appointed to the State Board of Railroad Commissioners.
The Denisons moved to San Francisco, California in 1870. Charles was manager of the Charter Oak Life Insurance Company. That was a Connecticut-based company, and so had probably been Denison's employer in Mystic. The 1880 census listed Mary Ann's sister, Emma, and a niece, Josephine, in the household - it is possible that they had also moved to California in 1870.
In July, 1870, Charles wrote about a grove of fossilized tree trunks in Napa County. A few months later, he guided a group of visiting scientists from Yale University to see the petrified trees.
The San Francisco Microscopical Society was incorporated on August 30, 1872, and Charles Denison was apparently one of the initial members. He was Recording Secretary from 1879-1882.
Among the specimens shown by Denison to the society were "zircon with gold, gold crystals, azurite crystals" (1879) and "diatoms" (1882). In 1880, he presented a lecture on "Graphology, or detection of forgery under the microscope", which was later published in The American Journal of Microscopy and Popular Science. Other lectures included "Sand" (1881) and "Egyptian brick-making" (1882).
Two drawers of "slides of sand from various localities, mounted and donated by Charles H. Denison" were described in an 1893 inventory of the San Francisco Microscopical Society's holdings.
The Denisons moved to Brooklyn, New York, in 1882. Charles was listed in directories as an insurance agent, probably still with Charter Oak.
He joined the New York Academy of Sciences in 1882. He also appears to have been a member of the New York Microscopical Society for a period of time. During the late 1880s, he seems to have exchanged membership in those societies for the more convenient Brooklyn Institute of Arts and Sciences. In 1891, Denison joined the American Society of Microscopists.
The 1892 Scientists' International Directory listed Charles twice: "Denison, C.H., Microscopist, 113 Montague St., Brooklyn, N.Y.", and "Denison, Chas. H., 113 Montague St., Brooklyn, NY Diatoms, Min., Mic. C. Ex." (those abbreviations indicating that he was interested in minerals and microscopy, for collection and exchange). He was again entered twice in the 1895 edition, once with his previous address, and once with his current, "Denison, Chas. H., 114 Montague St., Brooklyn, NY Diatoms, Min., Mic. C. Ex.", and "Denison, Chas. Hyde, 97 Front St., New York. Bot., Geol., Min., Mic. C. Ex.".
Among the items exhibited by Denison to his New York colleagues were "specimens of crystallized gold recently discovered by him in North Carolina" (1891) and "eggs of umbre moth" (1894).
The Mineral Collector wrote in 1895, "It has long been felt among collectors in mineralogy and geology, that the extreme diversity found among cases, drawers, trays and labels, was an inconvenience and an embarrassment, and that an established system of some kind would be an improvement much to be desired. Of course no system can ever be adopted that will meet all the variations of individual taste, or all the needs and exigencies of different kinds of collections. But it ought to be practicable to agree upon some standards suitable for use among the majority of collectors, that would be a great accommodation to many, and if once adopted by dealers and manufacturers, would result in great economy of cost and great convenience in all transactions among collectors. The adoption, some years ago, of the standard society, screw for microscopes, which has since been adopted with almost universal consent and great practical advantage by workers in that department; and the similar agreement upon general standards in the manufacture of photographic, electrical and particularly mechanical appliances, have shown both the advantage and the possibility of such concerted measures. With the object of seeking to find and establish some such general standards, action was taken by the appointment of a joint committee". Charles Denison was appointed to that committee as the representative of the Brooklyn Institute, and was elected to be its Chairman.
Charles H. Denison died on December 2, 1902, at his home in Brooklyn. He was buried in the family plot in Mystic.
&nbsp
Resources
The American Journal of Microscopy and Popular Science (1879) San Francisco Microscopical Society, Vol. 5, page 22
The American Journal of Microscopy and Popular Science (1880) San Francisco Microscopical Society, Vol. 5, page 141
The American Monthly Microscopical Journal (1891) page 197
Denison, Charles H. (1876) Rhode Island: a poem delivered at the annual reunion of the Rhode Island Association of California
Denison, Charles H. (1880) Graphicology, or detection of forgery under the microscope, The American Journal of Microscopy and Popular Science, Vol. 5, pages 237-239
Find-a-grave (accessed April, 2020) Charles Hyde Denison, https://www.findagrave.com/memorial/127261074
Journal of the New York Microscopical Society (1894) Annual Exhibition, April 17, Vol. 10, pages 77-78
Journal of the Royal Microscopical Society (1880) "Under the title of 'Graphicology', Mr. C.H. Denison read a paper before the October meeting of the San Francisco Microscopical Society, on the art of writing, the detection of forgery, &c. …", page 862
March, O.C. (1871) Notice of a fossil forest in the tertiary of California, The American Journal of Science, Volume 101, pages 266-268
The Mineral Collector (1895) Report of the Joint Committee of New York and Brooklyn Societies, Vol. 2, pages 37-38
The Naturalists' Directory (1883) "Denison, Charles H., San Francisco. Min., Bot.", page 32
The Naturalists' Directory (1892) "Denison, C.H., Microscopist, 113 Montague St., Brooklyn, N.Y.", and "Denison, Chas. H., 113 Montague St., Brooklyn, NY Diatoms, Min., Mic. C. Ex.", page 57
The Naturalists' Directory (1895) "Denison, Chas. H., 114 Montague St., Brooklyn, NY Diatoms, Min., Mic. C. Ex.", and "Denison, Chas. Hyde, 97 Front St., New York. Bot., Geol., Min., Mic. C. Ex.", page 51
New York City Directory (1888) "Denison Charles H. agent, 30 Cortland, h. Mass.", page 460
Pacific Rural Press (1882) A microscopical reception, page 328
Phelps, Alonzo (1882) Contemporary Biography of California's Representative Men, A.L. Bancroft & Co, San Francisco, pages 347-349
Proceedings of the American Microscopical Society (1894) "Members … Denison, C.H., '91, 146 Willow St., Brooklyn, N.Y."
San Francisco Directory (1871) "Denison Charles H., general agent Charter Oak Life Insurance Co., office 331 California, dwl 305 Kearny", page 203
San Francisco Directory (1874) "Denison Charles H., general agent Charter Oak Life Insurance Co., office 331 California, res Oakland", page 203
San Francisco Microscopical Society, https://www.sfmicrosoc.org
Transactions of the American Art-Union (1847) "Names of members … Denison, Charles H., Westerly, R.I.", page 73
Transactions of the New York Academy of Sciences (1883) "Regular Members … Denison, Chas. H., 140 Nassau Street, (elected) 1882", page 116
Transactions of the New York Academy of Sciences (1887) "acceptance of the resignations of the following members … Mr. Charles H. Denison", page 18
Transactions of the San Francisco Microscopical Society (1893) pages 36-37, 57, 60, and 70
U.S. census and other records, accessed through ancestry.com
Wilson, Wendell E. (2020) Charles H. Denison, Mineralogical Record, https://mineralogicalrecord.com/labels.asp?colid=1060
Yearbook of the Brooklyn Institute of Arts and Sciences (1891) page 174