George Dickie, 1812-1882
"G. D."
by Brian Stevenson
last updated July, 2022
Microscope slides with labels that bear the typeset initials "G.D." were prepared by George Dickie. He was a physician and botanist, serving as a Professor of Botany or Natural History at the University of Aberdeen and Queen's College, Belfast. Most, if not all, of Dickie's known slides are preparations of diatoms, one of his areas of expertise. Among his writings are descriptions of diatoms collected by the H.M.S. Alert and H.M.S. Challenger, and the names of those ships are often found on his microscope slides.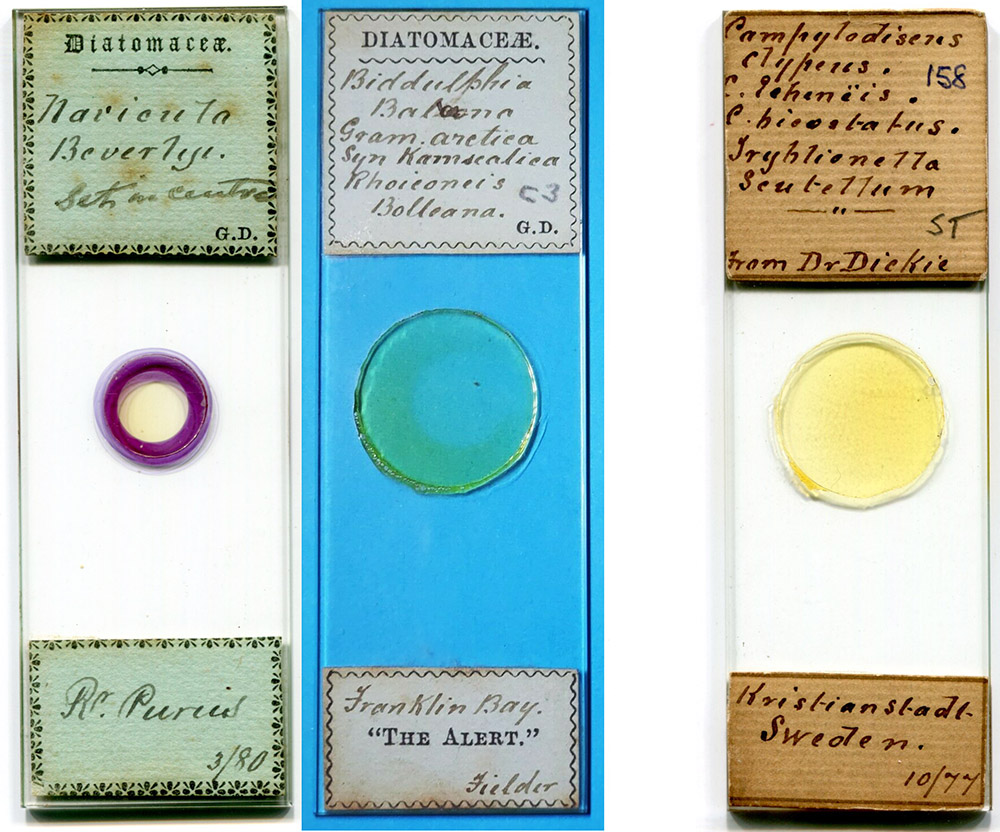 Figure 1. Microscope slides by George Dickie. The left and center slides have labels that are typeset with Dickie's initials, "G.D.". The slide on the right bears a handwritten "from Dr. Dickie" – it is presumed that this slide was given by Dickie to a colleague. The center slide bears an additional label which indicates that the material came from the 1875-1876 Arctic Ocean expedition of the H.M.S. Alert. Images from the author's collection or adapted for nonprofit, educational purposes from an internet auction site.
&nbsp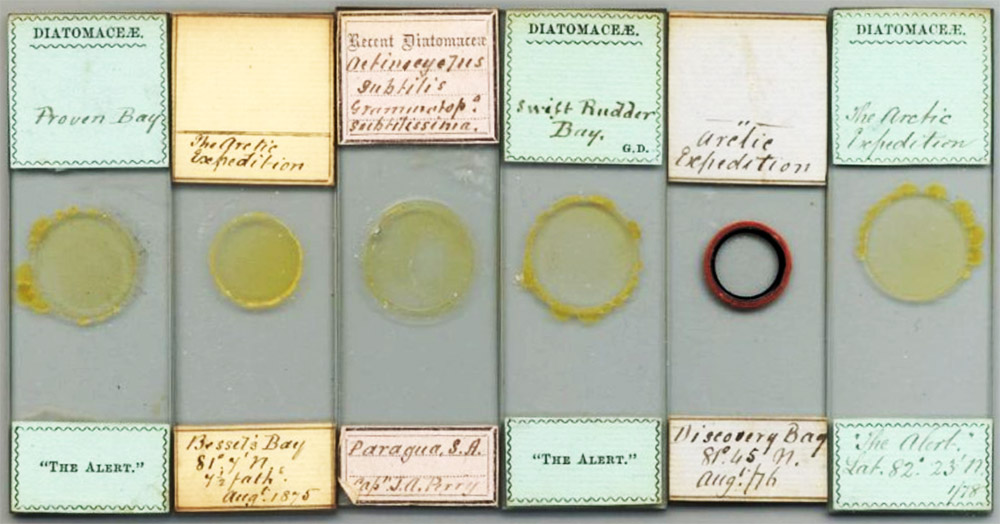 Figure 2. Additional microscope slides by George Dickie, from the collection of the University of Dundee Museum. Adapted for nonprofit, educational purposes from www.flickr.com/photos/university-of-dundee-museum-services/3573532862 .
&nbsp
George Dickie was baptized on November 23, 1812, in Old Machar, Aberdeen, Scotland. He was the first child of John and Isabella (née Fowler) Dickie.
The Dickie family had the wherewithal to give George a substantial education, first at Marischal College, Aberdeen, then the Brown Square School of Medicine in Edinburgh. George graduated with a medical degree in 1833, and became a member of the Royal College of Surgeons of London in 1834. He practiced surgery in Aberdeen for several years afterward.
Nonetheless, Dickie was drawn toward botany. In 1838, he published Flora Abredonensis on the plants around Aberdeen. At that time, he was a Fellow of the Edinburgh Botanical Society. In 1839, Dickie was appointed Lecturer in Botany at King's College, Aberdeen. He published "On the forest and other trees of Aberdeenshire" in 1843.
Dickie moved to Belfast, Ireland in 1849 to become the first Professor of Natural History at the newly-founded Queen's College. He purchased three microscopes for the college with his start-up funds. He soon became a member of the Belfast Natural History Society.
George Dickie married Agnes Low on August 27, 1856 in Aberdeen. He was 43, she was 24. The couple had at least 5 children together.
The Dickies left Ireland in 1860, George taking the position of Regius Professor of Botany at Aberdeen University. He kept that position until he retired in 1877.
Among his further publications were The Botanist's Guide to the Counties of Aberdeen, Banff, and Kincardine in 1860 and A Flora of Ulster and Botanist's Guide to the North of Ireland in 1864.
Dickie was elected as the Fellow of the Linnean Society in 1863.
The Royal Navy sent the survey ships Alert and Challenger to the Arctic Ocean during 1875-76. Dickie published numerous articles that described the diatoms, algae, and other botanical material collected by those ships. As noted above and in Figures 1 and 2, microscope slides of diatoms by Dickie that are labeled "The Alert" are encountered fairly frequently.
Dickie became a Fellow of the Royal Society in 1881.
George Dickie died on July 15, 1882, aged 69.
&nbsp
Resources
Adelman, Juliana (2016) Communities of Science in Nineteenth-Century Ireland, University of Pittsburgh Press, pages 115-116
Dickie, George (1838) Flora Abredonensis, Gray & Smith, Aberdeen
Dickie, George (1838) On the forest and other trees of Aberdeenshire, Quarterly Journal of Agriculture, Vol. 13, pages 393-426
Dickie, George (1860) The Botanist's Guide to the Counties of Aberdeen, Banff, and Kincardine, A. Brown & Co., Aberdeen
Dickie, George (1864) A Flora of Ulster and Botanist's Guide to the North of Ireland, Reeve & Co., London
Dickie, George (1875) Algae and diatomaceae, In Nares G.S. and H.W. Feilden, Narrative of a voyage to the Polar Sea during 1875-6 in H.M. ships "Alert" and "Discovery", S. Low, Marston, Searle, and Rivington, London, pages 323-326
Dickie, George (1876) Diatoms, Proceedings of the Royal Society, Vol. 25, pages 227-229
Dickie, George (1876) Contributions to the Botany of H.M.S. 'Challenger.' XXII. Algæ collected by Mr. Moseley at Seal Island, Botanical Journal of the Linnean Society, Vol. 15, pages 41–42
Dickie, George (1876) Contributions to the Botany of H.M.S. 'Challenger.' XXIII. Algae collected by Mr. Moseley at Marion Island, in 40 fathoms, Botanical Journal of the Linnean Society, Vol. 15, pages 42-43
Dickie, George (1876) Contributions to the Botany of H.M.S. 'Challenger.' Algae, chiefly Polynesian, Botanical Journal of the Linnean Society, Vol. 15, pages 235-246
Lunney, Linde, and Rob Bohan (2009) Dickie, George, Dictionary of Irish Biography, https://www.dib.ie/biography/dickie-george-a2571
Medical Directory for Ireland (1854) Dickie, George, page 43
Medical Directory for Ireland (1860) Dickie, George, page 94
Probate of the will of George Dickie (1882) "Confirmation of George Dickie, M.D., Emeritus Professor of Botany, University of Aberdeen, who died 15 July 1882, at Aberdeen, testate, granted at Aberdeen, to Agnes Williamson Low or Dickie, dated 4 April 1881, and recorded in Court Books of Commissariat of Aberdeen, 8 August 1882. Value of Estate £8117 12s", accessed through ancestry.com
Scotland census and other records, accessed through ancestry.com