Thomas Edward Doeg, 1843 - 1926
by Brian Stevenson
last updated November, 2018
Amateur microscopist T.E. Doeg gained a strong reputation for his extensive collection of diatomaceous material. In 1891, Julien Deby rated Doeg's collection as being among the 10 most important in Britain, alongside those of the British Museum, the Royal Microscopical Society and the Quekett Microscopical Club. Modern-day diatom mounter Klaus Kemp advertises that he has several containers of diatomaceous materials from Doeg's collection, from which new slides can be prepared. There are no indications that Doeg travelled beyond his home of Evesham, England, but appears to have acquired his collections through exchanges with other enthusiasts.
There is relatively strong demand for Doeg's high quality diatom slides (Figures 1 and 2). In addition, other types of specimens are to be found with Doeg's labels (Figure 1). Contemporary publications indicate that Doeg had a wide range of interests, so it is very reasonable to assume that he made such slides himself. He did, however, offer to exchange items from his collections for "really good micro slides", raising the possibility that he may have re-labeled acquisitions from other makers (Figure 3).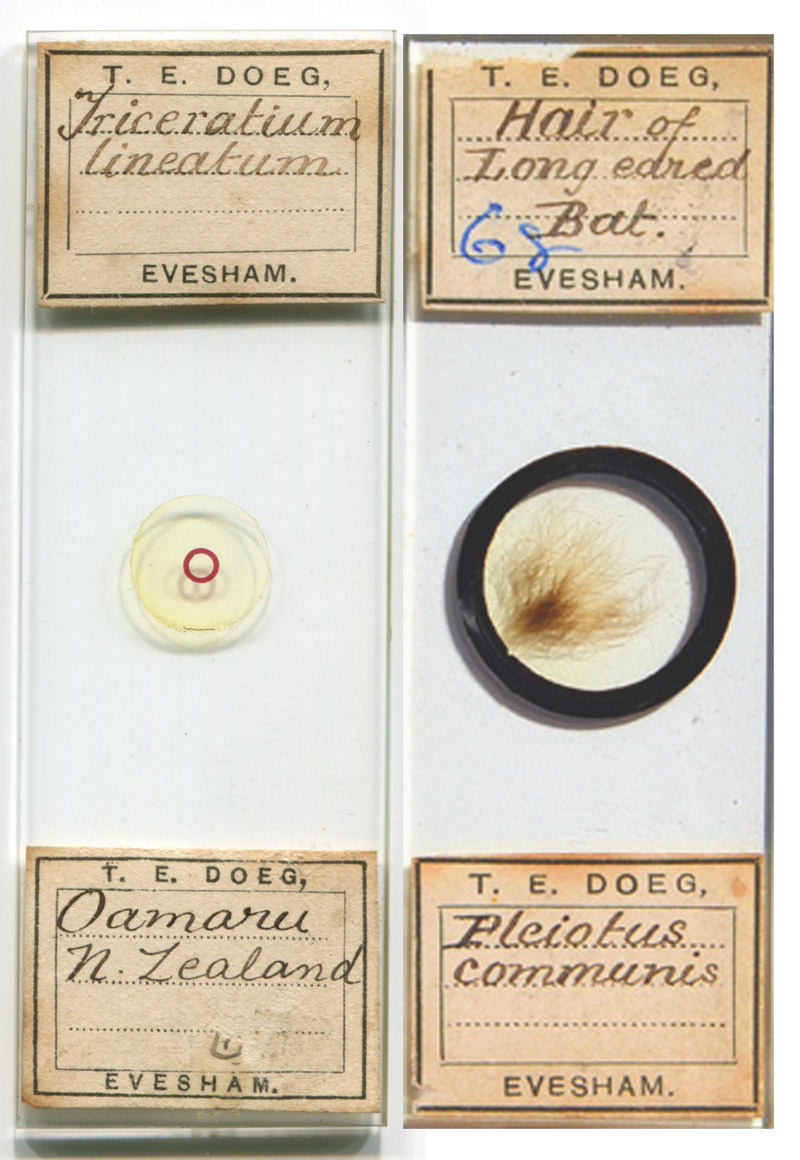 Figure 1. Examples of microscope slides from Thomas E. Doeg. Although best known for his diatom work, Doeg had a wide range of interests in microcopy and other aspects of biology. The bat hair slide image is adapted from https://sites.google.com/site/microscopiosxix/preparats/sld_doeg, for nonprofit, educational purposes.
&nbsp

Figure 2. Microscopic views of the single Triceratium lineatum diatom frustule that is mounted on the slide shown in Figure 1.
&nbsp


Figure 3. The known microscopy-related exchange offers from T.E. Doeg. Excerpted from Science-Gossip (1881 and 1889) and the Northern Microscopist (1882). Considering the extent of Doeg's collection of diatomaceous materials, he likely used additional, unidentified venues to coordinate their acquisition. Doeg was an avid collector of bird's eggs, and published several exchange requests through the years.
&nbsp
Thomas Edward Doeg was born during early 1843, in the Shoreditch section of London. He was the fourth child of David and Mary Ann Doeg, having two sisters and a brother. His father was then an accountant, although he later took other jobs. The Doegs were members of the Society of Friends (Quakers). Considering Thomas' later interest in microscopy and skill as a slide-maker, it is probably not a coincidence that he was a first cousin of professional slide-maker Frederick Enock (David Doeg's sister, Elizabeth, was Frederick Encock's mother - in addition, Frederick Enoch's father was brother-in-law to professional slide-maker Edmund Wheeler).
Around 1860, Thomas was taken into apprenticeship by Thackwell Smith, a fellow Quaker who operated a grocery, pharmacy, drapery, and banking business in Charlbury, Oxfordshire. Rather a surprise for someone of his denomination, 19 year-old Doeg won a prize in an essay contest on military fortifications, held by Boy's Own magazine.
Doeg married Elizabeth Gillett in the Friends' Meeting House of Charlbury, on July 30, 1868. Shortly thereafter, the couple moved to Evesham, Worcestershire, where Thomas opened a chemist's shop (pharmacy) at 10 Bridge Street. The 1871 census recorded that Elizabeth "assists in business". Thomas' widowed father lived with the couple, working as a "civil engineer". Their first child, Mary Ellen, was born in 1872, followed by son William Edward in 1874, and daughter Ann Elizabeth in 1879. William died in 1875, only 14 months in age.
By 1875, the Doeg family had moved up the street to 57 Bridge Street (Figure 4). Thomas operated a chemist's business from that address until 1904. The Doeg home/shop was old even then: King Charles I stayed at the house in 1644, during the English Civil War.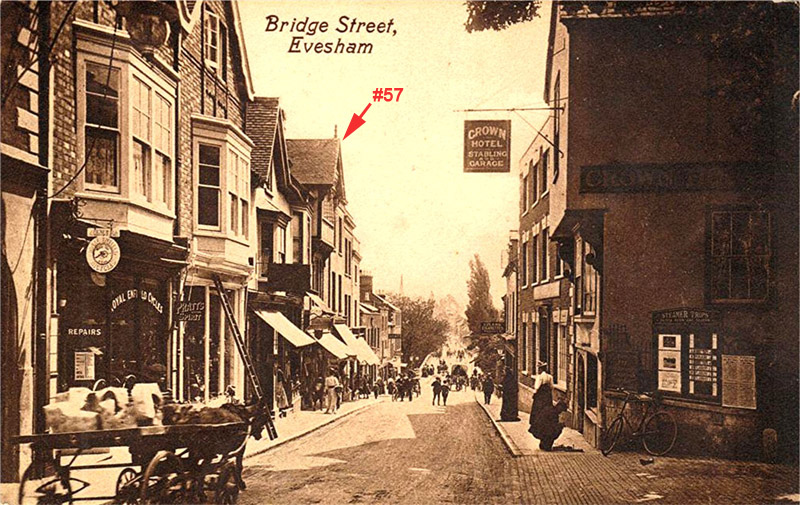 Figure 4. An early photograph of Evesham's Bridge Street. The Doeg home and shop was at number 57, the building on the left with a projecting top-floor window, marked with the arrow.
&nbsp
Among other services, Doeg offered analysis of drinking water. He featured in an 1892 conflict between the local health board and a Mr. Hunt: "At the last meeting of the Evesham Rural Sanitary Authority the inspector, referring to a house at Badsey, occupied by Mr. Hunt, stated that he had asked Mr. Hunt to have a sample of the water taken in his (the inspector's) presence for analysis. Mr. Hunt, however, said that it had been analysed once, that the sample was taken in the presence of a creditable witness, and he declined going to any further expense. Mr. Hunt appeared before the Board, and said the water was analysed by Mr. Doeg, and the Chairman said that Mr. Doeg was not the authority for the Board. Mr. Hunt said he did not want to have the water analysed by any of the Board's men, as they would be sure to condemn it; but it was stated that only that day they had a case in which the analyst had passed a sample of water. Mr. Hunt remarked that Mr. Doeg's fee was one guinea, and the Chairman told him that he could have had it done by the Board for half that amount. Mr. Hunt then said that as he had to pay, he should think he could do as he liked, and the Chairman warned him of the expense it would entail if they had to take proceedings against him. He could, however, send the water to Mr. Doeg if he liked, but it must be taken in the presence of the Inspector and sealed by him".
Doeg's shop sold mineral, flavored, and carbonated waters. Figure 5 shows a bottle, imprinted with Doeg's name and address. The 1880 edition of Harrod's Directory of England listed, "Doeg Thomas Edward (successor to Thomas New), chemist and druggist; manufacturer of soda, potash, and aerated waters; 57 Bridge street". Doeg was also an agent for mass-produced drinks such as Zoedone, "a delicious, sparkling, tonic beverage".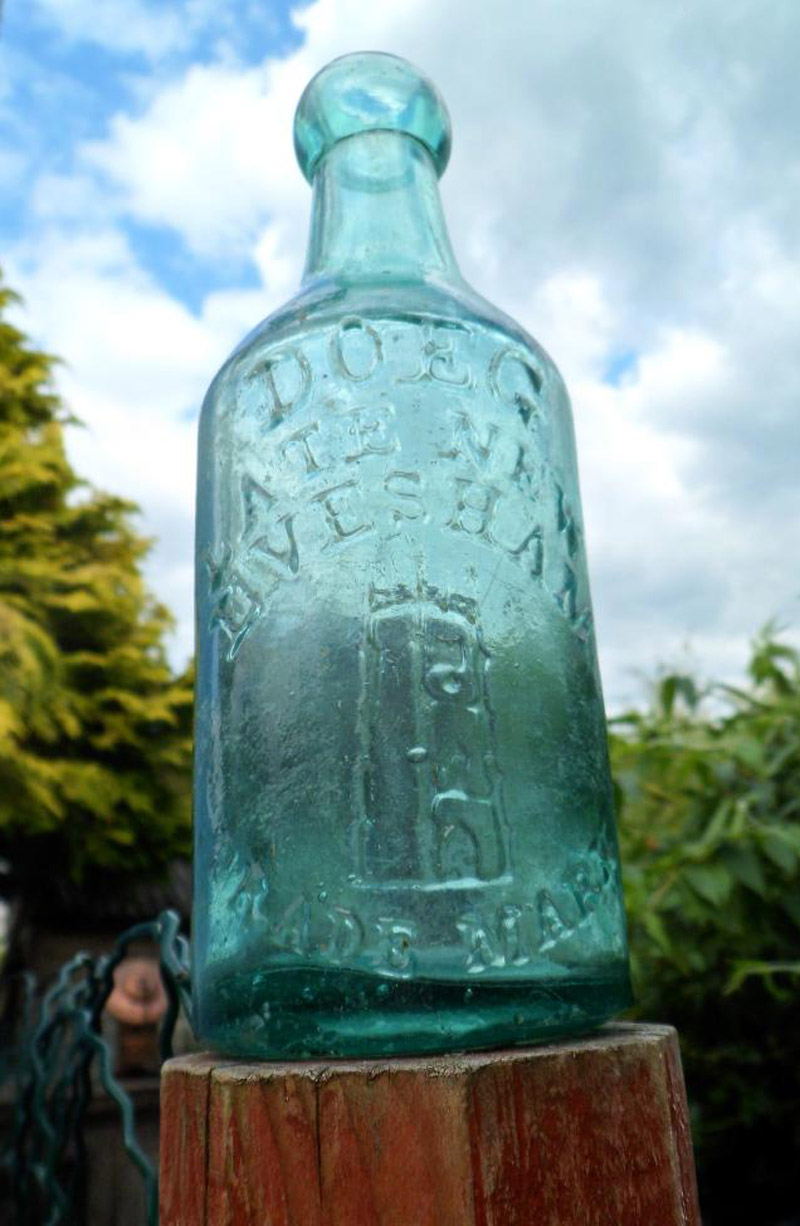 Figure 5. A bottle from Thomas Doeg's water business. It reads "Doeg, late New, Evesham", Thomas New being the person from whom Doeg acquired the business. The trade marked image is a rendering of the Evesham Abbey bell tower. Adapted from an internet auction site.
&nbsp
The earliest known evidence of Doeg's interest in microscopy comes from 1877. In the following letter to Hardwicke's Science-Gossip, Thomas mentions that he prepared microscope slides of mollusk radulae (also known as tongues, palates or, in Doeg's parlance, "lingual ribbons"): "Cleaning the shells of the smaller species of mollusks - I have recently adopted the following method of extracting the animal from some of the smaller species of land and fresh-water shells. After killing them by immersion in boiling water, they are placed in a large test-tube, with a solution of caustic potash, and heated to the boiling point; in a short time the animal is completely dissolved, and the shells are freed from the potash by boiling in plenty of distilled water. The method may not be new, but suggested itself to me whilst preparing some of the lingual ribbons of the mollusca with potash for microscopic examination; and, so far as I have at present tried it, I am pleased with the result. The epidermis of some species is injured by it, but for many kinds it seems to answer admirably".
By that time, Doeg was also an avid collector of bird's eggs. He published this exchange offer in an 1877 issue of Hardwicke's Science-Gossip, "Well-blown Eggs of Kestrel, Red-backed Shrike, Spotted Flycatcher, Wren, Lapwing, Partridge, Pheasant, Moorhen, and a few others, to exchange for other eggs, side-blown, one hole. Sea-birds particularly wanted". Doeg kept with that hobby for many years, occasionally advertising similar exchange requests (e.g. Figure 3, above).
The Evesham Naturalists' Field Club formed in July, 1873. I have not discovered whether Doeg was a charter member, but he was certainly a member by 1878. He served as Honorable Secretary for many years. Club minutes indicate the diversity of Doeg's interests. On February 27, 1878, "Mr. T. E. Doeg delivered an address on 'Our Local Molluscs', which he illustrated with some microscopic slides". Three months later, "Mr. Doeg produced some Blue-lias fossils from a brickyard, which had been given him by a workman there for the Club. Also a specimen of Testacella taken with several others in a piece of garden ground adjoining the town" (note: Testacella is a genus of slugs), "The following plants were mentioned by Mr. Doeg as having been found lately in the neighbourhood: Saxifraga hypnoides, Polygonatum officinale, Ophrys muscifera, and Polypodium Robertianum", and "Mr. Doeg brought a very large specimen of the Lamprey, (Petromyzon marinus) 26 1/2 in. long, and weighing 1 3/4 lb., taken in River Avon, near Cropthorne, last week". In 1880, the Club's December meeting featured, "living Rotifers and Infusorians, furnished by Mr. T. E. Doeg, .. capitally exhibited under five microscopes, lent by members of the Club for the purpose".
Also indicating a diversity of interests, Doeg responded to an 1882 appeal from the editors of Hardwicke's Science-Gossip for volunteers "willing to afford local information in the several branches of Natural History which they study to fellow-naturalists visiting their district, or desirous of such information", by stating that he was primarily interested in "Botany and Lepidoptera".
Doeg was a prominent attendee of a 1890 conference in Evesham "of those immediately interested in preventing the ravages of insect pests in their relation to the market gardening industry". A resulting report included pictures of the destructive moth Incurvaria capitella from "Mr. T. Doeg, of Evesham, who bred the insect from larvae taken in shoots of red currant". A later report stated that, "In 1897 Mr. T.E. Doeg, of Evesham, was investigating the insects (mostly Scolytidae) which had caused such destruction in the fruit gardens at Toddington, near Evesham, and found Leptidia (again in some numbers) on and about the damaged fruit trees; the probable explanation of this would be that the insect came from the wicker baskets in which the fruit was gathered for the market. Mr. Mosley, of Huddersfield, to whom Mr. Doeg sent some of these specimens, remarks that Leptidia is not uncommon in some of the fruit shops at Barnsley".
Throughout, Doeg evidently continued to collect and distribute diatoms. John Rattray's 1889 paper on "A revision of the genus Actinocyclus" thanked Doeg for having rendered "very efficient aid", and credited Doeg for discovery of Actinocyclus moronensis. A subsequent Rattray paper on Coscinodiscus described many species from Doeg's collection, and indicated that Doeg possessed diatomaceous deposits from Santa Marta, Oamaru, Japan, the HMS Challenger ocean dredging survey, Hong Kong, the Springfield and Newcastle deposits of Barbados, Norway, and Cementstein from Jutland. Julien Deby, in 1891, lamented that he was "grieved to have to state that English and Scotch botanists - who some years ago occupied the head of Diatomology, have at the present day arrived at a minimum of working naturalists", while also stating that "many of our 'collectors' have a very considerable knowledge of the various species of diatoms. Among these latter (are) Mr. Doeg of Evesham". Deby further honored Doeg in that book, naming a species Campylodiscus doegeanus (Figure 6). That was a short-lived honor, however, as Deby also wrote in the same book that C. doegeanus was synonymous with the previously-named C. coronilla, and probably just a variant of C. Californus.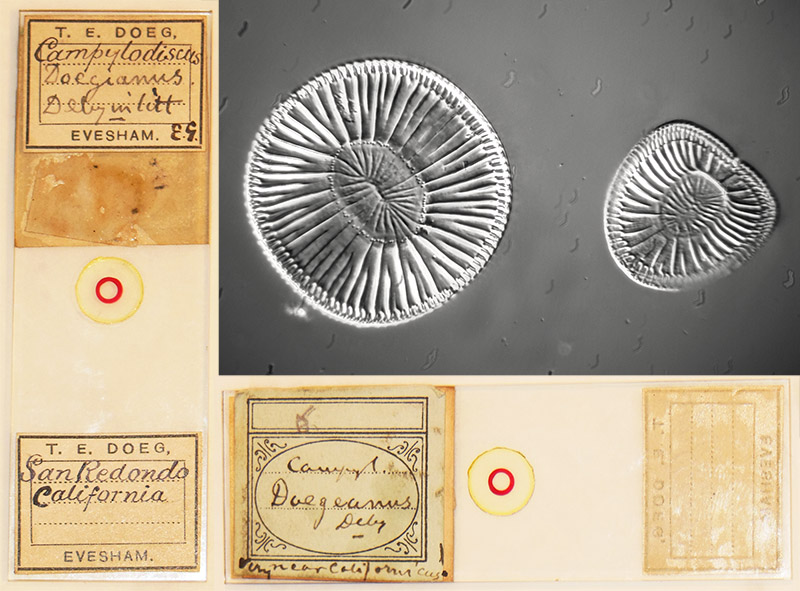 Figure 6. Front and back views of a Doeg microscope slide of the diatom Campylodiscus doegeanus, and a photomicrograph of the specimens. On the back label, Doeg wrote "Very near Californicus!" This diatom was soon recognized as a variant of C. californicus. Images courtesy of Craig Downing.
&nbsp
Doeg's shop sold photographic chemicals and supplies, and he took up that hobby. In 1900, he won an Honourable Mention for a photograph from a winter landscape. He published a photograph of a neighbor's yucca plant in 1906 (Figure 7).
Thomas' wife, Elizabeth, died in October, 1898.
In April, 1904, The Pharmaceutical Journal reported that "Mr. T.E. Doeg, chemist and druggist, of 68 (sic), Bridge Street, Evesham, has removed to 68, High Street. The pharmacy has been at the former address for about a century, Mr. Doeg having been there for nearly thirty years". The provided Bridge Street address was presumably a typographical error, since Doeg had been at number 57 Bridge Street since the 1870s.
Doeg co-authored revision of the book Evesham and the Neighbourhood, providing "notes on the Flora, &c".
Thomas Doeg retired and moved to Weybridge, Surrey. He died on August 4, 1926. The Chemist & Druggist reported, "At Winchelsea, recently, Mr. Thomas Edward Doeg, J.P., chemist and druggist, formerly of Evesham, aged eighty-three. Mr. Doeg went to Evesham sixty years ago, and acquired the business of the late Mr. Thomas New, which he carried on till his retirement". Probate of his will recorded, "Thomas Edward Doeg of Hall School House, Weybridge, Surrey died 4 August 1926 at Windy Level Winchelsea Beach Pett Hastings. Probate London 18 October to Mary Ellen Thorne, widow, Annie Elizabeth Warner (wife of Donald Warner) and Ellen Hilton Gillett spinster. Effects £998 5s 10d".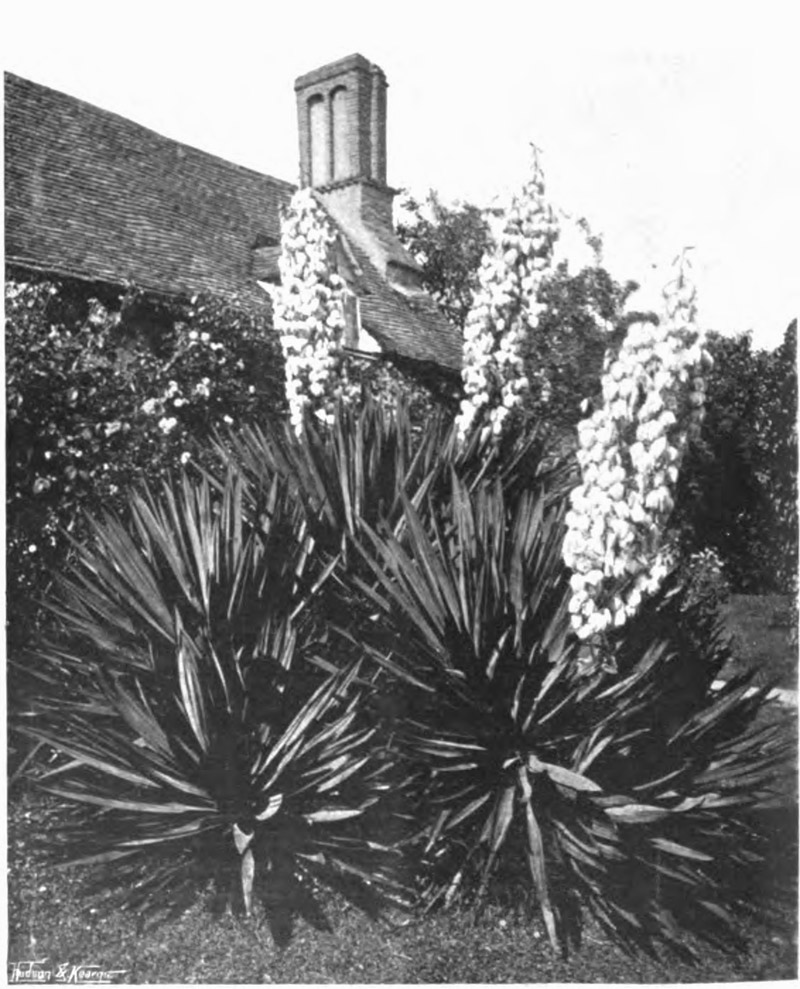 Figure 7. "A fine flowering yucca. [To The Editor of "Country Life." 1907] Sir, Can you make use of the enclosed photograph in Country Life? It is a very fine yucca, growing in a lady's garden at Great Hampton, rear Evesham, and, as the picture shows, has three immense spikes of blossom. I took this photograph on Wednesday last, and some of my friends thought it so interesting that they advised me to offer it to you for publication. Thomas E. Doeg".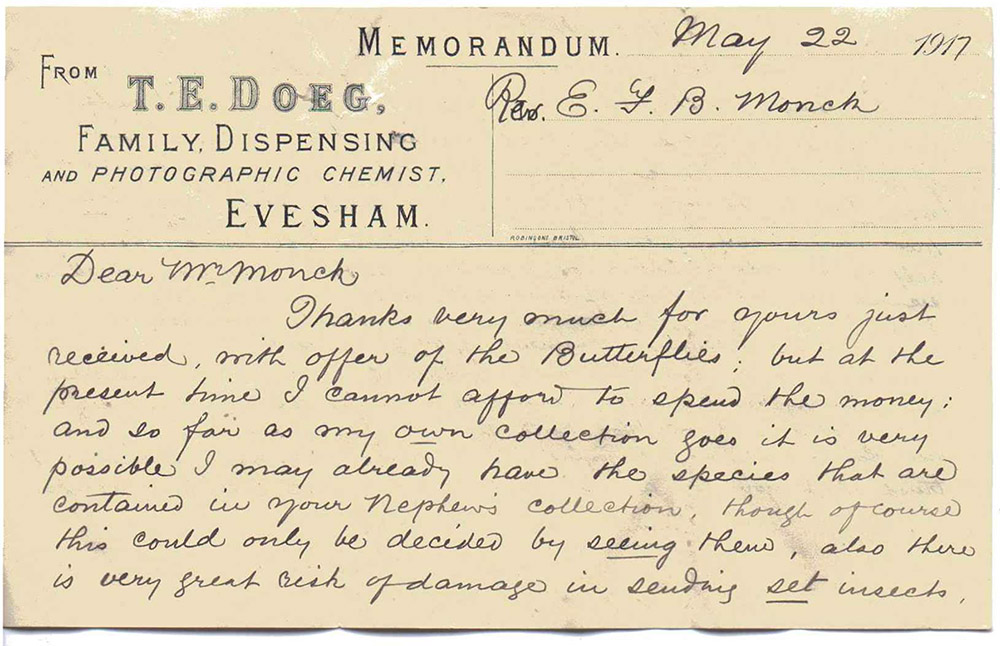 Figure 8. Doeg was also an enthusiastic butterfly collector. This 1917 note, on Doeg's business letterhead, was sent to Rev. E.F.B. Monck in response to an inquiry of a possible sale. Image kindly provide by Christopher Pike, a relative of Monck.
&nbsp
Aknowledgments
Thank you to Craig Downing and Christopher Pike for providing images and other insights.
&nbsp
Resources
The Annual Monitor (1898) Death notice of Elizabeth Doeg, page 66
The Annual Monitor (1906) Obituary of Thackwell Smith, pages 133-137
Boys Own Magazine (1862) page 336
Bracegirdle, Brian (1998) Microscopical Mounts and Mounters, Quekett Microscopical Club, London, pages 32 and 130, and plate 13-O
The British Friend (1875) "Deaths, eleventh month, 20th. At 57 Bridge Street, Evesham, William Edward, aged 14 months, son of Thomas Edward and Elizabeth Doeg", Vol. 33, page 313
British Medical Journal (1880) Advertisement from Zoedone, Vol. 2, advertising section
Brown, Alfred W. (1885) Evesham Friends in the Olden Time, West Newman & Co., London, pages 55-56
Chemist & Druggist (1892) An aversion to the county analyst, Vol. 41, page 289
Chemist & Druggist (1895) "Evesham Board of Guardians have accepted the tender of Mr. T. E. chemist and druggist, of Evesham", for the supply of drugs to the workhouse for the ensuing quarter, Vol. 46, page 478
Chemist & Druggist (1892) Notice of the death of T.E. Doeg Vol. 105, page 307
The Cromwell Association (accessed October, 2014) Cromwellian Britain - Evesham, Worcestershire, http://www.olivercromwell.org/evesham.htm
Deby, Julien (1891) Analysis of the Diatomaceous Genus Campylodiscus, Deby, London, pages 6-7, and 92-93
Deby, Julien (1891) Bibliotheca Diatomologica seu Catalogus Librorum et Collectionum Exsiccatarum Bacillarieas Quascumque Sistentium, pages cxxv – cxxvi
The Doeg Family Society: Descendants of Daniel Doeg and Elizabeth Douthwaite (accessed October, 2014) http://www.doig.net/PETE1630.html
Doeg, T.E. (1877) Cleaning the shells of the smaller species of mollusks, Hardwicke's Science-Gossip, Vol. 13, page 185
Doeg, T.E. (1906) A fine flowering yucca, Country Life, Vol. 20, page 324
England census, birth, marriage and death records, accessed through ancestry.co.uk
The Gardener's Chronicle (1907) Evesham growers and fruit-pests, Third series, Vol. 16, page 74
Hardwicke's Science-Gossip (1877) Exchange offer from T.E. Doeg, Vol. 13, page 72
Hardwicke's Science-Gossip (1881) Exchange offer from T.E. Doeg, Vol. 17, pages 283-284
Hardwicke's Science-Gossip (1882) Vol. 18, page 73
Hardwicke's Science-Gossip (1889) Exchange offer from T.E. Doeg, Vol. 25, page 168
International Studio (1900) Photographs from nature, winter landscape, Vol. 10, page 141
J.G. Harrod & Co.'s Royal Despatch and Special Directory of England (1880) Doeg Thomas Edward, page 313
Journal of Horticulture and Cottage Gardener (1890) Conference at Evesham – the caterpillar blight, Vol. 20, page 204
Kemp, Klaus (accessed October, 2014) Diatom deposit and locality interest (includes 7 different samples from T. Doeg's collection), http://www.diatoms.co.uk/collcoll.htm
The Midland Naturalist (1878) Reports of meetings of the Evesham Field Naturalists' Club, Vol. 1, page 111, 164, and 203
The Midland Naturalist (1879) Report of meeting of the Evesham Field Naturalists' Club, Vol. 2, page 164
The Midland Naturalist (1880) Report of meeting of the Evesham Field Naturalists' Club, Vol. 3, page 48
The Midland Naturalist (1880) Report of meeting of the Birmingham Natural History and Microscopical Society, Vol. 3, pages 121-122
The Midland Naturalist (1880) The Evesham Field Naturalists' Club, Vol. 5, page 118
Newbery, E.A. (1897) Should Leptidia brevipennis, Muls., be included in the British List?, The Entomologist's Monthly Magazine, Vol. 35, page 292
The Northern Microscopist and Microscopical News (1882) Exchange offers from T.E. Doeg, Vol. 2, pages 196 and 228
Ormerod, Eleanor Anne (1891) Report of Observations of Injurious Insects and Common Farm Pests, Simpkin, Marshall, Hamilton, Kent & Co., London, page 44
Pharmaceutical Journal (1904) Moving of T.E. Doeg's business, April 2, page 481
Probate of Thomas Edward Doeg (1926) accessed through ancestry.co.uk
Rattray, John (1889) A revision of the genus Actinocyclus, Journal of the Quekett Microscopical Club, Vol. 10, page 137
Rattray, John (1889) A revision of the genus Coscinodiscus and some allied genera, Proceedings of the Royal Society of Edinburgh, Vol. 16, page 449
The Selborne Magazine (1908) Review of Evesham and the Neighbourhood, by the late William Smith. Second Edition, Revised by E.A.B. Barnard. With Notes on the Flora, &c, by T.E. Doeg. Illustrated by E.H. New and B.C. Boulter, Vol. 19, page 195
Science-Gossip (1899) Exchange offer from T.E. Doeg, New series, Vol. 5, page 320
Worcester Journal (1868) Marriage announcement: "June 30, at the Friends' Meeting House, Charlbury, Thos. Edward Doeg, of Evesham, youngest son of David Doeg, of Banbury, to Elizabeth, eldest daughter of William and Ann Gillett, of Lilac House, Banbury", July 11