Peter Goodfellow, 1857 - 1933
by Brian Stevenson
last updated May, 2019
Peter Goodfellow played important roles in Scottish amateur microscopy during the later 1800s and early 1900s. He was a long-serving Secretary of the Microscopical Society of Glasgow, and became an Honorary Member in 1913. Upon his death, Goodfellow bequeathed money to the Glasgow society to fund an annual speaking event, which became known as the Goodfellow Lecture. After retiring to Helensburgh in 1913, he helped found the Natural History Society of Dunbartonshire and served at their Vice-President.
Microscope slides by Goodfellow are generally well-made and display the specimens in an educational manner (Figures 1 and 2).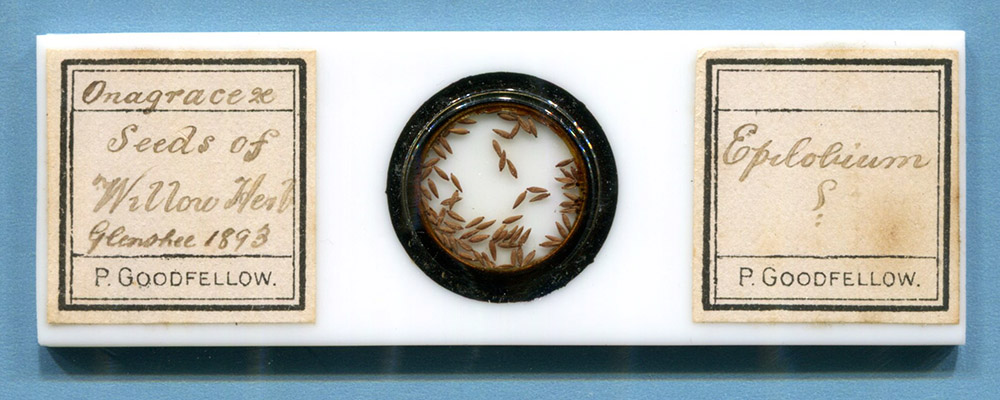 Figure 1. Dated 1898, "Seeds of Willow Herb" by Peter Goodfellow. The seeds are loosely held under the coverslip, so that they can move and reveal all sides of the specimens. The slide is made of opaque white glass, an excellent contrast to the seeds.
&nbsp
Peter Goodfellow was born in the Mile-End area of Glasgow on December 12, 1857. His father, also named Peter, worked in a fabric mill as a journeyman cotton warper (moved cotton thread from spools to the looms to begin the weaving process). By the time of the 1871 census, the 13 year-old Peter was already working full-time, as a "coal boy". The father died soon afterward. Peter and his younger brother remained with their mother through the turn of the century, and neither appear to have married.
Peter learned accounting and worked as a business clerk until he retired in 1913.
Goodfellow joined the Microscopical Society of Glasgow in 1886. He served as Secretary from 1892 until 1895, and again in 1904. A colleague described him, "one of the old order of field naturalists, he was yet highly appreciative of the modern scientific methods of investigation and while the microscope was his favourite study, he took a keen interest in all branches of Natural Science. He made frequent exhibits, giving short descriptive notes. … Whether he chose for his subject 'The Growth of a Tree' or simply 'A Leaf' he made it the peg on which to hang an amazing amount of botanical knowledge, selected with no little skill and discrimination".
He died in Helensburgh on April 14, 1933. A memorial described him as "a man who hid behind a retiring and diffident disposition, a personality at once intense and genial with more than a trace of quiet Scottish Humour".
The Glasgow Naturalist noted that "The legacy of £100 by Peter Goodfellow funded a series of lectures from 1934 (Professor L.A.L. King: 'A short account of the Microscopical Society of Glasgow') until 1990 (Mrs. Camilla Dickson: 'Memoirs of a midden-mavis'). By then the fund as exhausted, but the Professor Blodwn Lloyd-Binns Bequest made it possible for Dr. J.H. Dickson to reinstitute the series in 1995 by his memorable Goodfellow Lecture: 'Ouzi - the Iceman's last journey: clues from plants'."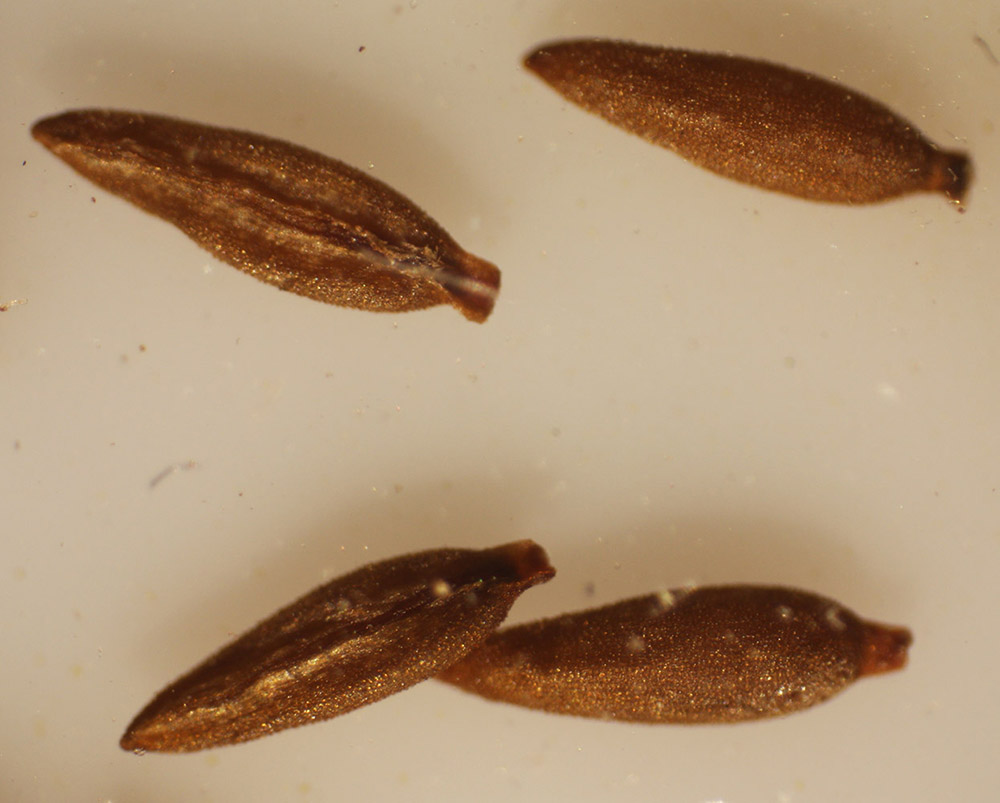 Figure 2. Seeds of willow herb (family Onagraceae, probably of the genus Epilobium), mounted by Peter Goodfellow (see Figure 1).
&nbsp
Resources
Ewing, Mrs. (1934) Peter Goodfellow, The Glasgow Naturalist, Vol. 12, pages 124-125
The Glasgow Naturalist (1934) "The late Mr. Peter Goodfellow, who had himself been a Secretary of the Microscopical Society of Glasgow for ten years, left to the Glasgow and Andersonian Natural History and Microscopical Society a sum of money for the promotion of an annual lecture, dealing with some branch of Microscopy which, if considered suitable, should be published in the Transactions of the Society", Vol. 12, page 46
The Glasgow Naturalist (1996) Vol. 23, page 57
Probate of the will of Peter Goodfellow (1933) accessed through ancestry.com
Scotland census and other records, accessed through ancestry.com
The Year-book of the Scientific and Learned Societies of Great Britain and Ireland (1896) Glasgow, Microscopical Society of, page 124