Jesse Cope Green, 1817 - 1920
by Brian Stevenson
last updated June, 2021
Dr. J.C. Green was a dentist in West Chester, Pennsylvania, USA, and an amateur microscopist. He was a long-time member of the West Chester Microscopical Society, and that club's president in the early 1880s. Green prepared a good number of slides, most of which mineral micromounts or thin sections (Figures 1 and 3), although a few mounts of other types of specimens are known (Figure 2). In addition, Green made several microscopes, although they were probably manufactured for his personal use, and not for commercial sales. He exhibited one of his microscopes at an 1880 meeting of the Academy of Natural Sciences, Philadelphia.

Figure 1. Mineralogical microscope slides by Dr. J.C. Green. He is reported to have prepared slides of mineral specimens as early as 1861, and probably continued to do so well into the twentieth century. Images from the author's collection, or adapted with permission from https://mineralogicalrecord.com/labels.asp?colid=1845.
&nbsp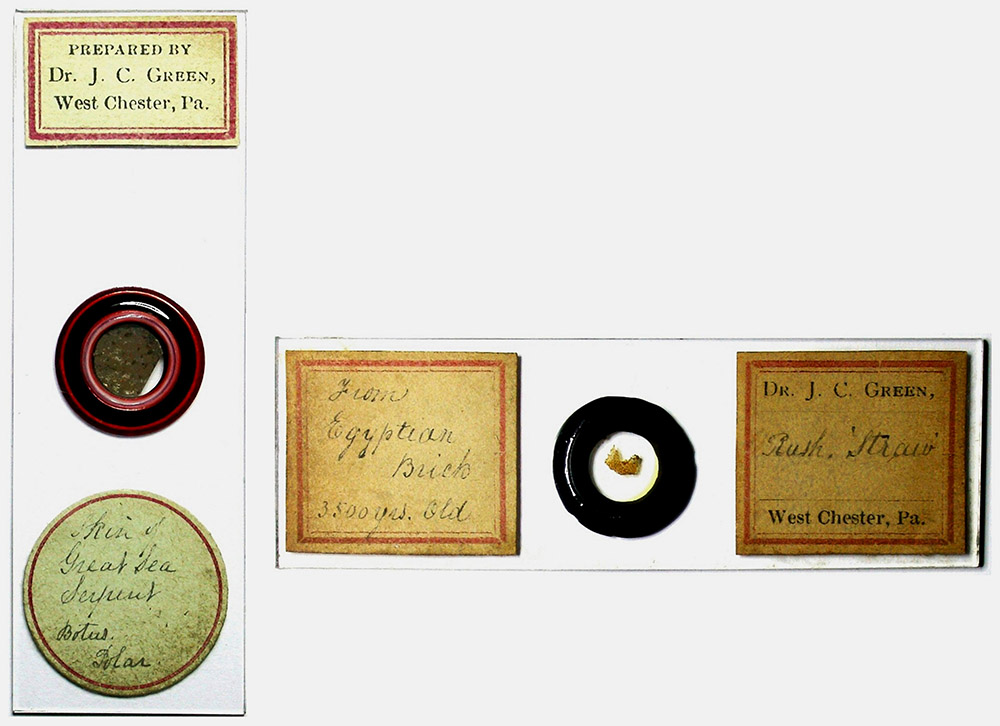 Figure 2. Examples of J.C. Green's less-common, non-mineralogical slides: "skin of great sea serpent" (presumably a sea snake, Hydrophiinae), and rush straw from a 3500 year-old Egyptian brick. Images courtesy of Howard Lynk.
&nbsp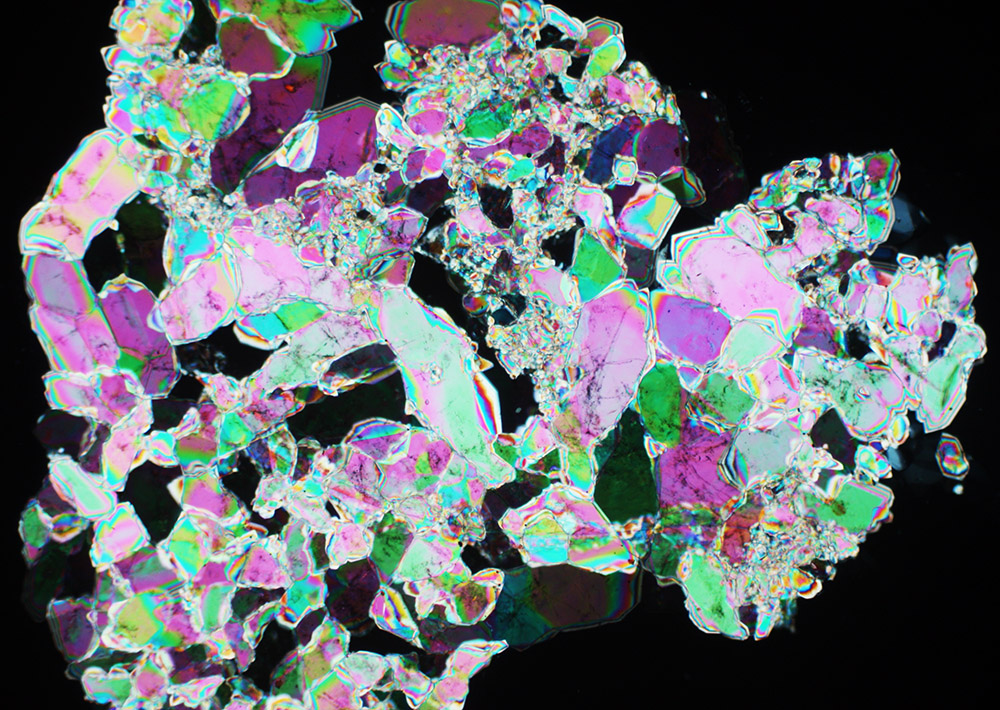 Figure 3. Thin-section of quartz crystals, prepared by J.C. Green. Photographed with a C-mounted SLR camera and a 3.5x objective lens with crossed polarizing filters.
&nbsp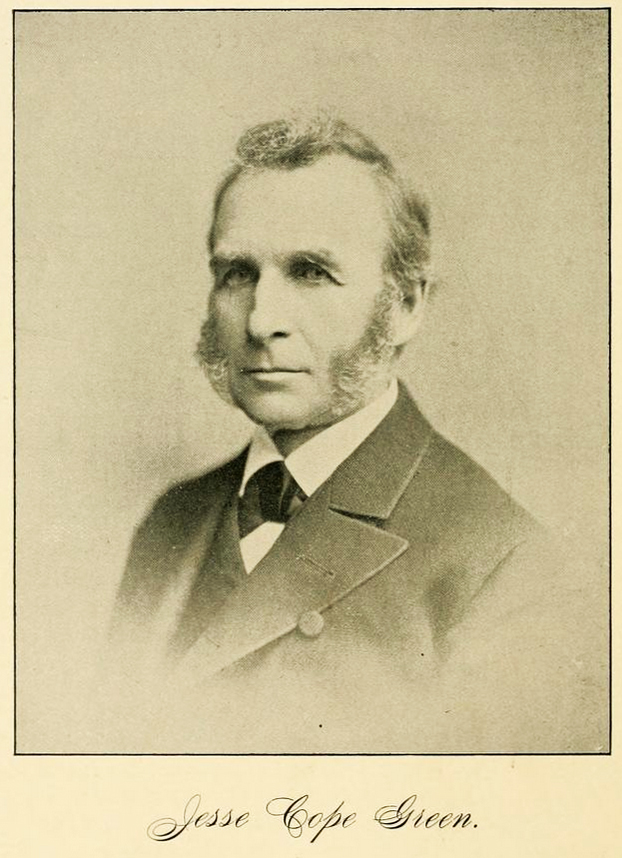 Figure 4. A photograph of Jesse C. Green, which accompanied his 1893 biography that was published in "Biographical and Portrait Cyclopedia of Chester County, Pennsylvania"
&nbsp
Jesse Green was a well-regarded member of his community, and was the subject of numerous publications. I will let his colleagues describe his life.
Samuel T. Wiley published a biography of J.C. Green in 1893, in his Biographical and Portrait Cyclopedia of Chester County, Pennsylvania:
"Jesse Cope Green was born December 13, 1817, in Birmingham township, Delaware county, Pennsylvania, about six miles from Wilmington, Delaware, and resided there until he removed to West Chester, Pennsylvania, in 1841. His early education was received at the schools of his neighborhood. He subsequently attended the boarding schools of Joshua Hoopes, in West Chester, and Samuel Smith, in Wilmington, Delaware. The vigorous discipline of farm life, in boyhood, was no drawback to mental cultivation. The leisure moment was not abandoned to leisure. The noon sun and the tallow dip lit the pages of such literature as was within reach. Knowledge was hard-earned, but it was striven for because the young lad knew that knowledge is power and is worth its price.
For more than two hundred years the paternal and maternal ancestors of our subject have been members of the Society of Friends; some of them suffered persecution for conscience' sake. This is a record of character. Could this youthful descendant rest on that? The only way in which we can prove a family name to be an honor to us is by proving ourselves worthy of its honors.
Immediately on leaving school the young man set out to earn a livelihood, and to interest himself actively in the cause of education. He was one of the first to teach school under the 'Common School Law' of Pennsylvania, and taught in Concord, Delaware county, 1836-41. He afterward taught for about a year in the Friends' school in West Chester.
Under the professional tutelage of a prominent dentist in West Chester, in 1842-3, he turned his attention to the study of dentistry. He began to practice in April, 1843, and in August established himself professionally in West Chester, where he has remained continuously in practice ever since. He received the degree, subsequently, of D.D.S., from the Pennsylvania College of Dental Surgery, of Philadelphia. In the prosecution of his life profession, Dr. Green has been markedly successful, and this success has arisen mainly from four causes. First, a rare aptness in mechanics; second, a studious habit, keeping him abreast of the times; third, an unflagging energy; fourth, an aim to succeed in life without parleying with evil or making compromises with the spirit of unfairness, deceit or untruth in any guise.
"The first of these qualities has shown itself not merely in his success in mechanical and other departments of dentistry, but in his attainments in many forms of applied mechanics, whether in wood or metal work. His microscopes received the praise of the world-renowned Zentmayer, and his slide mounts have been pronounced by experts singularly beautiful in their finish. Much of his meteorological apparatus is the product of his mechanical laboratory, and includes the first electrical registering anemometer of its kind that was ever made, as well as a very fine mercurial barometer.
On the second point it may be said that Dr. Green was elected a member of the Pennsylvania Association of Dental Surgeons in 1855; he took an active part in effecting the organization of the State Dental Society, in 1868, of which he was treasurer in 1880 and president in 1883; he held a membership in the American Dental Association. He was active in the formation of the first National convention of dentists, which began its existence in Philadelphia in 1855.
In 1876, upon the passage of a law requiring the organization of a Pennsylvania State dental examining board, he was elected to serve upon that board, and was made its secretary. He has continued to serve the profession and the public in this responsible and somewhat arduous position without emoluments, from the first meeting of this board up to the present time.
His third mentioned characteristic is sufficiently demonstrated in the life work pictured all through this sketch.
Upon the fourth of the foregoing points, the moral standard, it is a delicate matter to dilate with reference to a living subject. But as an example to young men it may be pardonable to point with one hand to Dr. Green's attainments in his profession, as well as in his studies and acquirements aside, and with the other hand to his reputation for a high sense of honor in all his dealings. It is not out of place to illustrate this point by recalling his rigorous adherence to his principle never to deceive an innocent patient, and particularly a little child.
Notwithstanding his first devotion to business - his determination to drive it, rather than to let it drive him - Dr. Green long ago found and still finds time to serve the community in many forms of gratuitous activity.
He was a member of the West Chester school board for many years, and some time its treasurer and president. In 1857 he originated a movement to establish district school libraries for which the State law made no provision. To this end he devoted, for three years, a part of his personal commissions as district treasurer for the purchase of books for the public welfare.
He has been a volunteer observer for the Smithsonian Institution and the weather bureau at Washington since 1855, and also for the Pennsylvania State weather service since its organization. He was deeply and actively interested in the anti-slavery movement from 1841. He is president of the Trust and Relief society of West Chester, holds the responsible position of overseer in Friends meeting, and treasurer of the latter since 1864. His connection with the Oakland Cemetery Company, of which he has been a manager for many years, dates from its organization, in 1852. He was one of the organizers of the West Chester Microscopical society, and has served both as its treasurer and president. For forty-four years he has been an active member and treasurer of the First West Chester Fire Company.
Dr. Green's interests have been broad catholic, as well as special and particular. He has a fine miscellaneous library, including a number of 'large paper' and 'de-luxe' editions; and an extensive collection of autograph letters, containing a number of rarities. Probably the finest collection of Continental, Colonial, Confederate, and other rare paper money in Chester county is in his possession, as a result of long and intelligent gathering. Not the least interesting antiquarian feature of his library is the fine collection of almanacs, some of them dating back to the beginning of the sixteenth century. For more than a score of years, Dr. Green has been making a collection of walking sticks, which now number over one hundred and thirty pieces. Some of these are made from historic timber, some are rare woods from distant parts of the earth, some are made of various woods exquisitely fitted and finely finished. Altogether the collection is valuable from whatever point of view it may be considered.
Dr. Green is the only son of William Green, who was born in Birmingham, Delaware county, Pennsylvania, December 18, 1791, removed to West Chester, Pennsylvania, in 1845, and lived there until his death, April 19, 1881. William married, March 5, 1817, Phebe Hatton, who was born in Birmingham, Delaware county, Pennsylvania, June 25, 1797, and at this writing is still living in full possession of her faculties, active in mind and body. Dr. Green's paternal great-great-great-great-grandfather was Thomas Green, a native of England, who emigrated in 1686, settled at Concord, Delaware county, Pennsylvania, and died there about 1713. His maternal ancestry also is English, the first emigrant coming to this country about 1682 and settling in Providence, Delaware county, Pennsylvania.
Dr. Green was married September 30, 1845, to Alice W., daughter of Edward and Tabitha Shields, of West Chester, Pennsylvania. They have four children, Clara, Mary, Edith, and William Hatton. Edith died in her fourth year, February 8, 1859. Mary died in her thirty-fourth year, October 1, 1886. The other two are still living. Clara, the eldest, was married October 28, 1875, to Patterson DuBois, of Philadelphia. They have had four children, the youngest of whom, Constance, alone survives".
&nbsp
Dr. Green retired from his dental practice in 1909. The following as published in Dental Brief:
"Dr. Jesse Cope Green, West Chester's oldest dentist, announces his retirement after just sixty-six years of continuous practice of his profession. Dr. Green is 92 years old, but he is as fit to practice his art now as he has been at any time in the last quarter of a century or longer, and his withdrawal from active work is for the purpose of giving himself more leisure to devote to other lines in which he is interested. Dr. Green is a fine example of the healthfulness of the simple life. He has always been moderate in his appetites and regular in his hours of work and play, and has always exercised abundantly in the open. He still rides his bicycle daily, his eyes are clear and bright and his shoulders erect, and there is no reason why he should not be as hale and active at 100 as he is to-day. Because so few men practice moderation in all things is the reason so few live out their allotted days, and also explains why so many men begin to break at 50, and a half-dead-and-alive existence during the latter stage of their existence".
&nbsp
One of many obituaries, this one from The Numismatist:
"Dr. Jesse C. Green of West Chester, Pa., who was perhaps the oldest active collector in the United States, died at his home on July 26 in his 103d year. He had enjoyed good health until a few days before his death, when he fell from a ladder and fractured several ribs, one of them penetrating a lung.
Dr. Green was a native of Delaware county, Pennsylvania, and had lived in that county practically all his life. When a young man he taught in the county schools, and when approaching middle age he studied dentistry, practicing his profession for many years, but retired several years ago. He served 70 years as treasurer of the West Chester Fire Co., and held that office at the time of his death. In his latter years he spent most of his time adding to his collections, in bicycle riding and in visiting the old people of his town, one of these being Mrs. Eliza Phipps Hastings, who is 107 years old. He is survived by a son, Dr. William Patton Green, and one sister.
He found much pleasure in collecting, and did not confine himself to a single line. In numismatics he had a fondness for colonial and Confederate paper money. He owned a collection of autographs which included those of every President from Washington to Wilson, and of William Penn, Lafayette, Franklin, Webster and other notables. He also had a collection of almanacs from the libraries of Charles II and George III, beginning with the year 1649, and 18 other almanacs from 1504 to 1531, printed in Latin in Venice".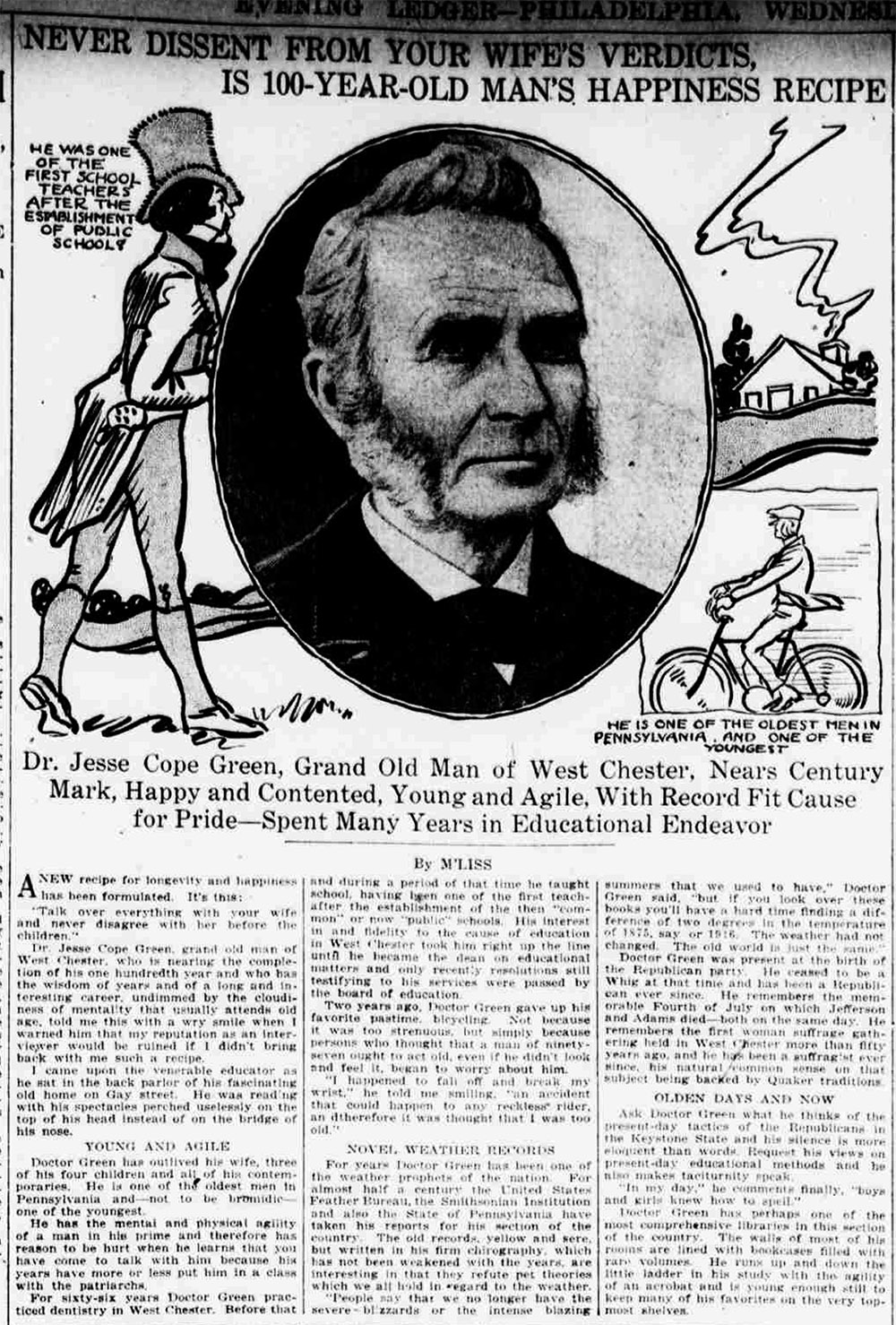 Figure 5. An article on J.C. Green from the February 14, 1917 "Evening Public Ledger" (Philadelphia). The article notes, "Two years ago, Doctor Green gave up his favorite pastime, bicycling. Not because it was too strenuous, but simply because persons who thought that a man of ninety-seven should act old, even if he didn't look and feel it, began to worry about him. 'I happened to fall off and break my wrist', he told me smiling, 'an accident that could happen to any reckless rider, and hitherfore it was thought that I was too old' ".
&nbsp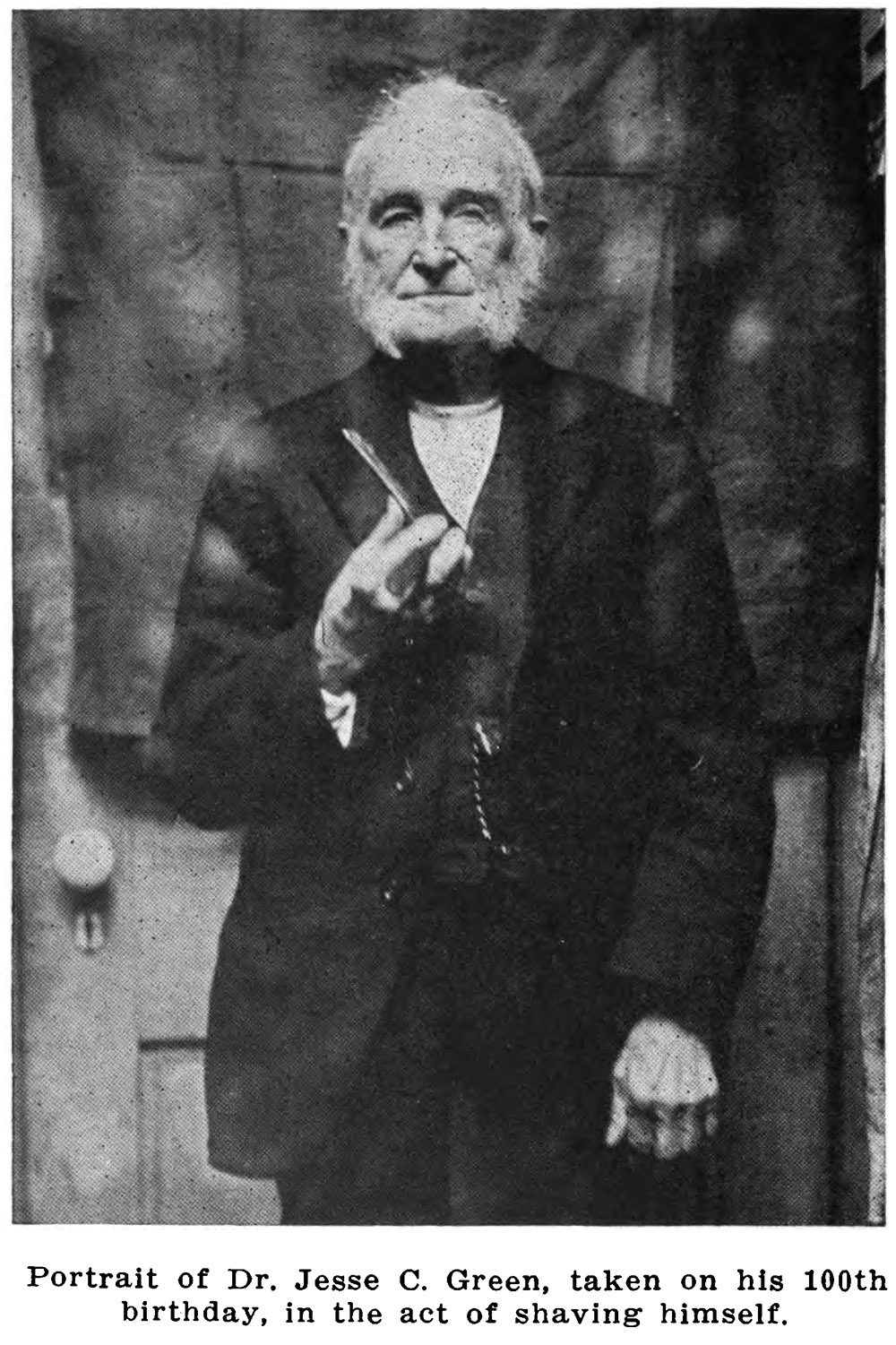 Figure 6. A photograph of Jesse C. Green on his 100th birthday. From his 1920 obituary that was published in "The Numismatist".
&nbsp
Acknowledgement
Thank you to Howard Lynk and Wendell Wilson for sharing images of J.C. Green's microscope slides.
&nbsp
Resources
The American Journal of Microscopy and Popular Science (1880) Report of the June 2 meeting of the west Chester Microscopical Society, Vol. 5, page 163
The American Journal of Microscopy and Popular Science (1880) Report of the November 1 meeting of the Biological and Microscopical Section of the Academy of Natural Sciences, Philadelphia, "On firm tables arranged for the purpose one hundred and twenty-seven microscopes were in position, displaying objects ranging through many classes of the mineral, vegetable, and animal kingdoms, and illuminated in nearly all approved ways. Of this number of microscopes, Zentmayer made 48, Beck 30, Crouch 23, Bausch & Lomb 7, Queen & Co. 5, Hartnack 2, Sidle & Poalk 2, Gundlach 1, Ross 1, J.C. Green 1, J.H. Steward 1, unknown 6", Vol. 6, pages 20-23
Cope, Gilbert (1904) Historic Homes and Institutions, and Genealogical and Personal Memoirs of Chester and Delaware Counties, Pennsylvania, Lewis, New York, pages 52-54
Dental Brief (1909) "Dr. Jesse Cope Green Retires", Vol. 14, page 742
The Dental Cosmos September (1920) Obituary of Jesse C. Green, pages 1150-1151
Evening Public Ledger (1917) " 'Never dissent from your wife's verdicts' is 100-year-old man's recipe, February 14 Night Extra
Monthly Weather Review (1920) Dr. Jesse C. Green, 1817-1920, Vol. 48, page 413
Naturalists' Directory (1882) "West Chester Microscopical Society. Dr. Jesse C. Green, Pres.; Harvey Warren, Secretary", page 373
The Numismatist (1920) Dr. Jesse C. Green, Vol. 33, page 402
Wiley, Samuel T. (1893) Biographical and Portrait Cyclopedia of Chester County, Pennsylvania, edited by Winfield Scott Garner, Gresham Publishing Company, Philadelphia, pages 575-577.
Wilson, Wendell E. (2019) Jesse Cope Green, Mineralogical Record, https://mineralogicalrecord.com/labels.asp?colid=1845, accessed October, 2019