Henry Hall, 1840 - 1923
by Brian Stevenson
last updated December, 2017
Henry Hall prepared microscope slides of a wide variety of objects (Figure 1). They are generally well-finished, and often in good condition. While he was certainly English, he did not leave his address. However, he did put a date on virtually all of his slides, which is sufficient information to allow identification of the maker.
Hall's known slides bear dates between 1880 and 1918 (Figure 1). The number of his surviving slides indicate that he was a prolific slide-maker, while the absence of duplicates indicates a non-professional. Searches of records from that era revealed only such one man. He was a founding member of the Manchester Microscopical Society, which is consistent with the number of his slides that are among the Society's collection. He was a long-time member of the Society's Mounting Section, a group that spent considerable time in developing slide-making skills. Coincidentally, there was a second man named Henry Hall who was a member of the Manchester Microscopical Society at the same time, although he died in 1914, and must therefore be eliminated from consideration.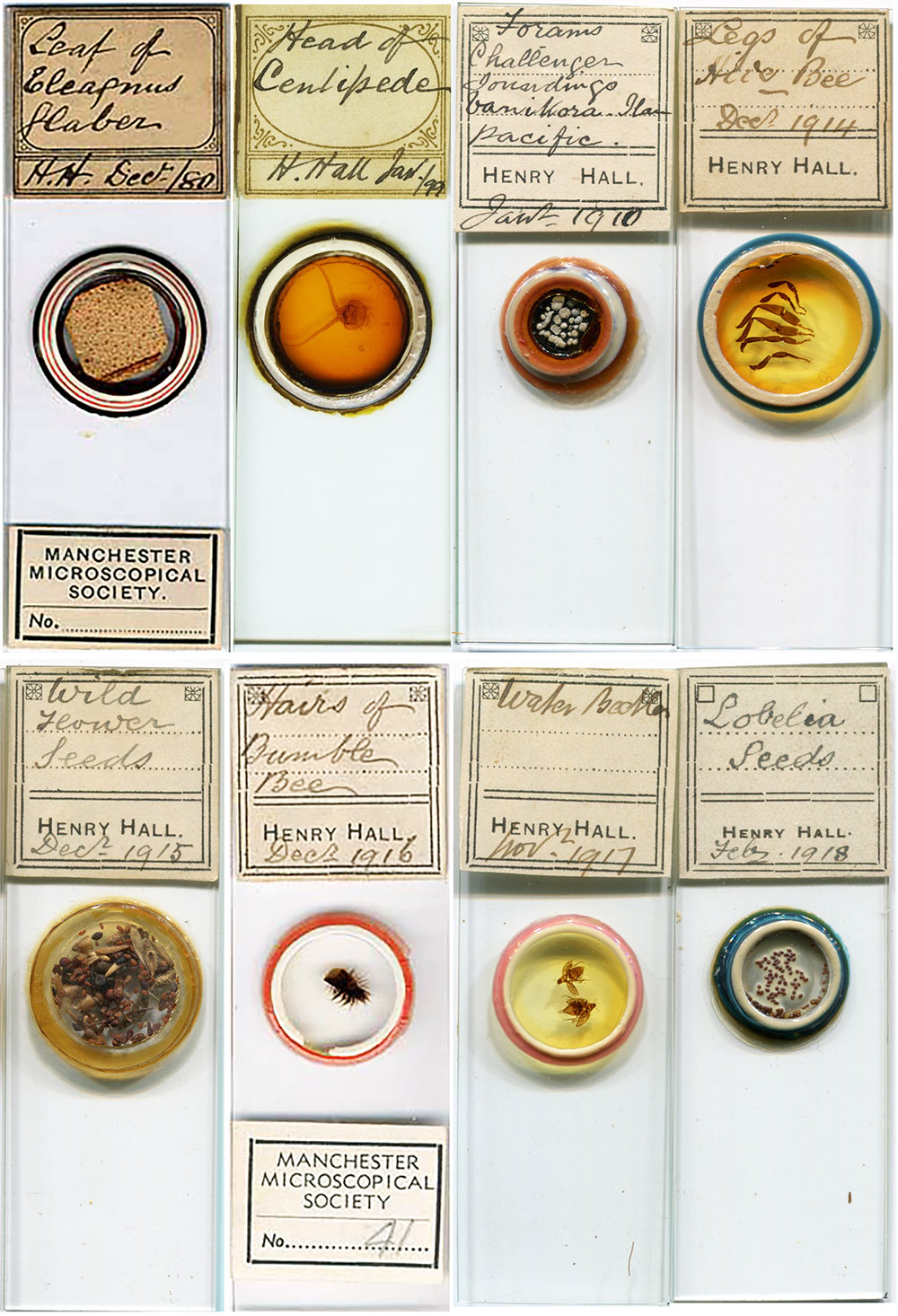 Figure 1. Examples of microscope slides by Henry Hall. All are dated, with years between 1880 and 1918. Two, from 1880 and 1916, are in the collection of the Manchester Microscopical Society, and the images are used here for nonprofit, educational purposes. See: http://www.manchestermicroscopical.org.uk/slides/others1.htm
&nbsp
Henry Hall was born in Salford, Lancashire (now a part of Manchester). His father, Joseph, was originally from Knutsford, Cheshire, and so Henry was taken to that parish church for his christening, on June 7, 1840. Census records indicate that Henry was born shortly before that date. Henry's sister, Sarah Ann, while also born in Salford, was similarly christened in Knutsford.
Father Joseph, mother Sarah, and the children lived in the Regent Road area of Salford. Joseph was a tailor, evidently proprietor of a successful shop. The 1841 census shows an unrelated tailor living with the Halls, the 1851 census described Joseph as a "tailor master" with one employee (who did not live with the family), and the 1861 census listed 3 men as employees.
Henry followed his father in that trade. The 1871 census shows that Henry then had his own "tailor and draper" shop on Regent Road, employing ten men and one boy. By the time of the 1881 census, he had moved his shop to John Dalton Street, in downtown Manchester, employing the same number of people. However, he and his young family lived on Monk's Hall Grove, Eccles, several miles away from the shop.
The John Dalton Street shop was initially a partnership with Albert Grierson, operating as "Grierson and Hall". The partnership was dissolved in 1882, and Hall continued the business alone.
Henry had married in 1866, perhaps an indication of when his independent business became successful. His wife, Annie Elizabeth Horner, was originally from Northallerton, Yorkshire, a town to which they would retire in the 1890s. They had one child, Bertha Mary, in 1877. The daughter did not marry, and remained with her parents until their deaths.
The Manchester Microscopical Society was founded in 1880, and Henry Hall was one of the initial members. He joined the Mounting Section early on. Henry served on the Society Council during 1889.
During the mid-1890s, Henry retired (although only in his mid-50s), and the Hall family moved to Annie's home town in Yorkshire. Despite the distance, Henry remained a member of the Manchester Microscopical Society. Membership roles consistently included his address of Essex Lodge, South Parade, Northallerton, Yorkshire. Hall definitely appeared at Society meetings through the years.
There being two men of the same name in the Manchester Microscopical Society, it is sometimes difficult to discern which man is mentioned in records. They were sometimes, but not always, identified by their residences. But, it is clear that our Henry was certainly an active member.
On February 7, 1907, "Mr. A.P. Bradshaw distributed a red seaweed (Plocamium coccineum) sent by Mr. Henry Hall, of Northallerton".
On April 4, 1907, "Mr. Henry Hall described his methods of mounting Bangor earth and Bermuda soundings, and gave an account of some objects of pond life found during the winter" (unclear which man did this).
On April 2, 1909, "Mr. Henry Hall, of Northallerton, spoke on American blight, bees, butterflies and bulbs on roots of peas and beans which contain juice, in which were nitrogenous bacteria which fed on the plant".
The 1909 Annual Report and Transactions of the Manchester Microscopical Society listed lecture topics which members could offer to other societies or groups. Two of these were offered by Henry Hall. Although it is not made obvious which Henry would give the talks, it is more likely that our slide-making retiree would travel around the country, rather than the other Henry who had a full-time job. The topics he offered were, "Cleaning, Preparing and Mounting Microscopic Objects", and "The Beauties of the Insect World as Revealed by the Microscope".
The other Henry Hall died on July 29, 1914. He had owned a cotton dyeing and polishing business in the Tonge area of Middleton, near Manchester. The 1911 census indicates that he was still employed full-time. There are very few mentions of this Henry in records of the Manchester Microscopical Society. He was a member of the Mounting Section, although it is not known whether any of his slides survive.
Some time after that man's death, the Society reported that "Chalk from Folkestone was sent for distribution by Mr. Henry Hall, of Northallerton".
The most-recently made preparations that are known to have been made by our slide-making Henry Hall were produced in 1918.
The slide-maker passed away on July 6, 1923, at the age of 83.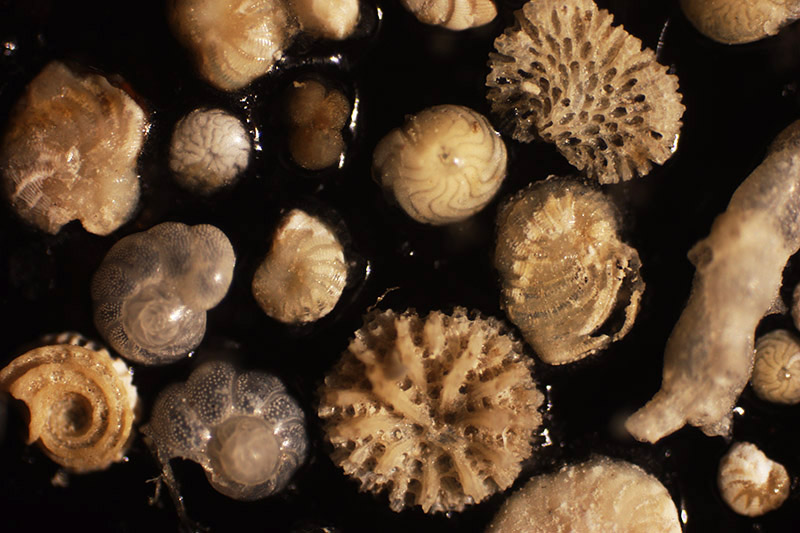 Figure 2. Soundings from the Pacific Ocean, taken by the H.M.S. Challenger during her 1872-76 global expedition, mounted by Henry Hall during January, 1910.
&nbsp
Acknowledgements
My thanks to Richard Courtiour for generously sharing information.
&nbsp
Resources
Annual Report of the Manchester Microscopical Society (1885) List of members, page 29
Annual Report of the Manchester Microscopical Society (1888) Officers for 1889, page v
Annual Report of the Manchester Microscopical Society (1888) List of members, page 103
Annual Report of the Manchester Microscopical Society (1897) List of members, page 80
Annual Report of the Manchester Microscopical Society (1900) List of members, page 91
Annual Report of the Manchester Microscopical Society (1906) List of members, page 122
Annual Report of the Manchester Microscopical Society (1907) pages 10 and 12
Annual Report of the Manchester Microscopical Society (1907) pages 11 and 26
Annual Report of the Manchester Microscopical Society (1914) "Your Council notice with deep concern the attrition of the roll, which has gone on steadily for some years, and which they earnestly desire to see arrested. Our list of members has fallen to 154, a net loss on the year of 11. The number of new members is six, against which we have 14 resigned through removal and other causes, and three lost by death, namely, Messrs. A.W. Constable, Henry Hall (Middleton) and A.H. Tabor", page 8
Annual Report of the Manchester Microscopical Society (1914) page 13
Annual Report of the Manchester Microscopical Society (1916) List of members, "Hall, Henry, Essex Lodge, South Parade, Northallerton, Yorks"
Cheshire parish records, accessed through familysearch.org
England census and other records, accessed through ancestry.com
The London Gazette (1882) "Notice is hereby given, that the Partnership heretofore subsisting between us the undersigned, Albert Grierson and Henry Hall, as Tailors and Drapers, at 12, John Dalton-street, Manchester, in the county of Lancaster, under the firm of Grierson and Hall, has been this day dissolved by mutual consent. - Dated this 15th day of December, 1882", page 6547
Manchester Microscopical Society web page (accessed December, 2017) http://www.manchestermicroscopical.org.uk
Probate of Henry Hall (1914) "Hall Henry of 11 Taylor-street Middleton Lancashire died 29 July 1914 Probate London 9 September to Josiah Ogden retired grocer and Alfred Ogden manager. Effects £11972 2s 3d", accessed through ancestry.com
Probate of Henry Hall (1923) "Hall Henry of Essex Lodge Northallerton Yorkshire died 6 July 1923 Probate York 24 July to Bertha Mary Hall spinster. Effects £5322 17s", accessed through ancestry.com