The 19th Century saw a tremendous rise in general enthusiasm for scientific pursuits, such as microscopic analyses. The majority of known microscope slides of that era were produced by professionals and amateurs living in the industrialized countries of Europe and North America. Among the more intriguing Victorian-era microscope slides are those originating from other locations. W. Harvey of Constantinople, mentioned in Brian Bracegirdle's Microscopical Mounts and Mounters, was one such preparer. Harvey was an amateur microscopy enthusiast from England who worked at Turkish copper mines from 1871 until around the turn of the 20th Century. He then moved back to England, and slides may be found that are labeled from his home in Eastbourne, Sussex. Harvey was a long-time member of the Manchester Microscopical Society, and it is likely that many of his surviving Constantinople mounts were sent by Harvey to his fellow Society-members.
The Constantinople/Eastbourne William Harvey should not be confused with another amateur microscopist of the same period who labeled his slides with "W.E. Harvey". That was William Edward Harvey , a shopkeeper from Surrey who primarily mounted sea life and was briefly a member of the Quekett Microscopical Club.

Figure 1. Two of William Harvey's microscope slides. The left slide is dated 1 September, 1886, from his days in Constantinople, Turkey. It also bears the initials "A.J.D.", suggesting that it may have been prepared by Manchester-area professional slide-maker Arthur J. Doherty. The right slide was made on 5 August, 1917, towards the end of his life, when he was living in Eastbourne, England.
&nbsp
William Harvey was born ca. 1848 in St. Pancras parish, London, the eldest son and second child of Samuel and Sarah Harvey. Samuel was described in census records as a "civil engineer", "timber dealer", and "superintendent of machinery at a pianoforte works".
The 1871 census, taken in April of that year, described William as a "managing clerk to a stock broker". Harvey later wrote that, "from 1871 I had been much interested in pond-life in Turkey", indicating that he moved to that country later on that year. He was employed at the copper mines of Sari Yeri (alternatively spelled Sari Yari, now Sariyer), on the European side of the Bosporus Strait, near Constantinople (now Istanbul). The 1911 census recorded Harvey as being a "retired mine manager".
Harvey's interest in pond life and other aspects of nature evidently grew to the point of sharing with other scientists by the mid-1880s. Figure 1, above, illustrates a slide from Constantinople that is dated February, 1886. A June, 1886 slide of a pomegranate stem is illustrated in Bracegirdle's Microscopical Mounts and Mounters. Harvey's use of customized labels bearing his imprinted name implies that these were produced for sharing, so the recipients would know their origins.
Harvey joined the Manchester Microscopical Society in 1887, and remained a member through the rest of his life. Just why he chose to become a corresponding member of that group, and not of a club closer to his home town of London, is not known. An 1889 paper that Harvey wrote for the Transactions of the Manchester Microscopical Society referenced an 1883 article from that same journal. Exposure to such earlier publications from the MMS may have affected his choice.
William submitted at least two full length articles to the Transactions of the Manchester Microscopical Society. In 1889, he published papers on a large Turkish wasp and on behavior of hydra. The wasp paper was read to the society by Mark L. Sykes, and the hydra paper by George Wilks. Even after Harvey returned to England, there are no indications that he ever attended a meeting of the MMS. Instead, he appears to have remained a corresponding member. On March 2, 1905, "Mr. George Wilks exhibited Tingis pyri and T. minutis, from Sari Yeri, Constantinople", undoubtedly contributions from William Harvey.
The MMS member lists provide a record of Harvey's locations through the years. In 1889, he was listed at "Sari Yari Mines, c/o B.P.O., Constantinople" (BPO = British Post Office). Member rolls of the mid-1890s give him the address of "Cotham Lodge, 140 Green-lanes, Stoke Newington, London, N." This was the address of his sister Emma. Harvey may have actually lived there, or he may have used that as a fixed contact address while he was moving between homes. The latter alternative is supported by his 1898 address of "Club de Constantinople, Pera". Harvey was not included in the 1901 census of England. A later report by Harvey implied that he was still in Turkey on September 27, 1901.
Harvey returned to England by 1905, with that year's MMS membership roster listing him at Oak Lodge, Prideaux Road, Eastbourne (Sussex). It was from that location that he wrote a 1907 paper on "certain curious features possessed by the males of two kinds of two-winged flies, which do not appear to have been recorded by authorities who have dealt with the subject". This was accompanied by photographs and drawings by William Harvey (Figure 2).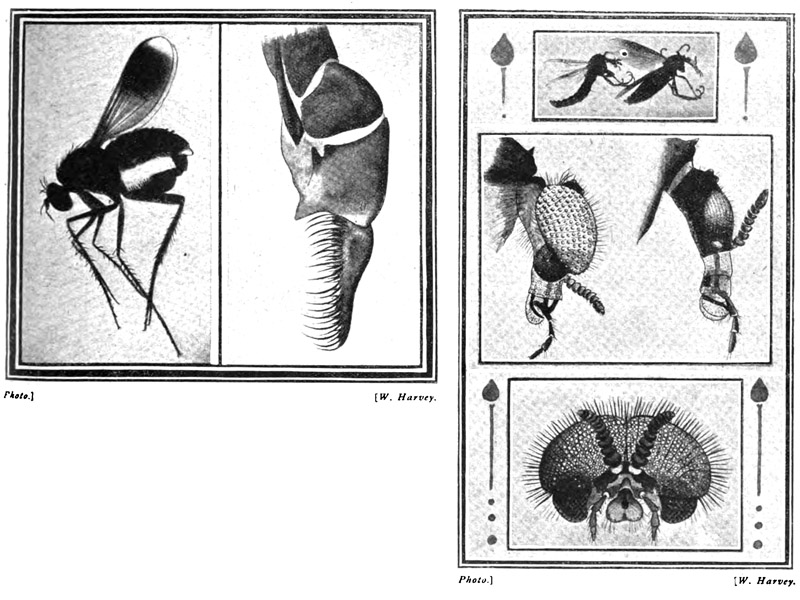 Figure 2. Illustrations by William Harvey that accompanied his 1907 paper, 'Strange features of flies'. The left panel illustrates a tail appendage found only on males of Poecilobothrus nobilitatus. The right panel illustrates that males of an unspecified 'cholera fly' possess two pairs of eyes, while females have only one pair.
&nbsp
Later in 1907, Harvey moved to Wayside, Mill Road, also in Eastbourne. By 1909, he lived at The Haven, Hampden Park, Eastbourne. This was the home of his sister Emma and her husband John Brigstock, a stockbroker. William remained with that family at that address for the remainder of his life.
In 1910, Harvey published some observations on May flies, describing both recent studies and those from Turkey dating 1871 and 1901 (mentioned above).
William Harvey died October 2, 1918 at the home in Eastbourne. He left an estate of £75 10s to his brother-in-law and family.
&nbsp
Resources
Bracegirdle, Brian (1998) Microscopical Mounts and Mounters, Quekett Microscopical Club, London, pages 50 and 142, and plate 19-P
England census, birth and death records, accessed through ancestry.co.uk
Harvey, William (1889) Notes on the habits of the pelopoeus wasp (P. fistularis), Transactions of the Manchester Microscopical Society, Vol. 10, page 25
Harvey, William (1889) Paper on Hydra fusca, Transactions of the Manchester Microscopical Society, Vol. 10, page 72
Harvey, William (1907) Strange features of flies, Country-side, Vol. 5, page 235
Harvey, William (1910) Ephemera producing living young, The Entomologist, Vol. 45, pages 224-226
Life Lore (1889) Report on a Manchester Microscopical Society meeting, "Mr. Wilks read a letter from Mr. William Harvey, of Constantinople, one of the corresponding members of the Society, giving his experiences in the study of pond life in Turkey. He gave a list of organisms found by him there, all of which are familiar to students of pond life at home", Vol. 1, page 164
Probate record of William Harvey (1920)
Research (1889) Report on a Manchester Microscopical Society meeting, "Mr. George Wilks read a communication from Mr. Wm. Harvey, of Constantinople, on Hydra Fusca", Vol. 2, page 94
Transactions of the Manchester Microscopical Society (1889-1916) Lists of members