John Frederick Haws, 1882 - ca. 1916
by Brian Stevenson
last updated January, 2018
J.F. Haws of Liverpool, England, was a professional chemist and amateur microscopist and photographer. His surviving microscope slides are fairly well-made with nice handwriting on custom labels (Figure 1). They are rather uncommon, probably due to the brief period in which Haws is known to have been seriously involved in microscopy. He was elected as a Fellow of the Royal Microscopical Society in 1909, implying that he had substantial interest for at least a few years before that date. In 1912, a popular scientific magazine announced that Haws was willing to provide readers with advice on microscopy, but omitted to state that he was F.R.M.S., suggesting that he had left the Society. Records fade soon afterward, and he may have died in 1916. Based on what can be gleaned from historical records, Haws was probably an active slide-maker between ca. 1905 and ca. 1916.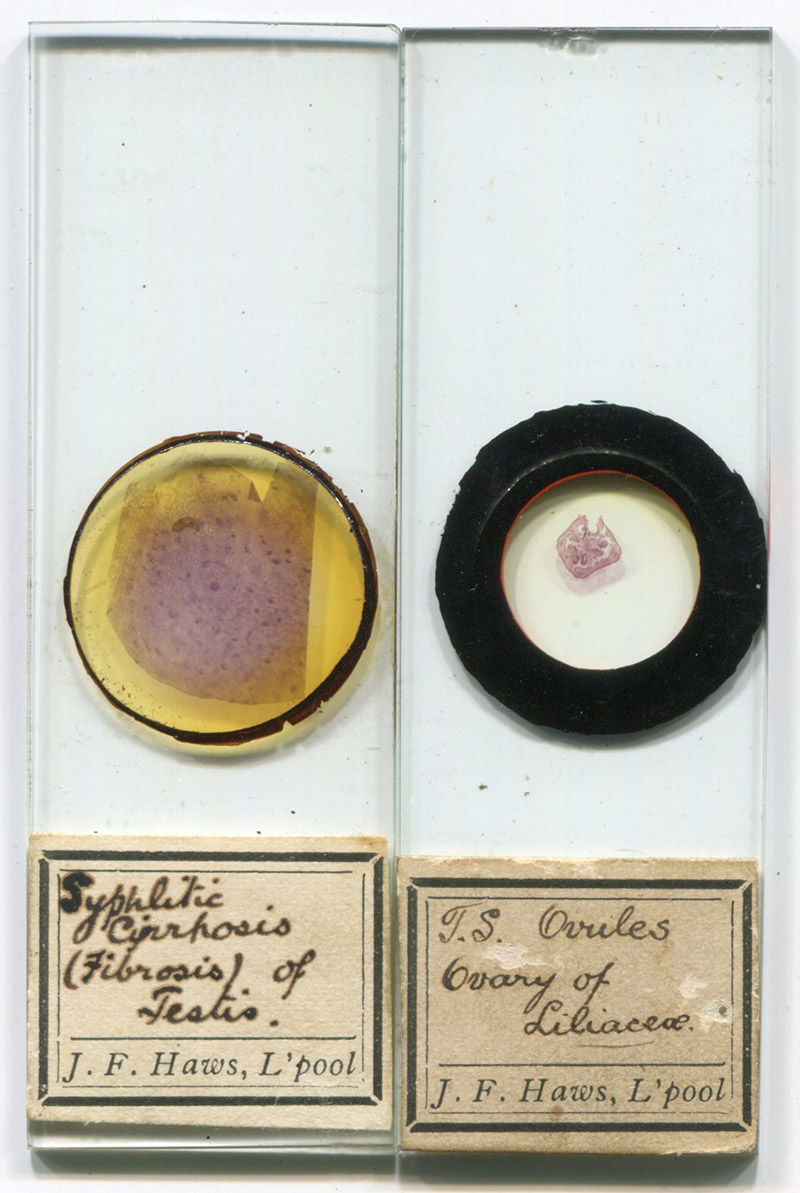 Figure 1. Microscope slides by J.F. Haws. He was a Fellow of the Royal Microscopical Society between 1909 until ca. 1912; it being that Fellows generally included the initials "F.R.M.S." after their names, these slides were probably not produced during that period. Based on when Haws is known to have been active in microscopy, it is likely that these were prepared between ca. 1905 and 1909, or between ca. 1912 and ca. 1916.
&nbsp
John Haws was born in January or February, 1882, in the Edge Hill / West Derby area of Liverpool. He was christened on February 26, 1882 at St. Catherine's, Edge Hill. He was the fourth of five children, and the third son, of Richard and Charlotte Haws. Father Richard was recorded on John's christening record as being a "car driver", and on the 1891 census as a "warehouseman". That census also recorded that both of John's brothers worked as "porters".
Despite his family's modest income, John was able to study chemistry at the Liverpool School of Science, attending between 1898 until 1901. He continued to take day and evening classes at the University of Liverpool and the Central Technical School over the next six years.
Haws served from 1903 until 1907 as personal secretary to Professor James Campbell Brown (1843-1910), renowned chemistry teacher and investigator at the University of Liverpool.
During that time, and afterward, Haws also taught higher education. During 1905-1907, he was Assistant Demonstrator in Physiology and Hygiene, Biology, and Botany at the Central Technical School. The 1911 census listed his occupation as "Science Teacher (mainly)".
Haws was elected as Fellow of the Royal Microscopical Society in 1909. Information from 1910 about the Liverpool Municipal Technical Students Association, of which Haws was Secretary, included "F.R.M.S." after his name. He probably quit the Society within a couple of years. A 1912 announcement in The Lancashire and Cheshire Naturalist stated "Mr. J.F. Haws, of Liverpool, has kindly consented to answer queries and to give other aid in microscopical work". Being F.M.R.S. was an important credential, so its absence from Haws' name in that announcement is undoubtedly significant.
In addition to the RMS, Haws was a member of the Liverpool Naturalists' Field Club and the Grange Photographic Club. Possibly his most important membership was in The Chemical Society, an important arena for networking in his profession.
The 1911 census of England shows what was probably a scandalous situation. Unmarried, the 29 year-old Haws shared a home with 34 year-old Ann Elizabeth Wallis, who was also single and likewise a teacher. They were the only residents of the house.
Haws wrote a brief article on the production of margarine for The English Mechanic and World of Science in 1915. His address was given as "The English Margarine Works, Ltd., Broad Green, near Liverpool". Presumably, he was a chemist with that company.
He appeared in the 1916 Who's Who Year-Book as an expert in edible fats and oils, evidently in conjunction with the margarine manufacturer.
I have not located any further information on J.F. Haws, either in England or in other countries. A "John F.W. Haws", who was the same age as our microscopist, died in Bangor, Wales, in 1916.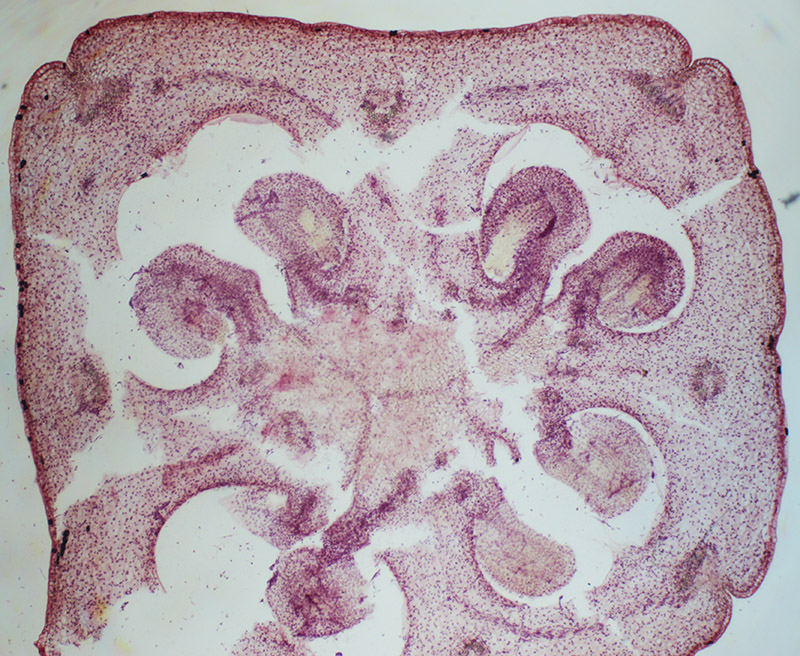 Figure 2. Transverse section through an ovary of an unspecified lily, by J.F. Haws. Photographed with a C-mounted digital SLR and 3.5x objective lens.
&nbsp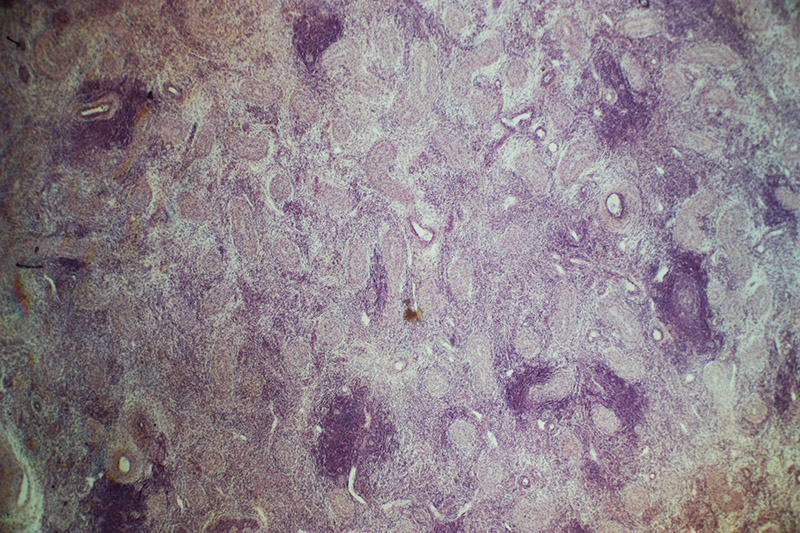 Figure 3. "Syphilitic cirrhosis (fibrosis) of testis", by J.F. Haws. Photographed with a C-mounted digital SLR and 3.5x objective lens.
&nbsp
Resources
Brown, James Campbell (1913) A History of Chemistry From the Earliest Times Till the Present Day, J. & A. Churchill, London, "The Editor has to express his great indebtedness to Mr. William Henry Roberts, M.Sc., E.I.C., Public Analyst for the City of Liverpool, who was for fifteen years Chief Assistant to Dr. Campbell Brown, and who has revised the manuscript and given most valuable aid in preparing the lectures for the press. He has also to thank Mr. J.F. Haws, who was for ten years the Doctor's private secretary, for the great help he has given in collecting and arranging the manuscript lectures, hunting up authorities, making necessary extracts, and verifying references. The illustrations, which are mostly taken from lantern slides used by Dr. Campbell Brown, have been prepared from photographs made by Mr. Haws", page vi
Christening record of John Frederick Haws (1882) Parish records of St Catherine, Edge Hill, accessed through ancestry.com
Death record of John F.W. Haws (1916) Age 34, died Bangor, Wales, accessed through ancestry.com
Death record of Ann E. Wallis (1946) Age 69, Liverpool North, Lancashire, accessed through ancestry.com
England census and other records, accessed through ancestry.com
Haws, John F. (1902) Razor strop paste, Popular Science News, Vol. 36, pages 284-285
Haws, John F. (1902) Flexible black paint, The English Mechanic and World of Science, Vol. 76, pages 110-111
Haws, John F. (1902) Phonographs, The English Mechanic and World of Science, Vol. 76, page 111
Haws, John F. (1902) Beer analysis, The English Mechanic and World of Science, Vol. 76, page 218
Haws, J.F. (1915) Margarine, The English Mechanic and World of Science, Vol. 100, page 547
Journal of the Royal Microscopical Society (1909) New Fellows, page 797
Lancashire and Cheshire Naturalist (1912) "As will be seen from our list of referees, Mr. J.F. Haws, of Liverpool, has kindly consented to answer queries and to give other aid in microscopic work", Vol. 4, page 32
Proceedings of the Chemical Society (1909) Nomination and election of J.F. Haws, pages vii, 54, 136-137, 144, and list of Fellows
Who's Who Year-Book (1916) "Fats, Edible - J.F. Haws, 71 Lienster Road, Knotty Ash, Liverpool", page 147
The Yearbook of the Scientific and Learned Societies of Great Britain and Ireland (1906-1907) Liverpool Naturalists' Field Club, page 154
The Yearbook of the Scientific and Learned Societies of Great Britain and Ireland (1907-1908) Grange Photographic Club, page 109
The Yearbook of the Scientific and Learned Societies of Great Britain and Ireland (1909-1910) Liverpool Municipal Technical Students Association, page 45
The Yearbook of the Scientific and Learned Societies of Great Britain and Ireland (1910-1911) Grange Photographic Club: President, J.F. Haws, Secretary, A.E. Wallis, page 109