James Chadwick Hope, 1846 - 1923
by Brian Stevenson
last updated February, 2018
J.C. Hope, of Manchester, England, was an amateur preparer of microscope slides, mounting over a period of about 20 years, between the late 1860s and the late 1880s. He was a member of the Manchester Circulating Microscopic Cabinet Society by 1869, and joined the Manchester Microscopical Society around the time of its founding (1880). His interests appear to have drifted toward photography by the end of the 1880s.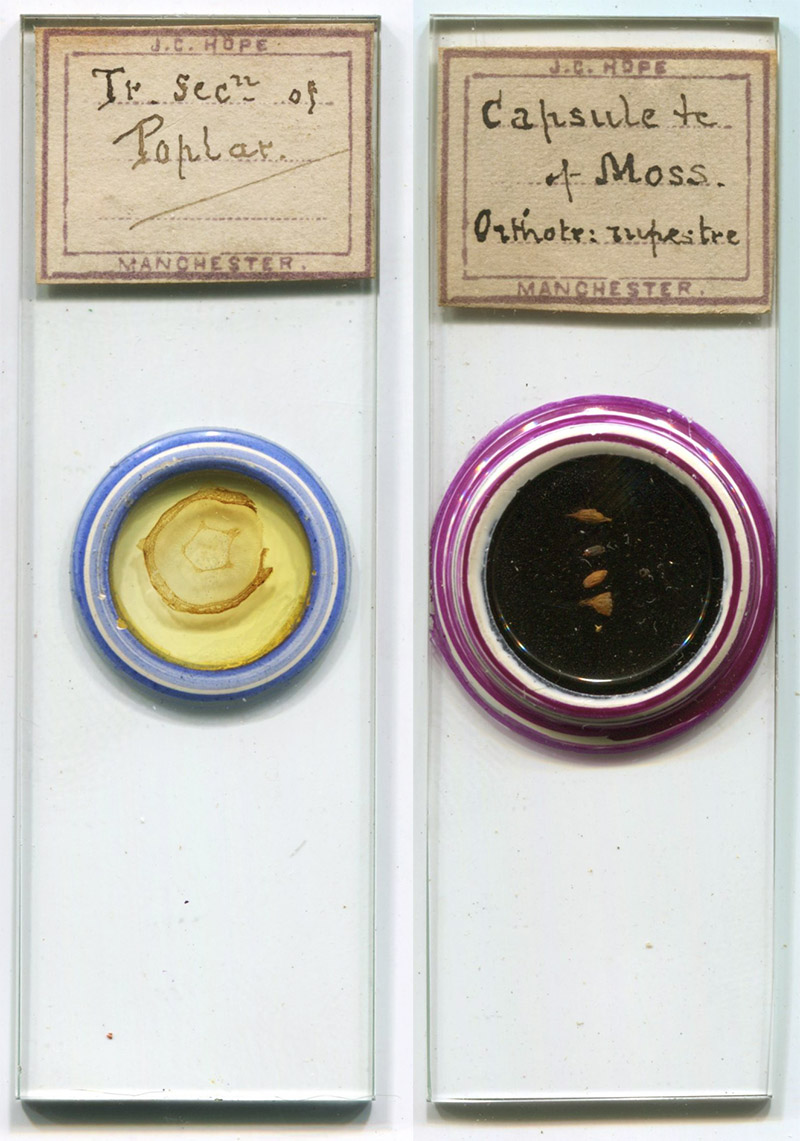 Figure 1. Microscope slides that were prepared by J.C. Hope. The ringing style, especially the use of white with this shade of purple, was very common among members of the Manchester Microscopical Society.
&nbsp


Figure 2. Exchange offers from Hope that appeared in "Hardwicke's Science-Gossip". Hope moved from his parents' home on Shude Hill to Great Cheetham Street in 1873, following his marriage.
&nbsp
James Hope was born during early 1846 into a relatively well-off family. His father owned a grocery shop that was successful enough to allow the Hope household to keep domestic servants. At the time of the 1851 census, the family was at 108 Oldham Road, Ancoats, Manchester. They moved a short distance during the 1850s, to 81 Shude Hill, Manchester.
James was working by the age of 14, with the 1861 census recording him as an "office boy". In 1871, he was living with his parents and siblings, and working as a "clerk's assistant". The record of Hope's 1873 marriage to Sarah Annie Abram listed his occupation as "accountant". The 1881 census listed him as "insurance clerk". James Hope became manager of the Manchester branch of the County Fire Office insurance company in 1882. A later report from the insurance company indicated that Hope had worked for that business since ca. 1858.
The earliest identified records of Hope's interest in microscopy come from meeting reports of the Manchester Circulating Microscopic Cabinet Society in 1869. He was elected to serving as Honourable Secretary at the January 12, 1869 meeting. This society appears to have been a group of a half-dozen or so men, who met quarterly to discuss a particular topic and examine relevant slides. Accounts indicate that this was a good method to create cohesion for each meeting. The January, 1869 meeting was entitled "spider". During the business aspect of the meeting, Hope proposed that the next meeting should focus on "crystals", to which his colleagues agreed. Minutes of that meeting, written by Hope, stated that, "The general business of the evening having been transacted, the chairman called upon each member, from a list previously prepared by the secretary, to exhibit the various slides of chemical crystals they had prepared since last meeting, - the slides of each particular crystal being shown under the several instruments and comments made thereon, before a new crystal was introduced; by which means the best forms were easily perceived, and the different modes of preparation and mounting were discussed whilst the objects were being viewed, thereby making the meeting more instructive and enabling it to pass off in a pleasant manner. The slides of santonine belonging to Mr. Horne, and those of a salt of aniline, belonging to Mr. T. Armstrong, were exceedingly pretty, and may justly be entitled the gems of that class". The meeting ended with agreement that the following meeting would focus on ferns. At that gathering, on July 27, 1869, "Mr. Hope read a paper "On the Structure of Ferns," after which the members present exhibited the various slides they had prepared, since last meeting, illustrating that subject".
Many amateur microscopists (and quite a few professionals) sought to expand their specimen collections by offering exchanges in popular scientific magazines such as Hardwicke's Science-Gossip. Two such exchange advertisements from J.C. Hope are illustrated in Figure 2.
It is not clear when Hope joined the Manchester Microscopical Society, but he attended the group's 1881 Annual Soiree and exhibited a slide of "spores of Equisetum". He was listed in the membership rolls of the 1883 and 1884 Transactions and Annual Report.
The last record that I found on Hope as a microscopist is an 1887 note he sent to The Journal of Microscopy and Natural Science, "Cement - Brunswick Black and Gold Size in equal proportions I have found a worthy cement for fastening down covers on cells in dry mounts. It is far superior to Brunswick black alone, and is a cement requiring little or no trouble in preparation. I have tried it for glycerine jelly mounts, and in most cases it has answered well. It is best for this class of objects if the size is old when mixed, as it is not so fluid, and therefore less liable to run in".
I did not identify Hope in later membership rolls of the Manchester Microscopical Society.
As noted above, photography appears to have replaced microscopy. In 1896, Hope won a Guinea as a prize in a contest of The Photographic News. In 1900, he was an officer of the Manchester Amateur Photographic Society.
Hope retired from work in 1906, "Mr. J.C. Hope, who has been connected with the County Fire Office for nearly fifty years, and has acted as its District Manager at Manchester since 1883, is shortly retiring from that post".
He died in 1923. Hope's probate record stated, "Hope James Chadwick of 7 Hope-street Higher Broughton Salford gentleman of independent means died 12 July 1923 Probate Manchester 23 August to Sarah Annie Hope widow and Charles Alexander Hope gentleman of independent means". Charles was the eldest of his two children.
&nbsp
Resources
British Journal of Photography (1900) The Manchester Amateur Photographic Society, Vol. 47, pages 106-107
England census and other records, accessed through ancestry.com
Hardwicke's Science-Gossip (1871) Exchange offer from J.C. Hope, Vol. 7, page 216
Hardwicke's Science-Gossip (1877) Exchange offer from J.C. Hope, Vol. 13, page 48
Hope, J.C. (1887) Cement, The Journal of Microscopy and Natural Science, Vol. 6, page 117
Marriage record of James Chadwick Hope and Sarah Annie Abram (1873) Manchester Cathedral, accessed through ancestry.com
The Monthly Microscopical Journal (1869) Reports of the Manchester Circulating Microscopic Cabinet Society Quarterly Meetings, pages 62 and 174
The Northern Microscopist (1881) Report of the Manchester Microscopical Society Annual Soiree, Vol. 1, pages 117-118
The Photographic News (1896) "Our 'Criticism' Picture, Results of Competition No. 2. We are very well pleased with the interest which is being taken in this competition, as evidenced by the number of replies sent in. We are sorry, however, that this week we have had to debar several excellent criticisms from receiving awards on account of their exceeding fifty words, the limit imposed. Our readers will notice that we have slightly modified the conditions of the competition, so that this objection will not for the future necessarily apply. The prize of One Guinea is awarded to Mr. James Chadwick, 312, Lower Broughton Road, Manchester, for the following criticism, which we consider to be the one best defining the principal fault and its remedy : "The most prominent fault in this picture is that the tree is in the centre of the picture instead of on the left-hand side; and only the trunk, the ugliest part, is portrayed. It could have been remedied by taking the camera further back, so taking in the whole of the tree", Vol. 40, page 254
The Post Magazine and Insurance Monitor (1908) Retirements, Vol. 69, page 289
Probate of the will of James Chadwick Hope (1923) accessed through ancestry.com
Quarterly Journal of Microscopical Science (1869) Report of the Manchester Circulating Microscopic Cabinet Society Annual Meeting, Vol. 9, page 216
Transactions and Annual Report of the Manchester Microscopical Society (1883) Members: "Hope, J.C., 48, Great Cheetham-street West, Lower Broughton", page 80
Transactions and Annual Report of the Manchester Microscopical Society (1884) Members: "Hope, J.C., 48, Great Cheetham-street West, Lower Broughton", page 57
Transactions and Annual Report of the Manchester Microscopical Society (1889) J.C. Hope not listed as a member (nor was he in subsequent years)