Edward George Howard, 1868-1933
by Brian Stevenson
last updated November, 2019
Initially a bank clerk, E.G. Howard's career took a significant turn when he was about 35 years old. Advertisements from 1904 indicate that he began making and selling microscope slides during that year. By 1911, he was working full-time as a slide-maker, with that year's census listing Howard as a "microscopist and scientist". He was, however, then working for someone else. A reasonable guess is that his employer was Flatters, Milborne, and McKechnie, since Howard then lived near that business in the Longsight area of Manchester.
The majority of Howard's self-labeled microscope slides bear his surname and address of King's Norton (a suburb of Birmingham), although some are known that have an address in Longsight (Figures 1-3). He advertised from that address in January, 1913, indicating that he had then left his employer, or was distributing his own work as a side job.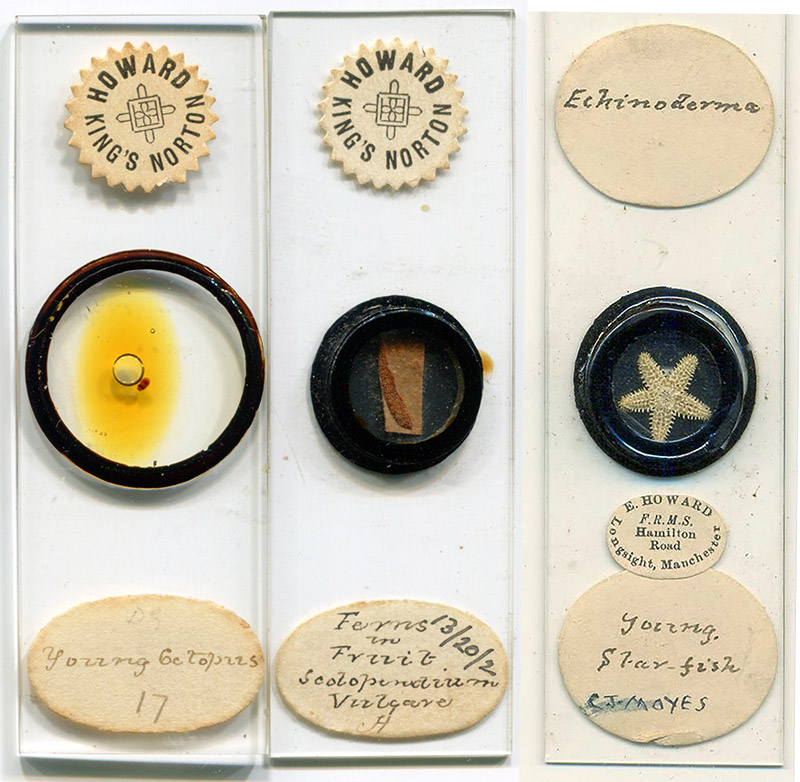 Figure 1. Microscope slides by Edward G. Howard. The slides labeled King's Norton date from between 1904 and circa 1908, while the slide labeled Longsight dates from circa 1911. The picture of the Longsight slide, on the right, is adapted from an internet auction site for nonprofit, educational purposes.
&nbsp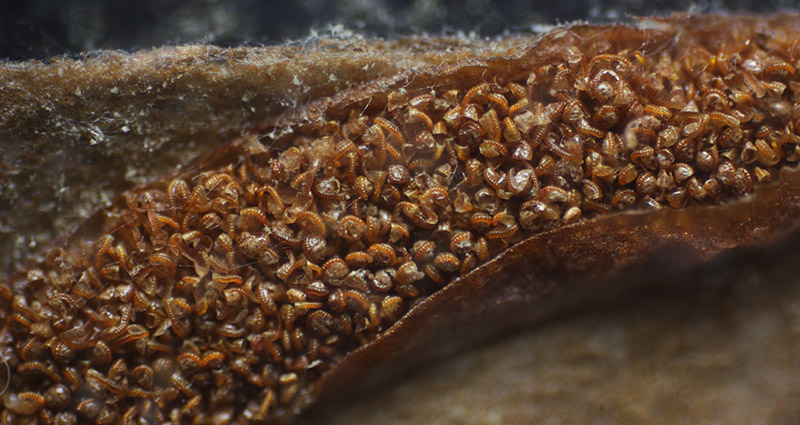 Figure 2. Detail of "Ferns in Fruit – Scolopendium vulgare" (now Scolopendrium vulgare), using a 4x objective lens.
&nbsp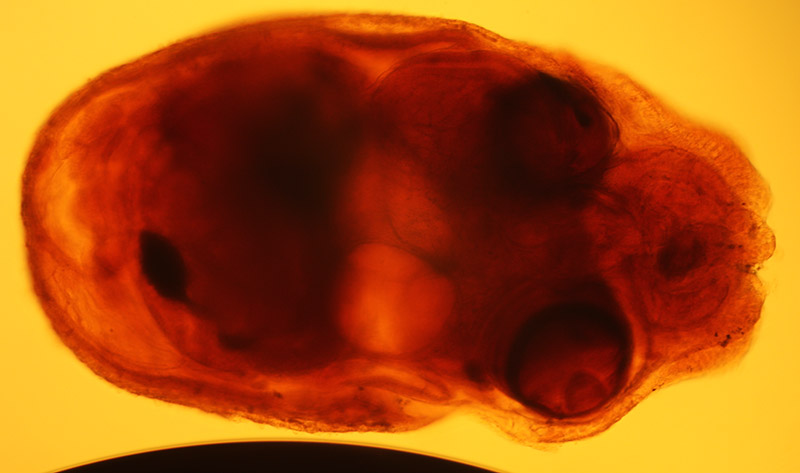 Figure 3. Magnified view of "young octopus", 10x objective lens.
&nbsp
Edward George Howard was born in Sidmouth, Devonshire during early 1868, apparently the only child of Edward John and Helen Jones Howard. The father was a bank clerk who, about 1880, moved the family to the Aston area of Birmingham. Edward George married Bessie Lees in 1895, and the couple moved to the southern side of Birmingham. Both the 1891 and 1901 census described our subject as being a bank clerk.
The earliest identified information on Howard's microscopy interests is a 1904 advertisement in Work, "Microscopical Slides, single and in sets. List forwarded – Howard, The Willows, Bristol Rd., Longbridge, Birmingham". The description of "sets" and a "list" imply that Howard was selling his wares, not simply requesting exchanges with other enthusiasts. Longbridge is adjacent to King's Norton
From 1906 through 1908, Howard advertised in journals such as The Pharmaceutical Journal and Country-Side, placing this offer, "Microscopical Slides, all subjects, single and sets. List specimen, 6d. - Howard, 'Bondwood', King's Norton, Birmingham". Country-Side was the journal of the British Empire Naturalists' Association (B.E.N.A.), of which Howard appears to have been a member.
As noted above, the 1911 census recorded that Edward, Bessie, and their two sons lived in Longsight, South Manchester. Howard was "working for an employer" at a business described as "Microscopy & Scientific Photography", likely Flatters, Milborne, and McKechnie. Supporting that hypothesis, some slides from that business bear labels with handwriting that is strikingly similar to Howard's (Figure 4).
Also in 1911, Country-Side listed B.E.N.A. members who "have been good enough to say that they will be pleased to give information and advice to members". These included "Microscopic Mounting and Slide Making (by) Mr. Ed. G. Howard, 93, Hamilton Road, Longsight, Manchester". That is the address found on some Howard slides (see Figure 1).
Howard published the following advertisement in the January 17, 1913 issue of The English Mechanic and World of Science: "Microscopic Slides, also unmounted material in tubes, botanical, zoological, insect anatomy, life history. Particulars, specimen 7d - Howard, Zoological Specialist, 93, Hamilton Road, Longsight, Manchester".
At some point, Howard was elected as a Fellow of the Royal Microscopical Society. I have not yet located information on the date of his election, or for how long he remained a member.
By 1920, Howard moved to West Kensington, London. His occupation is not known. He placed an advertisement in Country-Side that year, "Microscopy, preparation and mounting of micro objects, and micro specimens, especially Marine or Entomological. – E. Howard, F.R.M.S., 4, Gratton Road, West Kensington, London, W".
E.G. Howard died in West Kensington during December, 1933.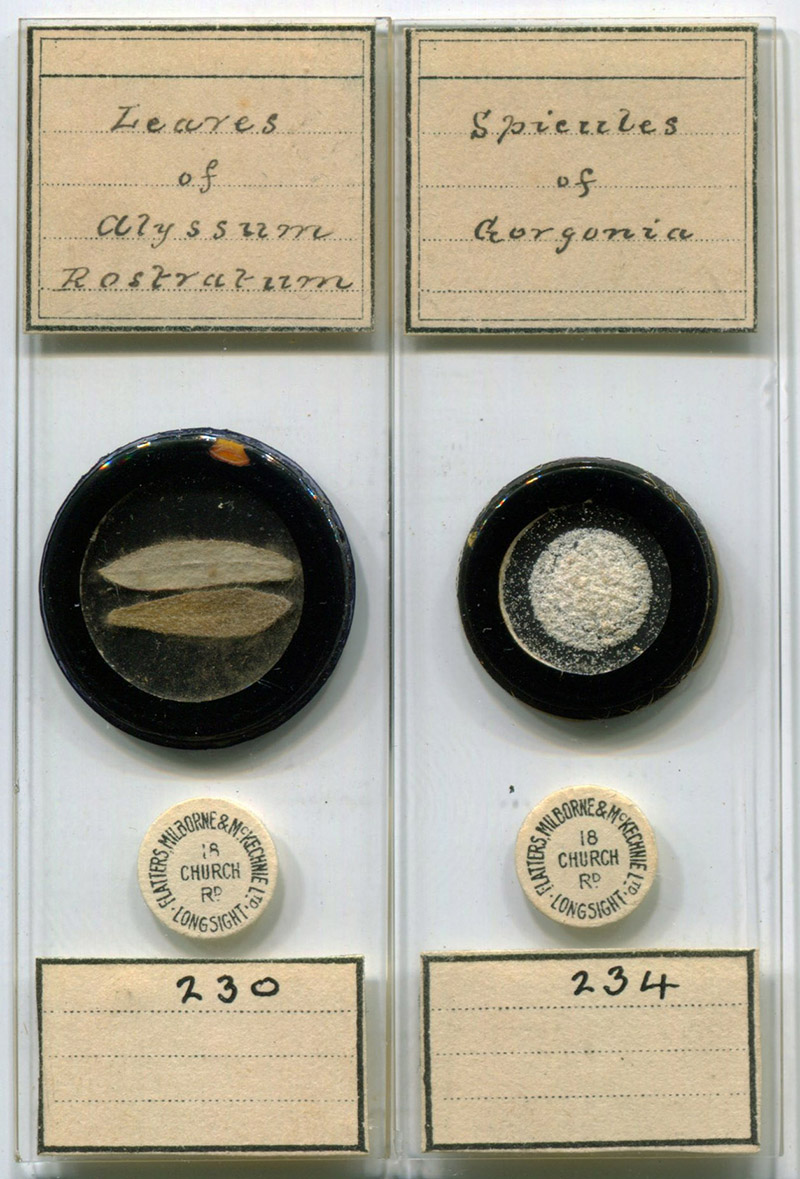 Figure 4. Two slides from the Longsight microscopy business of Flatters, Milborne, and McKechnie, which operated between 1909 and 1913. The handwriting strongly resembles that of E.G. Howard, who was employed at that time as a 'microscopist and scientist' for a microscopy business in Longsight.
&nbsp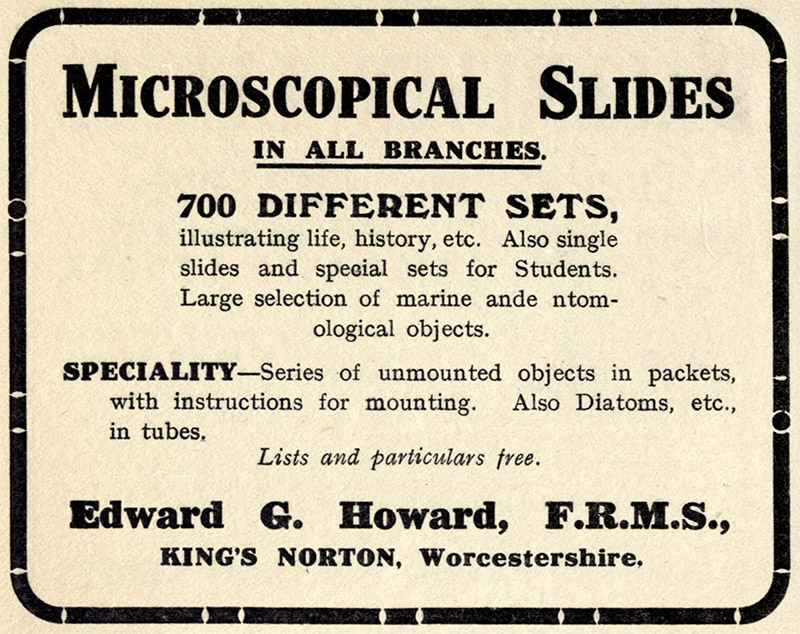 Figure 5. 1909 advertisement, from Walter Bagshaw's "Elementary Photo-Micrography".
&nbsp
Resources
Bagshaw, Walter (1909) Elementary Photo-Micrography, 2nd edition, Iliffe & Sons, London, advertisement from W. A. Firth in rear of book
Bracegirdle, Brian (1998) Microscopical Mounts and Mounters, Quekett Microscopical Club, London, pages 38-42 and 54, and plate 16-L
Country-Side (1907) Advertisement from E.G. Howard, Vol. 5, page 147
Country-Side (1908) Advertisement from E.G. Howard, Vol. 6, page 200
Country-Side (1911) Information and advice, pages 284, 348, and 555
Country-Side (1920) Advertisement from E.G. Howard, page 123
England census, birth, marriage, and death records, accessed through ancestry.co.uk
The English Mechanic and World of Science
(1913) Advertisement from Howard, Vol. 103, January 17 advertising section
Pharmaceutical Journal (1906) Advertisements from E.G. Howard, Fourth series, Vol. 22, Commercial and Educational Supplements, March 31: page 60, and May 19: page 62
Work (1904) Advertisement from E.G. Howard, Vol. 28, page 178