John William David Hume 1851 - 1912
by Brian Stevenson
last updated October, 2017
J.W.D. Hume was a pharmacist/chemist in Gloucester and Lowestoft, England. For a period of time, from ca. 1875 until at least the early 1880s, Hume was also a professional maker of microscope slides. His most common preparations are of plant starches (Figures 1 and 2), which served as useful references for starch users who needed to be certain that their purchases were accurately labeled and were not adulterated. Various other types of specimens were also mounted by Hume, either with papers such as shown in Figure 1, or unpapered.
Peter Paisley has written several on-line essays on Hume and related topics, links to which are located in the Resources section, below. Dr. Paisley's articles also show numerous different slides by Hume, from what is possibly the most comprehensive collection that exists on Hume's work. This includes several slides that Hume custom-made for the Thompson and Capper pharmacy in Liverpool.
The following essay is intended to summarize Hume's life and involvement with microscopy, along with presentation of some new data.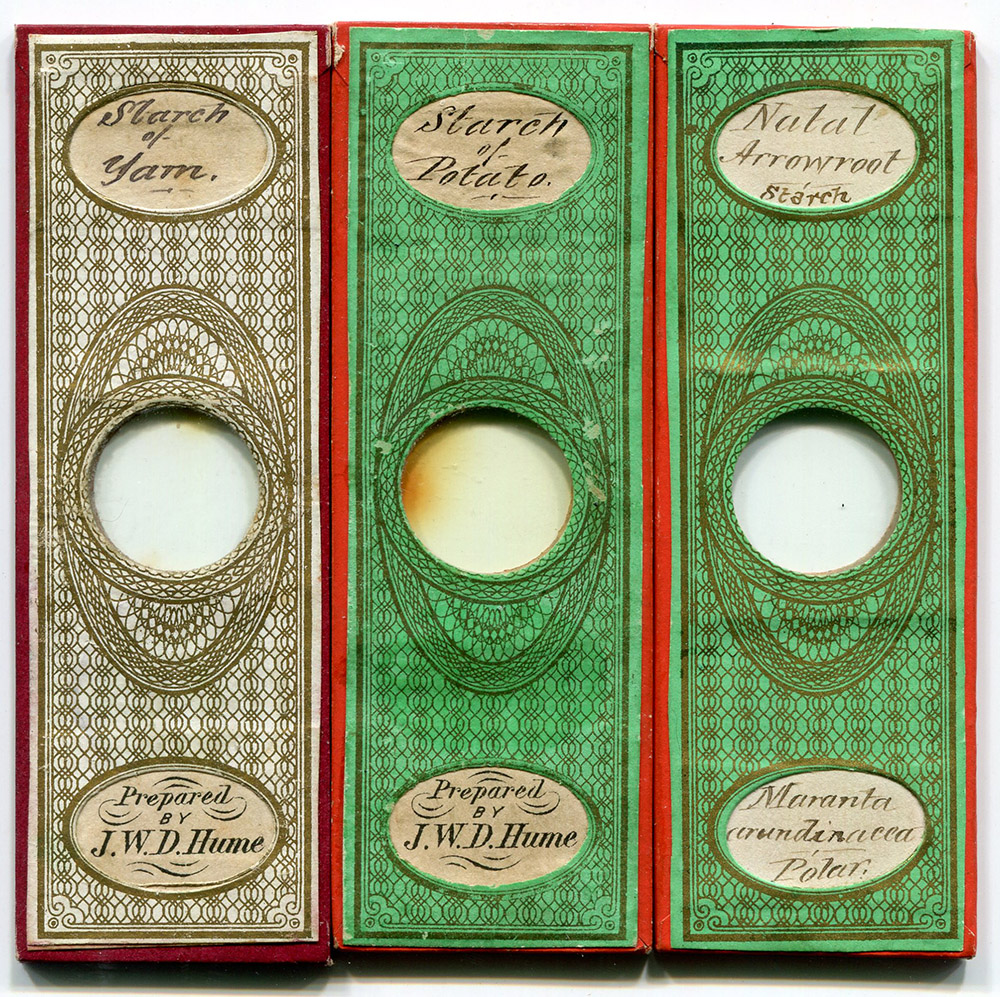 Figure 1. Examples of microscope slides that were produced by John. W.D. Hume. Both are of starches, and both were probably made for commercial trade during the 1870s. The specimen descriptions and Hume's name label are glued underneath the colored, patterned papers, with ovals cut out of the top papers. This method was more time-consuming than simply pasting a label on top of the cover, but ensured that the descriptive labels could not be worn or torn off. This was an important consideration for reference materials such as these slides.
&nbsp
John William David Hume was born during the spring / early summer of 1851, in Seamer, Yorkshire. His father, also named John, was a schoolmaster, and his mother, Mary, was a schoolmistress. Young John appears to have been the only boy, with one elder sister and one younger sister.
The 1871 census listed the 19 year-old as being a "chemist's assistant", that is, a trainee pharmacist. Whether he trained locally or elsewhere is not known. He was working as a chemist in Gloucester by 1875. He may, therefore, have trained in Gloucester and was home for the Easter holidays at time of the 1871 census, as has been suggested by Dr. Paisley.
Hume was recommended for admission into the British Pharmaceutical Conference on August 25, 1975, and certified during December of that year. The 1875 and 1876 editions of the Year-Book of Pharmacy listed Hume's address as 75 Northgate Street, Gloucester. That was the address of the pharmacy owned by George W. Polden, from at least 1863 until his death in 1909. This indicates that Hume worked for Polden from at least 1875 onward, and suggests that Polden may have been the person who taught Hume the trade.
As a clarification, Dr. Paisley pointed out that the address of "75 Northgate Street" does not exist, and may have been a typographical error. However, numerous primary sources list Hume's and Polden's addresses as 75 Northgate. Northgate Street is contiguous with London Road, so it appears that some sites formerly assigned to Northgate have since been reassigned to London Road. An indication of the confusion on what to call this thoroughfare, Polden's 1871 census record called it "London Road".
The first known evidence of Hume's microscope slides is from the December 16, 1875, Soiree of the Midland Counties Chemists' Association, in Birmingham. It was reported that "Mr. J.W.D. Hume, of Gloucester, sent a number of mounted microscopic slides of starches". That he "sent" the slides implies that he was not present at the soiree. Since Hume prepared slides commercially, his display of products at a large gathering of potential retail middlemen was very likely a form of advertising. That was a common way to drum up business among professional slide-makers of the time.
Hardwicke's Science-Gossip was a popular magazine for scientifically-inclined people to ask for advice. The May, 1875 issue included a note that they had received a message from "J.W.D.H.", which would be answered shortly. The September issue included this response, "J.D.H. (Gloucester).-The best paper is white cartridge, which may be procured from any stationer, size about 17 in. by 10 in. The best paper for drying specimens is Bentall's, which can be obtained only from Mr. Newman, Devonshire street, London". The initials are clearly those of J.W.D. Hume. The papers refer to Bentall's/Newman's Botanical Drying Paper, recommended by the seller, Edward Newman, as being "manufactured expressly for the purpose of drying flowering plants, ferns, and sea-weeds for the herbarium". This indicates that Hume was collecting and saving botanical specimens in the mid-1870s. Pharmacists of the period were very interested in botanicals for drug purposes, and pharmacy students were tested on plant identification, so Hume may have attempted to supply reference material. He also prepared plant specimens as microscope slides.
Hume married Anne Webb during the summer of 1877. The couple moved into the home of Anne's parents, at 16 Worcester Street. This road intersects Northgate Street / London Road, and so was a short distance from John's workplace and former residence.
During 1878 or 1879, John and Anne moved across England to Lowestoft, Suffolk. Later, in 1891, when Hume opened his own chemist's shop, it was noted that he "for many years past has been dispenser to Messrs. Worthington & Shann, surgeons, of Lowestoft". This suggests that Hume left his job as an assistant chemist in Gloucester in order to be the senior chemist with Worthington and Shann's medical practice.
During 1881, the Pharmaceutical Society was presented with "Twenty-four microscopical slides illustrating stem structure. From Mr. J.W.D. Hume, Lowestoft". That gift implies that Hume was still producing slides for sale that that time. This is the last known record of Hume's involvement in microscopy.
The January 21, 1891 issue of The Chemist and Druggist reported that "Mr. J.W.D. Hume, who for many years past has been dispenser to Messrs. Worthington & Shann, surgeons, of Lowestoft, has lately commenced business as a chemist and druggist in that town. A handsome establishment has been fitted for him by Messrs S. Maw, Son & Thompson, being principally in solid Spanish polished mahogany. The window-case is of cathedral glass, and in the several divisions are pictorial representations of pharmaceutical plants".
The 1891 census placed the Hume home at 48 London Road. This was also the chemist shop, known as Grove Pharmacy, "opposite General Post Office". The 1891 census listed Hume as being neither employer nor employed, indicating that he worked alone in his shop.
Hume sold off his business in 1910. The Pharmaceutical Journal and Pharmacist reported, "Mr. S.C. Halliday … has purchased the business of Mr. J.W.D. Hume, The Grove Pharmacy, Lowestoft, who has had to retire owing to continued ill-health".
The 1911 census listed John, Anne, and unmarried daughter Gertrude as living in Bromleigh, Kingsholm, Gloucestershire. They probably returned to that area to be near Anne's family during John's illness.
Hume died on May 16, 1912, at the age of 61. An obituary stated, "At Bromleigh, Kingsholm, Gloucester, recently, Mr. John William David Hume, chemist and druggist. Mr. Hume, owing to ill-health, retired from business at 48 London Road North, Lowestoft, about eighteen months ago. He underwent an operation a few weeks ago, but pneumonia supervened and caused his death". His probate states that Hume died at the Wotton Lodge Nursing Home, Wotton, Gloucestershire.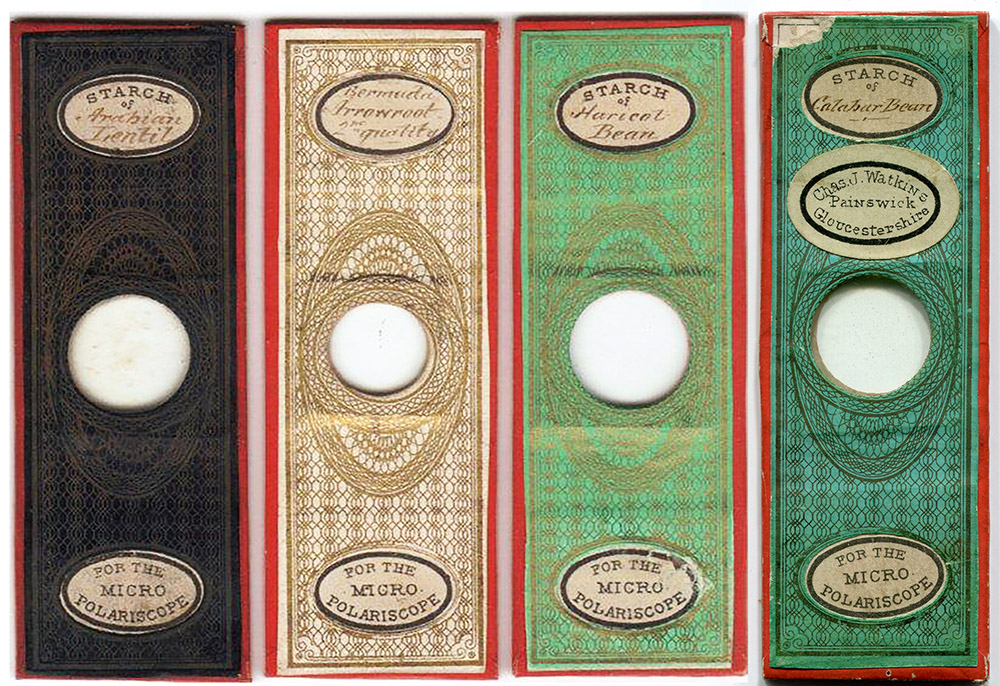 Figure 2. Starch from yam (left) and Natal arrowroot (right). Photographed from the Hume slides shown in Figure 1, both using a 25x objective lens, crossed polarizing filters (polariscope), and a C-mounted digital SLR camera on a Leitz Ortholux II microscope.
&nbsp
Resources
Bracegirdle, Brian (1998) Microscopical Mounts and Mounters, Quekett Microscopical Club, pages 55 and 146, Plate 21-O and 21-P
The Chemist and Druggist (1863) "Partnerships dissolved … Polden and Cook, Gloucester, chemists", Vol. 4, page 103
The Chemist and Druggist (1891) Announcement of J.W.D. Hume's new shop in Lowestoft, Vol. 38, page 49
The Chemist and Druggist (1909) "Mr. George Walter Polden, chemist and druggist, 75 Northgate Street, Gloucester, who died on July 2, aged seventy-six years", Vol. 75, page 49
The Chemist and Druggist (1909) Obituary of J.W.D. Hume, Vol. 80, page 43
England census, birth, marriage, and other records, accessed through ancestry.com
The Entomologist (1870) Advertisement for Newman's Botanical Drying Paper, June issue, rear cover
Hardwicke's Science-Gossip (1875) "Communications received", Vol. 11, page 120
Hardwicke's Science-Gossip (1875) Vol. 11, page 216
Kelly's Directory (1900) "Hume John William David, chemist, 48 London Road", page 251
Paisley, Peter (2010) John William David Hume (1851 – 1912), Pharmacist and Mounter, Micscape, April issue, http://www.microscopy-uk.org.uk/mag/artapr10/pp-hume.html (accessed October, 2017)
Paisley, Peter (2011) A footnote on Hume, Micscape, August issue, http://www.microscopy-uk.org.uk/mag/artaug11/pp-hume2.html (accessed October, 2017)
Paisley, Peter (2011) Arrowroot, Micscape, https://www.microscopy-uk.org.uk/mag/artoct11/pp-Arrowroot.doc (accessed October 2017)
Paisley, Peter (2012) A bit more about Hume, Micscape, https://www.microscopy-uk.org.uk/mag/artmay12/pp-hume-3.doc (accessed October, 2017)
Paisley, Peter ( 2012) Skulduggery among the microscopists, Micscape, http://www.microscopy-uk.org.uk/mag/artaug12/pp-skulduggery.doc (accessed October, 2017)
The Pharmaceutical Journal and Transactions (1875) "British Pharmaceutical Conference … Professor Attfield read the following list of names of persons proposed for membership … Hume, J.W.D. (Gloucester)", Vol. 6, page 224
The Pharmaceutical Journal and Transactions (1875) "Mr. J. W. D. Hume, of Gloucester, sent a number of mounted microscopic slides of starches", Vol. 6, page 432
The Pharmaceutical Journal and Transactions (1881) "The following donations had been received and letters of thanks were recommended to be sent to the respective donors: Twenty-four microscopical slides illustrating stem structure. From Mr. J.W.D. Hume, Lowestoft", Vol. 12, page 26
The Pharmaceutical Journal and Transactions (1910) Note on the retirement of J.W.D. Hume, Vol. 85, page 483
Post Office Directory of Gloucester, Herefordshire, Shropshire, and the City of Bristol (1863) "Chemists and Druggists … Polden & Cook, 75 Northgate st. Glo'ster", page 425
Probate of J.W.D. Hume (1912) "Hume John William David of 38 Kingsholm-road Gloucester died 16 May 1912 at Wotton Lodge Nursing Home Wotton Gloucester Probate Gloucester 12 June to Anne Elizabeth Hume widow. Effects £5002 8s 10d. Resworn £4802 8s 10d", accessed through ancestry.com
The Registers of Pharmaceutical Chemists and Chemists and Druggists (1885) "Polden George Walter … 75 Northgate Street, Gloucester", page 204
White's Directory (1892) "Hume John William David, dispensing and family chemist, London road North", page 537
The Year-Book of Pharmacy (1874) does not list J.W.D. Hume
The Year-Book of Pharmacy (1875) "Hume, Mr. J.W.D., 75, Northgate Street, Gloucester", page 432
The Year-Book of Pharmacy (1876) "Hume, Mr. J.W.D., 75, Northgate Street, Gloucester", page 406
The Year-Book of Pharmacy (1877) "Hume, Mr. J.W.D., 16, Worcester Street, Gloucester", page 369
The Year-Book of Pharmacy (1878) "Hume, Mr. J.W.D., 16, Worcester Street, Gloucester", page 416
The Year-Book of Pharmacy (1879) "Hume, Mr. J.W.D., Alexandra Terrace, Clapham Road, Lowestoft", page 338
The Year-Book of Pharmacy (1883) "Hume, Mr. J.W.D., Alexandra Terrace, Clapham Road, Lowestoft", page 391
The Year-Book of Pharmacy (1900) "Hume, John W.D., Grove Pharmacy, Lowestoft", page 260