John Hunter, 1831 - 1880
John James Hunter, 1858 - 1936
Charles Sands, 1835-1908
Hunter and Sands, circa 1878-1883
Sands and Hunter, 1883-1890
by Brian Stevenson
last updated April, 2016
Three men were responsible for the microscope slides labeled as "Hunter" or "Hunter & Sands". John Hunter produced and sold slides from his Kensington, London chemists' shop (pharmacy) in the early 1870s. John's son, John James ("J.J.") Hunter, produced slides with his own name labels during the mid-1870s. The Hunters partnered with brother-in-law / uncle Charles Sands by early 1878, to sell optical and photographic equipment (some of which they manufactured). Handwriting on Hunter & Sands-labeled slides suggest that most, if not all, were produced by J.J.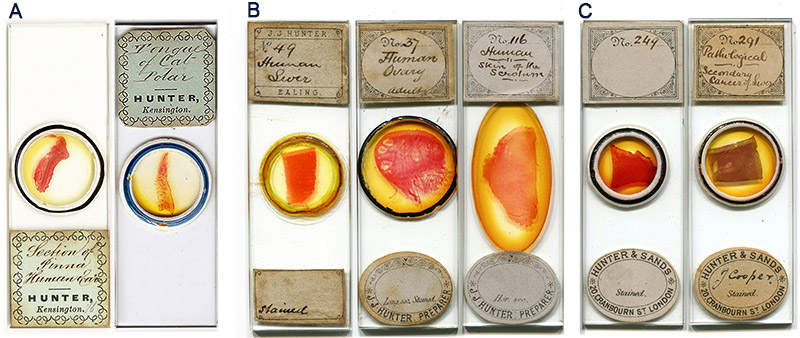 Figure 1. Examples of microscope slides produced by the Hunters / Hunter & Sands. (A) Slides by John Hunter, dating to the early 1870s when he operated a chemists' shop in Kensington. (B) Slides by John James (J.J.) Hunter, probably from the mid-1870s. J.J. exhibited many such histology slides to the Quekett Microscopical Club at that time. (C) Slides retailed by Hunter & Sands, probably made by J.J. Hunter. Some images courtesy of J. McCormick or adapted from an internet auction site, for nonprofit, educational purposes.
&nbsp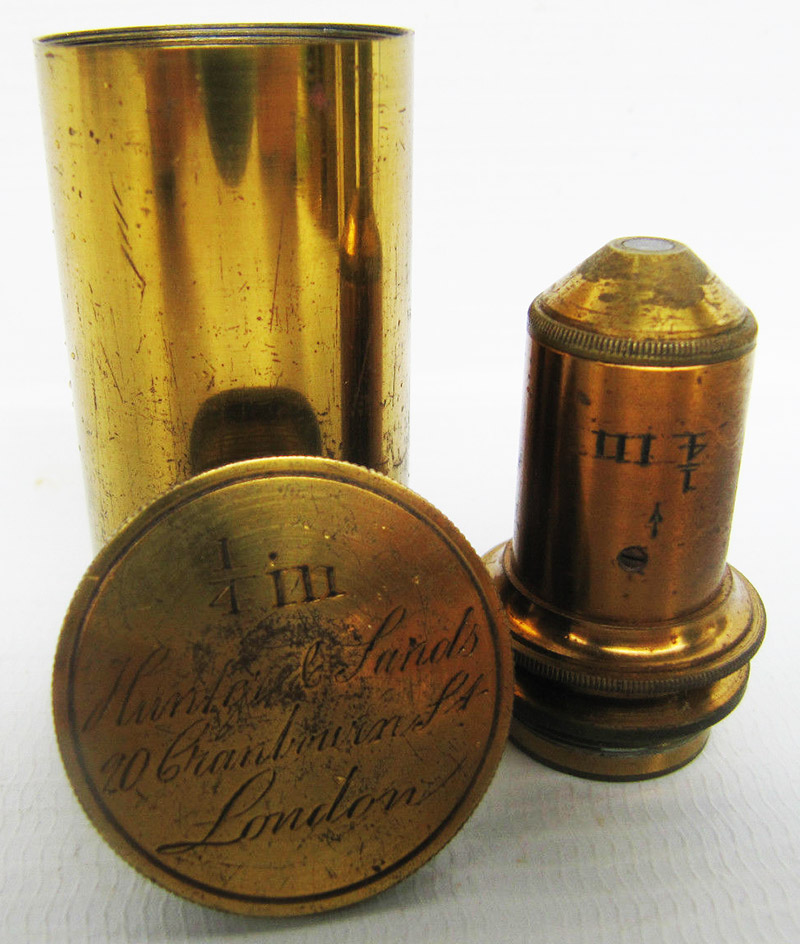 Figure 2. A 1/4 inch microscope objective lens, signed "Hunter & Sands". The firm retailed a substantial amount of equipment made by other manufacturers, although they do appear to have manufactured their own camera lenses, so it is not clear whether or not they actually made any part of this lens. Adapted from an internet auction site for nonprofit, educational purposes.
&nbsp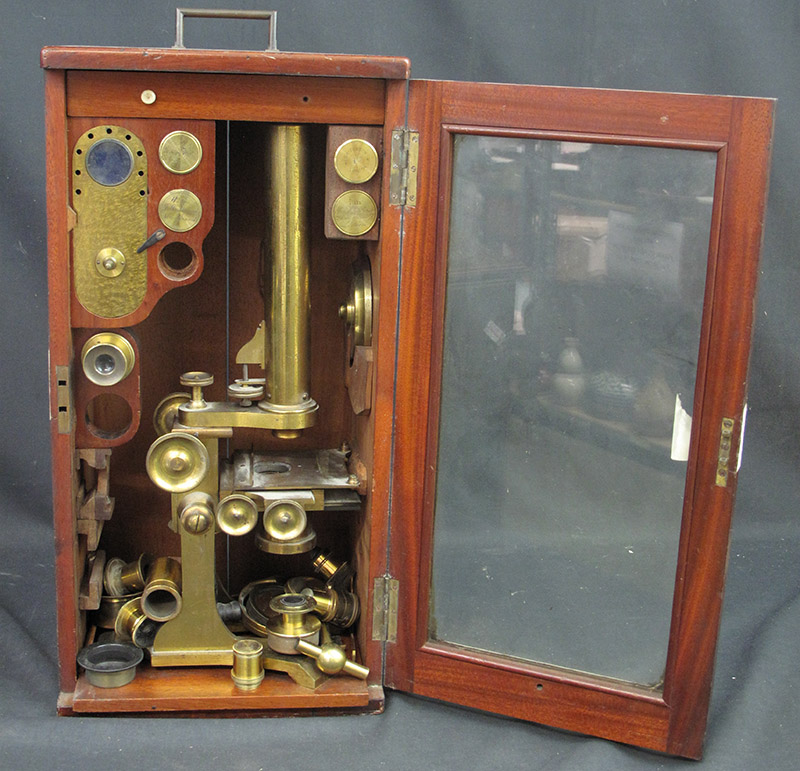 Figure 3. A microscope signed "Hunter & Sands". As noted above, it is not clear whether the retailers manufactured any of the microscopes that they sold. Adapted from an internet auction site for nonprofit, educational purposes.
&nbsp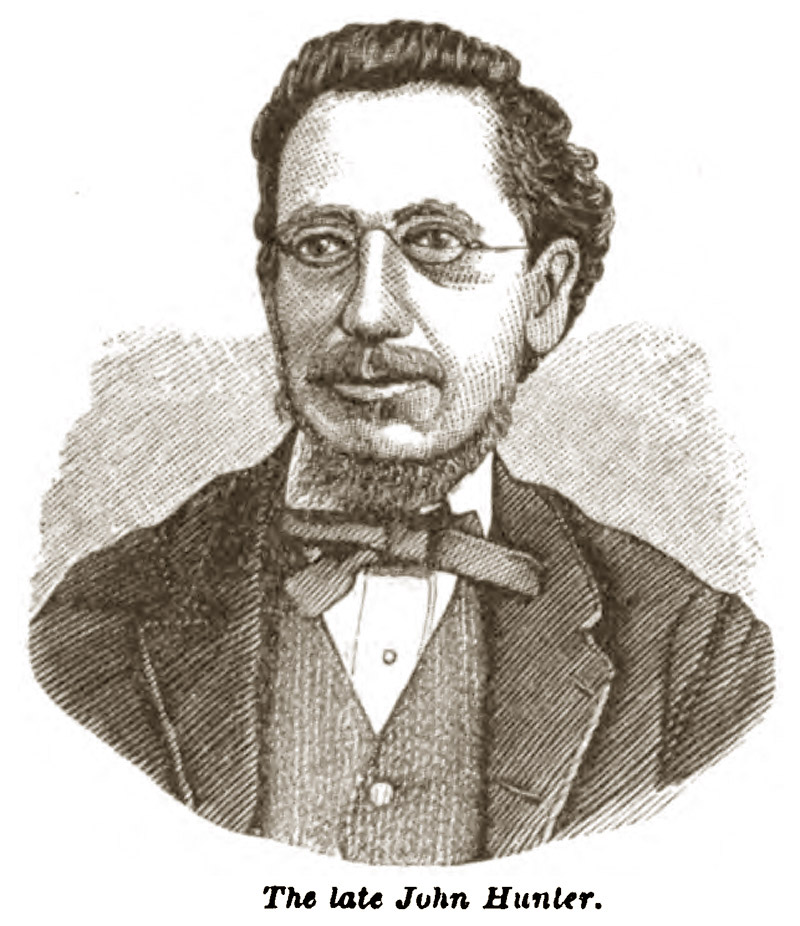 Figure 4. John Hunter, circa 1879, adapted from a cdv photograph and printed with his obituary in the "American Bee Journal".
&nbsp
John Hunter was an avid beekeeper. His authoritative book on the topic was reprinted several times during his lifetime. His obituaries in apiarist journals provided substantial insight on his life. That from the American Bee Journal, which included the image shown above as Figure 4, is reprinted in its entirety at the end of this essay.
John Hunter was born in the St. Clement Danes parish of London, on Dec. 10,1831. He was the third child, and second son, of James and Esther Hunter. Censuses record that James was a "victualler", evidently an owner of a pub/restaurant. James appears to have been successful at his trade: the 1841 census recorded John as a pupil at a boarding school, and 1851 census lists the family as employing a live-in "house servant". The 1861 census reported that 52 year-old James was a "retired licensed victualler". He took up another trade in his later years, being reported to be an "accountant" on son John's 1857 marriage record and "book keeper" on the 1861 census.
The twenty year-old John joined the Entomological Society of London in 1851.
The 1851 census recorded John's occupation as "clerk". His 1857 marriage to Ann Andrews and the 1858 baptism record of son John James both list John Hunter a being an "accountant". By 1870, John, Ann, and three children (J.J., Annie, and Rose) lived at 5 Eaton Rise, Ealing, Middlesex. At least one, and possibly four, other children died in infancy.
John changed careers and, by 1870, became a pharmaceutical chemist. He operated a shop at 45 Kensington High Street, London. He published advertisements for microscope slides in 1872 (Figure 5). The Pharmaceutical Journal and Transactions listed his business at that address through 1874. He appears to have maintained his Ealing residence, some 8 miles (13 km) away, as his 1875 Manual of Bee-Keeping lists his address as 5 Eaton Rise, Ealing.


Figure 5. An 1872 "Hardwicke's Science-Gossip" advertisement for John Hunter's microscope slides, from his Kensington pharmacy. Not surprisingly, the advertised objects are chemical crystals.
&nbsp
It is not clear when Hunter and Sands formed a partnership. The Science Museum Group suggests a founding date of 1874 (http://collectionsonline.nmsi.ac.uk/detail.php?type=related&kv=59815&t=people). I have not located any primary resources that support that date. Charles' 1876 marriage record, to John Hunter's sister Susan, listed him as a "wine merchant". This suggests that either the Hunter & Sands business sold wines, Charles Sands maintained a separate business, or the two began their partnership after 1876. The earliest known advertisements from Hunter & Sands were published in January, 1878 (Figure 6). On April 13, 1877, "Mr. Hunter" displayed to the Quekett Club "Four microscopes, under which were exhibited a large collection of histological and miscellaneous objects". On March 14, 1879, "Messrs. Hunter and Sands" exhibited "a collection of histological and pathological specimens shown under several microscopes". Altogether, primary resources suggest that the Hunter & Sands business began in early 1878. If that date is accurate, then son J.J. Hunter was probably also an original partner.
Charles Sands was born on January 8, 1835, in Westminster, London, son of Charles and Naomi Sands. Coincidentally, father Charles was a "victualler". According to the 1841 and 1851 censuses, he operated the Prince Regent pub on Felix Street, Islington. As with the Hunters, the Sands appear to have been reasonably well-off: son Charles was at a boarding school at the time of the 1851 census. Our microscopist followed his father's trade as a victualler and wine merchant until at least 1876.
John Hunter joined the Quekett Microscopical Club on October 22, 1875. His son, J.J. Hunter, joined on December 22, 1876. Charles Sands became a member on December 28, 1877.
Both John and J.J. Hunter exhibited microscope slides to the Quekett Microscopical Club, almost all of which were histological preparations. During 1877, John displayed "lobe of ear of white rat, injected", and "toe of white rat, injected", and J.J. shared "transverse section of foot of new-born infant", "auditory meatus of child", "apex of ventricle of heart, injected", "nose of child, stained", "auditory meatus of child", "section of human kidney", "section of finger of infant", "section of toe of foetus", and "human lung (injected)". Donations to the Quekett Club in 1877 included a November 23 contribution of "twenty-four … physiological preparations from Mr. J.J. Hunter". Bracegirdle's Microscopical Mounts and Mounters illustrates a J.J. Hunter preparation of "auditory meatus of child", which may be the same slide that Hunter showed in 1877.
According to an obituary, "at the South Kensington Show in 1878 Mr. (John) Hunter was awarded a silver medal for a very fine collection of microscopical objects illustrating the natural history of the honey bee".
On September 26, 1879, "Mr. J.J. Hunter … exhibited a simple form of section cutter for soft tissues" to the Quekett Microscopical Club.
Also in 1879, The British Journal of Photography reported that "We have received from Messrs. Hunter and Sands, of 20, Cranbourne-street, Leicester-square, their new catalogue of new and second-hand cameras, lenses, and general apparatus by the best makers. The list is full of useful articles, and the prices, from a brief glance at the contents, so reasonable that we can recommend it to our readers".
That same year, Hunter and Sands initiated a new business venture. They speculated that a substantial number of photographers throughout the country wanted to sell off their businesses, but were nervous about advertising such plans, since a "going out of business" announcement could scare off customers who wanted to order portraits. Hunter and Sands offered to work as middle-men, discretely advertising businesses and matching prospective buyers with sellers (Figure 8). This seems to have been somewhat successful, as advertisements for sales appeared for some time afterward.
John Hunter, "optician", died on June 27, 1880. His son, J.J., and Charles Sands continued the business for another 10 years.
J.J. Hunter married Jane Wheeler on September 18, 1882. His occupation was listed as "optician".
Later advertisements suggest that Hunter and Sands primarily focused on photographic supplies after 1880-ish (Figures 9 and 11). In 1882, "Hunter & Sands, 20, Cranbourn street, W.C." exhibited to the Royal Society of the Arts "Instantaneous shutter fitted on swing-back camera; Series of instantaneous photographs; Sutton's patent panoramic camera, with globe-lens and printing frame; Bolas's patent detective camera, fitted with a pair of portrait lenses; and A photographic gun". An example of their photographic gun is shown in Figure 10.
Eyeglasses, or, at least, monocles could be obtained from Hunter & Sands in 1883. A humorous article from that year on having an elegant carte de visite produced included a stop for the purchase of a monocle, "We pass along Cranbourne Street, and call in at Messrs. Hunter and Sands, to purchase a single eye-glass, A single eye-glass is a difficult thing to manage, if you are not used to it, especially if it has no rim. It fails to grip, and slips out of your eye, if you get the least bit nervous. So, after many hair-breadth 'scapes from destruction on the part of several round discs of glass that the eye fails to secure even for a moment, we demand an apparatus with a tortoise-shell frame. This is much easier to manage, and with it carefully balanced under the right eye-brow, we face towards Piccadilly. Opposite the 'Criterion' we meet Mr. Dallmeyer - or, rather, Mr. Dallmeyer meets us, for it is a little difficult to see clearly just now. We should like to have passed on unobserved; but it was not to be. So, briefly shaking hands, we mention the important mission on which we are bound, and say good-bye".
Scientific supplies were also available. An 1883 inquiry to Hardwicke's Science-Gossip was answered "You might get the reagents from Hunter and Sands, 20 Cranbourne Street, who would no doubt also procure you the skeleton of a frog".
During 1883, the business changed its name to Sands and Hunter (Figures 12 and 13).
The partnership between Charles Sands and J.J. Hunter was dissolved on June 17, 1890 (Figure 14). New owners operated the business into the twentieth century.
Charles Sands retired to Sussex after selling the business. He died on August 10, 1908.
J.J. Hunter took up other occupations. The 1891 census lists him as a "tobacconist", living on 75 Askew Road, Hammersmith, London. In 1901, he was working as a house painter, and the 1911 census recorded him in the same occupation, as a worker for an employer. He appears to have died in London during early 1836.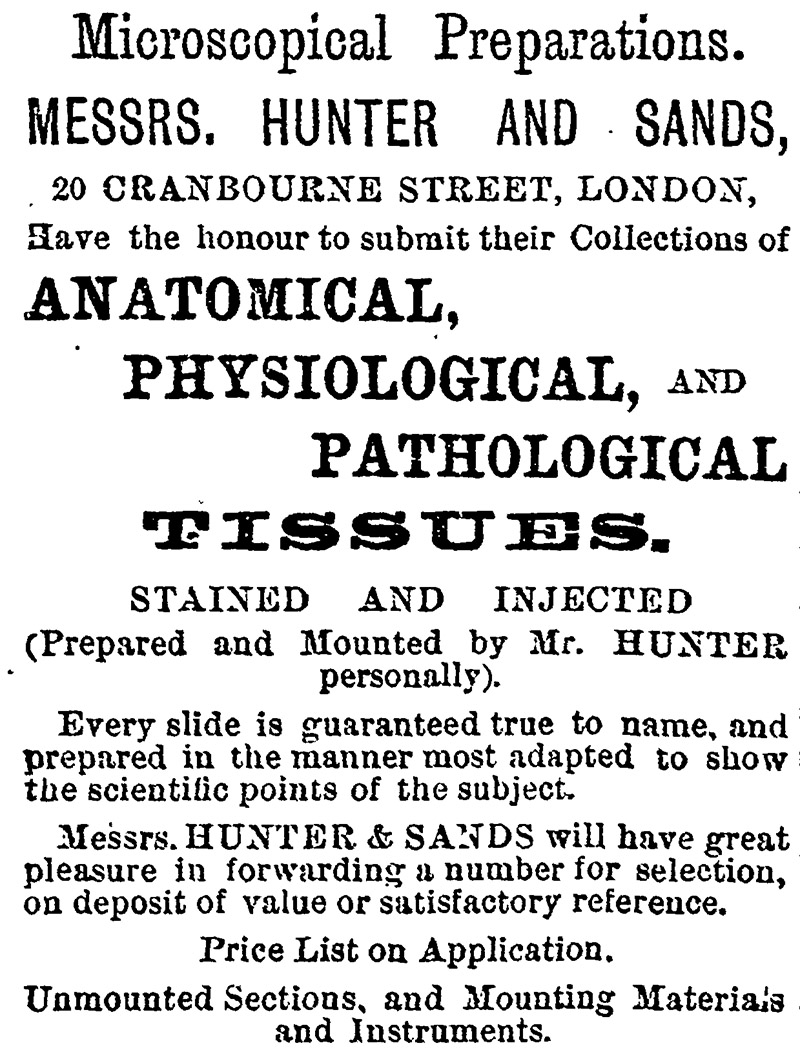 Figure 6. An 1878 advertisement for Hunter & Sands microscope slides, which appeared in "The Medical Examiner". Judging from the handwriting on Hunter & Sands' microscope slides, the "Mr. Hunter" referred to in the advertisement probably means J.J. Hunter.
&nbsp


Figure 7. An 1878 advertisement from "The Photographic News".
&nbsp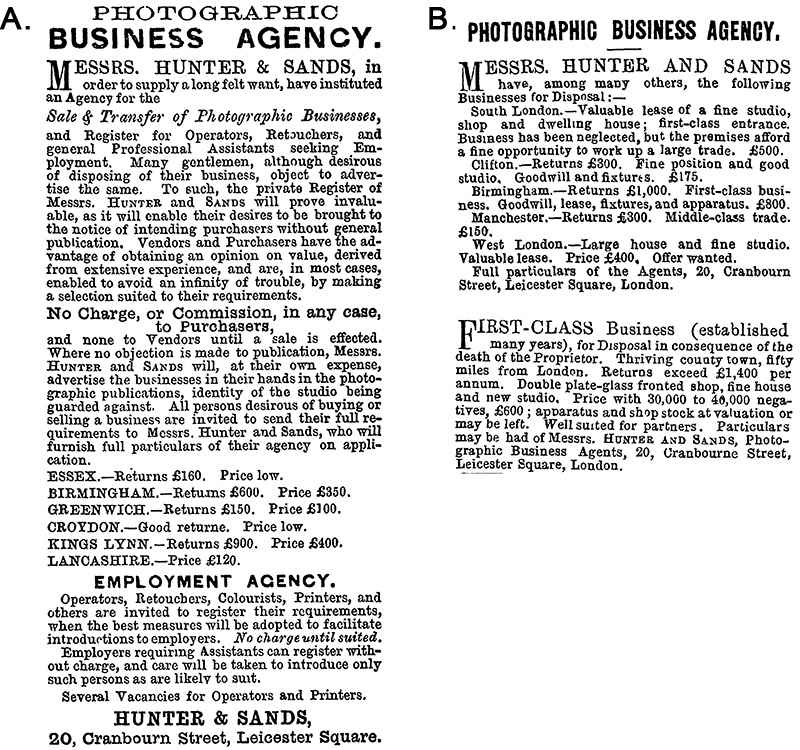 Figure 8. Advertisements for Hunter and Sands' Photographic Business Agency. (A) An initial announcement, from 1879. (B) Specific advertisements from 1880.
&nbsp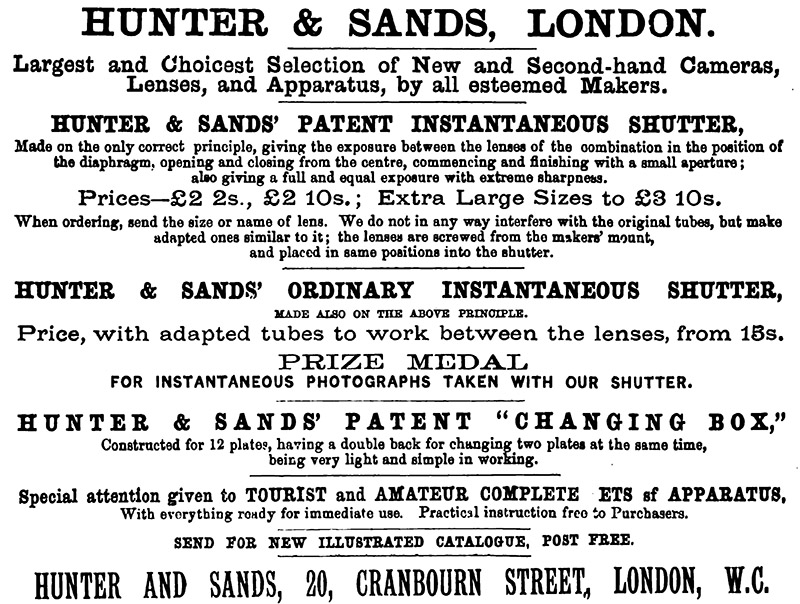 Figure 9. An 1882 advertisement, from "The Journal of the Royal Society of the Arts".
&nbsp


Figure 10. A Hunter & Sands "Photographic Gun". Adapted from an internet auction site for nonprofit, educational purposes.
&nbsp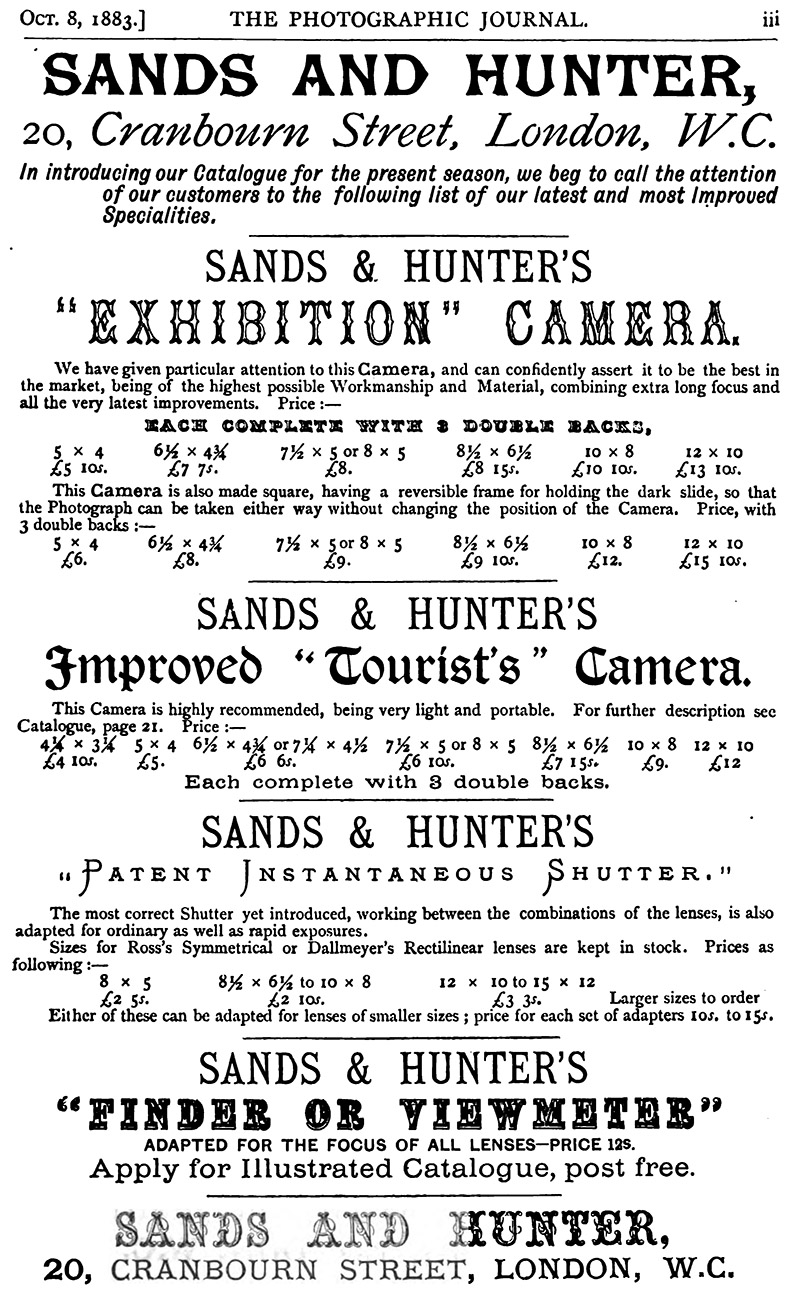 Figure 11. An advertisement from the 1883 "Photographic Journal". Note the name change to "Sands & Hunter"
&nbsp


Figure 12. An 1884 advertisement.
&nbsp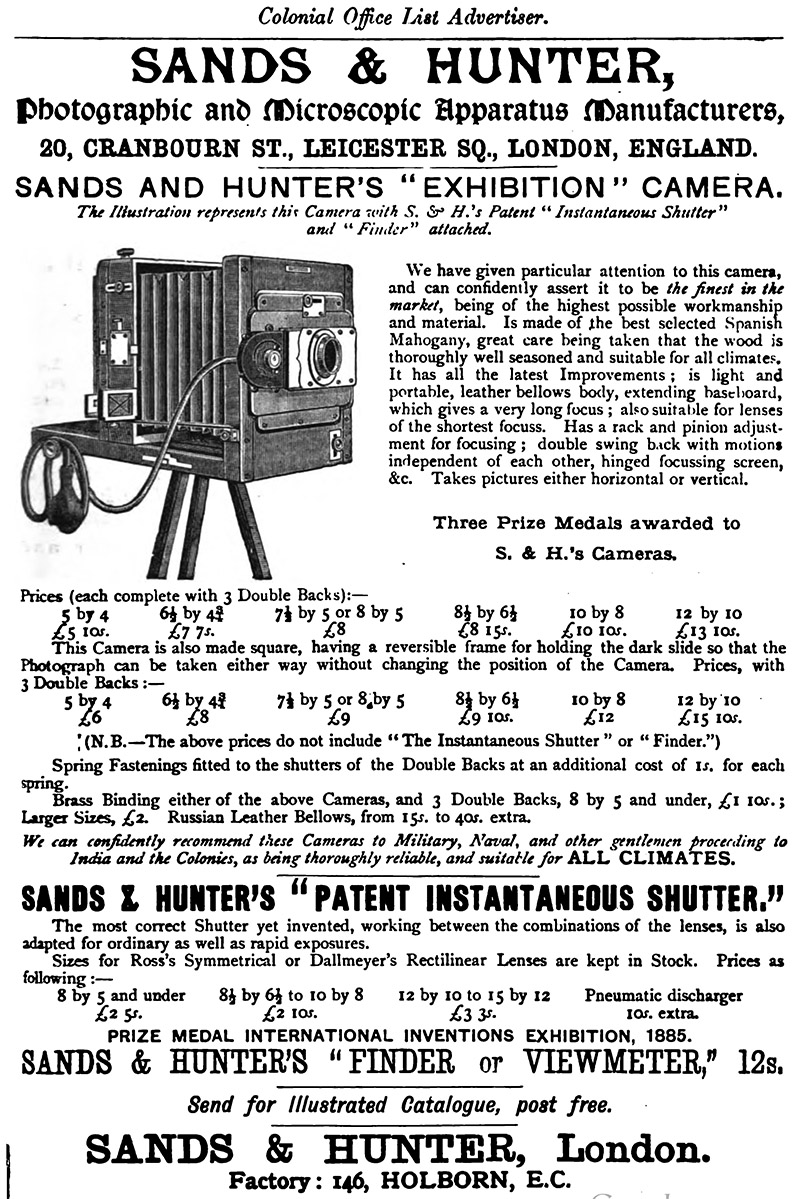 Figure 13. Advertisement from "The Colonial Office List for 1886".
&nbsp


Figure 14. An advertisement from early 1890, not long before Sands and Hunter dissolved their partnership.
&nbsp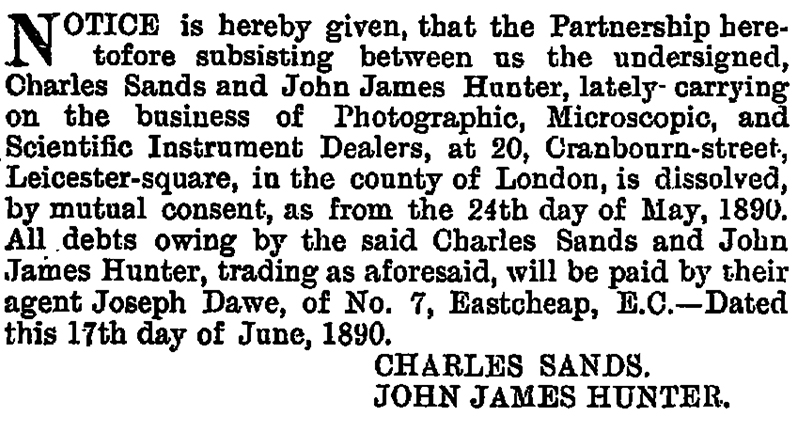 Figure 15. Notice of the dissolution of Sands and Hunter, 1890.
&nbsp
Obituary of John Hunter, from The American Bee Journal. An accompanying portrait of Hunter is shown above as Figure 4.
"We learn with much regret of the death of one of England's most enterprising and enthusiastic apiarists - Mr. John Hunter, of Ealing, near London.
While in England last summer we had several very interesting interviews with Mr. Hunter, and he formed one of a group of noted apiarists who were present at the banquet given by T.W. Cowan, Esq., at Horsham, Essex. A photograph of this group is framed and hangs in the Editorial room of the 'American Bee Journal'. We present our readers with an engraving of Mr. Hunter, which is copied from a photograph sent to us by him last May in exchange for ours.
The following article from the British Bee Journal for July will give our readers an idea of the life and labors of our deceased friend:
We are exceedingly grieved to be called upon to chronicle the decease of our friend and associate, John Hunter, Esq., of Ealing. The presence of Mr. Hunter has been so conspicuous in our midst for so many years, that we have no slight difficulty in realizing this sad event; even in this number of the Journal it will be seen that he attended two meetings during the past month, and a contribution from his pen will be found in our correspondence columns. The bee-keeping community generally, and the British Bee-Keepers' Association specially, will ever remain deeply indebted to Mr. Hunter for having, in the year 1874, undertaken the onerous duties of the Honorary Secretaryship of that institution, and in that capacity he contributed greatly, by his strenuous exertions, by his indomitable energy, and by his business tact, to render the first show held at the Crystal Palace a success; also, after the resignation of the Secretaryship, for his devoted steadfastness in the performance of his duty as a member of the working committee of the Association; and for his contributions to apiarian literature.
Mr. Hunter was born in London, Dec. 10,1831. He was the second son of Mr. James Hunter, of Bloomsbury, who was the founder, and for 38 years the Secretary, of the Royal Standard, one of the largest and most successful benefit societies in the kingdom. Mr. John Hunter was one of the originators of the British Bee-Keepers' Association, and his interest in its welfare he retained to the last. He was the author of the 'Manual of Bee-Keeping', which has now attained its third edition. He was the writer of the article 'Apiary' in the last edition of the 'Encyclopedia Britannica'; also, in 1875, of a pamphlet entitled "The Cottage Frame Hive," specially written for the use of cottagers. He was for several years on the staff of the Journal of Horticulture, and also on that of the 'Gardeners' Chronicle', and was a constant correspondent to both British and American apicultural magazines. Many contributions from his pen will be found in the earlier volumes of the Journal. The paper which he read at the Conversazione on April 14, on "The Future of British Bee Keeping," will be fresh in the recollection of our readers. Mr. Hunter was selected by the Committee of the British Bee-Keepers' Association, together with Mr. Cheshire, to compile the 'Handbook for Cottagers'.
At the South Kensington Show in 1878 Mr. Hunter was awarded a silver medal for a very fine collection of microscopical objects illustrating the natural history of the honey bee.
He was a member of the Quekett Microscopical Club of London, and also of that in Ealing, and on Oct. 25, 1878, he read a most interesting paper on 'The Queen Bee, with Especial Reference to the Fertilization of Her Eggs'. This paper was published in the journal of the Quekett Club, and reproduced in our pages. He was also for many years a member of the Entomological Society.
Mr. Hunter's exertions and spirits were always in excess of his strength. He had been in very delicate health for many years, and succumbed after an attack of pleurisy, culminating in congestion of the lungs, of less than a fortnight's duration, at his residence at Ealing, on Sunday, the 27th June. His death will be a very great loss to the cause of bee-culture and science in general".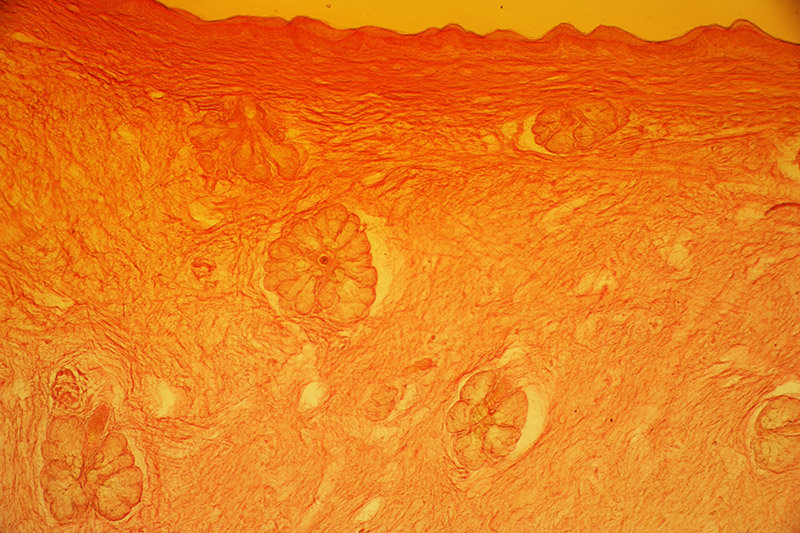 Figure 16. Section of human scrotum, by John J. Hunters (see Figure 1). Photographed with a 10x objective lens on a Leitz Ortholux II.
&nbsp
Acknowledgements
Thank you to James McCormick, for sharing images.
&nbsp
Resources
American Bee Journal (1880) Death of John Hunter, Vol. 16, pages 364-365
The Anthenaeum (1879) "Quekett Microscopical, Sept. 26 … Mr. J.J. Hunter also exhibited a simple form of section cutter for soft tissues", page 438
Baptism record of John James Hunter (1858) St. George Bloomsbury Parish records, accessed through ancestry.co.uk
Baptism record of Francis Victor Hunter (1870) Christ Church, Ealing Parish records, accessed through ancestry.co.uk
Bracegirdle, Brian (1998) Microscopical Mounts and Mounters, Quekett Microscopical Club, London, pages 55 and 148, Plate 22-L, 22-M, and 22-N
British Bee Journal (1880) Death of John Hunter, Vol. 8, page 54
British Bee Journal (1882) "Several valuable donations of books have been added to the Library, for which the thanks of the members are due to … Mr. J.J. Hunter", Vol. 9, page 222
The British Journal of Photography (1879) Announcement of trade catalogue from Hunter and Sands, page 237
England census, birth, marriage, and death records, accessed through ancestry.co.uk
English Mechanic and World of Science (1890) Advertisements from Sands and Hunter, Vol. 50
Fairfield, E, and J. Anderson (1886) The Colonial Office List for 1886, Advertiser section, Harrison and Sons, London
Hardwicke's Science-Gossip (1872) Exchange offer from John Hunter, Vol. 7, page 284
Hardwicke's Science-Gossip (1883) Notices to correspondents, Vol. 19, page 47
Hardwicke's Science-Gossip (1884) Advertisement from Sands and Hunter, Vol. 20, page ccxii
Hunter, John (1875) A Manual of Bee-Keeping, Second edition, Hardwicke, London
Hunter, John (1878) On the queen bee, with especial reference to the fertilization of her eggs, Journal of the Quekett Microscopical Club, Vol. 5, pages 127-132
Hunter, John (1884) A Manual of Bee-Keeping, Fourth edition, W.H. Allen & Co., London
Journal for Amateur Photographers (1883) Half-a-dozen portraits, Vol. 27, pages 275-276
Journal of the Quekett Microscopical Club (1875) "October 22nd, 1875 … Mr. F. Cheshire and Mr. John Hunter were balloted for, and duly elected members of the Club", Vol. 4, page 125
Journal of the Quekett Microscopical Club (1876) Exhibits by John Hunter, Vol. 4, pages 238 and 240
Journal of the Quekett Microscopical Club (1876) "December 22nd, 1876 … The following gentlemen were balloted for, and duly elected members of the Club: Mr. John J. Hunter, …", Vol. 4, page 240
Journal of the Quekett Microscopical Club (1877) Exhibits by John and J.J. Hunter, Vol. 4, pages 284, 289, 290, 291, 294, 299, 303, 331, 335, and 338
Journal of the Quekett Microscopical Club (1879) "Conversazione, March 14 … Messrs. Hunter and Sands - A Collection of Histological and Pathological specimens shown under several microscopes", Vol. 5, page 204
Journal of the Royal Society of the Arts (1882) Catalogue of the Exhibition of Photographic Appliances, Vol. 30, Supplement, page 10
London Gazette (1890) Notice of dissolution of Sands and Hunter, June 24, page 3538
Marriage record of marriage of John Hunter and Ann Harriet Andrews (1857) St. George Bloomsbury Parish records, accessed through ancestry.co.uk
Marriage record of marriage of John James Hunter and Jane Wheeler (1882) St. Peter's Hammersmith Parish records, accessed through ancestry.co.uk
Marriage record of marriage of Charles Sands and Susan Hunter (1876) St. George Bloomsbury Parish records, accessed through ancestry.co.uk
Medical Examiner (1877) Advertisements from Hunter and Sands, Vol. 3, many issues
The Medical Examiner (1878) Advertisements from Hunter and Sands, Vol. 3, beginning in the January 10 issue
Monthly Microscopical Journal (1877) "Proceedings of societies: Quekett Microscopical Club, November 23, 1877 … A large number of donations were announced … twenty-four of physiological preparations from Mr. J.J. Hunter", page 260
The Pharmaceutical Journal and Transactions (1872) "Benevolent Fund, subscriptions received during March, 1872: Hunter, John, 45, Kensington High Street", Vol. 2, page 380
The Pharmaceutical Journal and Transactions (1874) "Benevolent Fund, subscriptions received during March, 1874: Hunter, John, 45, Kensington High Street", Vol. 4, page 738
The Photographic Journal (1883) Advertisement from Hunter and Sands, October 8, page iii
The Photographic News (1878) Advertisements from Hunter and Sands, Vol. 22, many issues
Probate of John Hunter (1880) "The will of John Hunter formerly of 5 Eaton-rise but late of 11 Argyle-road Castle Hill both in Ealing and of 20 Cranbourne-street Leicester-square all in the County of Middlesex Optician who died 27 June 1880 at 11 Argyle-road was proved at the Principal Registry by Susan Sands (Wife of Charles Sands) of Woburn-place Russell-square in the said County the Sister and George Robert Pilgrim of 20 Southampton-street Bloomsbury in the said County Gentleman the Executors. Personal Estate under £4,000", accessed through ancestry.co.uk
Probate of Charles Sands (1908) "Sands Charles of 2 Tillington-terrace Hastings died 10 August 1908 Probate Lewes 6 October to Susan Sands widow. Effects £93 7s 10d", accessed through ancestry.co.uk
Transactions of the Entomological Society of London (1870) List of members: "1851, Hunter, John, 5, Eaton Rise, Ealing, W.", page xxv