Robert Huntley, ca. 1780-1837
by Brian Stevenson
last updated April, 2020
Robert Huntley was a London "optician", dealing in optical and other glass items. A number of the microscopes with his name have relatively unique features, suggesting that he manufactured at least some of them (Figures 1-5). He also retailed, and possibly produced, items such as telescopes, barometers, and engineering tools (Figures 8-9).
The earliest identified records of his occupation, from 1803-1804, state that he was an "Instrument Case Maker" (Figure 6). Huntley took an apprentice into that trade in 1806. Huntley's trade expanded during the next few years, and was listed in an 1811 trade directory as being a "working optician". He was not listed in subsequent directories, until ca. 1818, suggesting that he primarily worked as a contractor for one or more retailers (i.e., "worked for the trade"). He is listed in directories from 1820 onward as a "working optician".
Huntley worked and lived at several different addresses during his working career, and occasionally occupied two addresses simultaneously (possibly a home and a shop/factory). Following are addresses of Huntley's optical/instrument case shops, and recorded dates of each location:
1806-1809: Paul Street, Shoreditch
1811-1818: 1 City Road, near the turnpike
1820-1823: 53 High Holborn
1824-1830: 52 High Holborn
1830: 288 Regent Circus, Oxford Street / 118 Oxford Street, corner of Regent Circus
1834: 294 Regent Street and 218 Oxford Street
1835: 259 Regent Circus and 37 High Holborn
1837: 294 Regent Street
1840: 37 High Holborn and 294 Regent (operated by his son, after Robert Huntley's death)
In addition, Robert Huntley ans his wife operated a corset business from City Road, 51 High Holborn, and 294 Regent Street.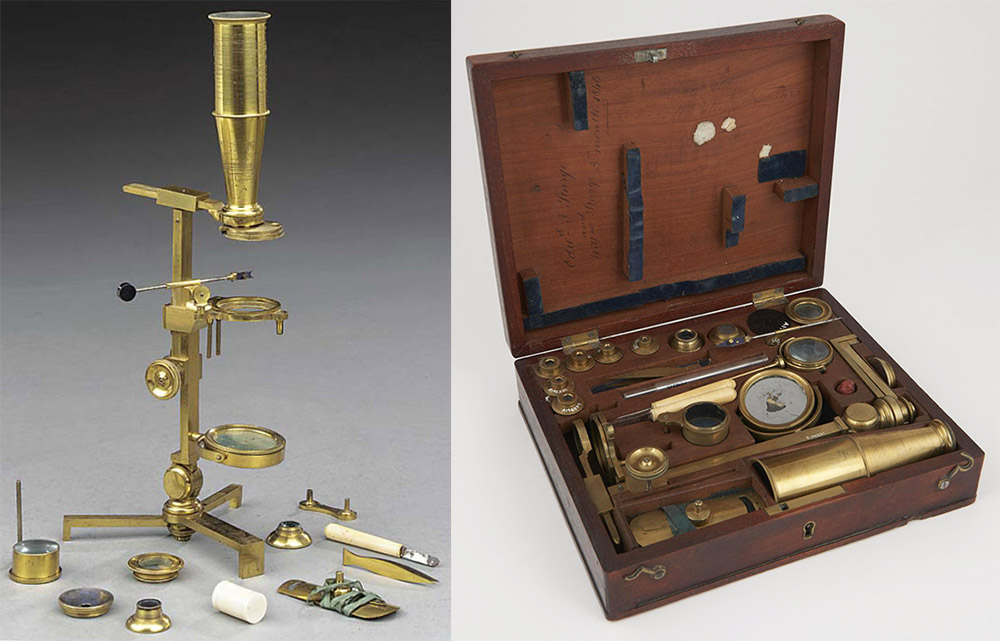 Figure 1. Two tripod-mounted microscopes, both signed with Huntley's ca. 1820 - ca. 1823 address of 53 High Holborn. The left microscope has a number of objective lenses mounted in a revolving disc, while the right example uses several independent, screw-in objective lenses. Adapted for nonprofit, educational purposes from (left) and internet auction site, and (right) http://collection.sciencemuseum.org.uk/objects/co119236/gould-type-microscope-by-r-huntley-53-high-holbo-gould-microscopes. The case on the right has an owner's inscription with the date 1843, but Huntley's address indicates production approximately 20 years earlier.
&nbsp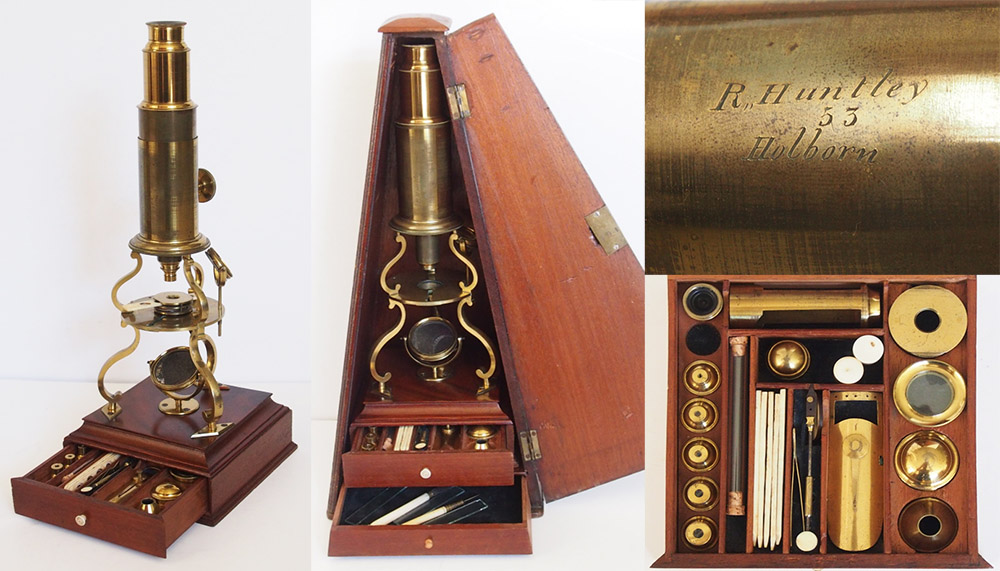 Figure 2. A Culpeper-type microscopes, signed with Huntley's ca. 1820 - ca. 1823 address of 53 High Holborn. The images were generously provided by Jurriaan de Groot.
&nbsp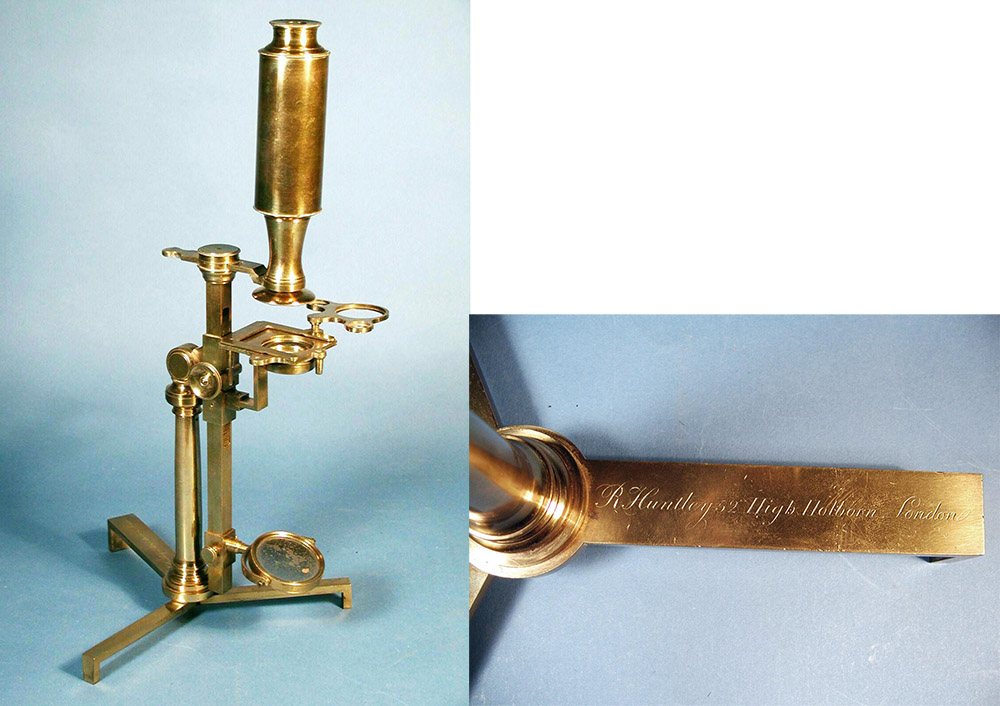 Figure 3. A "Jones Most Improved"-type microscope, signed on the foot "R. Huntley 52 High Holborn London", his address from 1824 until ca. 1830. Adapted for nonprofit, educational purposes from an internet sales site.
&nbsp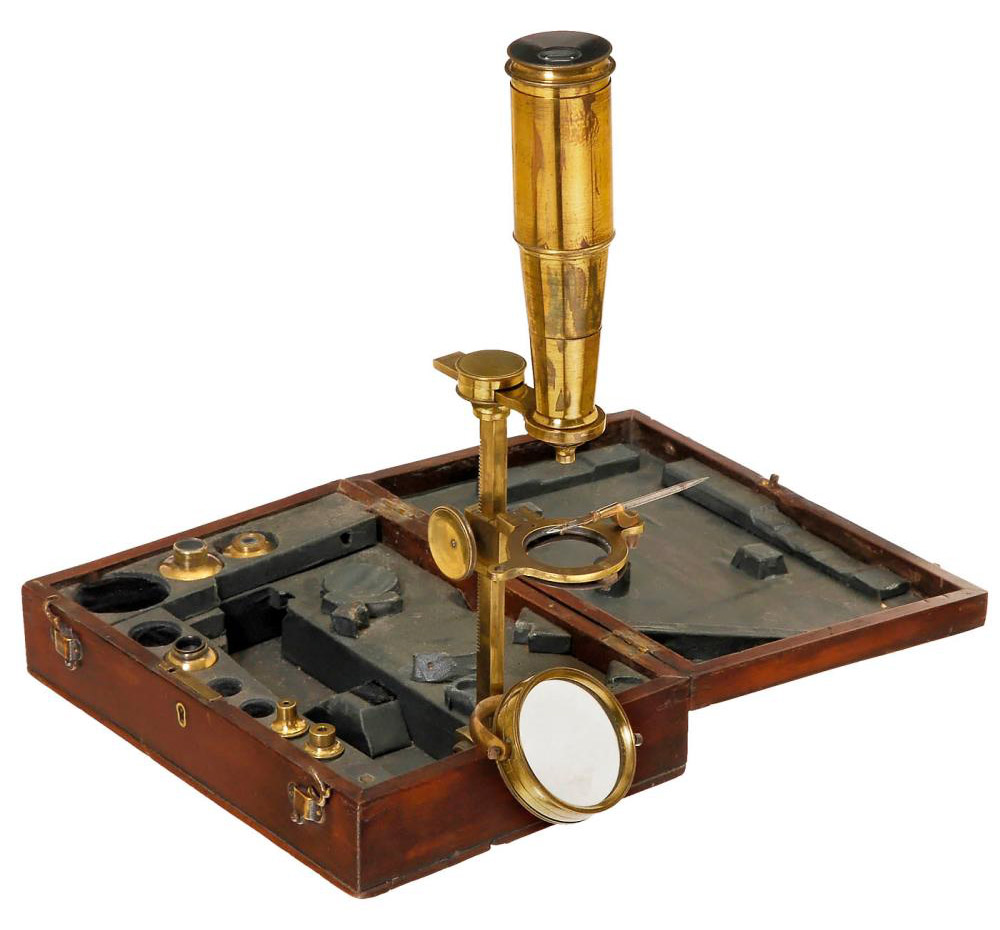 Figure 4. A case-mounted microscope, signed on the upright with Huntley's 1824 - ca. 1830 address of 52 High Holborn. The instrument is mounted on a hinge to the inside of the case, such that it swings upright for use and folds flat for storage. Adapted for nonprofit, educational purposes from an internet auction site.
&nbsp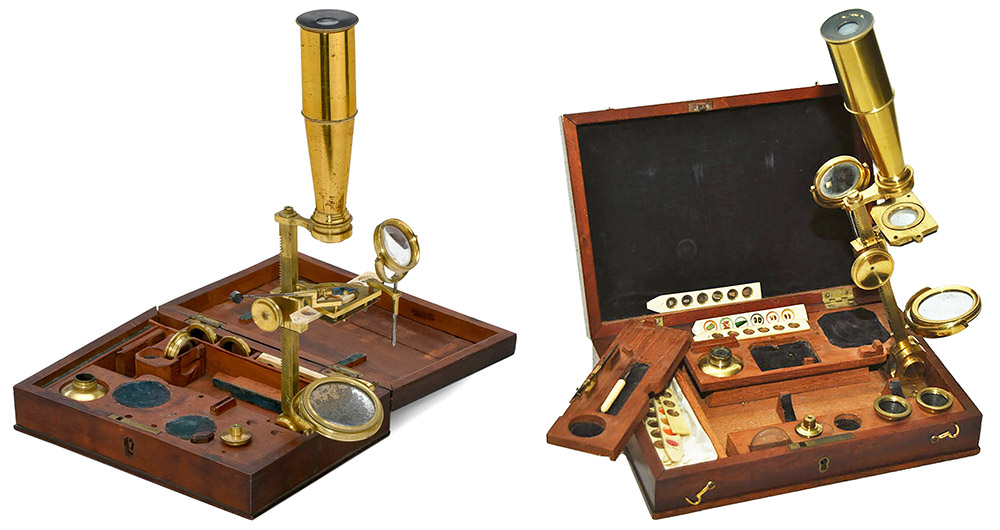 Figure 5. Two additional case-mounted microscopes, both signed with Huntley's 52 High Holborn address. As with the microscope shown in Figure 4, they are hinged onto the inside of the case. The arms are distinct from that of the Figure 4. Adapted for nonprofit, educational purposes from internet auction sites.
&nbsp
Robert Huntley's 1837 burial record states that he was then 57 years old, implying birth in approximately 1780. I did not find firm information on his parents or the location of his birth. Cross-referencing records enabled construction of the following history of Robert Huntley's life
Robert married Catherine Head on June 3, 1802, at the church of St. Bartholomew the Great, London. Marriage implies that Huntley was then independent of his apprenticeship (apprentices were not permitted to marry), and was somewhat financially secure. He would then have been approximately 22 years old, a reasonable age to free from an apprenticeship. As noted above, Huntley was not included in London business directories until 1811, so he likely worked for another tradesman. Huntley took an apprentice in 1806, indicating that he was then a Master of his trade (his guild is not known).
Robert and Catherine's first child, Susan Jane, was baptised on April 17, 1803 (Figure 6). Susan died that summer, and was buried on August 27, 1803. A second child, Caroline, was born the following summer, and baptised on July 29, 1804 (Figure 6). Another daughter, Susan Jane, was born in 1809 and baptised that February 12 (Figure 6). Her baptism record states that the family then lived in Paul Street, Shoreditch.
The 1811 Post Office Directory of London listed Robert Huntley, "working optician", in business at "1 City-road, near the turnpike". Huntley does not appear again in business directories until the end of the decade, suggesting that he had a brief foray into retail ca. 1811, then returned to contracted production.
Catherine died in late 1814, at when only 36 years old. She was buried on December 14, 1814, in Bunhill Fields Burial Ground, City Road.
Robert remarried the next spring, on May 13, 1815, to Catherine Davies. The surviving daughters were then 10 and 6 years old. A son, Robert Henry Huntley, was born on July 13, 1818. His baptism record gave his father's occupation as "optician". He was probably in the retail trade by that time.
The Huntleys had also begun another business, manufacturing and retailing stays and corsets.
A record of this business is preserved in the legal proceedings of Old Bailey: "Sarah Miller was indicted for stealing, on the 15th of May 1818, 10 pair of stays, value 6/- , the goods of Robert Huntley .
"Caroline Huntley: 'I am the daughter of Robert Huntley - my mother keeps a stay-shop in the City-road. On the 15th of May, about two o'clock in the afternoon, the prisoner came into the shop, and asked me to take some stays with her, to shew some servants in Finsbury-square. She said she was cook there. I took ten pair with me. She went down Mr. Montague's area, and told me to walk about. She came up and said if I would leave them the servants would try them on while the dinner was up stairs - I gave them all to her. She told me to call again in half an hour, and bring two dresses with me. She came up again, and walked as far as Featherstone-street with me, and then went into a bird-shop. In half an hour I returned to the house, and could not find her. She was taken about a fortnight after. I am sure she is the woman'."
"Prisoner's defense: 'I was in distress'."
"Guilty. Confined two months".
Another daughter, Rosianne, was born on September 8, 1920.
The 1820 Post Office Directory listed Robert Huntley as "working optician, 53 High Holborn". That address was listed through the 1823 edition of Kent's Original London Directory.
An invoice is known that was dated March 24, 1824, from "R Huntley, working optician, 52 High Holborn, near Brownlow-street". This indicates a move from number 53 to number 52 during 1823 or in early 1824.
The 1825 London City Directory lists both "Huntley Robert, working optician, 52 High Holborn" and "Huntley Robert, stay and corset warehouse, 51 High Holborn".
An 1829 advertisement in The Athenaeum stated, "Mrs. Huntly respectfully apprises the nobility and gentry that she has for inspection, at her house, 51, High Holborn, two doors from Brownlow-street, and corner of Burlington-arcade, Burlington-gardens, her entirely new and elegant assortment of Parisian and English Corsets.-Mrs. Huntly particularly solicits ladies' attention to her improved Parisian Corset, so exceedingly elegant to the shape for the present style of Parisian and English costume; likewise to her newly invented full-bone Stay, so extremely easy that the most delicate constitutions may wear them with great advantage, being a general support, without pressure in any part particular. She has also paid great attention to her patterns for children's and young ladies' Stays, whose figures are forming. - Mrs. Huntly is in constant attendance at 51, High Holborn, from eleven till four every day. - Spinal supporting stays and elastic bands of every description. - A respectable Shop-Woman wanted".
The 1830 London City Directory listed Robert Huntley at 52 High Holborn and C. Huntley at 51 High Holborn, and Robt. Huntley at 288 Regent Circus, Oxford Street. That same year's Post Office Directory listed "Huntley R. working optician, 118 Oxford st. cor. of Reg. circus" and "Huntley - stay & corset warehouse, 288 Regent st. Portland pl." (note that Oxford and Regent are adjacent, and the different addresses were probably for the same location).
An 1834 advertisement from Robert Huntley gave his address as "Mr. Huntley, 294, Regent Street; and 281, Oxford Street". Another advertisement of that year read, "By Special Appointment Stay and Corset Maker to her Majesty. Mrs. Huntley, 294 Regent street, has the honour to announce to the Nobility and Gentry, that she has received from her Correspondents in Paris every new Pattern of Parisian corsets". The advertisement further stated, "Mrs. Huntley is at home from 12 till 5, daily. - Please to observe it is a private house".
The 1835 Robson's London City Directory gave two distinct addresses of Robert's optical shop: "259 Regent circus, Oxford st., & 37 High Holborn". That year's Court Journal also listed two addresses for "Huntley Catherine, stay maker": "294 Regent st. and 51 High Holborn".
Catherine fell gravely ill during 1836. A note appeared in the November, 1836 issue of Blackwood's Lady's Magazine, stating that "Mrs. Huntly … is sufficiently recovered from her long and dangerous illness" (Figure 7).
Within five months, Catherine was dead. Robert Huntley died two months later, and was buried on June 11, 1837. Robert was 57 years old when he died, and Catherine was only 43. Daughter Rosianne died in 1840, when she would have been about 20 years old, daughter Susan Jane died in 1848, at about 39 years of age, and son Henry died in 1855 at age 33. So many deaths at early ages suggest tuberculosis in the family.
The optical business was left to the eldest son, Robert Henry Huntley. The stay and corset business was left to daughter Jane Susan (married name Harbottell).
Robert Henry Huntley's optical business was recorded as being at 37 High Holborn and 294 Regent, in an 1840 directory. I did not find the business in later directories. Robert Huntley was listed in the 1841 census of England as a 22 year-old clerk who lived in the St. Marylebone area, with sister Elizabeth and brother Henry. It can be concluded that Robert Henry Huntley closed his father's optical business in about 1840, and took another line of work.
The corset business remained under Catherine's name for several more years. The 1843 Post Office Directory of London listed "Huntley cath. (Mrs.) stay & corset maker to her Majesty, (late of 294 Upper Regent street), 51 High Holborn". In 1846, an advertisement was published, "Mrs. Carpenter, from 51, High Holborn (sister to the late Mrs. Huntley), French and English Stay and Corset Maker, by appointment, to her Majesty, having been compelled to relinquish the management of the business of her late sister, which she has successfully conducted for the last 14 years, begs most respectfully to announce that she has removed to No. 18, Southampton-row, Russell-square, where, in conjunction with her daughters, she continues to carry on the business". The corset business at 51 High Holborn was evidently taken over by Robert Huntley's daughter, Caroline. The 1851 census recorded her at that address, occupation "stay maker", living with her husband, daughter, and a servant.
&nbsp
Some additional notes:
Gloria Clifton's Directory of British Scientific Instrument Makers 1550-1851 lists many of the above addresses for Robert Huntley, and several others. She noted addresses on Burlington Arcade, which Catherine Hunter's 1829 advertisement noted to be adjacent to 51 & 52 High Holborn (see above). A reported 1816 address of 1 Plumber's Row, City Road, was probably the same as the 1 City Road that was noted above. An address of 124 Cheapside is also mentioned by Clifton - I did not find another reference to that address.
Clifton also reported on Charles and Henry Huntley, both of whom were at 53 High Holborn in 1818. I have not found any records of either man, at any address. Another man, John Huntley, was suggested to be associated with Robert Huntley, having an address of 16 Brownlow Street, Holborn in 1824-1825. I did not find records for that man, either.
&nbsp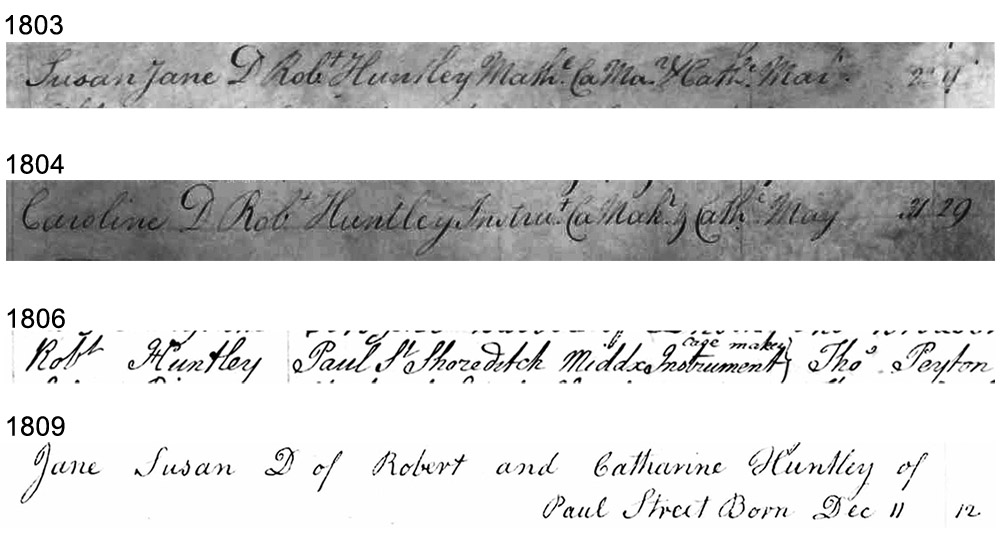 Figure 6. Early records of Robert Huntley's occupation and addresses. The baptism records of daughters Sarah Jane and Caroline list Robert's occupation as "Instrument Case Maker". Both baptisms took place at St Giles, Cripplegate, implying that the Huntleys lived in that parish. In 1906, Huntley took an apprentice, Thomas Peyton. He then lived at Paul Street, in the Shoreditch area of London. The 1809 baptism of daughter Jane Susan showed the same address, with baptism occurring at St. Leonard's Shoreditch.
&nbsp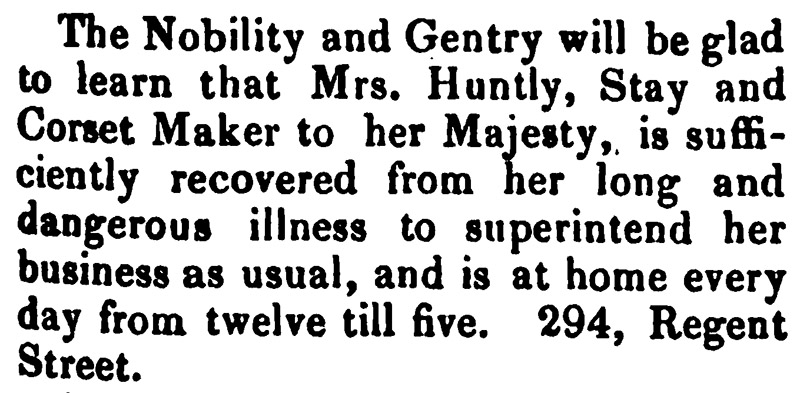 Figure 7. A November, 1836 advertisement for the Huntley corset business. Within seven months, both Robert and Catherine were dead.
&nbsp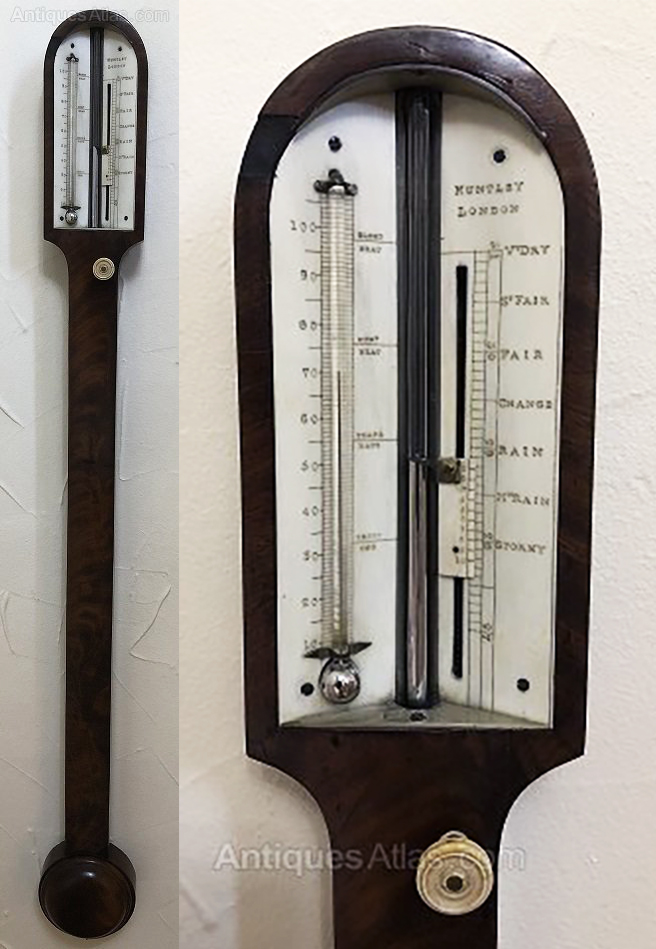 Figure 8. A barometer from Robert Huntley. Opticians of the period frequently manufactured and/or sold a variety of precision instruments that included glass. Adapted for nonprofit, educational purposes from an internet auction site.
&nbsp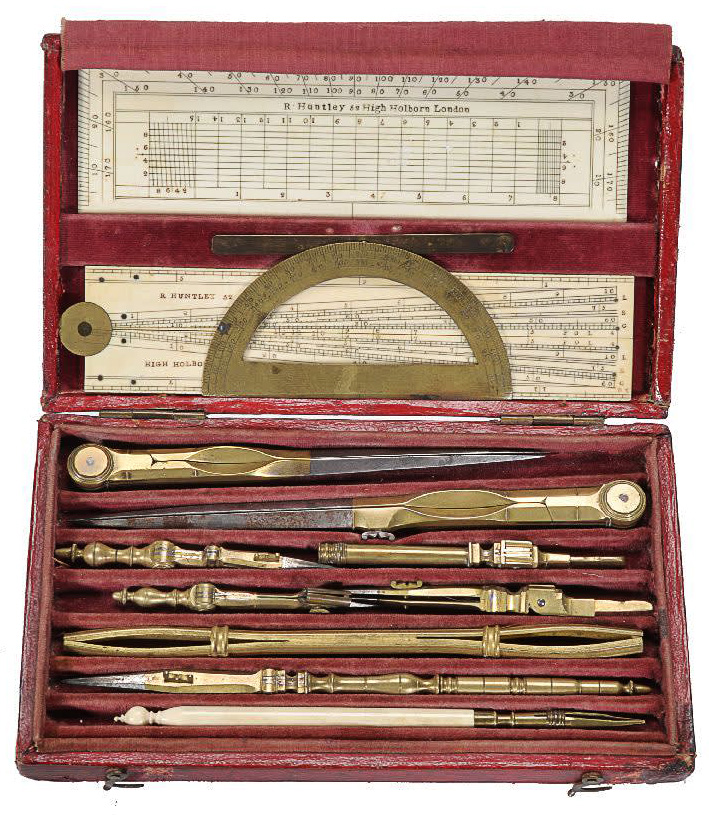 Figure 9. A drafting set from Robert Huntley. The rulers are marked with is 52 High Holborn address. Adapted for nonprofit, educational purposes from an internet auction site.
&nbsp




Figure 9. Circa 1840 views of Huntley's places of business, from John Tallis's 'London Street Views". Top to bottom: 52 and 51 High Holborn (note that the Huntley corset business was still at 51 High Holborn at this time), 294 Regent Street, and 37 High Holborn. Adapted from "John Tallis's London Street Views, 1838-1840".
&nbsp
Acknowledgement
Thank you to Joe Zeligs and Jurriaan de Groot for generously providing images for this essay.
&nbsp
Resources
The Athenaeum (1829) Corsets, Vol. 1, page 32
Apprentice record of Thomas Peyton to Robert Huntley (1806) accessed through ancestry.com
Baines, Edward (1822) "Opticians … Huntley, R. 53, High Holborn", History, Directory & Gazetteer, of the County of York, page lxiv
Banfield, Edwin (1991) Barometer makers and retailers, 1660-1900, Baros, Chicago, page 117
Baptism record of Susan Jane Huntley (1803) Parish records of St. Giles, Cripplegate, accessed through ancestry.com
Baptism record of Caroline Huntley (1804) Parish records of St. Giles, Cripplegate, accessed through ancestry.com
Baptism record of Jane Susan Huntley (1809) Parish records of St. Leonard, Shoreditch, accessed through ancestry.com
Baptism record of Robert Henry Huntley (1818) Parish records of St. Andrew, Holborn, accessed through ancestry.com
Baptism record of Rosianne Huntley (1820) Parish records of St. Andrew, Holborn, accessed through ancestry.com
Baptism record of Henry Frederick Olive Huntley (1822) Parish records of St. Andrew, Holborn, accessed through ancestry.com
Blackwood's Lady's Magazine (1836) page 241
Burial record of Susan Jane Huntley (1803) Parish records of St. Giles, Cripplegate, accessed through ancestry.com
Burial record of Catherine Huntley (1814) Records of the Bunhill Fields Burial Ground, City Road, accessed through ancestry.com
Burial record of Catherine Huntley (1837) Parish records of All Souls, Kensal Green, accessed through ancestry.com
Burial record of Robert Huntley (1837) Parish records of All Souls, Kensal Green, accessed through ancestry.com
Civil death record of Rosianne Huntley (1837) accessed through ancestry.com
Civil death record of Jane Susan Huntley Harbottell (1848) accessed through ancestry.com
Civil death record of Henry Frederick Olive Huntley (1855) accessed through ancestry.com
Clifton, Gloria (1995) Directory of British Scientific Instrument Makers 1550-1851, Zwemmer, London, page 145
The Court Journal (1834) "By Spacial Appointment Stay and Corset Maker to her Majesty. Mrs. Huntley, 294 Regent street", page 390
England census and other records, accessed through ancestry.com
The Evangelical Magazine and Missionary Chronicle (1846) Advertisement from Mrs. Carpenter (page 17)
Holden Directory of London (1802) Optician Robert Huntley not listed
John Tallis's London Street Views, 1838-1840: Together with the Revised and Enlarged Views of 1847 (2002) Second edition, London Topographical Society, accessed through https://catalog.hathitrust.org/Record/003797889
Kent's Directory of London (1803) Optician Robert Huntley not listed
Kent's Directory of London (1823) "Huntley Robt. optician, 53, High Holborn"
London and County Directory (1811) "Huntley, Robt. working optician, 1, City-road, near the turnpike"
London City Directory (1830) "High Holborn: 51 Huntly C., Huntley Robert", and "Regent Circus, Oxford st.: 288 Huntley Robt."
Marriage record of Robert Huntley and Catherine Head (1802) Parish records of St. Bartholomew the Great, accessed through ancestry.com
Marriage record of Robert Huntley and Catherine Davies (1815) Parish records of St. Mary, Islington, accessed through ancestry.com
Marriage record of Caroline Huntley and Henry John Stobbs (1829) Parish records of St. Leonard, Shoreditch, accessed through ancestry.com
Old Bailey Proceedings (1818) Case of Sarah Miller, June 17, 1818, accessed through http://www.oldbaileyonline.org/browse.jsp?path=sessionsPapers%2F18180617.xml
Pigot's Directory of London (1835) "Huntley Catherine, stay maker. 294 Regent st. and 51 High Holborn"
Post Office Directory of London (1807) Optician Robert Huntley not listed
Post Office Directory of London (1808) Optician Robert Huntley not listed
Post Office Directory of London (1812) Optician Robert Huntley not listed
Post Office Directory of London (1814) Optician Robert Huntley not listed
Post Office Directory of London (1816) Optician Robert Huntley not listed
Post Office Directory of London (1817) Optician Robert Huntley not listed
Post Office Directory of London (1820) "Huntley Robert, Working Optician, 53, High Holborn"
Post Office Directory of London (1825) "Huntley Robert, Working Optician, 52, High Holborn"
Post Office Directory of London (1830) "Huntley Robert, Working Optician, 118 Oxford st. cor. of Reg. circus; Huntley - Stay & Corset warehouse, 288 Regent st. Portland pl."
Post Office Directory of London (1843) "Huntley Cath. (Mrs.) stay & corset maker to her Majesty, (late of 294 Upper Regent street), 51 High Holborn"
Robson's London City Directory (1835) "Huntley C. Stay manf., 51 High Holborn … Huntley Robt. Optician, 259 Regent circus, Oxford st., & 37 High Holborn"
Robson's London City Directory (1840) "Huntley Robt. 37 High Holborn, & 294 Regent"
Tilke, Samuel W. (1834) Observations on the Nature of Gout, shewing an infallible method for its Cure. Also Remarks on Diseases of the Scalp, Including the Ring-Worm. Together with Suggestions on the Treatment of the Scarlet Fever, J. Poulter, London, "The following gentlemen have supplied their names for the purpose of affording every explanation as to the efficacy of the ointment, as experienced by themselves and friends:… Mr. Huntley, 294, Regent Street; and 281, Oxford Street…"
Will of Robert Huntley (1837) accessed through ancestry.com
www.opticianonline.net/features/the-mirror-man (accessed May, 2019) "An invoice for 24 March 1824 tells us that Soane bought several items from 'R Huntley, Working Optician, 52 High Holborn, near Brownlow-street"