Adrien Jolly, 1854 - after 1910
by Brian Stevenson
last updated August, 2018


Figure 1. A microscope slide by Adrien Jolly, prepared ca. 1883 - 1890. The specimens are longitudinal and cross sections of Bassia alabasteriana.
&nbsp
Adrien Jolly was born in Vinneuf, Yonne, France. He trained in botany and horticulture, and moved to Paris in January, 1880 to become a "préparateur" in the laboratory of the School of Advanced Studies, of the botanical garden of the Faculté de Médecine de Paris ("M. Jolly (Adrien), botaniste-horticulteur à Vinneuf par Sorbonnes (Yonne), est chargé des fonctions de préparateur au laboratoire de l'Ecole des hautes études, annexé au jardin botanique de la faculté de médecine de Paris")
He is likely the Adrien Jolly who married Marie Elisabeth Flaumet on September 12, 1880. If so, his parents were named Adrien Simon and Florine Martin Jolly.
Jolly resigned from his préparateur position in 1883, as reported by La Lancet Française, "M. Untrau, élève de l'École des Pupilles de Villepreux, est chargé des fonctions de préparateur au laboratoire de ladite école annexé au jardin de la Faculté de médecine de Paris, en remplacement de M. Jolly, démissionnaire".
It appears that he retained an association with the Faculté de Médecine, as later reports stated that Jolly worked for the college for 10 years.
Jolly's job with the botanical garden probably involved making microscope slides for the Faculté de Médecine. Botanical medicines were commonly used at the time, and many medical schools included botany and plant identification in their curricula.
Jolly evidently left his position with the botanical garden in order to become a full-time professional slide-maker. In 1889, Feuille des Naturalistes, listed "Jolly (Adrien), préparateur du bot., 72, rue de Paris, Villeneuve-Saint-Georges".
The 1891 Paris voter record of Adrien Jolly, "botaniste", gave his birthplace as Vinneuf, Yonne, consistent with the 1880 report of his employment (see above). His birth date was provided, January 11, 1854. His address was given as Passage Barrauch 12. This may have been a business or government address, as Jolly was in Africa by March, 1891.
An article in Annales de l'Institut Botanico-Géologique Colonial de Marseille quoted a letter, "received on March 18, 1891 from Mr. A. Jolly, agent of the French Congo, who was attached for 10 years to the laboratory of botany of the Faculté de Médecine du Paris", from Libreville, Gabon, that described Cola ballayi trees.
The 1895-95 edition of Répertoire Annuaire Général des Collectionneurs de la France et de l'Étranger listed "Jolly (Adrien), botaniste-explorateur du Congo français, rue de Paris, 72, Villennes", under Villeneuve-Saint-Georges. Retention of this address suggests that Jolly's wife (and any children) remained in Paris while he was in Africa.
In 1892, Jolly was moved from Gabon to Ivory Coast, where he established a botanical garden in the then-capital of Bingerville. He was still there in 1901, evidenced by a sample of Ectropothecium oreadelphus var. glauco-viride that is in the Swedish Museum of Natural History, collected in 1901 by "M. A. Jolly", in Côte d'Ivoire.
On January 10, 1903, Jolly was awarded the honor of Chevallier in l'Ordre du Mérite Agricole.
It is not clear when he returned to France. But, by 1910, Jolly was serving as Deputy Mayor of Villeneuve Saint-Georges. That year's Revue Horticole listed him as "Jolly (Adrien), botaniste-horticulteur , adjoint au maire de Villeneuve Saint-Georges (Seine-et-Oise)".
I have not found any records of Adrien Jolly's life after 1910.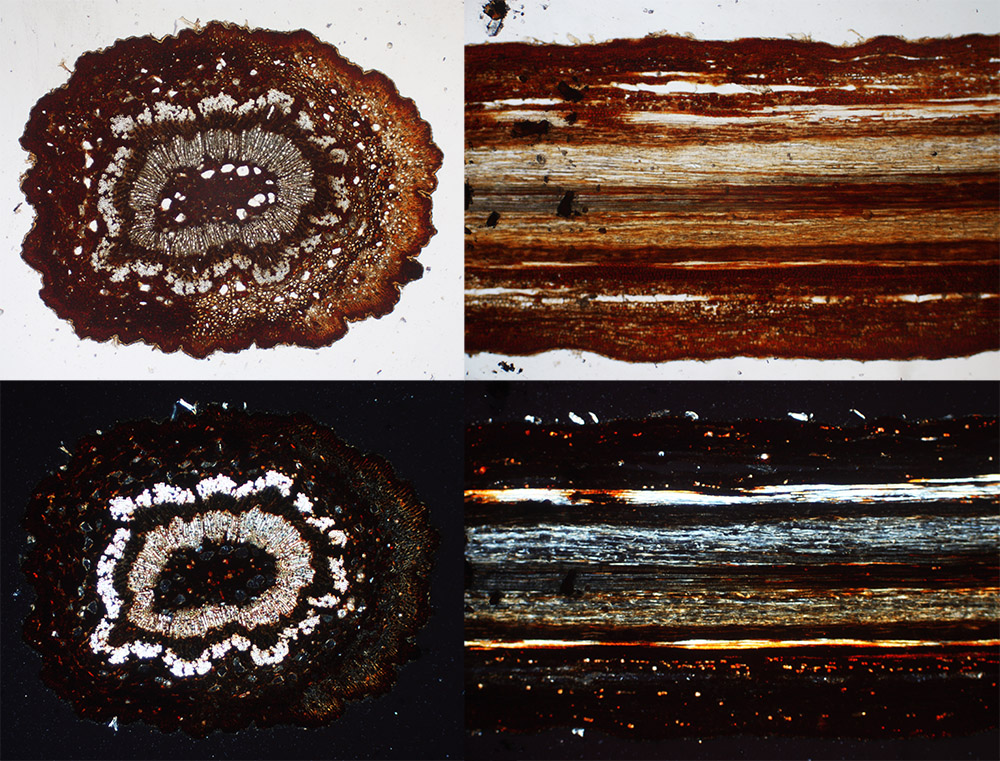 Figure 2. Photomicrographs of sectioned Bassia alabasteriana, as prepared by Adrein Jolly (see Figure 1). All photographed with a 3.5x objective lens and a C-mounted digital SLR camera, with either normal transmitted light (upper images) or between crossed polarizing filters (lower images).
&nbsp
Acknowledgments
Many thanks to Alexandre Piffault for making a Jolly slide available, and for information on Jolly's life.
&nbsp
Resources
Feuille des Naturalistes (1889) page 97
Heckel, Eduard (1893) Les Kolas Africains, part 1, Annales de l'Institut Botanico-Géologique Colonial de Marseille, pages 19-156
Journal Général de l'Instruction Publique (1880) "M. Jolly (Adrien), botaniste-horticulteur à Vinneuf par Sorbonnes (Yonne), est chargé des fonctions de préparateur au laboratoire de l'Ecole des hautes études, annexé au jardin botanique de la faculté de médecine de Paris, en remplacement de M. Gaguot, appelé à d'autre fonctions", page 136
La Lancette Française (1883) "M. Untrau, élève de l'École des Pupilles de Villepreux, est chargé des fonctions de préparateur au laboratoire de ladite école annexé au jardin de la Faculté de médecine de Paris, en remplacement de M. Jolly, démissionnaire", Vol. 56, page 974
Marriage record of Adrien Jolly and Marie Elisabeth Flaumet (1880) accessed through ancestry.com
Le Naturaliste Canadien (1950) "M. Jolly en avait envoyé de Libreville, mais devant quitter le Gabon (1892) pour organiser un jardin d'essais à la Côte d'Ivoire", page 322
Répertoire Annuaire Général des Collectionneurs de la France et de l'Étranger (1895-96) page 475
Revue Horticole (1910) "Merit Agricole, Grade de Officier, Jolly (Adrien), botaniste-horticulteur , adjoint au maire de Villeneuve Saint-Georges (Seine-et-Oise). Chevalier du 10 janvier 1903", page 49
Les Vegetaux Utiles de l'Afrique Tropiclae Francaise (1905), Vol. 1, page 39
Voter record of Adrien Jolly (1891) accessed through ancestry.com
&nbsp
Specimen of Ectropothecium oreadelphus var. glauco-viride, collected by A. Jolly in Ivory Coast, https://plants.jstor.org/stable/10.5555/al.ap.specimen.s-b70477