James Hairsine Killingbeck, 1838 - 1918
by Brian Stevenson
Last updated April, 2021
J.H. Killingbeck was a school teacher, an amateur microscopist, and a long-time member of the Manchester Microscopical Society. He joined the MMS during the early 1880s, and remained a member until he retired to Wales in the late 1890s. Killingbeck was a member of the MMS Mounting Section, a group that was dedicated to improving skills in microscope slide-making.


Figure 1. A James H. Killingbeck slide of spores on a frond of the fern Todea Africana, dated March 1881. The mount was prepared without a cover slip, presumably to permit close views with a microscope lens. The slide was made from two layers of thick cardboard, the upper layer having a circular hole for the specimen. The top and sides were covered by lavender paper with a gold star pattern.
&nbsp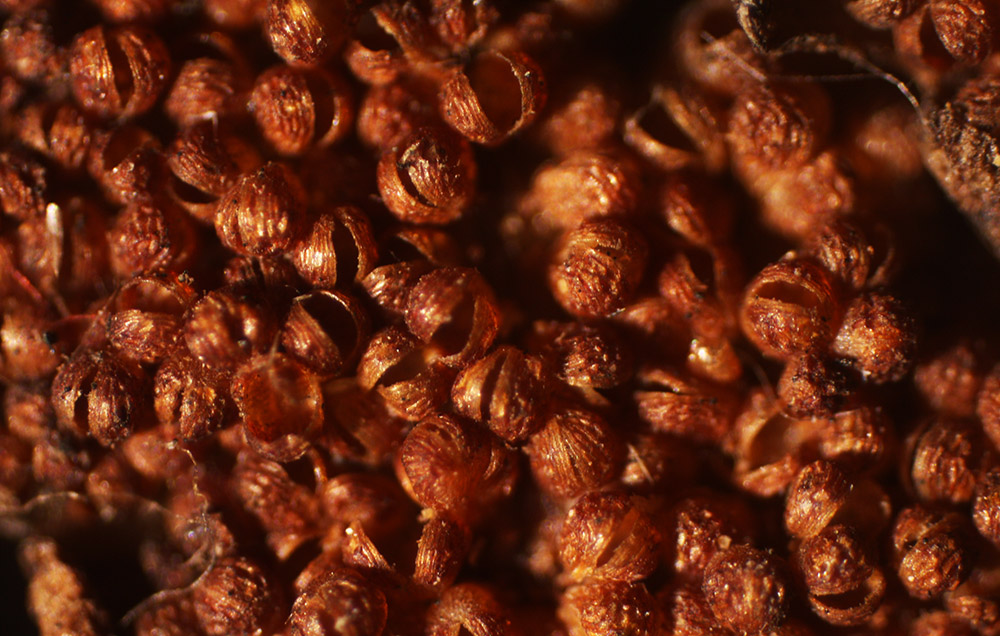 Figure 2. Magnified view of Todea Africana spores, as prepared by J.H. Killingbeck. Photographed through a 3.5x objective lens with a C-mounted digital SLR camera and oblique top lighting.
&nbsp
James Hairsine Killingbeck was born during the summer of 1838, the second child and only son of George and Elizabeth (née Hairsine) Killingbeck. George operated a wheat mill in Gilberdyke, Yorkshire. A younger sister, Mary, was born about two years later, but died in less than a year. Mother Elizabeth died during the summer of 1850, when James was only 12. Father George remarried in 1855.
By the time of the 1861 national census, James was working as an elementary school teacher at the Wesleyan Day School in Pocklington, Yorkshire. His surviving sibling, elder sister Harriet, lived with him.
On August 15, 1865, James married Harriette Turner Sibly. They had five children: a girl, a boy, a girl, and two others. The boy died when 9 years old, in 1877. The last two children died in infancy.
James was assigned to the Methodist school in Didsbury, on the outskirts of Manchester, in about 1870.
The Manchester Microscopical Society was organized in 1880, and James Killingbeck was one of its early members. He was noted in MMS records as being a member of the Mounting Section. Little else of his association with microscopy is known, other than a notation in the October 21, 1886 minutes, "Mr. J.H. Killingbeck laid on the table for identification, pupa cases of an insect attached to the flowers of the common rush". Killingbeck was included in the 1895 list of members of the MMS.
In about 1900, when just past 61 years old, James Killingbeck retired from teaching, and moved to Llangollen, Wales. He joined the Conchological Society of Great Britain from there in 1900.
James Killingbeck died on March 29, 1918, at his home in Llangollen.
&nbsp
Resources
England and Wales census, accessed through ancestry.com
Manchester Microscopical Society Annual Report (1883) Members list, page 81
Manchester Microscopical Society Annual Report (1886) Minutes of the October 21 meeting, page xvi
Manchester Microscopical Society Annual Report (1895) Members list, page 154
Probate of the will of James H. Killingbeck (1918) "Killingbeck James Hairsine of Llwyn Onn Abbey-road Llangollen Denbighshire died 29 March 1918 Probate 3 May to Harriette Turner Killingbeck widow. Effects £447 18s 9d", accessed through ancestry.com
The Quarterly Journal of Conchology (1900) Minutes of the meeting of March 14, Vol. 9, pages 312-313