Katharine Bell Lewis (Mrs. G.H. Lewis), 1848 - 1930
by Brian Stevenson
last updated November, 2016
Katharine Lewis' known microscope slides are very well made and nicely finished (Figure 1). Her labels are typeset with her married name, Mrs. G.H. Lewis, and her residence, Rochester, New York. Unfortunately, few examples of her work are known. This may be due to the short period of time in which she is known to have engaged in amateur microscopy: from the time of her marriage in 1874 until she left Rochester in 1879.
In addition, Katharine's slides are easily mistaken for those of the better-known microscopist C.C. Merriman. The similarity in their slide labels is not a coincidence: both the Lewises and the Merrimans lived at the corner of East Avenue and Goodman Street, Rochester. Presumably, Merriman, who had been an active amateur microscopist since the 1860s, introduced his neighbor to the hobby.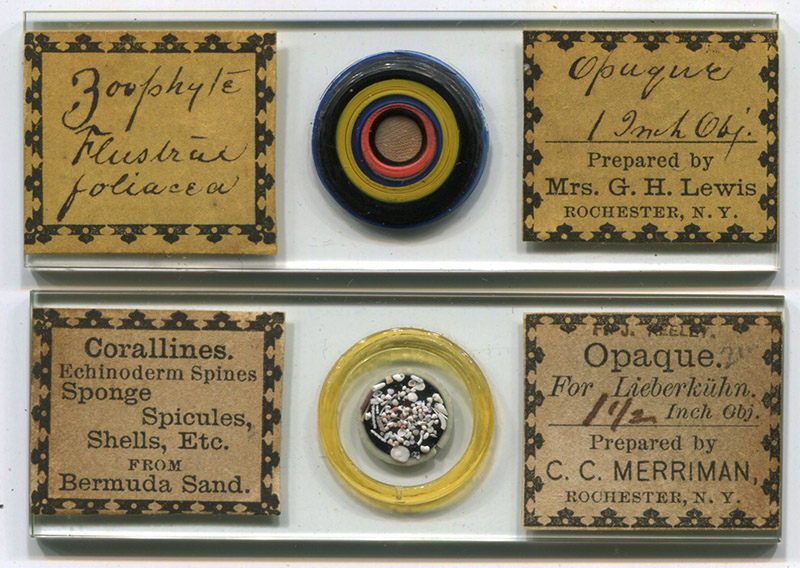 Figure 1. Microscope slides by Katharine Lewis are very similar to those produced by her more prolific neighbor, C.C. Merriman.
&nbsp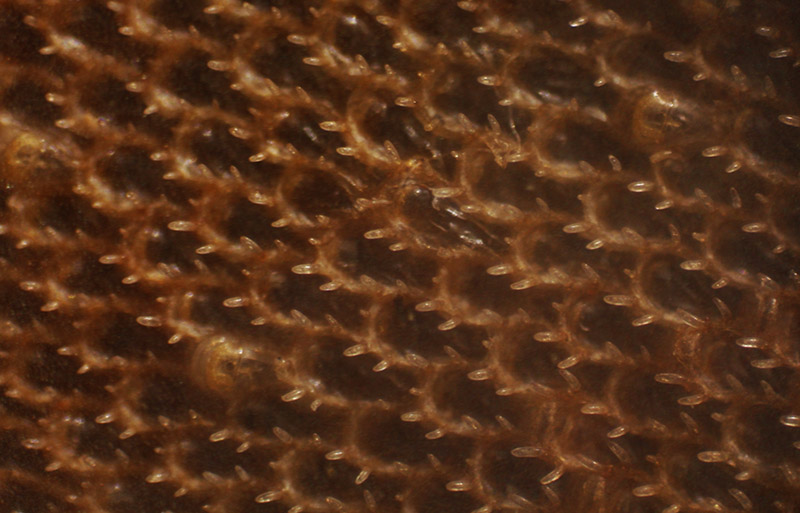 Figure 2. Detail of the surface of a section of Flustra folicacea, a multicellular bryozoan animal (zoophyte), prepared by Katharine Lewis (Mrs. H.G. Lewis). The opaque object was illuminated from the side, and photographed using a C-mounted digital SLR camera and 3.4x objective lens.
&nbsp
Katharine Bell was born into a wealthy family, married into even greater wealth, and then, after her husband's early death, managed her money extremely well.
She was the only daughter of four children of Alfred and Juliette Dibble Bell, born on September 15, 1848, in Nunda, New York. Her eldest and youngest brothers both died when infants. The Bell family moved to Rochester, New York, in 1866.
Father Alfred operated several successful businesses. Among these were acquisition and logging of large tracts of timber in New York, Pennsylvania, Michigan, and Wisconsin. He reaped a hefty profit from leasing the coal rights to his Pennsylvania lands to the Bell, Lewis, and Yates Coal Mining Company. That business was owned by Alfred's surviving son, Frederick Alfred Bell, in partnership with George Howard Lewis and Arthur G. Yates (Figure 3). The Bell, Lewis, and Yates Company was reported to be the largest producer of bituminous coal in the US at that time.
Katharine and George Lewis married in Rochester on October 22, 1874. They had two children: a son who died in infancy, and another son who lived until well into the twentieth century.
The 1875 Directory of Rochester placed the Lewis residence at the corner of East Avenue and Goodman Street. As noted above, this was also the address of Corydon C. Merriman, a wealthy businessman and banker, and an accomplished amateur microscopist. The similarities between Katharine Lewis' and Merriman's slide labels suggest close interactions.
Katharine and George Lewis moved from Rochester to Buffalo, New York, in 1879. That remained Katharine's home through the rest of her life. Her slides that are marked as having been produced in Rochester can, therefore, be dated to between 1874 and 1879.
G.H. Lewis continued to prosper, and was described as being a millionaire many times over. In addition to his coal operation, he entered into several other businesses, including banking. George was a member and benefactor of many social and charitable organizations, including the Good Government Club of Buffalo, the Reform Club of New York, the Buffalo Historical Society, the Young Men's Library, and the Young Men's Christian Association of Buffalo (where, in addition to donations and paying his own dues, he covered the annual dues of 40 less-fortunate men). He was a Director of the University of Buffalo, Vice-President of the School of Pedagogy, Trustee of the Charity Organization Society of Buffalo, Trustee of the Buffalo General Hospital, and member of the advisory board of the Children's Hospital. George Howard Lewis died on October 2, 1897, when only 57 years old.
Katharine Lewis was similarly involved in philanthropic and charitable works. She was a regular donor to and board member of several organizations. Most notably, she was a staunch supporter of women being give the right to vote. In 1908, Katharine donated a check for $10,000 to National Woman Suffrage Association, in memory of Susan B. Anthony. This considerable sum was the largest single contribution to the cause at the time.
She was also a successful businesswoman. Katharine developed fields of natural gas wells. In 1898, she bought a 350 acre farm in Geneva, New York, and became an accomplished sheep breeder.
Katharine Bell Lewis died in Buffalo on March 23, 1930. That was five days before the celebration of the tenth anniversary of the USA granting women the right to vote. In Katharine's memory, her son made a considerable donation to the National League of Women Voters.


Figure 3. An advertisement for Katharine Lewis' husband's coal company, from the 1877 "Rochester Directory".
&nbsp
Resources
Aldrich, Lewis C. (1887) History of Clearfield County Pennsylvania, accessed through http://www.pa-roots.com/clearfield/aldrich/chap49.html
Annual Report of the Board of Managers, the Buffalo Historical Society (1897) Obituary of George Howard Lewis, page 30
Buffalo Courier-Express (1930) "Gift announced for Suffrage Memorial Fund, Mr. and Mrs. Alfred G. Lewis contribute $5000 in name of their mother", April 18, page 14
Buffalo Medical and Surgical Journal (1896) "Buffalo Children's Hospital … The following is the present list of officers: … Mrs. George H. Lewis, vice-president", Vol. 35, page 108
Harper, Ida Husted, editor (1922) The History of Woman Suffrage, Vol. 5, pages 230, 236, and 315
Rochester Democrat and Chronicle (1897) "George H. Lewis, death of a prominent business man at his home in Buffalo", Oct. 3, page 12
Rochester Directory (1875) "Lewis George Howard, b. East av. c. Goodman", page 196
Rochester Directory (1878) "Lewis George Howard (Bell, Lewis & Yates), 28 East Main, b. East av. c. Goodman", page 201
Rochester Directory (1878) Advertisement from Bell, Lewis & Yates, page 591
Rofthus, Robert R. (1971) Coal Trains North
The Rushford Centennial (1908) Alfred Bell, pages 380-382, The Rushford Centennial Committee, Rushford, N.Y.
Shaw, Anna Howard (1916) "The special incident of the Buffalo convention of 1908 was the receipt of a note which was passed up to me as I sat on the platform. When I opened it a check dropped out - a check so large that I was sure it had been sent by mistake. However, after asking one or two friends on the platform if I had read it correctly, I announced to the audience that if a certain amount were subscribed immediately I would reveal a secret - a very interesting secret. Audiences are as curious as individuals. The amount was at once subscribed. Then I held up a check for $10,000, given for our campaign work by Mrs. George Howard Lewis, in memory of Susan B. Anthony, and I read to the audience the charming letter that accompanied it. The money was used during the campaigns of the following year - part of it in Washington, where an amendment was already submitted", The Story of a Pioneer, By , 1916, Harper & Brothers
USA census, birth, marriage, and other vital records, accessed through ancestry.com