Charles Joseph Marchand, 1839 - 1903
by Brian Stevenson
last updated November, 2022
Charles Marchand was a professional slide-maker, operating in Paris from ca. 1867 through the turn of the twentieth century. His slides are generally uncommon, but, when they do appear at auction, they are most frequently of two subjects: scales from the silverfish Lepisma saccharina, and transverse sections of human frontal bones (Figure 1). It is not evident whether those two specimens were a specialty of Marchand, or if they were preferentially ordered by a retailer(s) in the U.K. (from where the majority of known Marchand slides have been auctioned). A slide of Lepisma saccharina scales bearing a secondary label from A.H. Baird, Edinburgh, is shown in plate 25-D of Brian Bracegirdle's Microscopical Mounts and Mounters. On occasion, slides with other specimens pop up (Figure 1, and Bracegirdle plate 25-C). An undated catalogue of slides by Marchand is known to exist, and he exhibited both anatomical and geological specimens at the 1878 Paris Exposition, so it is clear that he produced quite a variety of different slides. Perhaps, as seems to be the case with many other early French slide-makers, troves of Marchand slides are tucked away in French attics, or buried in the rubble from the last century's wars.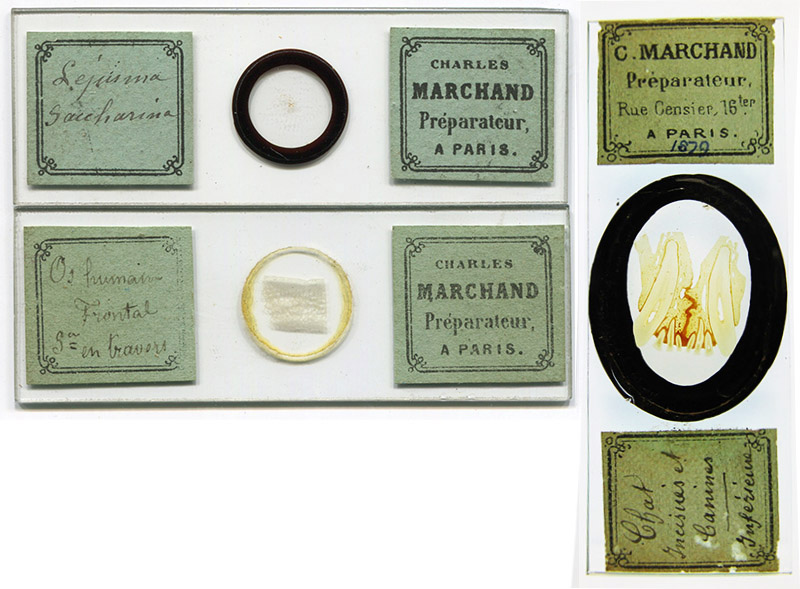 Figure 1. Examples of microscope slides that were prepared by Charles Marchand. The two examples on the left are the most common of his preparations: scales of Lepisma saccharina, and a thin section of "Os Humain Frontal Section en Traverse" (human frontal bone in transverse section). The relatively uncommon section of a cat's jaw carries label with Marchand's address of Rue Censier 16 Terrasse. Images adapted from internet auction sites, for nonprofit, educational purposes.
&nbsp
Charles Marchand was born on April 4, 1839, in Audeloncourt, Haute-Marne (Figure 2). His parents were named Joseph Marchand and Marie Magdeline Cecile Dubois. Charles married Elizabeth Henriette Mimeur on May 4, 1867.
A report of the 1867 Paris International Exhibition stated that Marchand presented a display of slides, and that his business was located on Rue de Cardinal Lemoine, Paris. It also noted that Marchand had previously worked for famed slide-maker Joseph Bourgogne.
Des Préparations Microscopiques Tirées du Régne Végétal, published in 1872 by botanist and slide-maker Johannes Grönland and colleagues, states that Marchand was then located at 42 Rue de Cardinal Lemoine. Both Joseph Bourgogne and his son, Eugene, had their microscope slide shops nearby, Eugene at 34 Rue de Cardinal Lemoine, and Joseph around the corner at 8 Fosses St. Victor.
The guidebook of the 1878 Paris Exposition included this display, "Marchand (C), à Paris, rue Censier, 16 ter. - Préparations microscopiques relatives à i'anatomie comparée et à la géologie".
The 1895 Zoologisches Adressbuch listed, "Marchand (Charles), Preparateur - 16 ter Rue Censier. Anat. comp."
Luquer's 1905 Minerals in Rock Sections included a footnote that, "Sections can be obtained from Voigt & Hochgesang, Göttingen; C. Marchand, rue Censier, 16 ter, Paris, and G.D. Julien, 932 Bloomfield St., Hoboken, N.J."
Unfortunately, Luquer was out of date. Charles Marchand had died in Paris on January 26, 1903.
A couple of final notes. Pierre Girodet, writing in the Quekett Journal of Microscopy, reported that Charles Marchand was "a mounter in the 1950s – 1960s". The correlation between the address on Marchand's slides and that of the nineteenth century slide-maker indicate that Girodet was provided with information on the wrong "Charles Marchand". Relating to that point, Marchand was/is a relatively common name.
&nbsp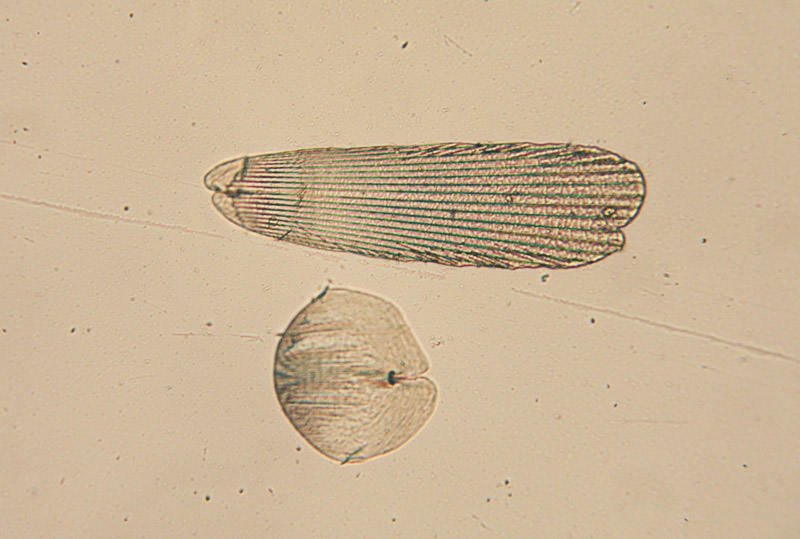 Figure 2. Two scales of the silverfish Lepisma saccharina, prepared by Charles Marchand. Photographed with a 25x objective lens.
&nbsp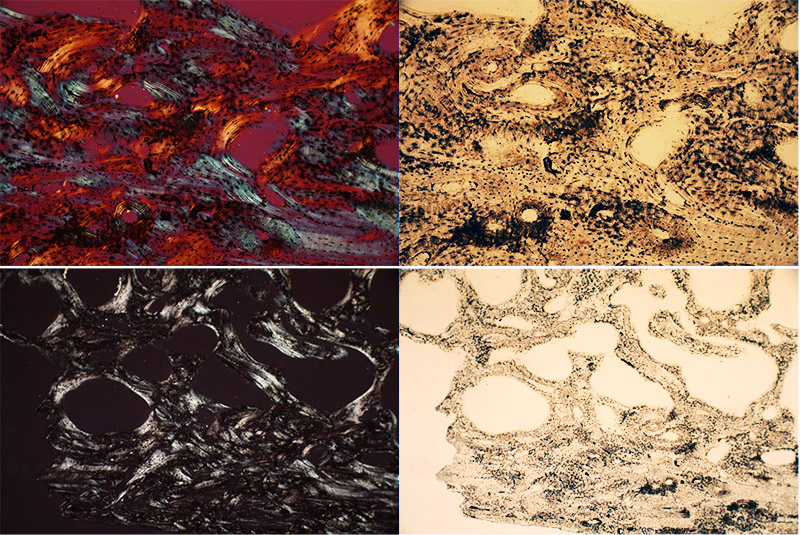 Figure 3. 10x and 3.5x views (top and bottom, respectively) of a Charles Marchand-sectioned human frontal bone. The two left images were photographed using crossed-polarizing filters and variously-cut selenites, and the right images are the same views under normal transmitted light.
&nbsp
Resources
Annuaire-Almanach du Commerce (1870) page 158
Berichte Hamburger Gewerbetreibender uber die Pariser Ausstellung 1867 (1867), F. Schlotke, Hamburg, pages 151-152
Bracegirdle, Brian (1998) Microscopical Mounts and Mounters, Quekett Microscopical Club, London, pages 64 and 154, plate 25-C and -D
Exposition Universelle Internationalle de 1878, a Paris, Catalogue Officiel Publie par le Commissariat General (1878) Vol. 2, section Francaise, page 34
Girodet, Pierre (2001) Mounters, collectors and sellers of microscopical mounts in France in the 19th and 20th centuries, Quekett Journal of Microscopy, Vol. 39, pages 23-38
Grönland, Johannes, Maxime Cornu and Gabriel Rivet (1872) Des Préparations Microscopiques Tirées du Régne Végétal, Librare de la Société Botanique de France, Paris
Luquer, Lea McIlvaine (1905) Minerals in Rock Sections, D. Van Nostrand & Co., New York, footnote on page 111
Marchand, Charles (undated) Catalogue des preparations d'Anatomie microscopique humaine en comparee, pub. Paris", auctioned 2013, information accessed from http://www.the-saleroom.com/en-gb/auction-catalogues/dominic-winter-book-auctions/catalogue-id-srdom10023/lot-396bd9e6-0764-47d6-bd05-a43b0069683e
Marriage record of Charles Marchand and Elizabeth Henriette Mimeur (1867) accessed through ancestry.com
The Naturalists' Universal Directory (1904) S.E. Casino, Salem, Mass, page 69
Paris voter records (1891) accessed though ancestry.com
Revue des Sciences Naturelles (1872) Boehm, Paris, page 185
Zoologisches adressbuch (1895) R. Friedländer & Sohn, Berlin, page 239