William Matthews
(Camden Road)
by Brian Stevenson
last updated June, 2017
There were two microscope makers named William Matthews who were active in London during Victorian times:
One of the men was a well-known maker of surgical and microscopical instruments, and operated shops on Portugal and Carey Streets (the two roads intersect, and his last shop was on the corner).
The other William Matthews was located on Camden Road. Several copies of a unique form of microscope are known with that name and address (Figure 1). None of this pattern of microscope are known to bear any other address.
Although there have been assumptions that one individual made all microscopes labeled "William Matthews", historical records do not support that that idea. Specifically, records indicate that the Portugal/Carey Matthews established his business ca. 1841 at 11 Portugal Street, by 1842 moved to 10 Portugal Street, then ca. 1853 moved to the corner shop at 8 Portugal Street and 32 Carey Street. Shortly before his death in 1868, this man moved his home to St. Aubin's Villa, Dulwich, Surrey, while also retaining the Portugal/Carey shop. His sons continued in the same location as Matthews Brothers. There are no records of that William Matthews or his sons ever having a shop or home on Camden Road.
The Camden Road Matthews has yet to be conclusively identified. A candidate is described below.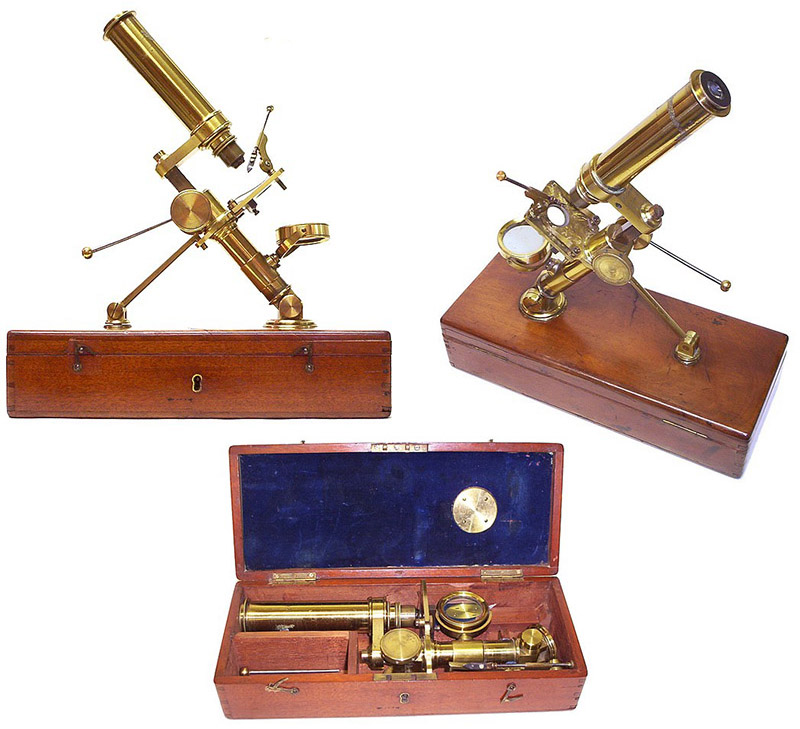 Figure 1. A uniquely-designed case-mounted microscope by William Matthews, Camden Road, London. Adapted with permission from http://www.antique-microscopes.com/photos/matthews.htm.
&nbsp
The maker of these microscopes is not known. One possibility has been located, but the evidence is circumstantial, and lacks a firm tie between the man and microscope manufacture:
That William Matthews was born on December 27, 1808, in Leighton Buzzard, Bedfordshire, England. He moved to London in the early 1840s, and joined John Jarman Thorpe to form the watchmaking business of Matthews and Thorpe. The 1851 census placed Matthews, his wife Sarah, their three children, and two servants, at 3 Grove, Islington, while Thorpe and his family lived at the shop at 10 Artillery Place West, Finsbury. Within the year, they merged with the Cozens watchmaking firm to form Cozens, Matthews, and Thorpe, and several years later the business moved to 10 Bunhill Row. Between 1861 and 1869, the Matthews family moved to 374 Camden Road, London. William joined the Quekett Microscopical Club on September 24, 1869. He remained a member of Quekett through 1880, indicating a good interest in microscopy, although the QMC's Journals do not record him ever having made a presentation. One would think that someone who made a new type of microscope would show it off to his microscopy club – although, if Matthews had stopped manufacturing them prior to his joining QMC, he might not have bothered showing them. After 11 years of membership, Matthews did not renew for 1881. Cozens, Matthews, and Thorpe is not listed in an 1884 trade directory, suggesting that it had been dissolved. Matthews evidently retired, and died shortly afterward: "William Matthews formerly of 374 Camden-road Holloway in the County of Middlesex but late of Rose Bank Godalming in the County of Surrey Watch Manufacturer … died 4 July 1885 at Rose Bank". Matthews had a son named William, who was surveyor, and so, less likely to have been a maker of microscopes.
Was this William Matthews the microscope maker? He had the right name, lived on Camden Road, had an interest in microscopy, and was well acquainted with fine metalwork. I will keep digging. Anybody with any clues or ideas, please feel free to contribute.
&nbsp
Acknowledgements
Many thanks to Allan Wissner and Joe Zeligs for their coninued assistance with this project.
&nbsp
Resources
Birth record of William Matthews (1808) Dr William's Library Registry, accessed through ancestry.com
England census, birth, marriage, and other records, accessed through ancestry.com
The Goldsmiths', Jewellers', Silversmiths', Watchmakers', Opticians', and Cutlers' Directory (1863) "Wholesale Watch Manufacturers … Cozens, Matthews and Thorpe, Artillery-place-west, Finsbury, E.C.", W. Hogg & Co., London, page 68
Journal of the Quekett Microscopical Club (1869) Minutes of the meeting of August 27, 1869: "The following gentlemen were proposed for membership - Mr. J.D. Radcliff, Mr. William Matthews, Mr. Richard Epps, and Mr. William Ackland", Vol. 1, page 253
Journal of the Quekett Microscopical Club (1870) Members: "Sept 24, 1869   Matthews, William, 374 Camden-road, N.", Vol. 1
Journal of the Quekett Microscopical Club (1880) Members: "Sept 24, 1869   Matthews, William, 374 Camden-road, N." Vol. 6
Journal of the Quekett Microscopical Club (1868-1881) Vols. 1-6
The Post Office London Directory (1843) "Mathews & Thorp, watch ma. 10 Artillery pl. west Finsbury sq" and "Thorp John Jarman, watch maker, see Matthews & Thorp", pages 288 and 401
The Post Office London Directory (1852) "Cozens, Mathews & Thorp, 10 Artillery pl. west", "Matthews Wm. watchmaker, see Cozens, Matthews & Thorpe", and "Thorpe John Jarman, watch ma., see Cozens, Matthews & Thorp", pages 288 and 401
Probate of William Matthews (1885) "Matthews William 4 September. The Will with a Codicil of William Matthews formerly of 374 Camden-road Holloway in the County of Middlesex but late of Rose Bank Godalming in the County of Surrey Watch Manufacturer who died 4 July 1885 at Rose Bank was proved at the Principal Registry by Sarah Matthews of Rose Bank Widow the Relict William Matthews of 8 Delahay-street Westminster in the County of Middlesex Surveyor the Son and Thomas Weatherall Sampson of 376 Camden-road in the County of Middlesex Gentleman the Executors. Personal Estate £4855 7s 6d", accessed through ancestry.com
Williams's Manufacturers' Directory (1864) "Cozens, Matthews and Thorpe 10 Bunhill rw EC", page 108