Joseph Bickerton Morgan, 1859 - 1894
by Brian Stevenson
last updated September, 2018
J.B. Morgan, of Welshpool, Wales, was a prominent geologist and a skilled microscope slide preparer. In addition to geological specimens, he produced slides of a wide variety of subjects, including diatoms, foraminifera, insects, and other items (Figure 1). He was active for a very brief period, dying when only 35 years old.
&nbsp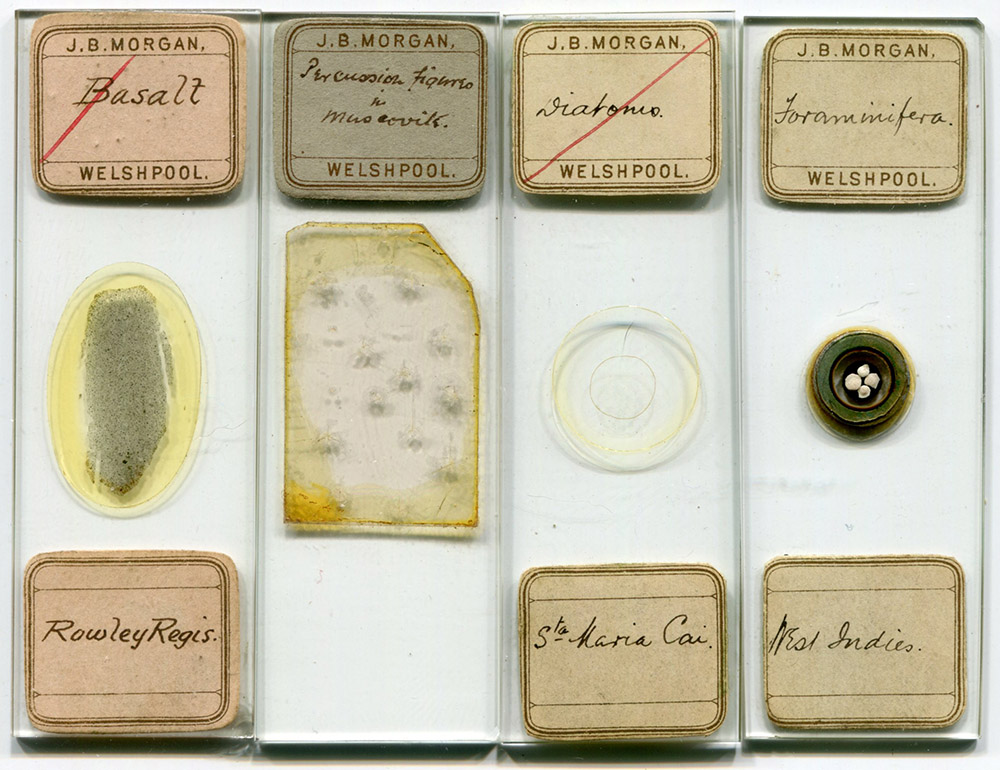 Microscope slides by J.B. Morgan, ca. 1880s.
&nbsp
Joseph Morgan was born on June 26, 1859, in Daywell, Shropshire. He was the second of two children, and only son, of Arthur Joseph and Hannah White Bickerton Morgan. Arthur was a farmer at the time of Joseph's birth.
Joseph's mother, Hannah, died in 1861, probably of tuberculosis. Hannah's mother then moved in with the Morgans, to help care for the two young children. In 1864, father Arthur remarried, to Ann Morgan, of Montgomery, Wales. The Morgans afterward settled in Montgomery, with Arthur taking up as a grocer. By 1881, he described himself as being a "confectioner".
The 1871 census records that the Morgans employed a baker. By the time of the 1881 census, Joseph had taken over that position. He later wrote to geologist Charles Lapworth, "I have been hard at work now for ten or twelve years in a bakehouse and my health has suffered greatly in consequence, so much so that my doctor warns me to quit that work altogether".
Further details on Morgan's life are best described by colleagues who knew him:
"He at an early age evinced a fondness for the study of geology, and took the first prize for Collections of Fossils at the Cardiff Eisteddfod in 1883, and at the Carnarvon Eisteddfod in 1886. In 1887 he became Assistant Curator of the Powysland Museum at Welshpool, and re-arranged and labelled the geological specimens there".
"One of his earliest tasks, when associated with the late Morris Charles Jones as Assistant Honorary Curator of the Powysland Museum at Welshpool, was to classify and arrange the large collection of recent shells given to the Museum by the Rev. J. Vize".
"He next turned his attention to the fossils in the Museum, rearranged them, and then added very largely to them from his own extensive collections, especially from the Silurian and Ordovician rocks in the immediate neighbourhood".
"An interesting article from his pen on The Land and Freshwater Shells of Montgomeryshire appeared in the Mont. Coll. for 1887 and 1888".
"In 1889 he was elected a Fellow of the Geological Society, and the following year he read a paper on The Geology of the District  before the British Association at Leeds".
"In 1885 a paper, published by Mr. (George R.) Vine in the Quarterly Journal of the Geological Society, contained a description of a new species of Phyllopora, P. tumida, from the Caradoc rocks of Llanfyllin, and of Thamniscus antiquus, from the Bala volcanic ash of Middletown Hill, both collected by Mr. Morgan. Previously to this Mr. Morgan had been studying the Upper Ordovician and Silurian rocks of Powysland and the Welsh border, and had obtained a large series of fossils from beds above and below the boundary line of these formations, which he submitted to Professor Lapworth for identification. By the advice of (Professor Lapworth) he began to map these strata, and succeeded in defining the lower limit of the Silurians with much greater exactitude than had been hitherto done, with the result of adding several hundreds of feet of rock to the Silurian system. A forecast of his conclusions on the subject was published as a paper to the British Association at Leeds in 1890".
"In 1892 he obtained a free studentship at the Royal College of Science, London, where he distinguished himself by his close application to study. In the examinations at the close of the Session he took the first place, and was awarded the Murchison Medal and prize. He was subsequently elected demonstrator of geology for elementary teachers, also a member of the Council of the Glacialists' Association, and a member of the Geologists' Association and of the Conchological Society".
"It was on the last day of his duties as demonstrator during the summer vacation that he took a chill, from which serious trouble ensued, compelling him to abandon work and winter at Ventnor. Here he seemed to rally, and just as his friends were beginning to hope that he might soon be well enough to resume his work, he succumbed to an attack of hemorrhage, in the 35th year of his age".
"His incessant labours and devotion to his work proved too much for his constitution, and his health gave way. In the winter of 1893-4 he went to the Isle of Wight in the hope of re-establishing his health, but it was of no avail. He died at Ventnor on the 8th of March, 1894, in his 35th year. Thus terminated all too early a career of much promise".
"Thus a country geologically almost unknown has lost an earnest, reliable, and enthusiastic worker, one who could very ill be spared while many of us have to mourn a kind and true-hearted friend".
His long-term weakness and pulmonary hemorrhaging suggest that Morgan died of tuberculosis.
&nbsp
Note: Joseph Bickerton Morgan of Welshpool must not be confused with Joseph Bond Morgan, F.R.M.S., of Liverpool, who lived from 1834-1900. That J.B. Morgan presumably also produced microscope slides, but they would not have been addressed "Welshpool".
&nbsp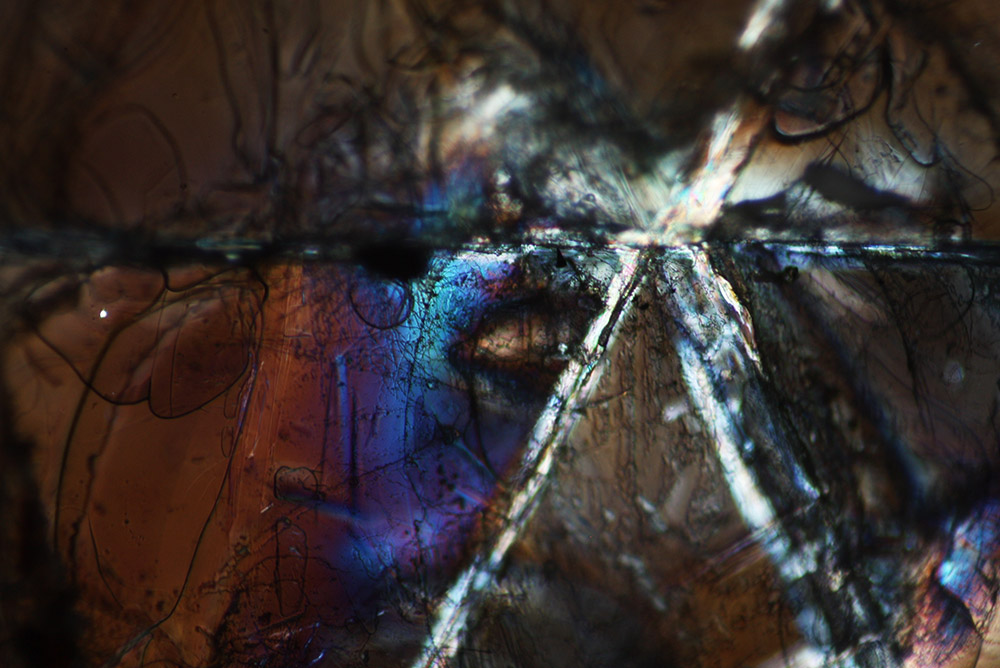 A "percussion figure in muscovik" (Muscovite mica), from a slide by J.B. Morgan (see Figure 1, above). Photographed with a 10x objective lens and a C-mounted digital SLR camera, between crossed polarizing filters. Presumably, Morgan prepared this slide for studying the effects on impacts on the layers of mica.
&nbsp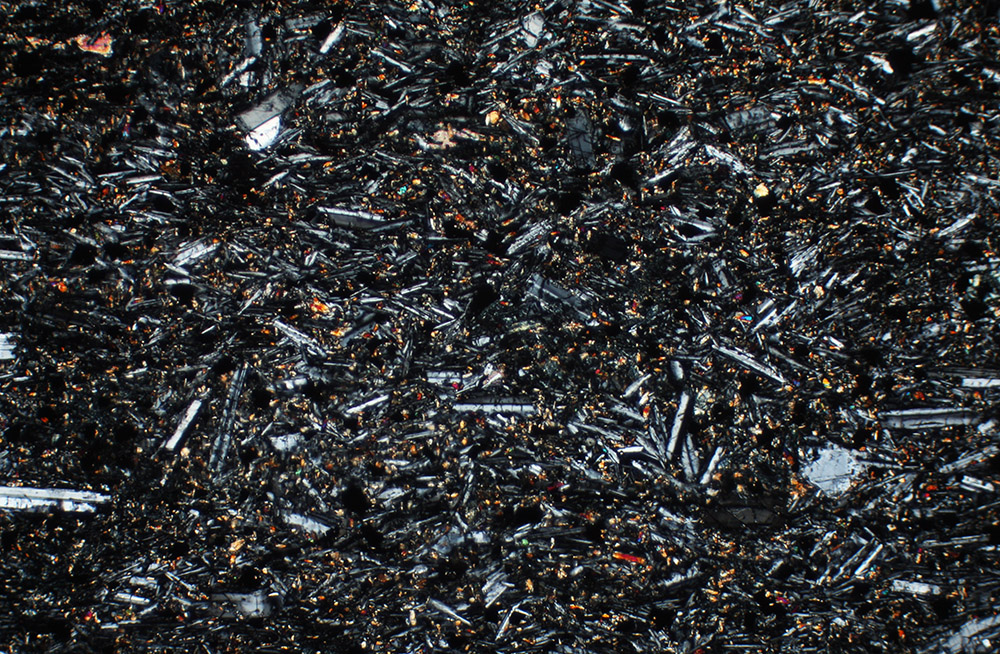 Basalt from Rowley Regis, Staffordshire. Photographed with a 3.5x objective lens and a C-mounted digital SLR camera, between crossed polarizing filters.
&nbsp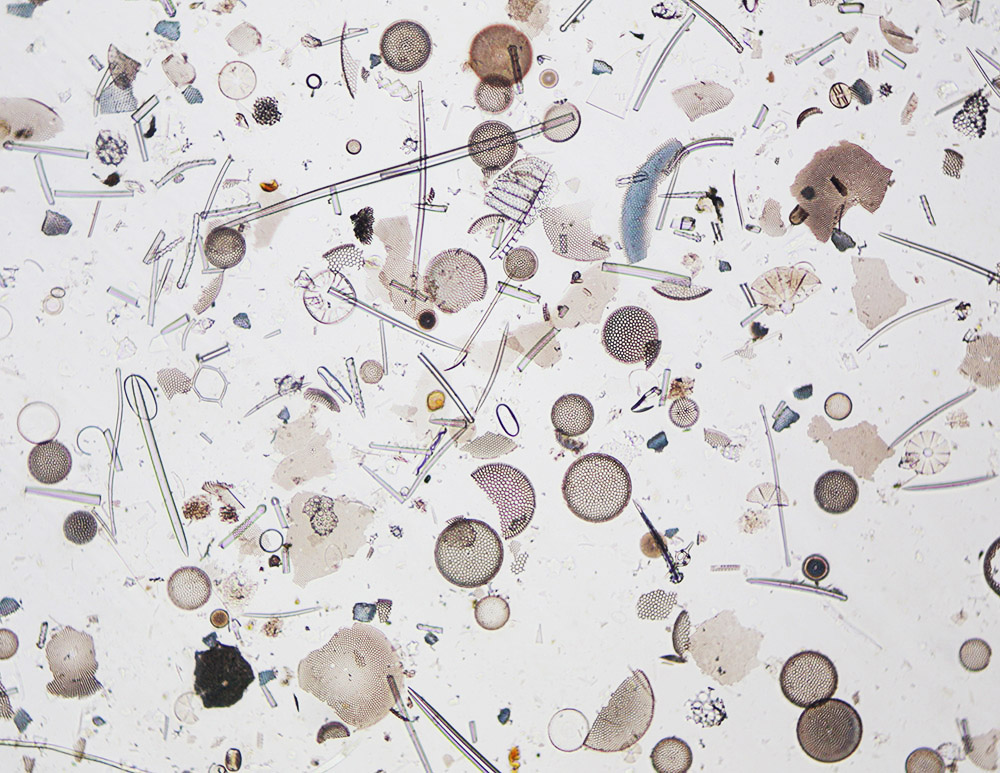 A mix of diatoms, sponge spicules, and other material from Santa Maria. Photographed with a 3.5x objective lens and a C-mounted digital SLR camera.
&nbsp
Resources
Carter, P., and D.A. Bassett (1965) North-east Montgomeryshire: A corner on geologists, Welsh Geological Quarterly, Vol. 1, pages 21-28
Chambers, Theodore G. (1896) Morgan, Joseph Bickerton, 1890-93, student in geology, Register of the Associates and Old Students of the Royal College of Chemistry, the Royal College of Mines and the Royal College of Science, Hazell, Watson, and Viney, London, page 119
England and Wales census and other records, accessed through ancestry.com
Geological Magazine (1894) Obituary - Mr. Joseph Bickerton Morgan, F.G.S., page 240
Hardwicke's Science-Gossip (1891) Exchange offer from J.B. Morgan: "Wanted, a good copy of Davidson's 'Silurian Brachiopoda', 'Annals and Magazine of Natural History', series 5, Vol. iii., and any papers on the graptolites. - J. Bickerton Morgan, Welshpool", Vol. 27, page 24
Jones, T. Rupert (1890) On some paleozoic ostracoda from North America, Wales, and Ireland, The Quarterly Journal of the Geological Society of London, Vol. 46, pages 1-31
Journal of the Royal Microscopical Society (1883) Minutes of the October 10 meeting, Series 2, Vol. 3, page 937
Lovell, Julian (2016) Joseph Bickerton Morgan - aspiring geologist and networker, The Silurian, issue 2, pages 8-11
Mid-Wales Geology Club (accessed September, 2018) Joseph Bickerton Morgan and the Powysland fossil collection, a tale of unfulfilled promise and tragic early death of a Welshpool man, https://www.midwalesgeology.org.uk/joseph-bicerton-morton-the
Morgan, J. Bickerton (1887) The land and freshwater shells of Montgomeryshire, Collections Historical & Archaeological Relating to Montgomeryshire, Vol. 21, pages 103-106
Morgan, J. Bickerton (1888) The land and freshwater shells of Montgomeryshire, Collections Historical & Archaeological Relating to Montgomeryshire, Vol. 22, pages 231-234
Nature (1893) "The following is the list of scholarships and prizes just awarded at the Royal College of Science, London, with which is incorporated the Royal School of Mines : … 'Murchison' medal and prize of books for geology, Joseph B. Morgan", Vol. 48, page 284
Probate of J.B. Morgan (1894) "Morgan Joseph Bickerton of the royal national hospital St Lawrence Isle of Wight geologist died 8 March 1894 Probate London 30 March to Griffith John Williams schoolmaster Effects £274 15s 3d", accessed through ancestry.com
Williams, Richard (1894) Montgomeryshire Worthies, Second edition, Phillips and Son, Newtown, page 203