John Henry Morton, 1836 - 1891
by Brian Stevenson
last updated February, 2018
Signing his slides as "Dr. Morton", John Morton produced a number of attractive microscope slides during the 1880s. They were frequently ringed with bright reds, greens, and other colors. An amateur slide-maker, he prepared a variety of specimens, from insects to sea life. They were made for his own amusement, and for trading with other scientifically-inclined people. In 1884, he offered that he could "supply a microscopist with a small or large interesting collection" in exchange for books and other items.

Figure 1. Microscope slide of a pigeon louse, by John Morton. Probably made during the early- to mid-1880s.
&nbsp
John Morton was born in Maidstone, Kent, England, probably during the autumn of 1836, and christened on November 13 of that year. His father, also named John Henry Morton, operated a grocery shop. The business was evidently successful, as the 1851 census listed that he employed two apprentices, and the family enjoyed the benefits of a domestic servant. Our microscopist was the eldest of four children. The family could afford to provide for young John's education, which culminated in a Licentiate of the Royal College of Physicians from Edinburgh, in 1869-70.
Prior to earning that degree, in 1863, John married Eleanor Childe Dulvey. Her father was a physician who was renowned to the extent that an announcement of the marriage was published in The British Medical Journal, "At Gillingham, Kent, on July 30th, John Henry Morton, Esq., to Eleanor Childe, daughter of James Dulvey, L.R.C.P.(Edin.), of New Brompton, Chatham". John and Eleanor had one child, a girl named Eleanor.
Morton was a member of the Rochester Naturalists' Society, and was their president in 1879 and 1880. He was also a member of the Practical Naturalists' Society.
In 1879, he wrote to Hardwicke's Science-Gossip to support "The suggestion of Mr. Arthur D. Melvin, as to the formation of a Register of Field Botanists, is a most excellent one, and I should think calculated to increase the interest of Science-Gossip. I should propose that a sort of 'Natural History Directory', with list of Natural History Societies, and the names and addresses of naturalists, their branches of study, and (as Mr. Bernard Hobson in another part of last month's number proposes) those willing to assist".
The following year, Morton was included in the magazine's List of Assisting Naturalists, "Dr. Henry J. Morton, The Lindens, Pres. Rochester Nat. Soc. British Flora, especially Phanerogams, Microscopy, General Natural Hist". The 1882 list included, "Kent. New Brompton. Dr. John H. Morton, The Lindens. Phanerogamic Botany, Floriculture, Microscopy, and General Natural History".
Morton also posted two exchange offers in Hardwicke's Science-Gossip at the end of 1882, "For leaf of Onosma Taurica send other micro material or stamped envelope. - Dr. Morton, New Brompton, Kent", and "Exchange wanted for some surplus books on natural history subjects. - Dr. Morton, New Brompton, Kent".
An 1884 post indicated that Morton had substantial numbers of slides available, "Microscopic Slides. - Will supply a microscopist with a small or large interesting collection, in exchange for Natural History or other good Books, Apparatus, Parlour Pastime, or anything of interest or utility. - J. Morton, The Lindens, New Brompton, Kent". An adjacent exchange offer requested additional slide-making material, "Wanted, a scrap of Synapta Skin in exchange for other material. - J. Morton, New Brompton, Kent". Those offers were published in The Journal of the Postal Microscopical Society, suggesting that he may have been a member of that group.
Dr. Morton produced a small number of additional publications during the next few years, including a hypothesis that cats might carry infections from person-to-person, gardening-related exchange offers, and a request to trade away his, "Collection of British shells, entomological setting cabinet, collecting box, and store box. Will exchange for books or anything useful. - J. Morton, New Brompton, Kent".
Morton's death in 1991 was reported by The Lancet, "On May 3rd, at 14, Hill-lane, Southampton, of influenza and congestion of the lungs, to the inexpressible grief of his family, John Henry Morton, Surgeon, of New Brompton, Kent, aged 54 years".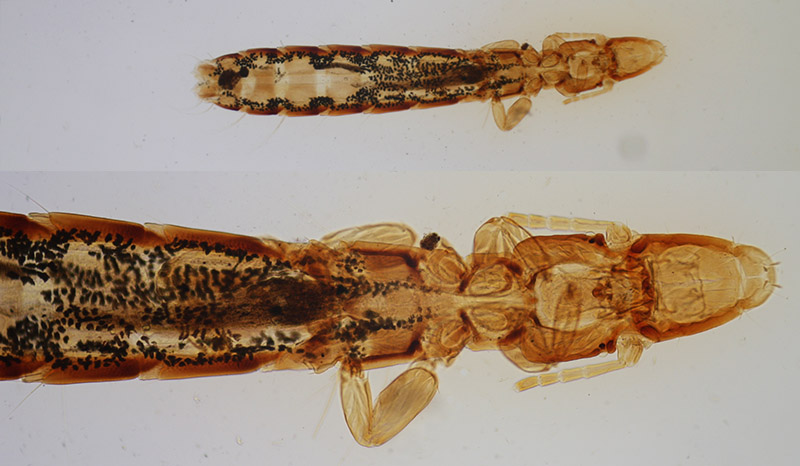 Figure 2. "Parasite of carrier pigeon" (the slender pigeon louse, Columbicola columbae), prepared ca. 1884 by John Morton. Photographed with a C-mounted digital SLR camera and either a 3.5x or 10x objective lens (top and bottom views, respectively).
&nbsp
Resources
Bracegirdle, Brian (1998) Microscopical Mounts and Mounters, Quekett Microscopical Club, London, pages 69 and 154, plate 25-S
The British Medical Journal (1863) Report of the marriage of John Morton and Eleanor Dulvey, page 163
Edinburgh Medical Journal (1873) List of recent Licentiates, issue 240, page 2
England census and other records, accessed through ancestry.com
The Gardener's Chronicle (1882) Exchange offer from J.H. Morton, page 465
Hardwicke's Science-Gossip (1880) Additions to our list of assisting naturalists, Vol. 16, page 14
Hardwicke's Science-Gossip (1882) Local naturalists, Vol. 18, page 73
Hardwicke's Science-Gossip (1882) Exchange offers from J.H. Morton, Vol. 18, page 264
Hardwicke's Science-Gossip (1891) Exchange offer from J.H. Morton, Vol. 27, page 48
The Journal of the Postal Microscopical Society (1884) Exchange offers from J.H. Morton, Vol. 3, page 68
The Lancet (1891) Report on the death of J.H. Morton, May 16, page 1133
Morton, J. Henry (1875) Medical practitioner and the police, The Lancet, page 813
Morton, J. (1879) Register of field botanists, Hardwicke's Science-Gossip, Vol. 15, page 258
Morton, J. (1891) The cat as a carrier of infection, The Lancet, page 289
The Practical Naturalist (1883) List of members of the Practical Naturalists' Society, Vol. 1, page 7
Probate of the will of J.H. Morton (1891) "Morton John Henry. 3 June. The Will with a Codicil of John Henry Morton late of Napier-road New Brompton in the County of Kent who died 3 May 1891 at 14 Hill-lane Southampton in the County of Southampton was proved at the Principal Registry by Eleanor Childe Morton of Napier-road Widow the Relict Edmund William Betts of Medwar-street Chatham in the said County Architect and Richard Gowar of High-street New Brompton Grocer the Executors. Personal estate £200", accessed through ancestry.com