Charles Todd Owen, 1870 - 1941
by Brian Stevenson
Last updated February 2015
Charles Owen's microscope slides are generally of very good quality, although they are not frequently encountered. They are particularly notable for the labels' resemblance to those used by Frederic Enock, Clarke & Page, and several other early 1900s microscopists, although there are no known connections between Owen and any of those other men.
Owen was an amateur microscopist and, if the labels on known slides are indicative of the time of production, he picked up the hobby rather late in life. The two slides illustrated in Figure 1 include labels on the backs with Owen's address of "The Logs, East Heath Road, Hampstead, London", which was his address from no earlier than 1921 until around the time of his death.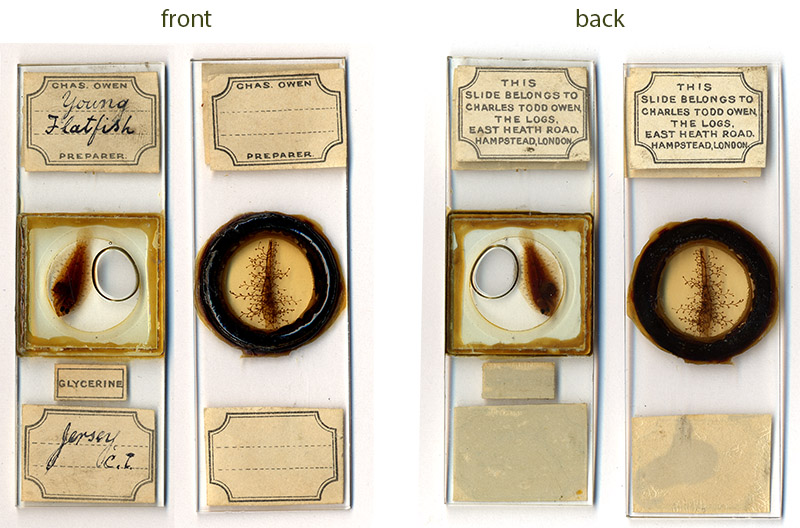 Figure 1. Two microscope slides labeled as having been prepared by Charles Todd Owen. On the back of each is an addition label with his address: "The Logs, East Heath Road, Hampstead, London". That address dates these slides to between ca. 1921 and 1941.
&nbsp
Charles Todd Owen was born during early 1870, in Bath, Somerset, England. He was the first child of Thomas and Elizabeth Owen, and named after his maternal grandfather, Charles Todd. A draper at the time of his son's birth, Thomas purchased a paper mill in Cardiff in 1877, forming a partnership with Samuel Evans. After Evans died in 1885, the company became Thomas Owen and Company. He also acquired partnerships in several newspapers. Thomas was elected to the House of Commons in 1892, and served until his death in 1898.
Charles inherited his father's successful businesses, and the family's homes in Cardiff and London. According to his father's wishes, Charles' mother and unmarried brother and sisters remained together in their homes. Charles did not marry, and upon his death, left an estate of nearly £25,000 to his brother Owen and unmarried sisters Lillian, Elizabeth, and Margaret.
The 1901 census found Charles at the family home of 5 Whitewall Gardens, London, along with his mother, brother and four sisters. They were attended by 6 servants. In 1911, he was at 43 Maresfield Gardens, London, along with mother, brother, three sisters and four servants.
The slides shown in Figure 1 carry printed labels with Owen's address of "The Logs, East Heath Road, Hampstead, London". The timing of his move to that home is not certain, but can be approximated. The 1911 census recorded that "The Logs" was then occupied by Frederic Charles Pusinelli and family. The considerable home then employed seven servants, including a footman, a lady's maid, two housemaids, a parlour maid, a kitchen maid, and cook. Pusinelli died in October 30, 1920, while still owning "The Logs", and his probate was settled on May 10, 1921. Owen may have then purchased "The Logs". We can be certain that he lived there by 1929, since that was the address given for him in an issue of that year's Photographic Journal. The London Post Office Directory for 1938 also provided that address for Owen.
"The Logs" is still standing in Hampstead, and is notorious for its unusual architecture. The mansion was built in 1868 for Edward Gotto, and is variously described as "fanciful ... (with a) variety of styles ... ranging from Italianate to Gothic, featuring turrets and gargoyles", to "a formidable atrocity. Unfortunately, I was unable to locate any clear photographs of the house, although numerous obscured street-view photos may be found on the internet. Also notable, "The Logs" was owned later by comedian Marty Feldman during the 1970s, and musician Boy George purchased the mansion in 1984.
Charles Owen additionally had a passion for book collecting, particularly children's books. Some 145 of his books, hornbooks, etc. were shown at the Victoria and Albert Museum in 1932. His children's book collection was sold to George Ball of Indiana, USA, in 1933, and is currently held by the Lilly Library, Indiana University, Bloomington. A picture of one of Owen's bookplates is shown as Figure 2.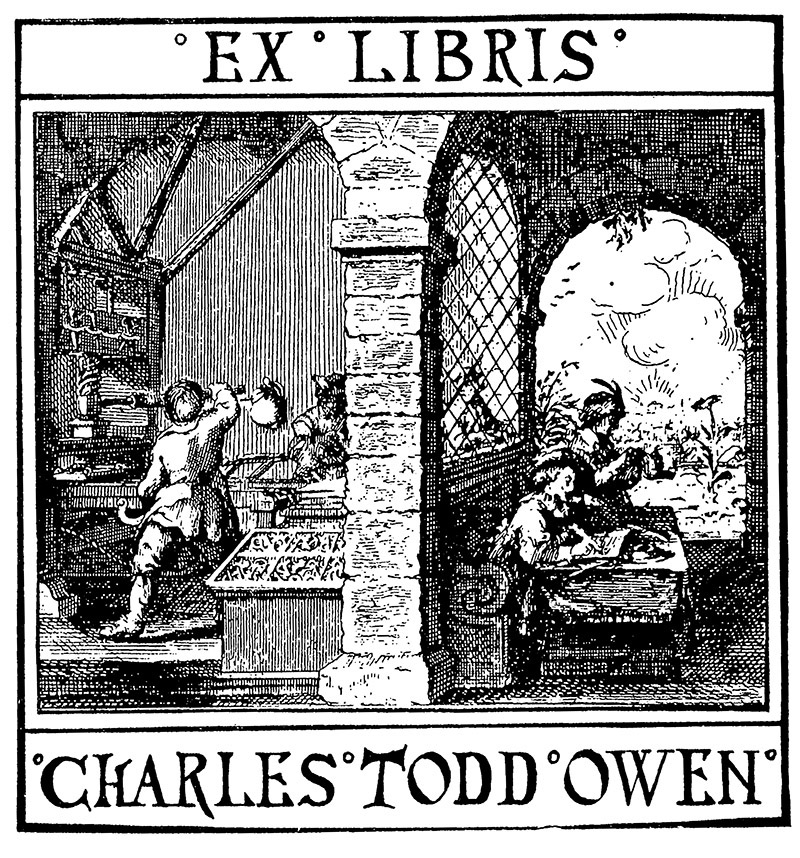 Figure 2. A Charles Owen bookplate, from a copy of "Robinson Crusoe". Adapted from http://catalog.hathitrust.org/Record/001369937, for nonprofit, educational purposes.
&nbsp
Resources
Bye-gones (1898) Will of the late Mr. T. Owen, M.P., Second series, Vol. 5, October 5, page 486
Debrett's Illustrated Heraldic and Biographical House of Commons and the Judicial Bench (1896) "Thomas Owen, son of Mr. Owen Owen, yeoman, of Bwlch and Cwmyrhaidr, near Machynlleth; b. Sept. 15th, 1840; ed. privately: m. 1868, Elizabeth, da. of the late Charles Todd, Esq., of Bacup; is Chm. of Thomas Owen and Co. (Limited), paper manufacturers, and proprietor of Western Daily and Weekly Mercury and Western Herald (Plymouth). He has sat for N.-E., or Launceston. Div. of Cornwall since July 12th, 1892. Residences —Henley Grove, Westbury-on-Trym, near Bristol; Queen Anne's Mansions", Dean & Son, London, page 122
England and Wales birth, death, and census records, accessed through ancestry.co.uk
Hampstead Heath 2015 (accessed February, 2015) "The Logs. Large Victorian mansion, standing at the corner of East Heath Road and Well Road. The land was once part of The Heath and was one of two sites where Sir Thomas Maryon Wilson started building in 1866. It is described by Prevsner as a 'formidable atrocity', with 'yellow, red and black bricks, excrescences in all directions, arches pointed and round, motifs Gothic and Frenchified' ", http://www.hampsteadheath.net/the-logs.html
Lilly Library Manuscript Collections (accessed February, 2015) "The Owen, C.T. mss., 1933-1942, consist of the correspondence of Charles Todd Owen, d. 1941, paper mill owner and book collector of Montgomeryshire, Wales, and London, England, and George Alexander Ball, 1862-1955, manufacturer and book collector of Muncie, Indiana. C.T. Owen began collecting children's books circa 1900, including chapbooks and hornbooks as well as early English children's books. Approximately 145 of Owen's books were shown in the Victoria and Albert Museum's exhibition "English Illustrated Children's Books" in 1932. A special issue of The Studio, Autumn 1933 ("Children's Books of Yesterday" by Philip James, Lilly Z1037 .J28) is devoted to the exhibition and includes pictures of many books loaned by Owen. Late in 1932, Owen loaned materials for another exhibition held at the Luton Public Library in Bedfordshire", http://www.indiana.edu/~liblilly/lilly/mss/index.php?p=owenct
London Post Office Directory (1938) "Owen, Chas. Todd, 12 East Heath rd NW3 – Hampstead 1217", page 1330
The Photographic Journal (1929) Vol. 53, page 94
Probate of Charles Todd Owen (1942) "Owen Charles Todd of Cwmyrhaiadr Machynlleth Montgomeryshire died 3 November 1941 Probate Llandudno 16 March to Owen Owen paper manufacturer Lillian Susanna Owen Elizabeth Hoyle Owen and Margaret Isabel Owen spinsters. Effects £24232 18s 4d, accessed through ancestry.co.uk
Probate of Frederic Charles Joseph Pusinelli (1921) accessed through ancestry.co.uk
Proceedings of the Institution of Mechanical Engineers (1906) "Messrs. Thomas Owen and Co. – Ely Paper Works, Cardiff. These works are situated about 1 1/2 miles from Cardiff and about 5 minutes' walk from the end of the tramway. They were started in 1865 for the purpose of manufacturing Esparto half stuff, which was supplied to other paper mills. In 1867 the first paper-making machine was erected, in 1869 the second, and in 1874 the third. The works up to this period had not been prosperous and in 1877 they were acquired by Messrs. Evans and Owen, of Bath, and since then they have been successfully worked and greatly increased. In 1885 the fourth machine was put down, in 1889 the fifth, in 1893 the sixth and seventh, and the eighth, a large American machine 132 inches in width, in 1897. On the death of Mr. Evans in 1885, the works were subsequently formed into a limited company by the late Mr. Thomas Owen, M.P. He was chairman of the company until his death in 1898, when Mr. R. W. Perks, M.P., became chairman. The eight paper-making machines turn out between 400 and 450 tons per week. The paper is chiefly news, printings, supercalandered papers, imitation parchments, glazed casings, etc. About 500 men are employed at Cardiff, and the company also employ about 300 men at Hjerpen, in Jemtland, Sweden, where they have extensive forests, and manufacture about 300 tons of chemical wood-pulp per week, a large quantity of which is shipped to Cardiff for the firm's use. The works are excellently situated, being within easy carriage of the docks for importing raw materials, and have sidings communicating with the Great Western, Midland, London and North Western, and Taff Vale Railways", Parts 3-4, page 610
Richardson, John (2000) "Another fanciful building is a house called The Logs, at 12-13 East Heath Road, Hampstead. It was built this year by JS Nightingale for a civil engineer named Edward Gotto, though the variety of styles used – ranging from Italianate to Gothic, featuring turrets and gargoyles – could indicate that Gotto may himself have had a hand in it", The Annals of London: A Year-by-year Record of a Thousand Years of History, University of California Press, Berkeley and Los Angeles, page 292
Sydney Morning Herald (1984) "Boy George spends big on new 'atrocity' pad', October 22