James John Owles, 1836 - 1894
by Brian Stevenson
Last updated July 2017
Although an obituary noted that J.J. Owles, of Great Yarmouth, Norfolk, England was "much interested in microscopy", slides by this amateur microscopist are relatively scarce. Many of that era's amateurs advertised to exchange slides in popular science magazines. That resulted in their producing large numbers of slides and subsequent dispersal, and mounts by such makers tend to be found frequently. Searches failed to uncover any offers from Owles to exchange slides, so those encountered today likely came from his personal collection, or perhaps occasional exchanges with friends.

Figure 1. Two microscope slides from James J. Owles. Another Owles slide is illustrated in B. Bracegirdle's 'Microscopical Mounts and Mounters', plate 29-Q.
&nbsp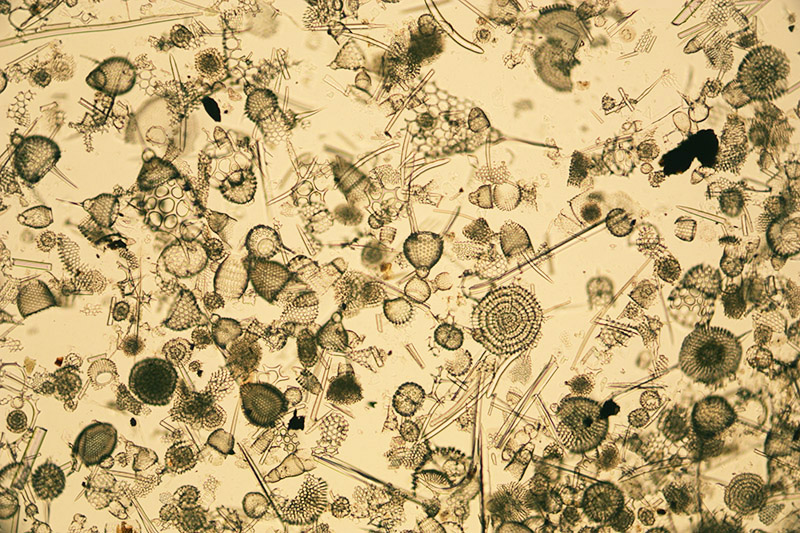 Figure 2. A wide variety of foraminifera, spicules, and other marine objects, in the Owles' slide from Cleland, St. Andrew, Barbados (Figure 1).
&nbsp
James was born in Great Yarmouth, son of John and Mary Owles. His father was a pharmacist (chemist), who additionally served as a borough magistrate for many years. James was apprenticed to his father in 1852, and passed his examination as a pharmaceutical chemist in 1866. The Owles bought a shop on Hall Quay, Great Yarmouth in 1851. John, then James, operated from that site until James' death. It was afterward operated by pharmacist Henry Ebbage, another notable maker of microscope slides whose biography can also be read on this site.
James does not appear to have joined many societies, and published very little. His only identified publication is a brief 1867 Science-Gossip note on a pair of escaped myna birds (Gracula religiosa) that lived in his neighborhood. As noted above, no specific records have been found regarding his interests in microscopy.
In contrast, Owles made very a significant contribution to paleontology. Fishermen who trawled the Dogger Bank and other shallows off the Norfolk coast occasionally dredged up animal bones, a number of which were from ancient land animals. James, and possibly his father before him, made a point of acquiring those bones. His collection of some 300 bones was purchased by the British Museum in 1874.
James' father was also a fervent collector. Just before his death in 1873, he auctioned his collection of pottery and porcelain. This was divided into 1792 lots, and sold over 6 days for a net sum of £4400. A description of the sale noted that many buyers conspired to keep the prices low, to reduce premium payments, and many objects were immediately resold privately for 2-3 times the price paid to Owles.
The Owles' business sold more than just pharmaceuticals. An 1879 advertisement includes a variety of their own cooking sauces and condiments (Figure 3). A police account of a robbery of Owles' branch shop in Southtown mentioned, "tea, … liquorice, (and) eau de Cologne and other scents". Examples of soda and sauce bottles stamped "Owles & Son" can occasionally be found. A Mr. J. Pike of Nottingham recalled, "Owles & Son, on the Hall Quay, were in the premier rank; certainly the shop was handsomely designed and beautifully kept by the 'elbow grease' of the two apprentices, old schoolfellows of mine. I used to go round that way on Friday evenings now and then to see them hard at it".
In 1894, The Chemist and Druggist wrote, "Mr. J.J. Owles, chemist, of Great Yarmouth, died somewhat suddenly at his residence, Hall Quay, Great Yarmouth, on March 30. For some time he had suffered from heart-disease and rheumatism, but until a day or two previously he was able to be about. Mr. Owles was 58 years of age. He was much interested in microscopy, photography, and fishing". His will left an estate of over £2200 to his wife, Julia.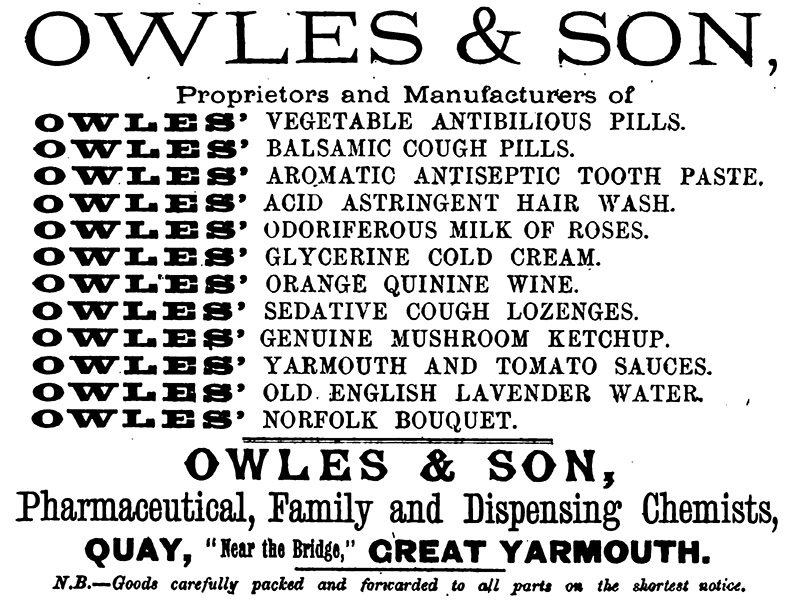 Figure 3. An advertisement from the 1879 'Post Office Directory Of The Counties of Cambridge, Norfolk and Suffolk'. James Owles' father died in 1873, and his own son was then only 3 years old, thus the business name of Owles & Son was retained even when operated only by James.
&nbsp
Resources
Bracegirdle, Brian (1998) Microscopical Mounts and Mounters, Quekett Microscopical Club, London, pages 73 and 162, and plate 29-Q
Chemist and Druggist (1891) "A Dishonest Manager - At Yarmouth Police Court last week Samuel Powell was charged with theft. Mr. James John Owles, pharmaceutical chemist, Yarmouth, said he had a branch shop at Southtown. On September 25 he engaged the prisoner as manager of it. For certain reasons he discharged him on Saturday, October 17. After he had left be balanced the books, and found that there was a deficiency of about 10s. On the Monday morning he went through them again, and found that the exact amount was 9s. 10d. He reported the matter that day to Sergeant Lingwood, and since then certain articles had been shown him, which he identified as his property, they being part of the stock at Southtown … When charged (Powell) said he could explain about the money - there might be some mistake in giving change; but he would plead guilty to taking the articles from the stock. Prisoner also said, 'I deserve to be punished. I think it will do me good. If I am shut up a little while, it will get me off the drink'. After remanding the prisoner for a few days the magistrates sentenced him to a month's imprisonment with hard labour.", Vol. 39, page 665
Chemist and Druggist (1894) Obituary of J.J. Owles, Vol. 44, page 491
Davies, William (1878) On a collection of Pleistocene mammals dredged off the Eastern Coast, The Geological Magazine, New series, Vol. 5, page 7 ff
England census, birth, marriage, and death records, accessed through ancestry.co.uk and familysearch.org
l'Estrange, J. (1873) "The very extensive, varied, and interesting collection of Early Pottery and Porcelain formed by John Owles, Esq., of Great Yarmouth, has been recently brought to the hammer by Messrs. Spelman. The collection comprised many specimens of a beautiful and curious description, and it had been got together by Mr. Owles in the course of many years of anxious search and unstinted pocket. The auctioneers made up 1792 lots, which were spread over a six days' sale. The catalogue was probably the finest specimen of the kind which has yet been produced, illustrated as it was by a dozen pictures, executed by the Woodbury process, of groups of the more remarkable specimens in the collection. The sale attracted to Yarmouth connoisseurs and dealers from all parts of England, who manifested their appreciation of the various lots by offering exceedingly high prices; and although we do not intend to convey the idea that Mr. Owles's collection contained numerous, or indeed any, works of the highest art of either English or foreign manufacture, yet we venture to state that such prices as were obtained at this sale were never before reached for similar articles at a public competition.", The Eastern Counties Collectanea, T.R. Tallack, Norwich, pages 142-143
Geological Magazine (1869) Minutes of the Norwich Geological Society, January 14, "The President exhibited a fine humerus of a cetacean, dredged up off Yarmouth, and now in Mr. J.J. Owles' collection. It shows marks of having been partially cut through by some sharp instrument, and numerous holes, which, it is presumed, were bored by the Pholas", Vol. 6, pages 90-91
Günther, Albert C.L.G. (1904) "1874 - Remarkable additions to the series of British Pleistocene Mammalia were made this year by the purchase of Sir Antonio Brady's collection from the Thames Brick-earth at Ilford, Essex, and Mr. J.J. Owles' collection obtained from trawlers off the eastern coast, especially from the Dogger Bank", and "Owles, J.J., Mr. Owles, resident at Great Yarmouth, obtained from the local fishermen a valuable collection of Pleistocene Mammalian bones, dredged off the eastern coast and the Dogger Bank. The collection comprised about 300 specimens and was described by William Davies (Geol. May. 1878). It was purchased by the Museum from Mr. Owles in 1874", The History of the Collections Contained in the Natural History Departments of the British Museum, The British Museum, London, pages 227 and 315
Kelly's Directory of Chemists and Druggists (1885) "Owles & Son, Hall Quay", Kelly, London, page 134
The Lancet (1866) "Pharmaceutical Society Of Great Britain - The following are the names of candidates who passed the examination on the 14th of March, as pharmaceutical chemists: Alfred Barrowclough, Mirfield; William Beckett, Heywood; Robert Keevil, Clifton; James John Owles, Great Yarmouth; William Phillipps, Newcross-road; Joseph Spencer Robinson, Alfreton; Philip Stoneham, London; Samuel John Weston, London", Vol. 1, page 302
Norfolk and Norwich Archaeological Society (1892) Members, page vii
Owles, J.J. (1867) "Gracula religiosa - Thinking that the ornithological readers of Science Gossip would be interested by a short description of two rather rare birds, located at the present time in our town, I will give the result of my interview with the 'Talking Minas' (Gracula religiosa). They are in size between a blackbird and jackdaw; about 12 inches from beak to tip of tail; of a beautiful black colour, with yellow ears and eyelids, which, coupled with the peculiar heavy hops and jumps, gives them a very knowing and intelligent appearance. Both birds are very loquacious, and readily learn anything in the way of short sentences. The tone of voice is very deep, but clear and distinct, both birds keeping up a continual chatter, using such expressions as the following: 'Half-past six - time to go to tea!', 'Call the watch!', 'Pretty boy! oh, you are a pretty boy!', 'Call the dog - Toby! Toby! Toby!' (following which comes a long whistle); cough three or four times; and other things too numerous to mention. They appear in perfect health, very docile, not objecting to be handled, and have been some time in England", Hardwicke's Science-Gossip, Vol. 3, page 112
Palmer, Charles J. (1872) "After the death of Mr. Cufaude Davie in 1851, the above-mentioned premises were purchased by the present proprietor, Mr. John Owles, who has an extensive and valuable collection of porcelain and other wares, a portion of which he exhibited at the Town hall in 1865, in conjunction with a selection from the South Kensington Museum", The Perlustration of Great Yarmouth, with Gorleston and Southtown, G. Hall, Norfolk, Vol. 1, pages 289-290
The Pharmaceutical Journal (1852) Registered apprentices, Second series, Vol. 3, page 101
The Pharmaceutical Journal (1869) Members of the British Pharmaceutical Conference, "Owles, Mr. J., Great Yarmouth, Owles, Mr. J.J., Great Yarmouth", Second series, Vol. 3, page 101
Pike, J. (1918) Pharmacy of 1868, Chemist and Druggist, pages 50-51
The Post Office Directory Of The Counties of Cambridge, Norfolk and Suffolk (1879) Advertisement from Owles & Son, and listings for the business, E.R. Kelly, London, pages 39, 570, 688, 703, 721, and 734
Yearbook of Pharmacy (1871) Members of the British Pharmaceutical Conference, "Owles, Mr. J., Great Yarmouth, Owles, Mr. J.J., Great Yarmouth" (note: J.J. Owles was identified as being the Local Secretary), Second series, Vol. 3, page 511