Edward Albert Perry, 1842 - 1907
by Brian Stevenson
last updated November, 2021
Much can be learned from microscopical examination of thinly-sectioned minerals, that is, specimens that have been ground so thin that light passes through the rock. The vast majority of such microscope slides were produced by commercial enterprises, due to the extensive effort required to produce them. So it is especially remarkable to come across early microscopists such as A.E. Perry, who prepared slides of minerals for his own amusement. The slides shown in Figures 1 and 2 were produced during his time in Quincy, Massachusetts, around 1881.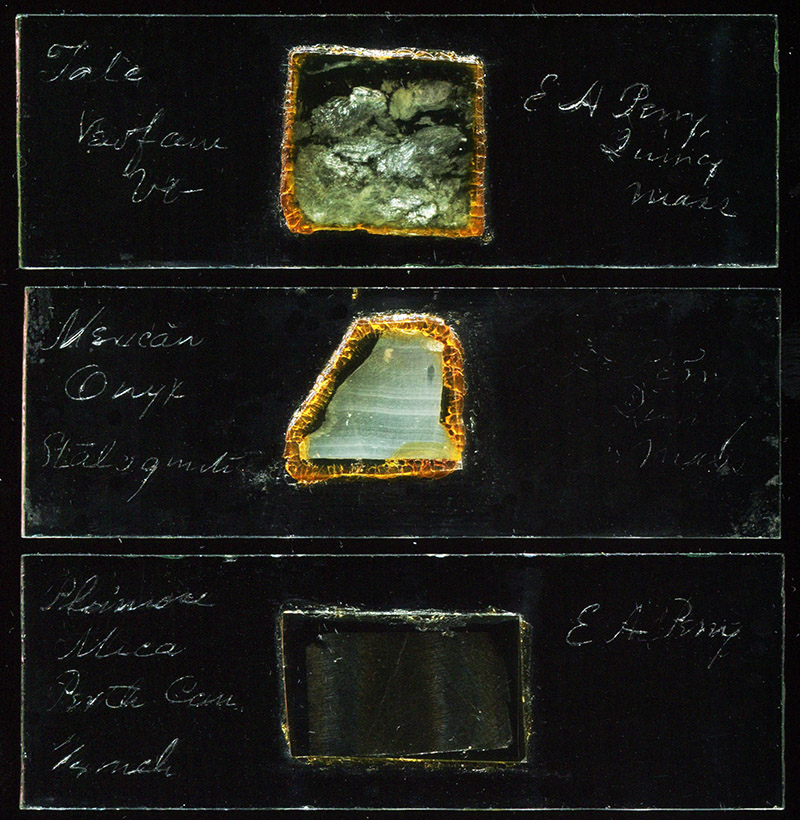 Figure 1. ca. 1881 microscope slides of minerals, all diamond etched with specimen descriptions and E.A. Perry's name. The slides are made from clear glass, and were imaged with a black background to enable visualization of the etching. The glass for the slides was hand-cut, with sharp, irregular edges.
&nbsp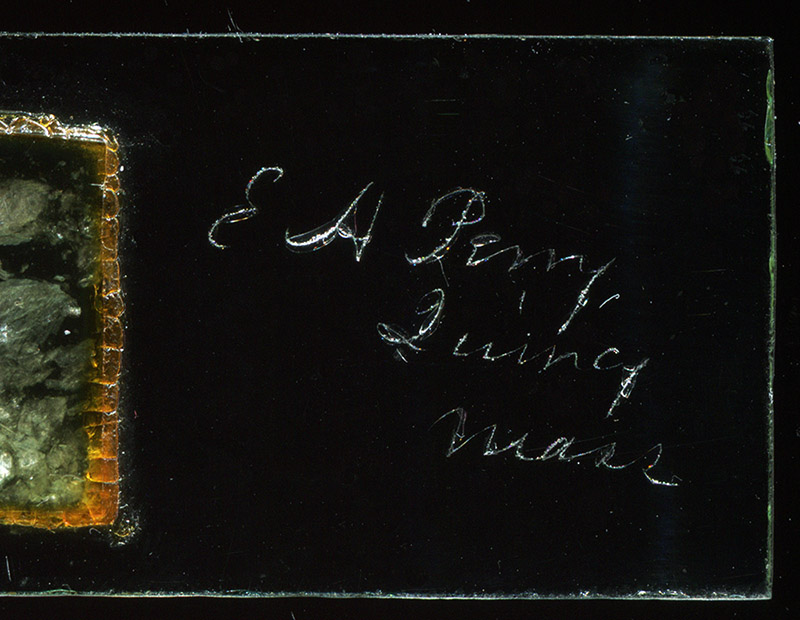 Figure 2. Close-up of Perry's signature. In this case, he also wrote his address: Quincy, Mass.
&nbsp


Figure 3. Thin-section of talc, prepared ca. 1881 by E.A. Perry. Photographed with a 3.5x objective lens, crossed polarizing filters, and C-mounted digital SLR camera on a Leitz Ortholux II microscope.
&nbsp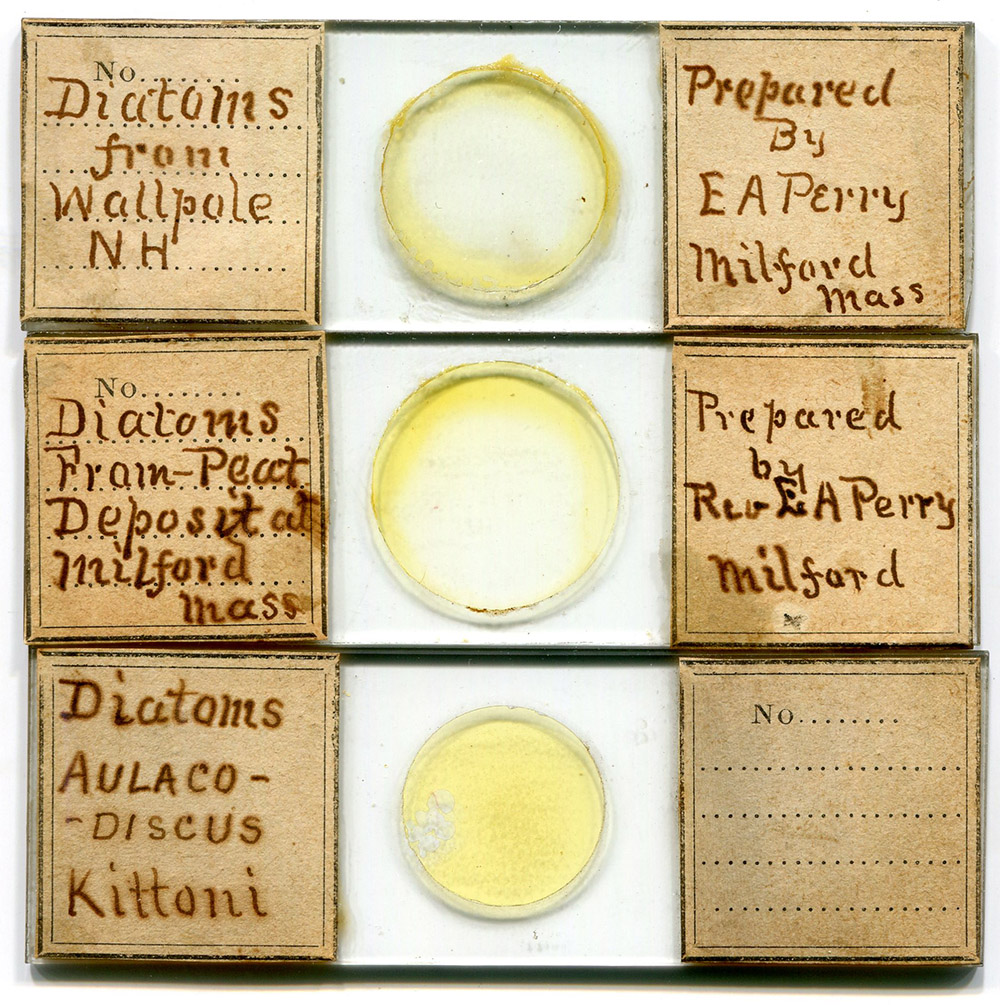 Figure 4. Exchange offer from Edward A. Perry, advertising transparent thin-section minerals and thicker, opaque mounts. From the January 1 issue of "The American Monthly Microscopical Journal".
&nbsp
The American Civil War broke out in 1861, as Perry was preparing for college. He served as a Private in the Fifth Massachusetts Infantry from September, 1862 until July, 1863. His unit saw action at the Battle of Goldsboro Bridge, North Carolina, in December, 1862.
He entered Tufts College, and graduated in 1867. He became a minister in the Universalist Church. During the next several years, he served in West Scituate, Provincetown, Milford, Quincy and Palmer, Massachusetts.
For the first few years, at least, he also held other jobs to help pay the bills: an obituary wrote that Perry taught school after college, and the 1870 U.S. census listed him as a "store tender". Edward Perry had married in 1868, and his wife was listed as a "milliner" in the 1870 census. The couple lived with the owner of the store.
At some point, Edward Perry developed a serious interest in microscopy and geology. The 1880 Annual Report of the Town of Quincy stated, "A large number of meetings for the instruction of teachers have been held during this year... Rev. E. A. Perry has helped us, by instructive lessons in mineralogy, to study the rocks of Quincy".
Throughout 1881, Perry advertised to exchange microscope slides of thin-sectioned mineral and other substances, along with thicker sections of limestone (Figure 4).
In 1886, the Perry family moved to Minden, New York, where Edward ministered to that town's Universalist Church. He served through 1895, then took positions in Hudson and Cooperstown, both in New York.
Perry began receiving veteran's benefits as an "invalid" in 1904. He died on December 15, 1907, at the age of 65.
Resources
The American Monthly Microscopical Journal (1881) Exchange offers from E.A. Perry, Vol. 2, January 1 and other issues
Eighty-Eighth Annual Report of the Receipts and Expenditures of the Town of Quincy (1880) page 181
Evening Recorder (Amsterdam NY) (1946) Corner Stone of Universalist Church Layed Fifty Years Ago - Celebration Planned, May 6 issue
Otsego Farmer (Cooperstown, NY) (1907) The Rev. Edward A. Perry, December 10 issue
U.S. census and other records, accessed through ancestry.com