John Dennett Potter, 1810 - 1882
by Brian Stevenson
last updated October, 2019
Robert Brettell Bate (1782-1847) earned a considerable fortune as a manufacturer of optical and scientific equipment, and as a publisher. His business was aided greatly by monopolies that he was granted by the Crown: he was the official chart publisher for the Admiralty, and he owned the patent for the Sikes hydrometer, which was the only instrument that could be used to assay alcoholic products (its inventor, Bartholomew Sikes [1731-1803], had been Bate's father-in-law). After Bate died, his widow continued to publish the nautical charts for a short while, then sold the rights in 1850 to John D. Potter, who had been Bate's shopman. Subsequently, Potter's trade labels referred to him as Bate's successor (Figure 1). The Admiralty monopoly was a financial boon to Potter, who, like his predecessor, died a very wealthy man.
In addition, John Potter manufactured and/or sold a wide variety of optical and scientific instruments. A small number of microscopes are known that bear Potter's trade label. At least one of them was very likely made by Potter or under his supervision (Figures 2-3). It is unique in design, with a modified "aquatic" movement that not only permits the lens to move forward-and-backward and side-to-side, but also rotate. To the best of my knowledge, it is a one-of-a-kind.


Figure 1. Trade labels from Robert B. Bate (left) and John D. Potter (right). Note that Potter referred to himself as "successor to R.B. Bate". Adapted for nonprofit, educational purposes from The British Museum (left) and The Royal Museums at Greenwich (right).
&nbsp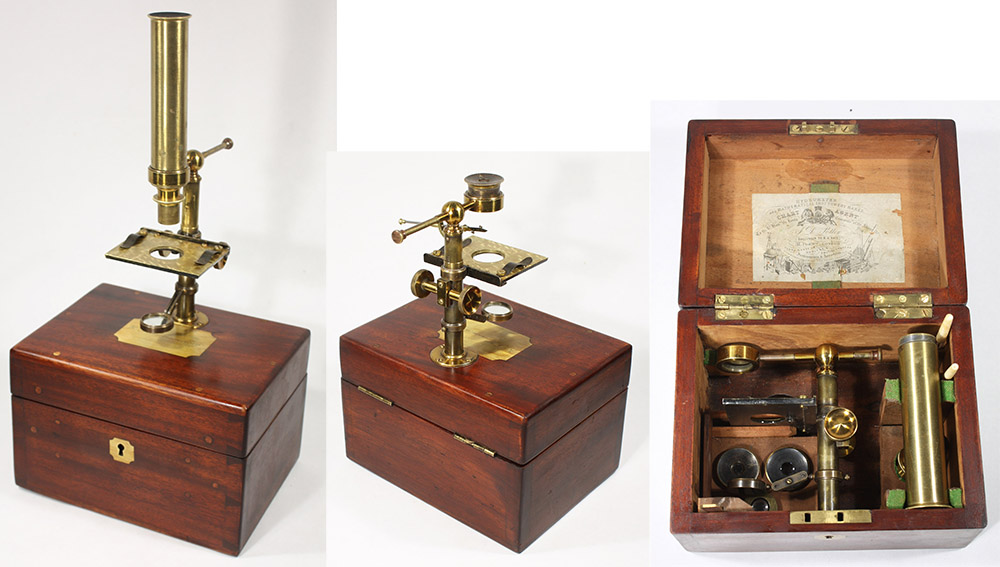 Figure 2. A case-mounted microscope with J.D. Potter's trade label pasted inside the lid. It can be used as either a compound or simple microscope. The arm that holds the optics is unique in that it is cylindrical and held firmly by pressure, so that the arm can be drawn back-and-forth and also rotated. Additionally, the arm can pivot on the upright, giving full "aquatic" movement. A plate on the lid indicates that it was owned by (and presumably manufactured for) one W.F. Harrison.
&nbsp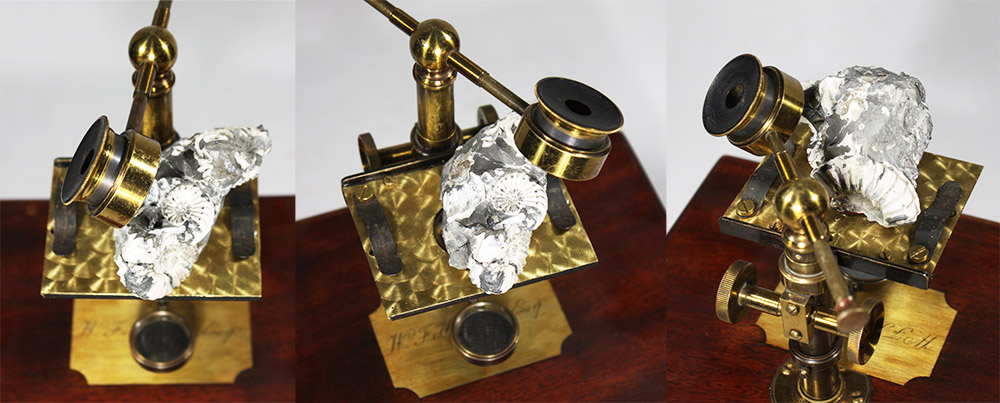 Figure 3. The unique arm of the microscope shown in Figure 2 allows the user to position the microscope's optics at any point and angle over the stage. This could be useful for examining large three-dimensional objects without continually moving the specimen. The arm is held by a tight spring, which prevents it from moving on its own.
&nbsp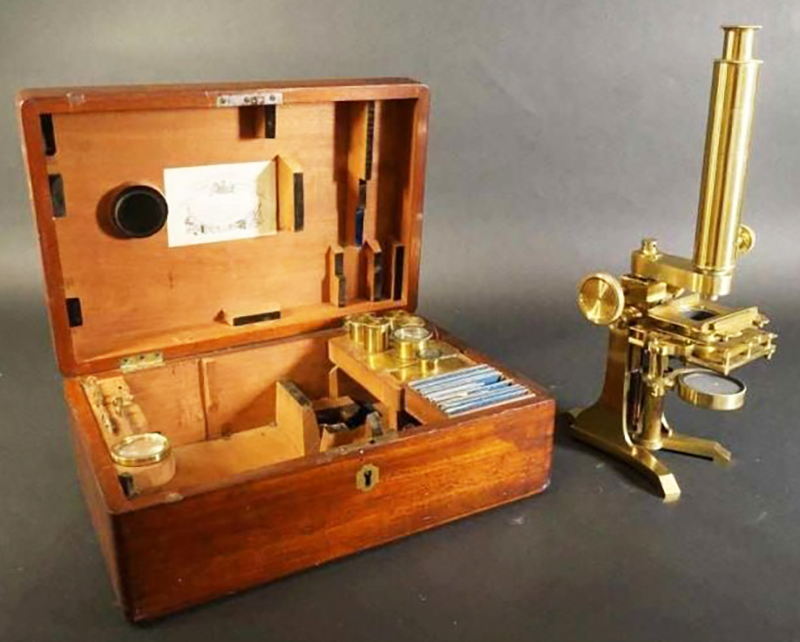 Figure 4. A bar-limb microscope, with Potter's label pasted inside the cabinet. It is very similar to those made by several makers in the mid-1800s. It is likely that Potter acquired this from a wholesale manufacturer, for resale in his shop. Although he specialized in nautical apparatus, it is reasonable to assume that Potter would have a few microscopes and other pieces of optical/scientific equipment on hand in case a customer had broad interests.
&nbsp
John Dennett Potter was born on June 13, 1810 in the Pentonville area of metropolitan London. I found little about his childhood, other than that his parents names were Charles and Elizabeth.
Potter fathered a son, also named John Dennett Potter, during the summer of 1836. He married the mother of the son, Sophia Parkes, on April 12, 1838. Cohabitation before marriage, and children out of wedlock, were both very common in those days in England. However, two important pieces of information on Potter's life come from those records: his financial situation was sufficiently stable by the spring of 1838 to take a wife, and the baptism record of his son described the father's occupation as "optician". In 1850, Potter was described as having been Robert Bate's "shopman", so it is likely that he had been a trained optical worker by 1836, and Bate's shopman/foreman by 1838.
Consistent with the above conclusions, the 1841 census recorded that John, Sophia, and three sons lived in Peckham, Surrey. They employed a 14-year old girl as a live-in servant, indicating a certain amount of wealth.
In addition, living in Surrey, instead of near the London shop, indicates that Potter enjoyed a lot of independence from his work. Robert Bate's son John, who had been a major contributor to the business, died in 1840. Those circumstances suggest that John Potter probably took over the business role that had been filled by John Bate.
Robert Bate died in December, 1847, leaving a substantial estate of £14,000. His widow managed the business for a couple of years, but sold it off in the summer of 1850. Potter acquired right to publish charts for the Admiralty.
Beginning in 1850, Potter began publishing the nautical charts that had previously been sold by Bate. However, the 1851 census recorded Potter's occupation as "optician". The 1861 and 1871 censuses stated that same occupation. Those declarations suggest that Potter viewed his optical goods as his major products for several decades. Only in 1881 did Potter describe himself as being a "publisher".
According to Gloria Clifton, J.D. Potter purchased membership in the Spectaclemakers' Guild in 1853. Numerous pieces of scientific and engineering apparatus are known that bear J.D. Potter's name, many of which were probably made in his shop (e.g. Figures 2-11)
John Potter died on September 17, 1882, at his home in Croydon, Surrey. He left an estate of over £70,000.
Books and charts continued to be published under Potter's name through the end of the nineteenth century. These were probably issued by his widow, Sophia. The 1891 census listed her as "living on own means", at the Croydon house.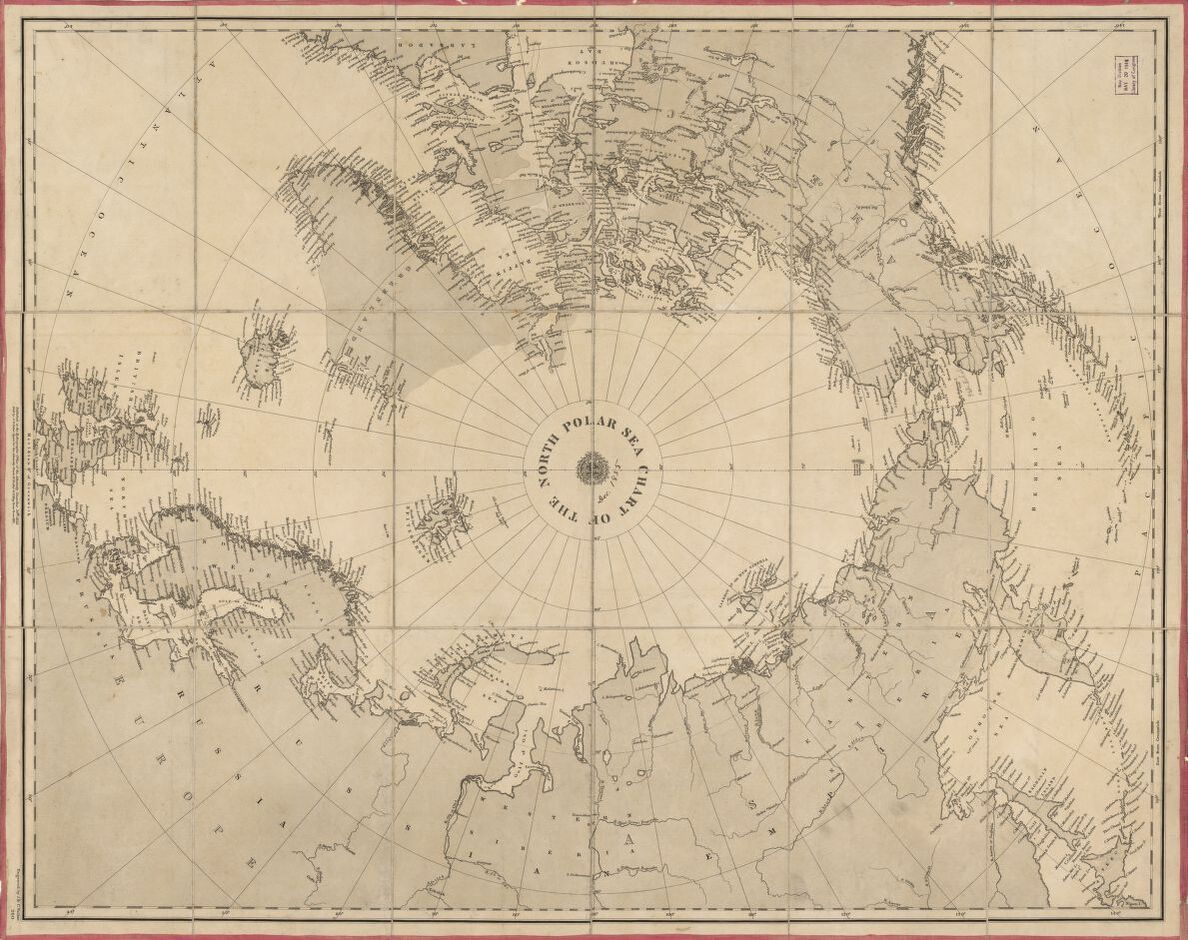 Figure 5. Sea chart of the Arctic Ocean, published by J.D. Potter, Adapted for nonprofit, educational purposes from the U.S. Library of Congress.
&nbsp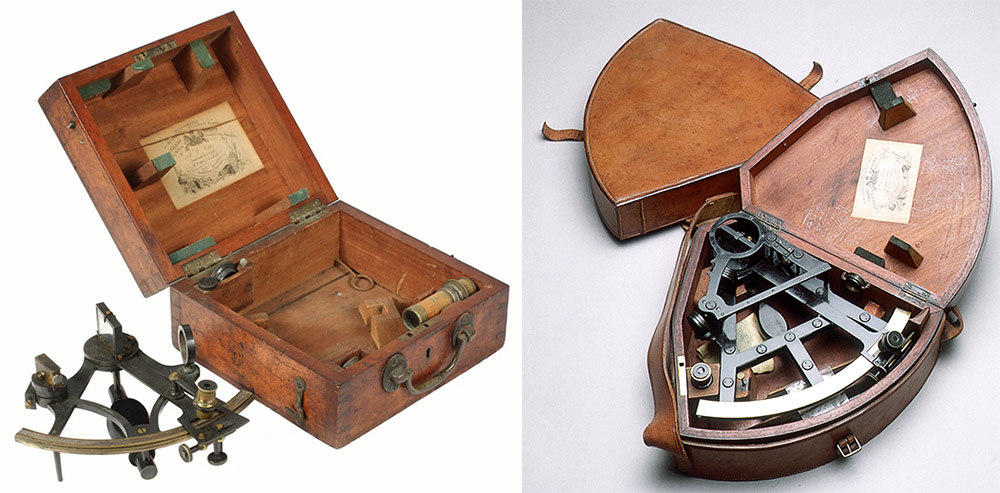 Figure 6. A quintant (left) and a sextant (right), by J.D. Potter. Adapted for nonprofit educational purposes from an internet auction site (left) and the Royal Museums at Greenwich (right).
&nbsp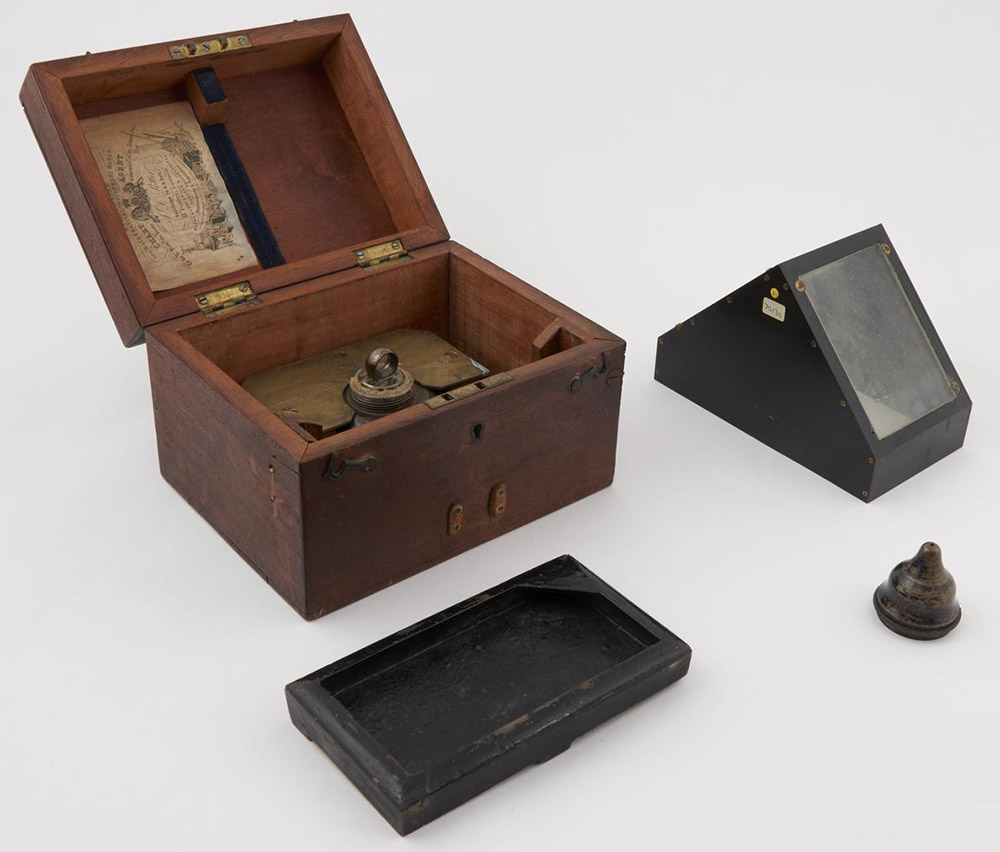 Figure 7. An artificial horizon by J.D. Potter. Adapted for nonprofit, educational purposes from https://collection.sciencemuseum.org.uk/objects/co55079/artificial-mercury-horizon-artificial-horizon-mercury.
&nbsp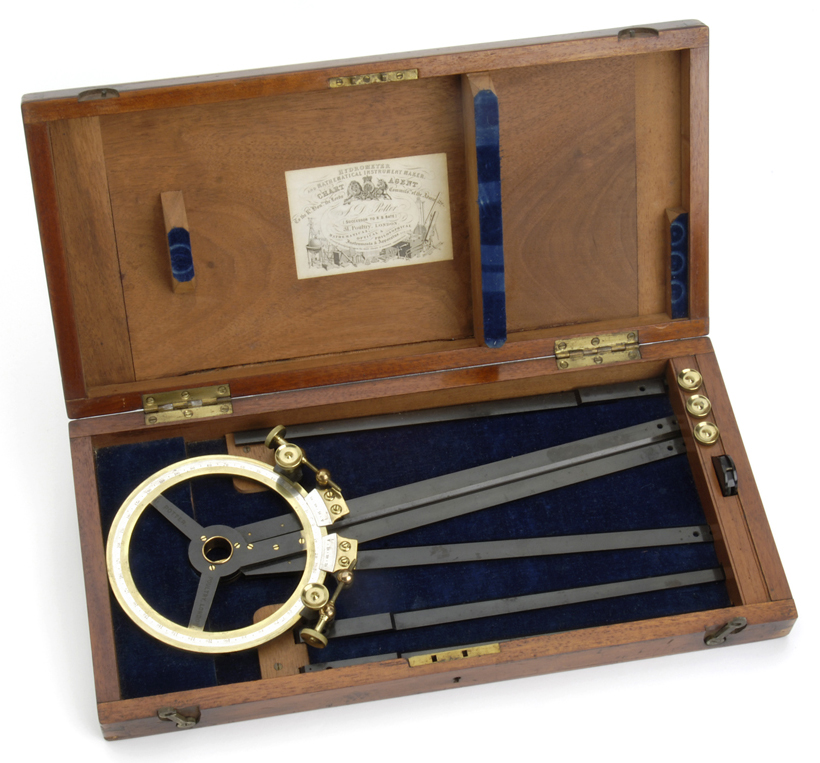 Figure 8. A J.D. Potter station pointer. Adapted for nonprofit, educational purposes from https://collections.rmg.co.uk/collections/objects/42841.html.
&nbsp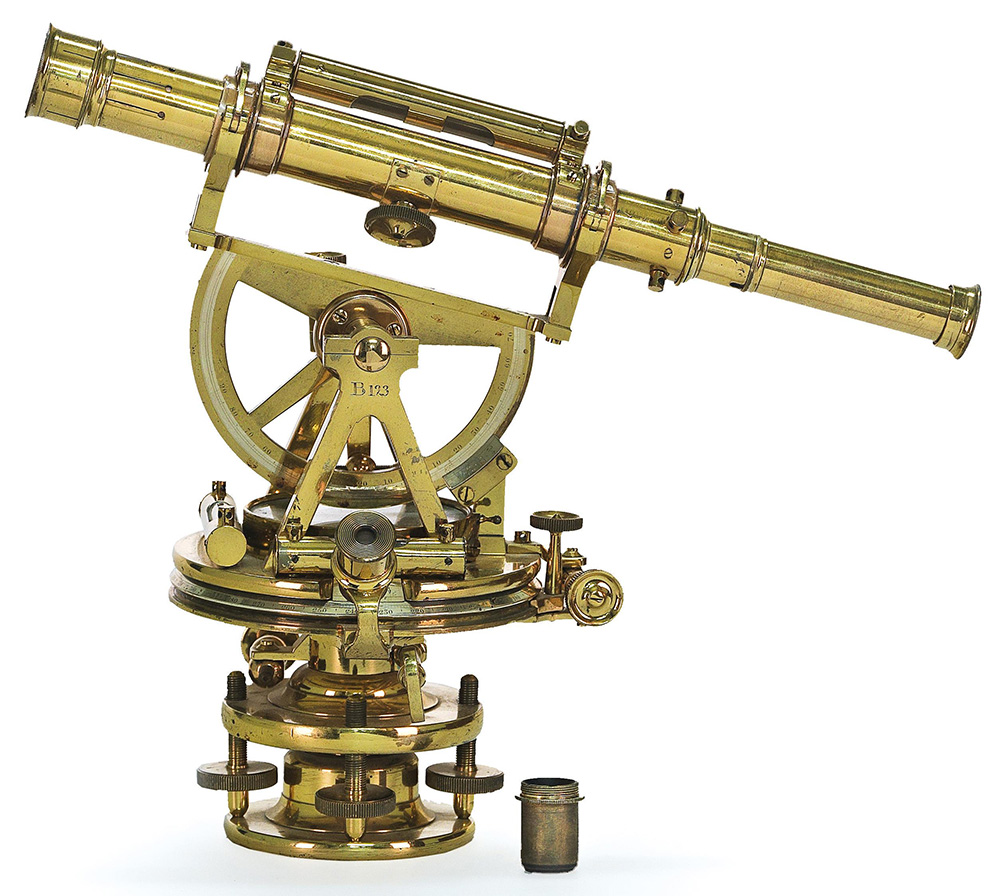 Figure 9. A surveyor's theodolite, by J.D. Potter. Adapted for nonprofit, educational purposes from an internet auction site.
&nbsp

Figure 10. A standard half-gallon measure, by Potter. Adapted for nonprofit, educational purposes from https://collections.museumvictoria.com.au/items/405184
&nbsp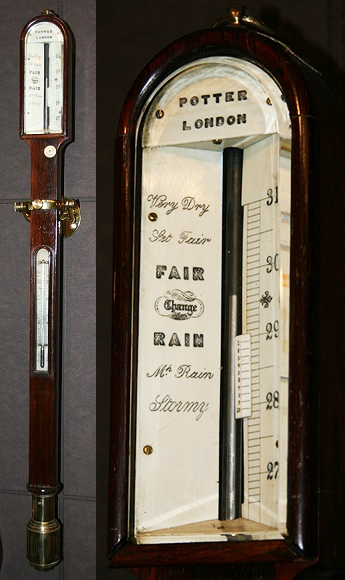 Figure 11. A J.D. Potter barometer. Adapted for nonprofit, educational purposes from an internet sale site.
&nbsp
Resources
Baptism record of John Dennett Potter, Jr. (1836) parish records of Saint Mary, Lambeth, accessed through ancestry.com
Clifton, Gloria (1995) Directory of British Scientific Instrument Makers 1550-1851, Zwemmer, London, page 221
Croucher, John S., Rosalind F. Croucher (2016) Mistress of Science: The Story of the Remarkable Janet Taylor, Pioneer of Sea Navigation, Amberley, Stroud, Gloucestershire
England census and other records, accessed through ancestry.com
Marriage record of John Dennett Potter and Sophia Parkes (1838) parish records of Saint Martin In The Fields, Westminster, accessed through ancestry.com
McConnell, Anita (2004) Bate, Robert Brettell (1782-1847), Oxford Dictionary of National Biography
McConnell, Anita (1993) R.B. Bate of the Poultry, 1782-1847, The Life and Times of a Scientific Instrument Maker, Scientific Instrument Society, London
The Nautical Magazine (1850) New charts published and corrected by the Admiralty in March, 1850, and sold by R.B. Bate, 21, Poultry, Vol. 19, page 246
The Nautical Magazine (1850) New charts published and corrected in June, 1850, and sold by J.D. Potter, 31, Poultry, Vol. 19, page 415
Probate of the will of John D. Potter (1882) "12 October, The will of John Dennett Potter late of the Poultry and of King-street Tower Hill both in the City of London or Portsmouth in the County of Southampton and of Croydon in the County of Surrey Mathematical and Nautical Instrument Maker who died 17 September 1882 at Broad Green Lodge Croydon was proved at the Principal Registry by John Dennett Potter of 2 St. Augusting-villas Havelock Park Southsea in the County of Southampton Soap and Candle Manufacturer the Son and Frederick Stevenson of Sunnydale Hatherley-road Sidcup in the County of Kent Gentleman the Executors. Personal Estate £71,509 2s 4d", accessed through ancestry.com