John Rhodes, 1848 - 1911
by Brian Stevenson
last updated August, 2020
John Rhodes, of Accrington, Lancashire, England, was an avid amateur scientist, being a member of the Royal Microscopical Society, the British Association for the Advancement of Science, the Entomological Society, and the Conchological Society. His known slides have custom-printed labels with handwritten specimen descriptions (Figure 1). Rhodes' exchange offers indicate that he had particular interests in spiders and caterpillars (Figure 2).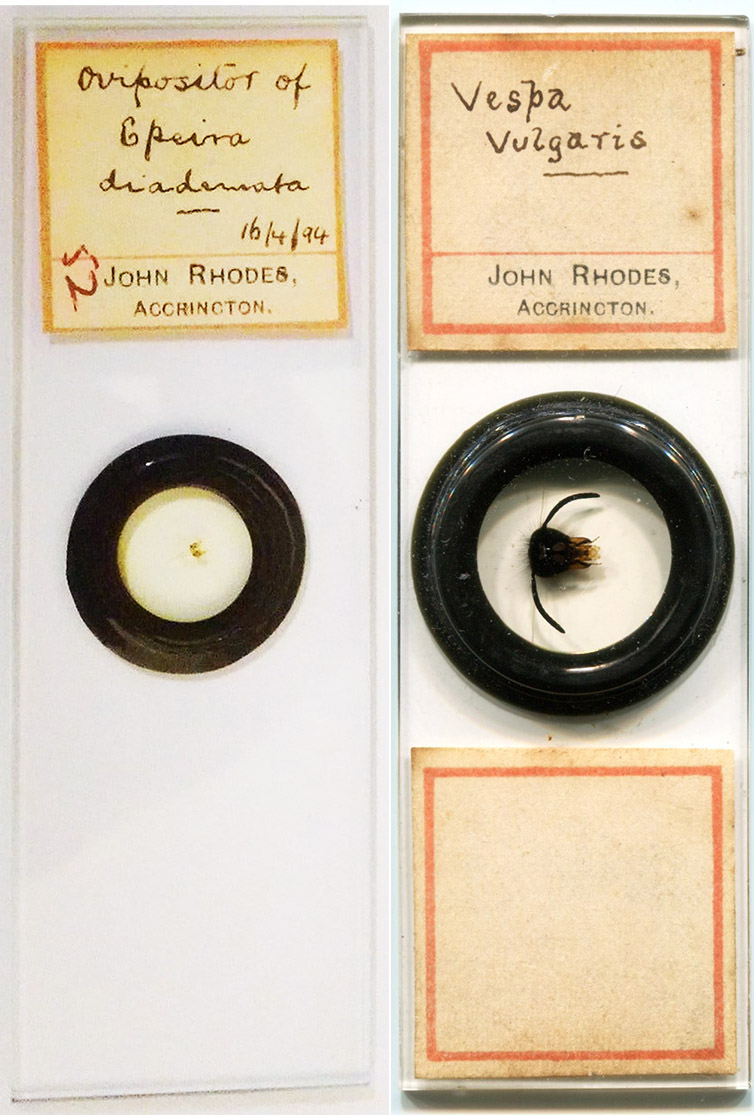 Figure 1. Microscope slides from John Rhodes' collection, both mid-1890s. The slide on the right is dated April 16, 1894. Rhodes was a Fellow of the Royal Microscopical Society from 1886 until ca. 1891, with records from 1894 onward implying that he had resigned his fellowship. Note that the labels on these microscope slides do not include the initials "F.R.M.S.", which would customarily be used by a Fellow. The slide on the right, a spider's ovipositor, was probably made by Rhodes, as it is consistent with his interests in that species of spider (see Figure 2). The slide on the right, a fluid-mount of a wasp head, would be complicated to produce and is identical in construction to slides by professional mounter Frederick Enock (1845-1916), and so is likely to be a re-labeled slide that Rhodes purchased.
&nbsp

Figure 2. John Rhodes' 1890 - 1894 exchange offers from "Hardwicke's Science-Gossip", requesting spiders and other arthropods. "Micro preparations" were offered in return.
&nbsp
John Rhodes was born in Accrington during the spring of 1848, the first child of Swain and Elizabeth Rhodes. At the time of John's birth, father Swain was a "merchant tailor" and "pawn broker", but later established a considerable cotton-spinning and fabric-making business. At the time of the 1861 census, Swain employed 184 people in his cotton mill. He also had a business of making and selling stone chimney flues, and in 1861 employed another 20 people in his quarry. These ventures led to further successes, such that the 1883 edition of The Directory of Directors listed, "Mr. Swain Rhodes, alderman, J.P., cotton spinner, Accrington, is chairman of the Accrington Gas and Water Works Company".
John participated in his father's businesses, and likely inherited a considerable estate. His involvement in numerous amateur societies indicates that he had ample idle time for recreation and money for dues. Census records list a variety of occupations for John, but he likely had multiple simultaneous positions and investments. As a 23 year-old in 1871, John was a manager of his father's cotton business. The 1881 census listed him as the owner of his own manufacturing plant, that of 1891 reported him to be an "insurance agent", and the 1901 census described him as a "technical school secretary". The latter job was actually a managerial position: in 1891, Rhodes served as a primary force to establish of a "higher grade and technical school" in Accrington, and continued overseeing its operation through the remainder of his life (Figure 3). A history of Accrington Grammar School stated that Rhodes "made an enormous contribution to the foundation of the school" and "was a great force for good in the life of the school".
Rhodes joined the British Association for the Advancement of Science in 1877. By the turn of the century, he had paid for a lifetime membership. He was elected as a Fellow of the Royal Microscopical Society on November 12, 1884, and as a Fellow of the Entomological Society of London on April 7, 1886. His membership in both of those societies lapsed around 1891. When he rejoined the Entomological Society in 1894, his listing in the rolls no longer included "F.R.M.S." The two microscope slides shown in Figure 1 similarly lack "F.R.M.S.", and therefore be assumed to date from after Rhodes' resignation from the Royal Microscopical Society (note that one is dated 1894).
On May 13, 1896, Rhodes joined the Conchological Society of Great Britain and Ireland. That group was dedicated to the collection and study of shells from snails and other mollusks.
John Rhodes died on February 15, 1911.

Figure 3. A 1900 advertisement for teachers at the technical school of Accrington. John Rhodes was instrumental in the establishment of this school, and remained active in its management until the time of his death. Published in "Nature".
&nbsp
Resources
The British Naturalist (1894) Exchange offer from John Rhodes, page 226
The Directory of Directors (1883) Mr. Swain Rhodes, page 348
Dobson, Bob (accessed August, 2020) Accrington grammar school acclaimed, Accrington Grammar School Old Boys, http://www.agsob.org.uk/Grammar%20School.html, "The new school's first headmaster was Henry Hills BA, BSc, who came from a senior position at a Dulwich school and was appointed at a salary of £250 per year. The school secretary was John Rhodes, who had made an enormous contribution to the foundation of the school. He had written to Lancashire County Council, reporting the meeting of 19 June 1891 which had proposed a new school, to be called 'Accrington Higher Grade and Technical School', for boys and girls aged ten years and above who had passed an examination. The attendance fee was to be nine pence per week plus three pence for stationery and books. Rhodes was a great force for good in the life of the school. He died whilst still serving in 1911."
England census and other records, accessed through ancestry.com
Hardwicke's Science-Gossip (1890) Exchange offer from John Rhodes, Vol. 26, page 216
Hardwicke's Science-Gossip (1891) Exchange offer from John Rhodes, Vol. 27, page 143
Hardwicke's Science-Gossip (1894) Exchange offers from John Rhodes, New series, Vol. 1, pages 96 and 120
Journal of Conchology (1896) Minutes of the meeting of May 13, page 226
Journal of the Royal Microscopical Society (1884) Minutes of the meeting of November 12, page 1008
Nature (1900) Advertisement from the Municipal Technical School, Accrington, June 14 issue, page 2
Probate of the will of John Rhodes (1930) "Rhodes John of 360 Blackburn-road Accrington died 15 February 1911 Administration London 7 October to Edgar Swain Rhodes schoolmaster. Effects £57 18s 9d. Former Grant DR Lancaster March 1911", accessed through ancestry.com
Proceedings of the Entomological Society of London (1886) Minutes of the meeting of April 7, page xiv
Report of the Meeting of the British Association for the Advancement of Science (1901) "Members … 1877. Rhodes, John. 360 Blackburn-road, Accrington, Lancashire" (* denoted a Life Member), page 79
Transactions of the Entomological Society of London (1886) "Fellows ... 1886. Rhodes, John, F.R.M.S., 360 Blackburn-road, Accrington, Lancashire"
Transactions of the Entomological Society of London (1891) "Fellows ... 1886. Rhodes, John, F.R.M.S., 360 Blackburn-road, Accrington, Lancashire"
Transactions of the Entomological Society of London (1892) John Rhodes not listed as a Fellow
Transactions of the Entomological Society of London (1893) John Rhodes not listed as a Fellow
Transactions of the Entomological Society of London (1894) "Fellows ... 1886. Rhodes, John, 360 Blackburn-road, Accrington, Lancashire "