John Rhodes, 1852 - 1935
by Brian Stevenson
last updated April, 2021
John Rhodes was the official "Fossil Collector" of the England & Wales Division of the Geological Survey of the United Kingdom from 1881 until the turn of the twentieth century, then was an Assistant to the Survey until his retirement in 1918. During the course of those years, Rhodes searched Britain for fossils and other minerals of interest, then prepared them for study at the Survey's facility in London. Microscope slides of thin-sectioned minerals are occasionally seen with Rhodes' name on their labels - it is not clear whether these were preparations that he made for the Geological Survey or for his personal use (Figures 1-2).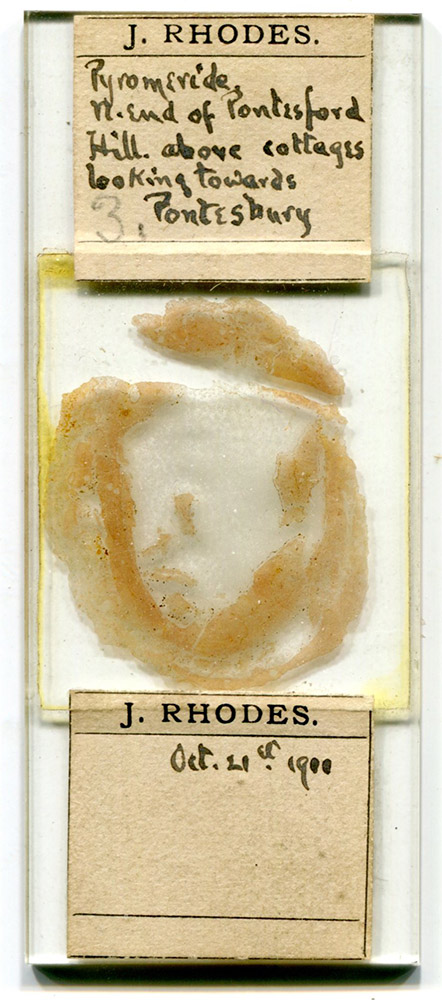 Figure 1. A mineralogical slide by John Rhodes, dated October 21, 1900. He labeled it as, "Pyromeride, West end of Pontesford Hill above cottages looking toward Pontesbury" (a town in Shropshire, near Shrewsbury). The slide is wider than the standard, being 1 1/4 x 3 inches.
&nbsp


Figure 2. Figure 2. Views of John Rhodes' 1900 preparation of pyromeride from Pontesford Hill (see Figure 1). Photographed with a 10x objective lens, crossed polarizing filters, and a C-mounted digital camera on a Leitz Ortholux II microscope.
&nbsp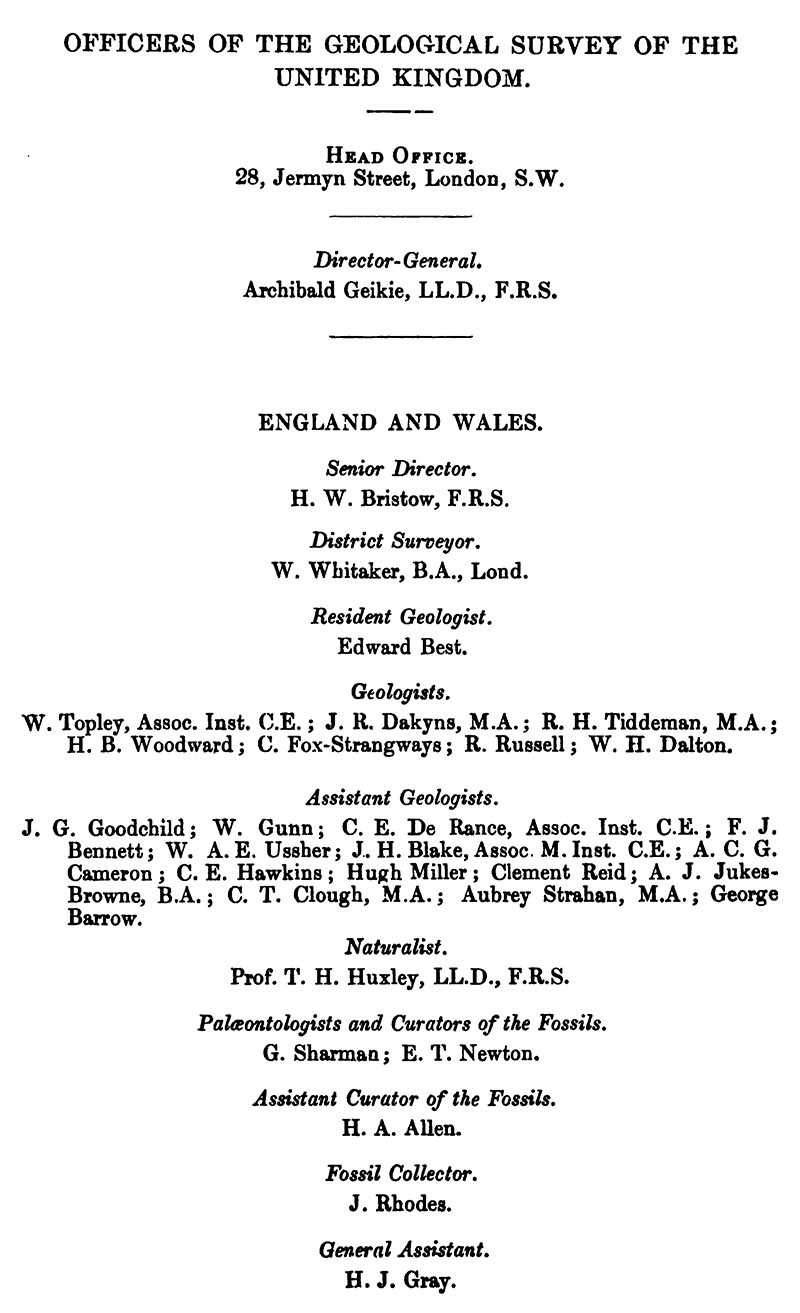 Figure 3. The 1884 list of Officers of the Geological Survey of the United Kingdom and the England/Wales Division. John Rhodes was the "Fossil Collector". The Scottish and Irish Divisions had their own officers, and were listed on the subsequent page of this "Catalogue of the Publications of the Geological survey".
&nbsp
According to his personnel records in the Geological Survey, John Rhodes was born on May 6, 1852. Census records indicate that he was born in Manfield, Yorkshire, the second son of John and Ann Rhodes. The father was reported to work as an "agricultural labourer". The 1881 census recorded that our slide-maker, then 28 years old, was also an "agricultural labourer", living in Manfield with his widowed mother.
Later in 1881, Rhodes left home for London and began working as a collector for the Geological Survey. He soon became the official "Fossil Collector".
During 1887-1888, he made an extensive collecting trip around the Isle of Wight. He returned in late 1889 to marry a local woman, Marion Jolliffe. They returned to London, and raised four children. The second child, John Jr. (1892-1976) later succeeded his father to the position of Assistant of the Geological Survey.
Over the nearly 40 year span that Rhodes worked for the Geological Survey, numerous scientists and countless geological publications thanked him for providing mineral specimens. Rhodes does not appear to have written many reports for general consumption: I located only one paper by him, published in Geological Magazine in 1901.
John Rhodes retired in 1918. He and Marion evidently moved to Tonbridge, Kent, where she died in 1931. John died on June 18, 1935, in Waltham Cross, Hertfordshire.
&nbsp
Resources
Bristow, Henry W., Clement Reid, and Aubrey Strahan (1889) The Geology of the Isle of Wight, H.M. Stationery Office, London, pages 38, 115, 140, 152, 175, 197, 199, 204, and 257
Catalogue of the Publications of the Geological Survey (1884) page 7
England census and other records, accessed through ancestry.com
Guppy, Eileen M. (2000) Biographical Notes on Geological Survey Staff, British Geological Survey, London, page 195
Probate of the will of Marion Rhodes (1931) "Rhodes Marion of 2 The Lindens Ashburnham-road Tonbridge (wife of John Rhodes) died 23 June 1931 Administration London 8 July to the said John Rhodes retired civil servant. Effects £86 16s 3d", accessed through ancestry.com
Probate of the will of John Rhodes (1935) "Rhodes John (the elder) of 109 Crossbrook-street Waltham Cross, Hertfordshire died 18 June 1935 Probate London 24 July to John Rhodes (the younger) civil servant. Effects £191 15s 8d", accessed through ancestry.com
Rhodes, John (1901) Notes on the occurrence of phosphatidic nodules and phosphate-bearing rock in the Upper Carboniferous limestone (Yoredale) series of the West Riding of Yorkshire and Westmoreland border, Geological Magazine, pages 39-40