William Edward Richardson, 1835 - 1891
by Brian Stevenson
last updated December, 2020
W.E. Richardson was an amateur microscopist and slide-maker in Birmingham, England, during the 1880s. His slides are generally well-made, with professional-looking labels printed with "W.E. Richardson, Preparer". I have not found any records of Richardson advertising to sell or exchange his mounts. He was a member of the Birmingham Natural History and Microscopical Society, which was a good-sized society that included numerous skilled slide-makers among its members, so Richardson may have had access to an adequate supply of new specimens through those colleagues.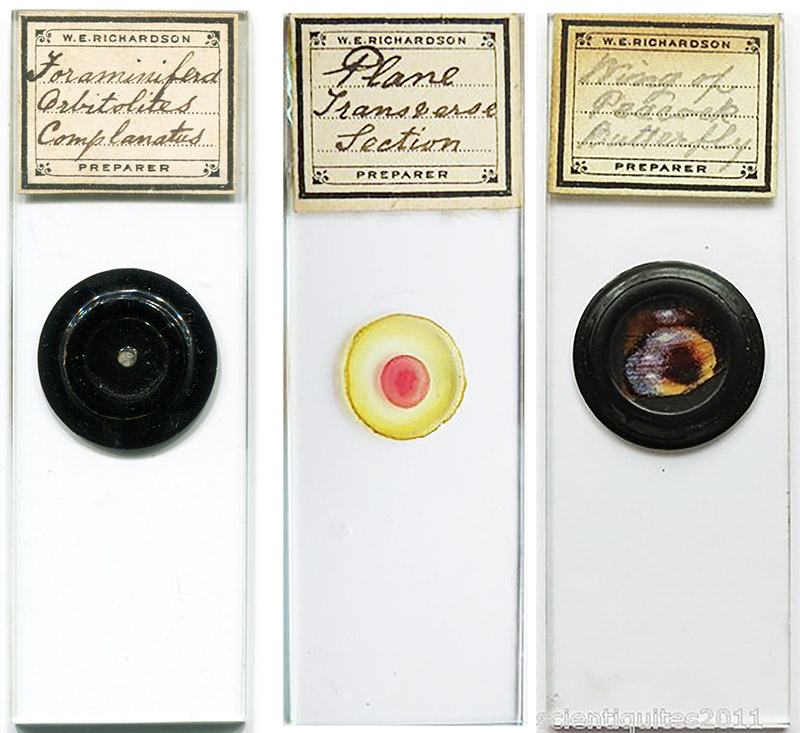 Figure 1. Circa 1880s microscope slides by W.E. Richardson. Brian Bracegirdle's "Microscopical Mounts and Mounters" shows another Richardson slide in Plate 31-E, which he described as "professional-quality". That slide contained specimens of a foraminifera, and Bracegirdle described Richardson as a "UK mounter of foraminifera". The slides shown here demonstrate that W.E. Richardson mounted a wide variety of different objects. Images from the author's collection or adapted for nonprofit, educational purposes from internet auction sites.
&nbsp
William Edward Richardson was born in mid-1835, and christened on June 7, 1835 at St. Thomas Church in Dudley, Worcestershire. His father, also named William, was a civil engineer. Censuses suggest that young William spent his childhood and teens with his grandparents. The 1861 census found young William back with his parents, William and Mary, in Edgbaston, Warwickshire (on the outskirts of Birmingham). Our future microscopist's occupation was described as "iron former, engineer".
William married Sarah Allen Brooks on April 29, 1862. They had 8 children over the next 16 years. Their christening records help identify the timing of a significant change in William's career. The June, 1863 record of Mary Charlotte's baptism gives William's occupation as "iron founder", and Ida Susannah's July, 1865 record lists him as "engineer". However, the September, 1868 record of Winifred Ellen's christening states that William was then an "articled clerk". Richardson completed his training in law by 1871.
Two 1877 notes in The Solicitors' Journal reported on some special legal appointments: "Mr. William Edward Richardson, solicitor, of Birmingham, has been appointed a Perpetual Commissioner for Warwickshire, Staffordshire, and Worcestershire for taking the Acknowledgments of Deeds by Married Women", and "Mr. William Edward Richardson, solicitor, of Birmingham, has been appointed a Commissioner for taking affidavits in the Supreme Court of the Colony of Victoria, and also for the Provinces of Quebec and Ontario".
I found only a few records of Richardson's scientific and microscopical interests.
He was probably the person who sent a fossil trilobite to the editors of Hardwicke's Science-Gossip in 1878, who responded with this published note, "W.E. Richardson - We have received the Trilobite, which is a fine specimen of Calymene Blumenbachii. What you took to be a 'fin' is merely the rim of the cephalic shield. The Trilobites being Crustaceans (allied to King-crabs, did not possess 'fins'" (note: this species was discovered in Dudley, Worcestershire, our man's home town).
At the November 2, 1880 General Meeting of the Birmingham Natural History and Microscopical Society, "Mr. W.E. Richardson exhibited a splendid collection of about 500 Ferns from Jamaica". Presumably these were dried specimens, and are an indication that Richardson was an enthusiastic botanist.
The Birmingham Natural History and Microscopical Society Reports and Transactions listed Richardson as a member in their 1881 - 1883 rosters. After that, the Society ceased publication of the Reports and Transactions, and instead focused on their The Midland Naturalist, a journal for all societies throughout the Midlands. The new journal did not provide membership lists of the Birmingham Society, so it is unclear how long Richardson remained involved with that group.
W.E. Richardson died at his home in Edgbaston on October 11, 1891, at the age of only 56.
&nbsp
Resources
Birmingham Natural History and Microscopical Society, Report and Transactions (1880) page xxvii
Birmingham Natural History and Microscopical Society, Report and Transactions (1881) List of Members: "Richardson, W.E., 59, Varna Road"
Birmingham Natural History and Microscopical Society, Report and Transactions (1882) List of Members: "Richardson, W.E., 59, Varna Road"
Birmingham Natural History and Microscopical Society, Report and Transactions (1883) List of Members: "Richardson, W.E., 59, Varna Road"
Bracegirdle, Brian (1998) Microscopical Mounts and Mounters, Quekett Microscopical Club, London, pages 79 and 166, and Plate 31-E
Christening record of William Edward Richardson (1835) Parish records of Saint Thomas, Dudley, accessed through ancestry.com
Christening record of Mary Charlotte Richardson (1863) Parish records of Saint Luke, Birmingham, accessed through ancestry.com
Christening record of Ida Susannah Richardson (1865) Parish records of Saint Luke, Birmingham, accessed through ancestry.com
Christening record of Winifred Ellen Richardson (1868) Parish records of Saint Luke, Birmingham, accessed through ancestry.com
England census and other records, accessed through ancestry.com
Hardwicke's Science-Gossip (1878) Vol. 14, page 216
London Gazette (1872) Bankruptcy report of Arthur Sides, William E. Richardson attorney, page 5047
Marriage record of William Edward Richardson and Sarah Allen Brooks (1862) Parish records of Edgbaston Parish Church, accessed through ancestry.com
Midland Naturalist (1880) Birmingham Natural History and Microscopical Society, pages 298-299
Probate of the Will of W.E. Richardson (1891) "The Will of William Edward Richardson late of 59 Varna - road Birmingham in the County of Warwick Solicitor who died 11 October 1891 at 59 Varna - road was proved at Birmingham by Sarah Allen Richardson of 50 Varna - road Widow the Relict the sole Executrix. Personal Estate £2189 17s 9d", accessed through ancestry.com
The Solicitors' Journal (1877) Vol. 21, pages 223 and 362