Thomas Douton Russell, 1839 - 1928
by Brian Stevenson
last updated October, 2018
Thomas Russell was a professional microscope slide preparer, working in London during the late 19th Century. He prepared a wide variety of specimen types, although he emphasized mineralogical specimens during the later part of his career. His shops also sold a wide variety of geological equipment and supplies. Russell's slides are usually labeled simply "Russell Preparer" or "Russell London", although some slides are known that clearly have his handwriting on off-the-shelf labels (Figures 1, 2 and 3). All his slides are of high quality, attesting to Russell's skill as a mounter of diverse specimens.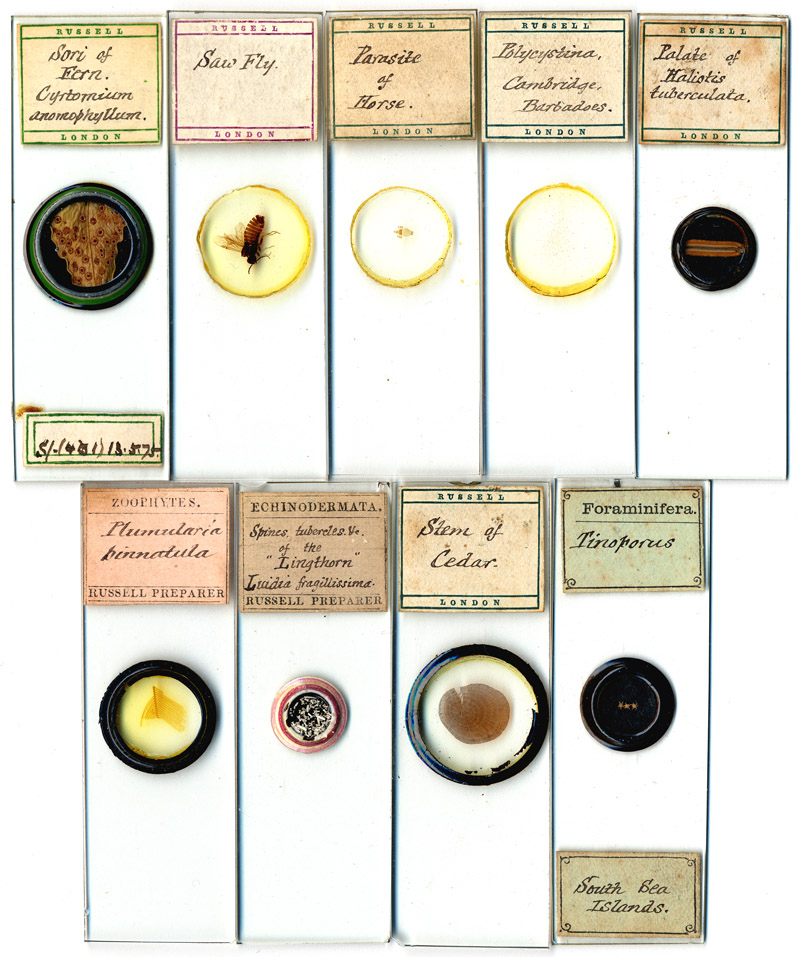 Figure 1. A variety of other microscope slides prepared by T.D. Russell. The upper, left slide was dated 1875 by an owner.
&nbsp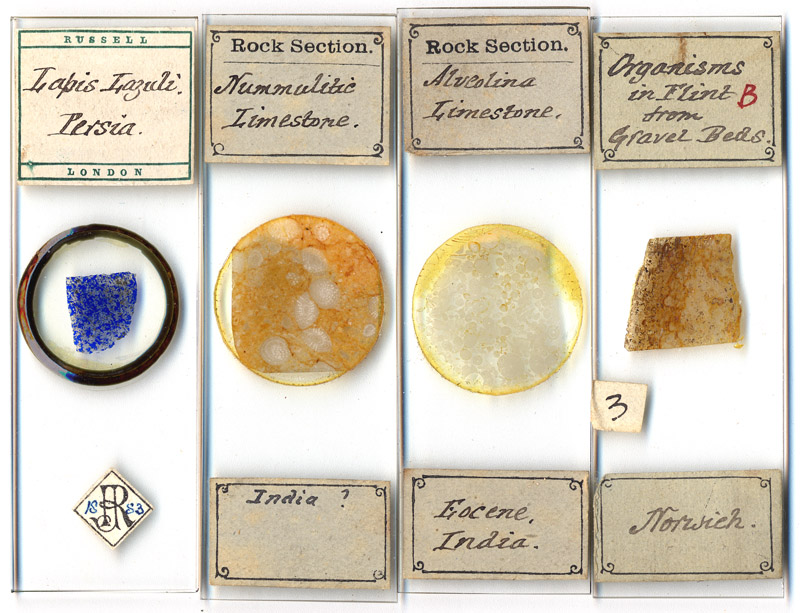 Figure 2. Mineralogical specimens prepared for the microscope by Russell. Three are mounted in balsam and covered with glass, while the right-most slide is uncovered. The left-most slide, of lapis lazuli, was dated 1883 by an owner, "JR".
&nbsp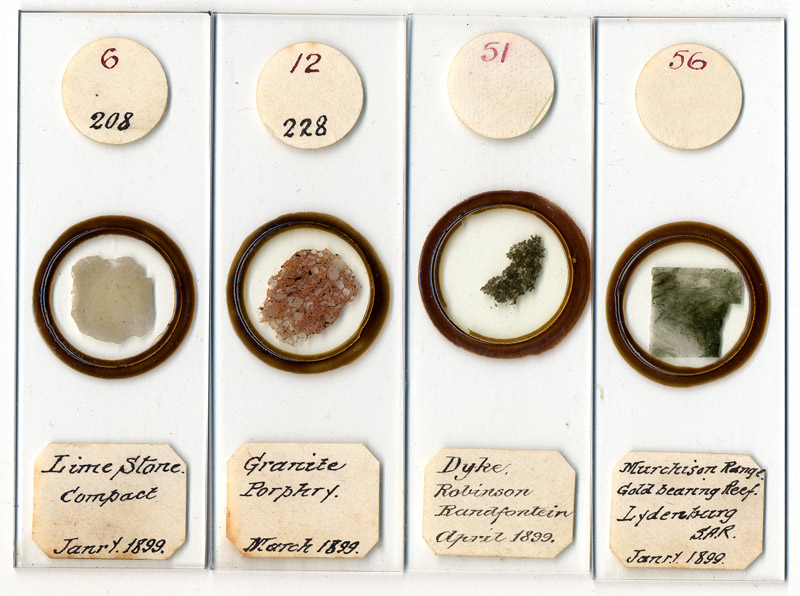 Figure 3. Additional mineralogical slides, labeled with what appears to be Russell's handwriting. The numbers suggest that they were part of a set sold by his shop.
&nbsp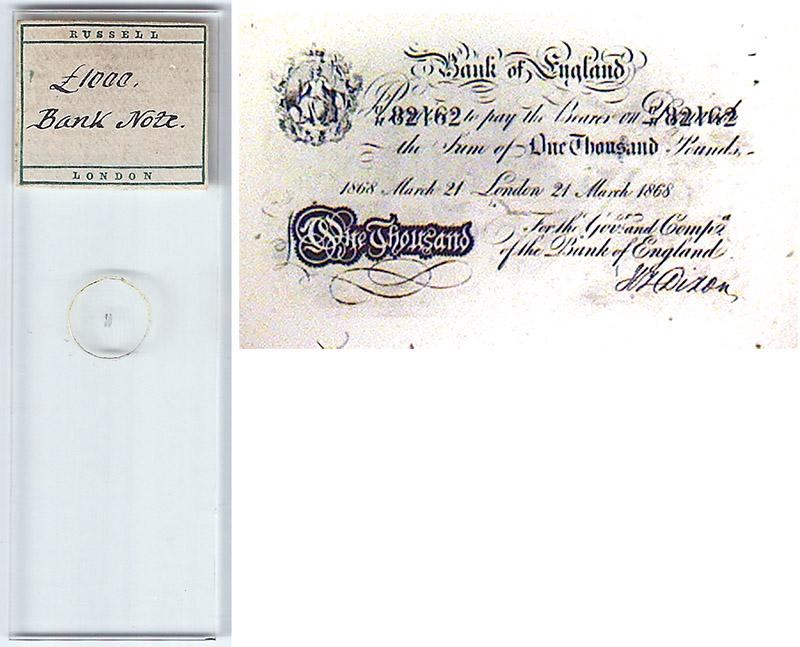 Figure 4. A microphotograph of a £1000 note, dated March 24, 1868. Nothing known about Russell would suggest that he was skilled at photography, so it is likely that this slide was produced by someone else.
&nbsp
Thomas Douton Russell was born March 1, 1838 in the St. Sepulcher parish of Middlesex (now within the City of London). He was the eldest son of Thomas and Lucy Russell. Brian Bracegirdle's Microscopical Mounts and Mounters misprinted Thomas D. Russell's middle name as "Doulton", but it was actually "Douton", his paternal grandmother's maiden name. Thomas senior was recorded on the 1841 census as being a tea dealer. At some time during the 1840s, the family moved south across the Thames to Brixton, Surrey. The 1851 census records Tomas senior as master of the Bellongreen grocery shop. The Russell family was relatively well-off, employing both a domestic servant and a gardener/house servant in 1851. Thomas senior died some time between 1851 and 1861, but apparently left his family well cared for. The 1861 census recorded his widow, Lucy, as living from funds, and the 1871 census stated that she lived on "income from house property". Lucy and son Thomas' families employed live-in servants through at least 1901.
The 1861 census recorded Thomas D. Russell as working as a clerk to a wholesale grocer, a position presumably facilitated by his father's connections. He lived with his widowed mother and two brothers at 26 Westbourne Villas, Paddington, Middlesex. Thomas married Ellen Moyce Bunning in 1864. Ellen then moved in with Thomas, his mother and brothers.
The first records of Thomas' involvement with microscopy date from 1868, when he was 30. He was elected a member of the Quekett Microscopical Club on May 22. He donated 18 microscope slides and a copy of Goring and Pritchard's Micrographia to the Club during that year. Russell remained a member of the Quekett until at least 1888. His name is absent from the list of members from 1893 onward.
He also advertised in 1868 to exchange microscopical specimens (Figure 5A). It has been reported that Russell began selling specimens in 1848, when he would have been 10 years old. That may indicate an early entrepreneurial adventure by Thomas, or may be a misprint of 1868.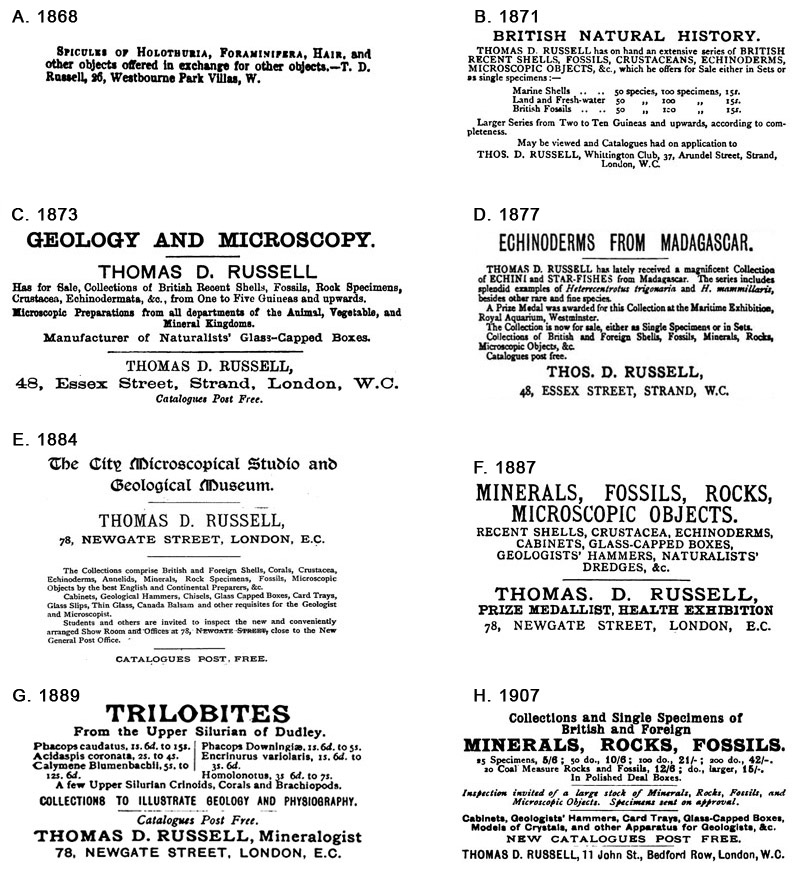 Figure 5. Advertisements for sale of microscope slides and other materials from Thomas Russell (A) Hardwicke's Science-Gossip, June 1, 1868. (B) Nature, May 18, 1871. (C) Year-book of Pharmacy, 1873. (D) Nature, Nov. 8, 1877. (E) Catalogue of Science and Technology, 1884. (F) Chemical News and Journal of Industrial Science, Feb. 18, 1887. (G) Science-Gossip, March, 1899. (H) Nature, Oct. 31, 1907. Note that the advertisement from 1884 (E) indicates that Russell sold microscope slides prepared by other English and European preparers.
&nbsp
Beginning in 1869, Thomas Russell began advertising sales of shells, fossils and microscopic objects from the Whittington Club, Arundel St. (Figure 5B). The Whittington was founded in 1846 as part of the socialist movements of the time. By pooling their money, members of clubs could live at a level far better than would be possible alone. The clubs provided fine meals at a fraction of the price one would pay in a regular restaurant. Libraries, meeting rooms, etc. were available to members. Such clubs were described as providing "luxury dirt cheap". Clubs also served to enhance social contacts. The Whittington was established specifically to serve the lower middle class, i.e. clerks and shop assistants such as Thomas Russell. The club was named after Dick Whittington, the epitome of London upward mobility. The Whittington was unique for its time, in that women were admitted as full members, thereby providing a safe, respectable and economical place for women to dine, study and meet other people.
Russell continued to live at 26 Westbourne Villas through 1870. That year, he, Ellen, their three children, Thomas' mother and a brother moved to Patson Villa, Canterbury Rd., Brixton. At the 1870 Annual Soiree of the Quekett Microscopical Club, Russell exhibited synapta spicules and anchors under the microscope, as well as "British Natural History Collections". The latter probably consisted of fossils, minerals, shells, etc., such as he advertised for sale (Figure 4). The 1871 ABC Court Directory and Fashionable Guide for London listed Russell as being a "geologist". At the 1872 Quekett Soiree, Russell exhibited a "collection of British Stalk-eyed Crustacea and Echinodermata", plus "a Natural History Collection". In 1874, he exhibited tissues from a sea slug and a starfish under the microscope, plus collections of crustacea, minerals and rocks. Russell was also recorded that year as exhibiting or donating microscope slides of transverse section of the claw from a brown bear, hair from a kangaroo and fossil fish teeth and bones from coal.
In 1873, Russell opened a shop at 48 Essex St., Strand (Figure 5C and D). He also moved the family to 21 Park Rd, West Dulwich. As before, he commuted from the family home to his work in London. Thus, Russell appears to have been a few rungs further up the economic ladder than were his contemporaries in slide production, such as John Norman, who operated shops from their homes.
Russell maintained his Essex Road shop through 1884. In the spring of that year, he moved his business to 78 Newgate St., as "The City Microscopical Studio and Geological Museum" (Figure 5E). That same year, he exhibited at the International Health and Education Exhibition in the Royal Albert Hall. He was awarded a medal for his collections of geological specimens. Later advertisements boasted of this medal (Figure 5F).
The 1901 census recorded Thomas Russell as being a "retired mineralogist". However, handwriting on specimen labels suggest that Russell remained active in his business (Figure 7). The 1902 London Trade Directory listed William James Shaw as the operator of the geology shop in Newgate Street. The business later moved to 11 John St, Bedford Row, London. Shaw advertised as "W.J. Shaw successor to T.D. Russell", although advertisements as late as 1907 continued to refer to the business as "Thomas D. Russell" (Figure 5F). In 1911, the business became "Russell and Shaw". By 1913, they had moved to 38 Great James Street (Figure 8). Some time after 1924, the business was taken over by J.R. Gregory.
Thomas Douton Russell died on July 3, 1928, when 90 years old.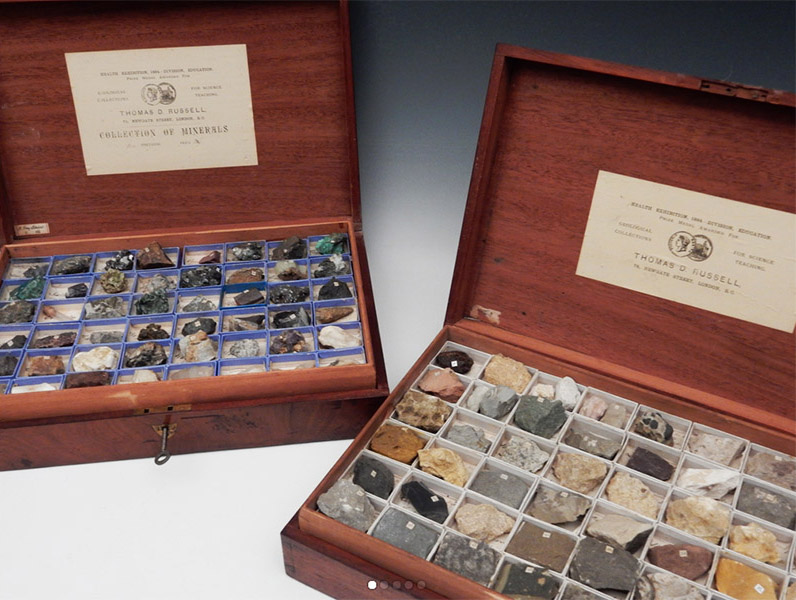 Figure 6. Boxes of mineral samples, by T.D. Russell, circa 1884. Image adapted for nonprofit, educational purposes from an internet sale site.
&nbsp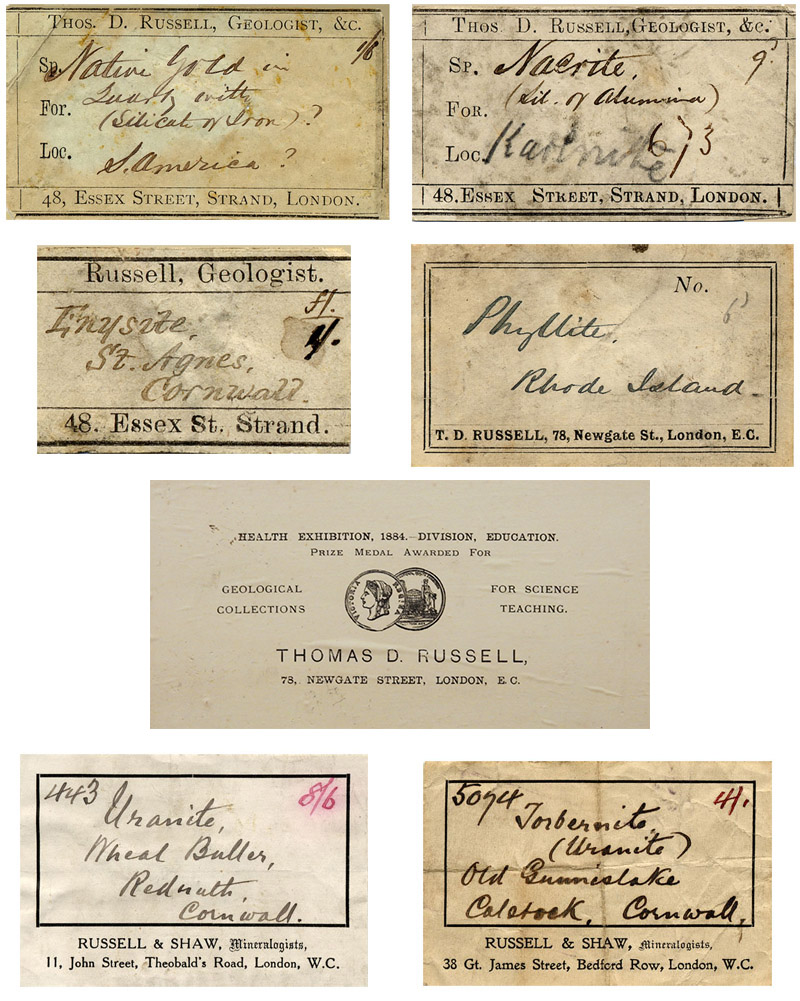 Figure 7. Geological specimen labels from Thomas Russell's shops. The block printing used on the center left slide is that also used on known Russell microscope slides (see Figs. 1 and 2). There are significant similarities in the cursive handwriting on all the other slides, suggesting that they were all written by Thomas Russell, and implicating that he had not fully retired from the geology business in 1901. Images courtesy of Wendell Wilson, and the Mineralogical Record Biographical Archive, http://www.minrec.org/labels.asp?colid=507&page=1, or adapted for nonprofit, educational purposes from an internet sale site.
&nbsp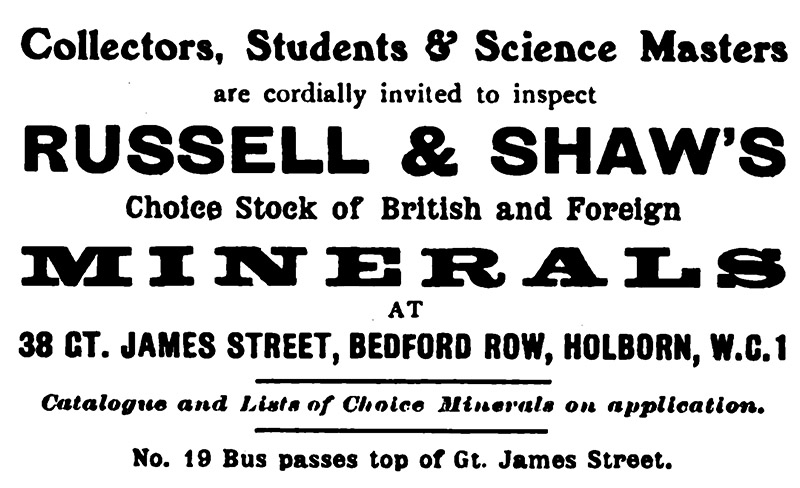 Figure 8. A 1917 advertisement by Russel and Shaw, from "Nature".
&nbsp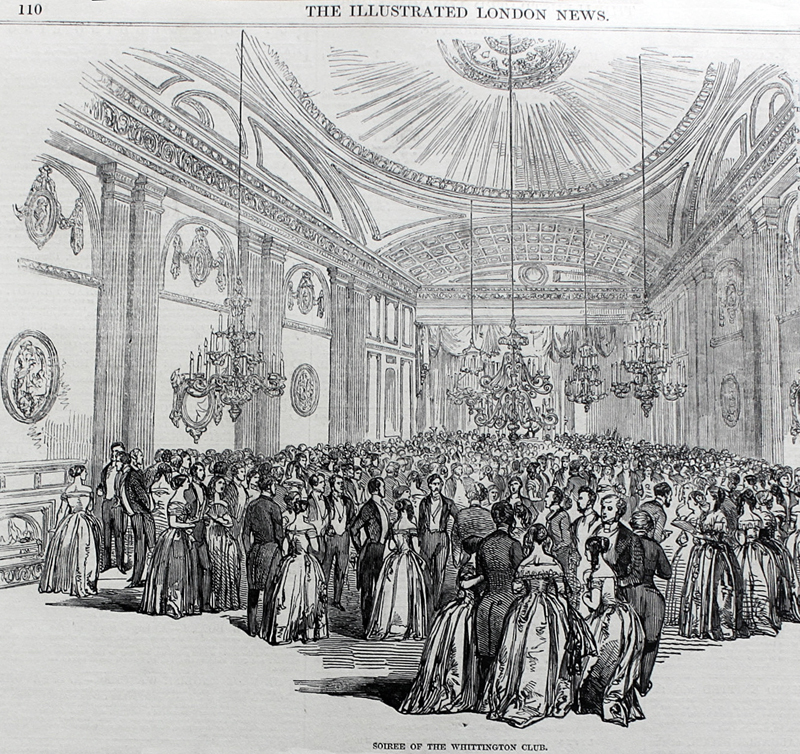 Figure 9. An undated lithograph of a soiree at the Whittington Club. Russell was a Club member, and used its address for his early sales.
&nbsp
Acknowledgments
Many thanks to Howard Lynk, and to Wendell Wilson and his Mineralogical Record Biographical Archive web site for generously sharing information on Thomas Douton Russell and for images of Russell's labels.
&nbsp
Resources
The ABC Court Directory and Fashionable Guide for London (1871) page 281
American Monthly Microscopical Journal (1893) Advertisement from T.D. Russell, Vol. 14, page 119
Bracegirdle, Brian (1998) Microscopical Mounts and Mounters, Quekett Microscopical Club, London, pages 81 and 166, plates 31-Q and R
The Chemical News and Journal of Industrial Sciences (1876) Advertisement from T.D. Russell, page 239
The Chemical News and Journal of Industrial Sciences (1887) Advertisement from T.D. Russell, Vol. 55, page 82
England census, birth, marriage and death records, accessed through ancestry.co.uk
Hardwicke's Science-Gossip (1868) Exchange offers from T.D. Russell, Vol. 4, page 144
Hardwicke's Science-Gossip (1873) Advertisement from T.D. Russell, Vol. 8, page cxxxiii
Hardwicke's Science-Gossip (1874) Advertisement from T.D. Russell, Vol. 9, page xxxix
Journal of the Quekett Microscopical Club (1868) Vol. 1, pages 85, 86, 147, 250-253, and List of Members page 23
Journal of the Quekett Microscopical Club (1870) Vol. 2, pages 59-60, and List of Members page 29
Journal of the Quekett Microscopical Club (1871) Vol. 2, pages 187-188, and List of Members page 32
Journal of the Quekett Microscopical Club (1872) Vol. 3, pages 49-52, and List of Members page 47
Journal of the Quekett Microscopical Club (1874) Vol. 3, page 299, and List of Members
Journal of the Quekett Microscopical Club (1875) Vol. 3, pages 72-75
Journal of the Quekett Microscopical Club (1877) Vol. 4, pages 294-300, and List of Members
Journal of the Quekett Microscopical Club (1879) Vol. 5, pages 198-205, and List of Members
Journal of the Quekett Microscopical Club (1881) Vol. 6, List of Members
Journal of the Quekett Microscopical Club (1882) New series, Vol. 1, List of Members
Journal of the Quekett Microscopical Club (1888) New series, Vol. 3, List of Members
Journal of the Quekett Microscopical Club (1893) New series, Vol. 5, List of Members
Kent, Christopher (1974) The Whittington Club: a Bohemian experiment in middle class social reform, Victorian Studies Vol. 18, pages 31-55
Mineralogical Record Biographical Archive, Thomas Douton Russell, http://www.minrec.org/labels.asp?colid=507&page=1
Nature (1869) Advertisements from T.D. Russell, Vol. 1, pages 39, 150, 230 and 277
Nature (1871) Advertisements from T.D. Russell, Vol. 4, pages x and lxxxvi
Nature (1876) Advertisement from T.D. Russell, Vol. 15, page xi
Nature (1877) Advertisement from T.D. Russell, Vol. 17, page x
Nature (1881) Advertisement from T.D. Russell, Vol. 24, page xxvi
Nature (1888) Advertisement from T.D. Russell, Vol. 37, page clxxxvii
Nature (1891) Advertisement from T.D. Russell, Vol. 44, page v
Nature (1904) Advertisements from T.D. Russell, Vol. 69, pages 519 and cxcv
Nature (1907) Advertisement from T.D. Russell, Vol. 76, page ccciii
Nature (1917) Advertisement from Russell and Shaw, Vol. 99, page cxliii
Official Catalogue (1884) 2nd edition, International Health Exhibition, London, page 147
Probate of the will of Thomas Douton Russell (1928) Accessed through ancestry.com
THOMAS DOUTON RUSSELL and ELLEN Moyce BUNTING Family Page, and linked genealogical pages, http://www.chrissie.homecall.co.uk/d4526.htm#P4526
Science-Gossip (1899) Advertisement from T.D. Russell, New Series Vol. 5, March issue, page v
Year-book of Pharmacy (1873) Advertisement from T.D. Russell, page 599
Year-book of Pharmacy (1874) Advertisement from T.D. Russell, page 676