Benjamin Saynor, 1828 - 1897
by Brian Stevenson
last updated February, 2021
Benjamin Saynor, of Leeds, Yorkshire, was a man of relatively modest means but an avid microscopist. From the 1870s through the end of his life, he was an active member and officer of the Leeds Naturalists' Club. Records mention numerous exhibitions by Saynor to the club, on a wide variety of topics.
Saynor was evidently a skilled slide-preparer. His known mounts are well made, with quality ringing. The example shown in Figure 1 has two custom-printed labels: a large square label that is printed with his initials "Preparer B S" and a small, circular label printed with "B. Saynor, Leeds". The circular label might have also have been put to use as an ownership tag on slides that Saynor acquired from other mounters.

Figure 1. A circa 1880 microscope slide by Benjamin Saynor, having two labels with his name / initials.
&nbsp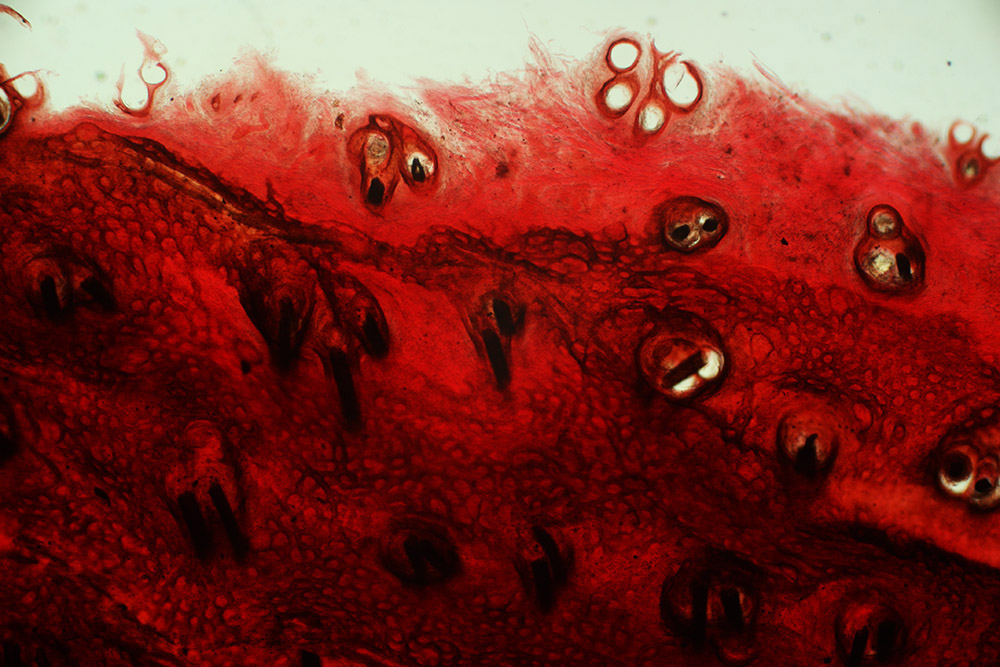 Figure 2. Photomicrograph of human scalp, prepared by Benjamin Saynor. Photographed with a 3.5x objective lens and C-mounted digital SLR camera.
&nbsp
Benjamin Saynor was born on February 28, 1828, In Saxton, Yorkshire. He appears to have been the eldest of at least seven children of Anthony and Sarah Saynor. The family was relatively poor, with the 1841 census listing father Anthony's occupation as "labourer".
The 1851 census shows that Benjamin had left his parents and was working as an "agricultural labourer" (hired farm worker) in Tadcaster, Yorkshire. He was living with Mary "Saynor" and their 11 month-old daughter, Margaret. Benjamin and Mary were actually married some time later, in 1856, the marriage record revealing her maiden name as "Jeffrey". The Saynor family moved to Leeds around 1856. Two more children, a boy and a girl, followed over the next four years. Son Austin, born in 1857, died in 1868.
The 1861 census indicates that Benjamin had acquired a skilled trade, working as a "plasterer" (that is, he plastered the walls and ceilings of houses and other buildings). Wife Mary also worked, as a "sempstress" (seamstress).
Benjamin's business had grown by the time of the 1871 census, which recorded that he employed "1 labourer and 3 boys" in his plastering business. Those descriptions suggest that Saynor was the only skilled workman of the crew, with a man working to mix plaster and some boys to carry the plaster and supplies to Saynor and the labourer. The situation was similar at the time of the 1881 census, with Saynor employing "1 labourer and 2 boys". The modest means of the Saynor family are evident from the censuses: in 1871, Mary was still working as a "sempstress", while daughter Margaret worked as a "weaver". By 1881, Mary no longer had a money-making job, Margaret had married and left the home, yet the younger daughter, Mary Ann, was working as a "sempstress".
There was an explosion of interest in microscopy and other amateur scientific pursuits during the mid- to late-1800s. Benjamin Saynor was caught up in this enthusiasm, and joined the Leeds Naturalists' Club. By 1878, he was a member of the Club's Council.
During the 1878-1879 session, Saynor was recorded to have exhibited numerous microscopical specimens, including "sections of oak and willow", "the spermatozoa of the common frog", and "Volvox globator, mounted in glycerine three years ago, now in good condition and colour".
I have not found records of Saynor advertising to sell or exchange microscope slides. Presumably, his surviving mounts came from his personal collection or from exchanges with Club colleagues.
Wife Mary died in 1885, when only 58 years old. The 1891 national census found Benjamin living alone at his long-time home at 4 Kellam Street, Leeds, still working as a "plasterer". He died on August 9, 1897, at 70 years of age.
&nbsp
Resources
England census and other records, accessed through ancestry,com
Leeds Naturalists' Club & Scientific Association, Annual Report (1877 – 1886) Members
The Naturalist (1878) Leeds Naturalists' Club and Scientific Association, Vol. 4, pages 44, 64, and 79
The Naturalist (1879) Leeds Naturalists' Club and Scientific Association, Vol. 4, pages 125 and 142
Probate of the will of Benjamin Saynor (1897) "Saynor Benjamin of 4 Kellam-street Leeds died 9 August 1897 Probate Wakefield 20 October to Margaret Clarke (wife of Michael Clarke) Effects £98 16s 7d", accessed through ancestry.com
Transactions of the Yorkshire Naturalists' Union (1890) Members, page 49[p>