Microscope Slide-maker "J.S." / "J. Sheppard"
Catherine (Kate) Sheppard, ~1840 - 1908
doing business under the name of her husband, John Sheppard
by Brian Stevenson
last updated February, 2015
Catherine Sheppard is, so far as I know, the only identified female professional microscope slide-maker of the mid-Victorian period. The information discovered about Sheppard suggests that other women may have worked in that trade, but with similarly suppressed identities. Catherine's microscope slides were distributed under her husband's name, likely because that was expected to be man's work. Yet Catherine (who, according to censuses, went by "Kate") was not shy with census takers: for the 1861 and 1871 censuses she declared herself to be a "microscope object mounter/maker".
Microscope slides covered with papers printed "J.S." are not common, suggesting a limited output or small distribution range (Figure 1). Many "J.S." slides have additional paper labels glued onto one end – in which case, removal of the added label invariably reveals the printing, "Sheppard Ashted Birmm" (Figures 1 and 2). Searches through census records, street directories and other original sources revealed only one candidate: John Sheppard of Ashted Row, in a suburb of Birmingham, England. Combined with his wife's statements of her occupation, it can be confidently stated that Catherine was the maker of these slides.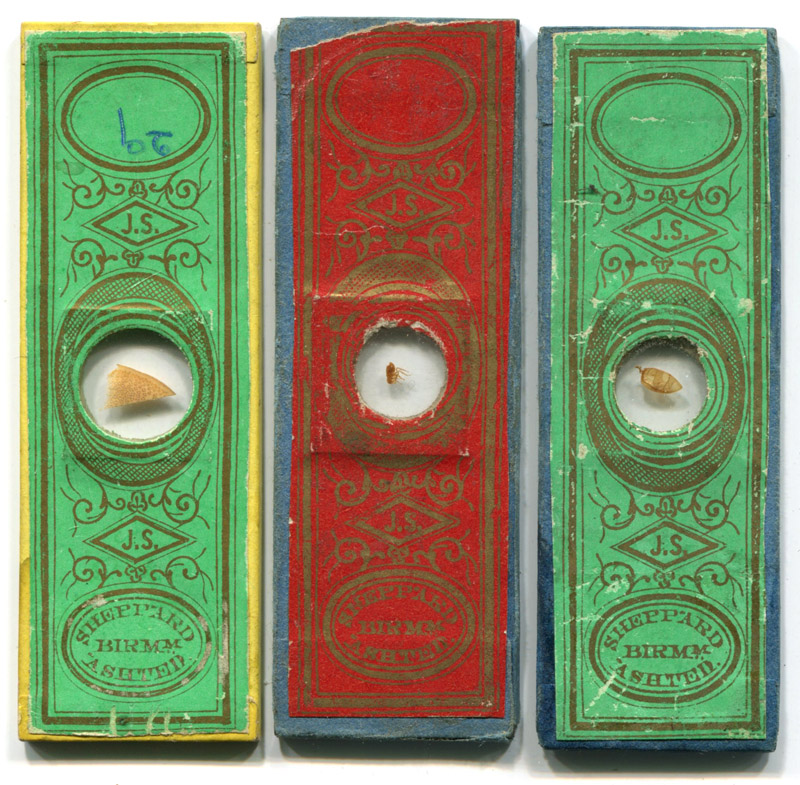 Figure 1. Examples of microscope slides with custom-made papers bearing "J.S." and "Sheppard, Ashted, Birmm".
&nbsp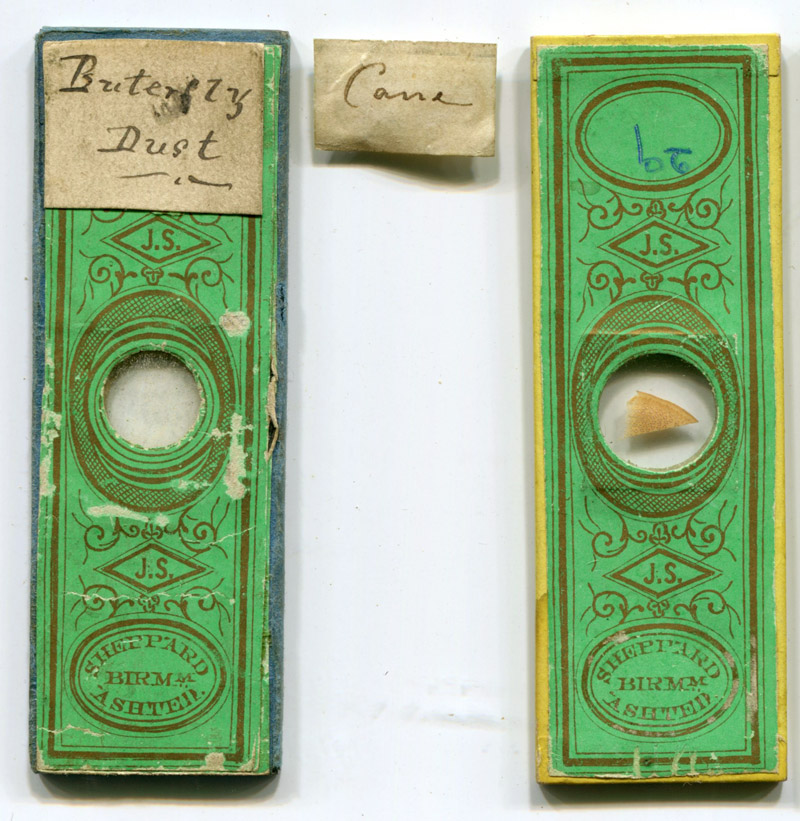 Figure 2. Two Sheppard slides with very different descriptive labels. The slide on the right was acquired with the label "cane" glued over Sheppard's printed name & address. Both labels are crudely cut, in contrast to the professional finishes of the slides. Each label has a very different handwriting, suggesting that they were written by different people. Other Sheppard slides are known that do not have any descriptive label whatsoever (see Figure 1). Those observations suggest that many or all Sheppard slides were issued without maker's specimen labels.
&nbsp
Unfortunately, little is known about Kate Sheppard beyond the slides that can be traced to her, and a few government & church records. The custom-printed papers and her census declarations indicate that she was a professional. The use of her husband's initials suggest that the Sheppards sold directly to a customer base, who assumed that John made them or managed their production. I have not located any advertisements for Sheppard's work in national magazines, suggesting that any advertising was probably local. Neither she nor John are known to have joined a microscopy or other science club.
Kate and John's 1860 marriage records indicate that she was illiterate, and could not sign her own name (Figure 3). That may explain why her slides do not have written descriptions of the specimens, or have crudely-made labels with a variety of handwritings. The Sheppards may have told customers what was in each slide, who then either left the slide as is or added their own descriptive label.
Occasionally, one encounters microscope slides with papers that are identical to those used by Sheppard, but without the "J.S." and "Sheppard Ashted Birmm" printing (Figure 4). The maker(s) of such slides obviously obtained the cover papers from the same printer as did Sheppard, and thus would have lived in the Birmingham area. It is possible that these were also produced by Kate Sheppard, for distribution through a retailer who did not want their customers to know the actual maker.
In that regard, Birmingham during the time of Sheppard's slide-making was home to several major microscope manufacturing companies, including Parkes and Field & Son. Both of those companies sold microscope slides, raising the possibility that Kate may have worked for, or distributed through, such a business.
How long Kate Sheppard continued her slide-making profession is not known, as the 1881 and later censuses did not record any occupation for her. That need not mean anything, though, as 19th century English censuses rarely recorded occupational information about the wife of a household.
Kate Moran and John Sheppard married on August 12, 1860, at St. Stephen's church, Birmingham. Her father, John, was described on the marriage record as being a "cordwainer". Her listed age implies a birth date of 1840, but records of her life before marriage have yet to be located. John Sheppard was a "cabinet maker", son of William Sheppard, "carpenter". John Sheppard was born in Gloucester, and baptized on October 2, 1836 at St. Mary-de-Lode's church.
There are no records of Kate and John having had children.
At the time of the 1861 census, the Sheppards lived on Inkerman Street, in Aston, Warwickshire. By 1871, they had moved to 125 Ashted Row, Aston. They remained at that address through the 1891 census, with the 1901 census recording a move to 29 Lichfield Road, Aston. John's occupation was recorded as "cabinet maker" (marriage record, 1861 and 1871 censuses), "gun pattern maker" (1881 census), and "pattern maker" (1891 and 1901 censuses). Kate was probably the 68 year-old women who died in Aston in 1908, with John was probably the man who died there in 1901.


Figure 3. The signature of John Sheppard and the mark of Catherine Moran, from their August, 1860 marriage. At that time, Catherine was unable to write her own name. She described herself as a "microscope object mounter" on the census that was taken less than 8 months later. Her illiteracy may explain why her "J.S." microscope slides do not appear to have been sold with descriptive labels from the maker.
&nbsp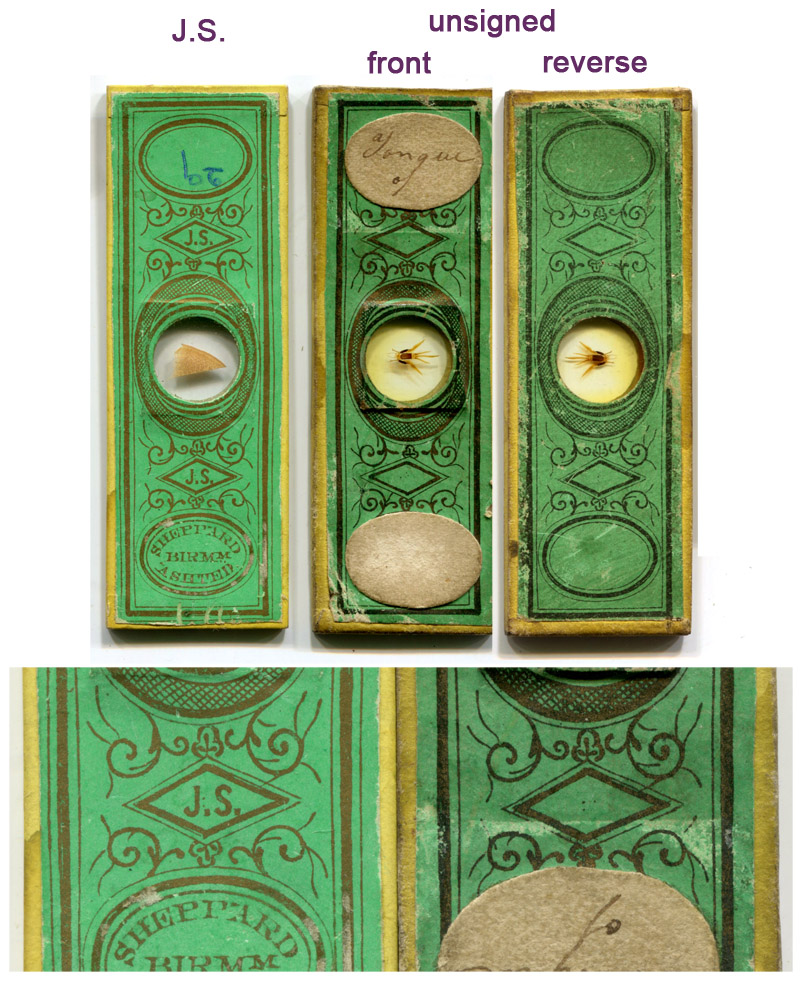 Figure 4. An unsigned microscope slide with cover papers that are otherwise identical to those used by Sheppard. Both cover papers have diamond lozenges that are irregularly skewed. The enlarge image at the bottom clearly shows that the unsigned slide once had a large, square descriptive label, that was later removed and replaced with the current oval sticker. Since the reverse of the unsigned slide carries the same printed paper, without Sheppard's name, if is assumed that the front paper is identical.
&nbsp
Resources
England census, birth, marriage, and death records, accessed through ancestry.co.uk and findmypast.com
Marriage record of Catherine Moran and John Sheppard (1860) Saint Stephens, Birmingham, accessed through ancestry.co.uk