James Henry Shorrocks, 1847 - 1925
by Brian Stevenson
last updated October, 2020
J.H. Shorrocks appears to have caught the microscopy "bug" late in life, joining the Manchester Microscopical Society when he was 61 years old. Yet, within a year, he was a member of the Society Council and member of the Committee of the Mounting Section. The latter was a group within the MMS that focused on learning and teaching mounting techniques, among which was the precise application of multi-colored lacquers for ringing cover slips (Figure 1).
Shorrocks remained an active member in the MMS from his initiation in 1908 until around the time of his death (except, apparently, for a brief period in the late nineteen teens). While his slides do not appear to be especially common, those that are known are of interesting objects and are well finished.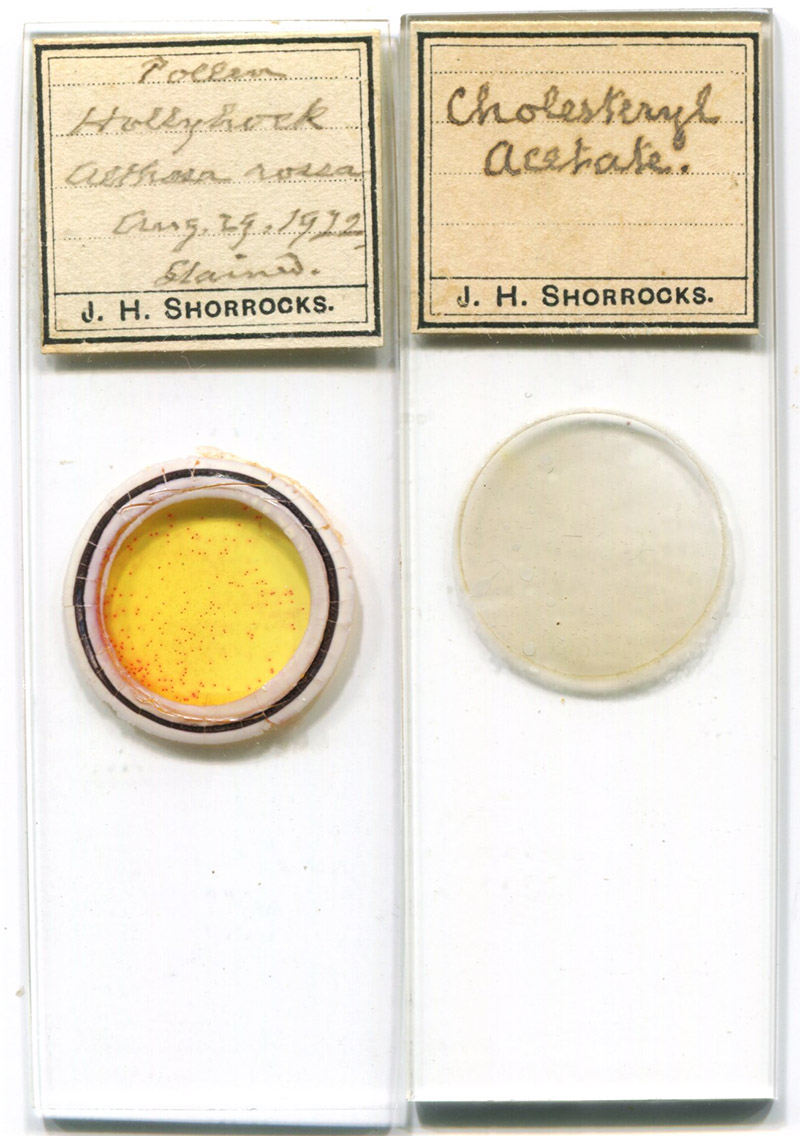 Figure 1. Two microscope slides that were mounted by J.H. Shorrocks. The left slide, pollen of Hollyhock "Althosa rossa" (Althaea rosea?), was prepared on August 29, 1922. The slide is nicely finished with striped ringing, reflecting Shorrocks' long membership on the Mounting Committee of the Manchester Microscopical Society.
&nbsp
James Henry Shorrocks was born in July 31, 1847, in Chorlton, Lancashire. He was christened on January 6, 1850 in the Manchester Cathedral. James was the first-born child of Walter and Ann Shorrocks. Walter owned a brush-making factory - in 1861 he was recorded as employing 3 men and 1 boy.
James became a "cashier" (i.e. money manager) for a fabric-selling company (a major industry in the Manchester area). The 1911 census specified that this was a "velveteen warehouse". Associated with his work there, Shorrocks developed and patented a method of packing velvet and velveteen in 1901 (Figure 2).
He married Lucy Ann Hood during the spring of 1871. A daughter was born the next year, followed by three boys. The daughter, Frances, did not marry but remained with her parents until their deaths.
As noted above, Shorrocks joined the Manchester Microscopical Society when he was 61 years old, in 1908. He soon took leadership positions in the club, and put substantial effort into developing skills as a slide-maker.
He also had a strong interest in photography. In 1909, he photographed an MMS "ramble" to Hebden Bridge, Yorkshire, then showed several of those pictures as lantern slides at a society meeting. Also in 1909, he also made a presentation to the MMS on "A simple method of photomicrography" (i.e., producing photographs of small objects through a microscope). Shorrocks published that method the following year in the popular science magazine Knowledge.
Reports of the MMS noted that Shorrocks was scheduled to lead a lead a trip to Molyneux Brow and Ringley, Lancashire, on July 29, 1916. He did not attend, having just learned of the death of his second son, Ernest, killed on July 20 during the Battle of the Somme.
Shorrocks evidently ceased membership in the MMS some time afterward. He re-joined in 1920. On November 17, 1921, he gave a presentation on "photomicrography".
James Shorrocks died on April 28, 1925 at the Cheadle Royal Mental Hospital, Cheshire.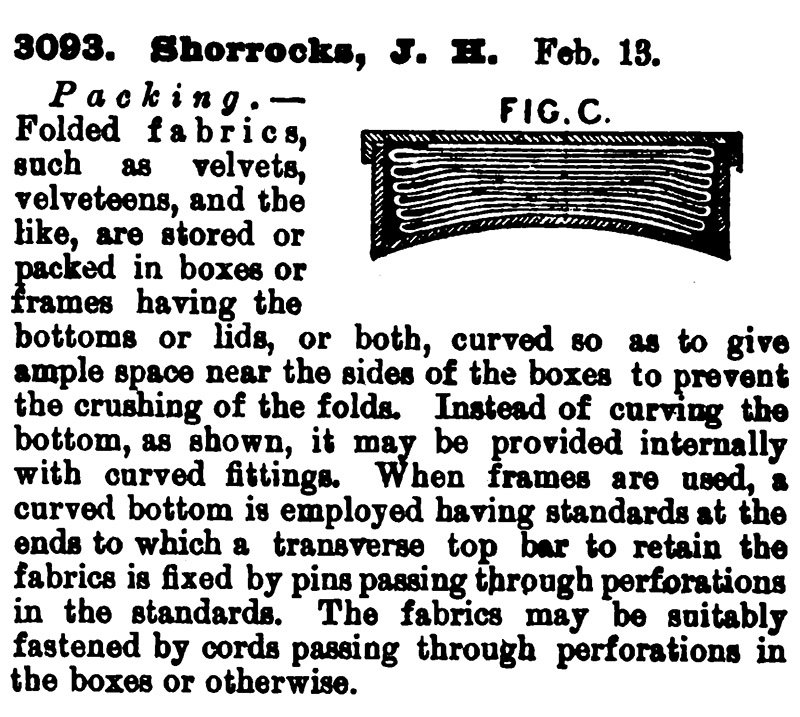 Figure 2. Description of Shorrocks' 1901 patented design for a shipping container for velveteen and similar fabrics. The curved bottom allowed maximum packing without flattening the folds in the fabric, which would damage the nap.
&nbsp
Resources
Annual Report and Transactions of the Manchester Microscopical Society (1908) Members, page 124
Annual Report and Transactions of the Manchester Microscopical Society (1908) pages 9, 10, 25, and 26
Annual Report and Transactions of the Manchester Microscopical Society (1916) page 111
Annual Report and Transactions of the Manchester Microscopical Society (1920) Members
Christening record of James Henry Shorrocks (1850) Records of Manchester Cathedral, accessed through ancestry.com
England census and other records, accessed through ancestry.com
Patents for Inventions (1901) Record of patent for J.H. Shorrocks, Abridgement Class Fabrics, Dressings &c., page 7
Probate of the will of James H. Shorrocks (1925) "Shorrocks James Henry of 13 Northern Grove West Didsbury Manchester died 28 April 1925 at the Cheadle Royal Mental Hospital Cheadle Cheshire Probate Manchester 22 June to Frances Anne Shorrocks spinster. Effects £2689 9s 8d", accessed through ancestry.com
Scientific and Learned Societies of Great Britain (1921) Manchester Microscopical Society, Vol. 39, pages 163-164
Shorrocks, James H. (1910) A simple method of photomicrography, Knowledge, Vol. 33, pages 14-15
U.K. War Graves, accessed through ancestry.com: "Shorrocks, Serjt. Ernest, 5626. 20th Bn. Royal Fusiliers. 20th July, 1916"