Joseph Smith, 1766 - 1825
by Brian Stevenson
last updated April, 2020
A number of microscopes and other apparatus are known that bear Joseph Smith's signature (Figures 1-4). He operated an optical business in the Royal Exchange of London, which was a substantial shopping emporium that likely brought him lucrative business. He took over the lease of James Long (ca. 1755 - 1811) after the latter's death in November, 1811; it is not known whether Smith had a connection to Long, or simply took advantage of the opening up of a good business site. Upon Smith's death, the business was acquired by a former employee, Stephen Bithray (ca. 1789 - 1858).
An important note: Gloria Clifton's Directory of British Scientific Instrument Makers 1550-1851 lists this man as "Joseph Smith II", but mixes together the histories of two different people. Our man died in 1825, had only one shop (at the Royal Exchange), and did not have any children (Clifton notes a business continuation by a son, Charles). I have not yet investigated this additional Joseph Smith.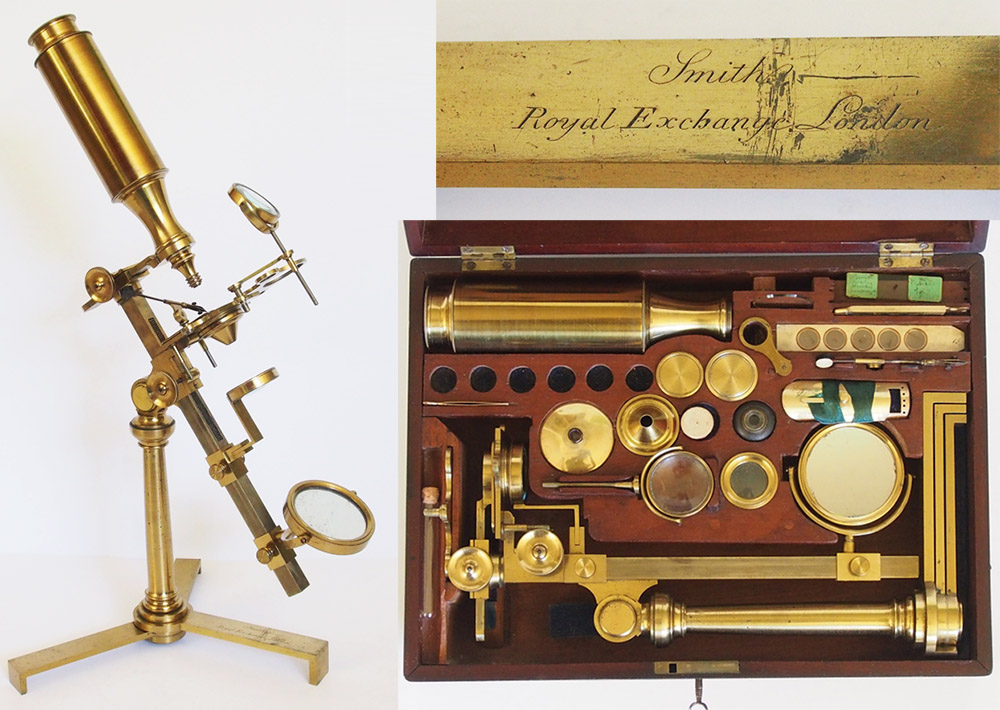 Figure 1. A "Jones' Most Improved" microscope, signed on the foot "Smith, Royal Exchange, London". Images generously provided by Jurriaan de Groot.
&nbsp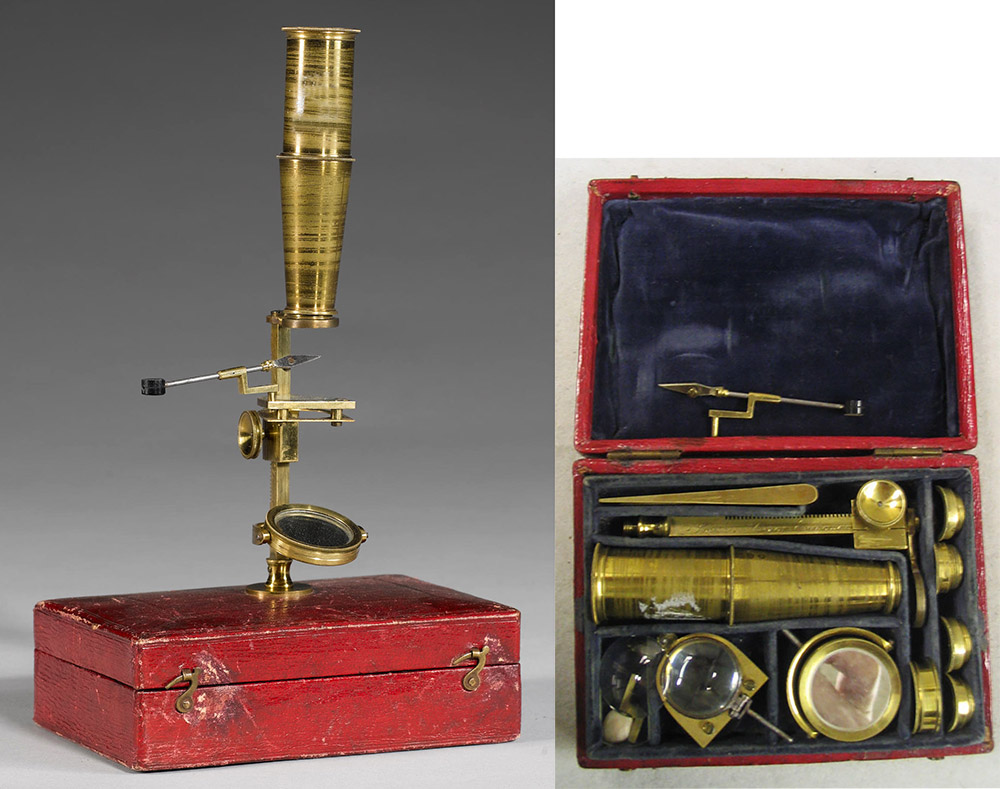 Figure 2. A case-mounted microscope signed "Smith Royal Exchange". Although such microscopes are often described as "Cary-Gould type", it should be noted that Joseph Smith died a year before Charles Gould began selling his famous model, and that Gould based his pocket microscope on designs that had been in production for many years. Adapted for nonprofit, educational purposes from an internet auction site.
&nbsp

Figure 3. A telescope signed "J. Smith, Royal Exchange, London. Adapted for nonprofit, educational purposes from http://www.scientificcollectables.com
&nbsp


Figure 4. A monocular opera glass, signed "Smith, Royal Exchange, London". Adapted for nonprofit, educational purposes from an internet auction site.
&nbsp
Joseph Smith's burial record, from December 21, 1825, states that he died when 59 years old. That dates his birth to 1766. A 1780 apprenticeship contract is known for a Joseph Smith, binding him to his father, Richard Smith, who was a member of the Spectaclemakers guild (Figure 5). The date would have put our Joseph at about 14 years old, an appropriate age to begin an apprenticeship. But, the indenture states that Richard Smith was a "linen draper". At that time, a person's occupation need not correspond with their guild's name, so it is possible that this Richard Smith did not know anything about lens-making. Whether this contract of indenture was for our man has yet to be determined.
There are no indications that Joseph Smith operated an independent business until 1811. Yet by 1805, his finances were evidently secure to the point that he took a wife (Figure 6). His marriage to Elizabeth Catlett is especially notable, as she was the ward of her uncle, John Newton (1725-1807). Newton had captained slave ships until he had an epiphany, becoming a minister and prominent supporter of the abolition of slavery. He wrote the popular hymn "Amazing Grace". Newton lived with the Smiths until his death. Joseph and Elizabeth did not have any children.
It is not known where Joseph Smith worked before he acquired the former shop of James Long in 1811. Smith would have then been about 45 years old, and presumably had been a journeyman optician for 20 or more years. His 1805 marriage suggests that he was then in a reasonably well-paid, stable position. Trade directories do not list Smith, suggesting that he was employed, rather than operating his own business. Clifton indicates that Smith joined the Spectaclemakers' guild in 1811, which is consistent with him not having an independent business until that year.
Long died in November, 1811. Smith was listed as the proprietor of the Royal exchange shop in the 1812 Post Office Directory of London, which was compiled in late 1811, implying that he acquired the business shortly after Long's death (Figure 7). The shop was leased, so it probably came available almost immediately after Long died.
Smith appears to have employed Stephen Bithray almost as soon as he opened his shop. Bithray married on August 2, 1812, and Smith was one of the witnesses (Figure 8). This suggests that the 23 year-old Bithray then had a stable position with Smith. Bithray's bride, Mary Hannah Docksey, was probably related to Smith's wife's close friend, Elizabeth Doxsey (who witnessed Smith's 1805 marriage - see Figures 6 and 8).
The Smith optical business remained at the Royal Exchange from its beginning in 1811 until late 1825 (Figure 7). It appears to have been quite successful, to judge from the amount of money he designated for distribution in his will.
Joseph Smith evidently knew that he was dying, and left a detailed, multi-page will. He even had time to add a codicil that left £40 per year to his sister and niece. Joseph died in late 1825, and was buried at St. Mary Woolnoth on December 21.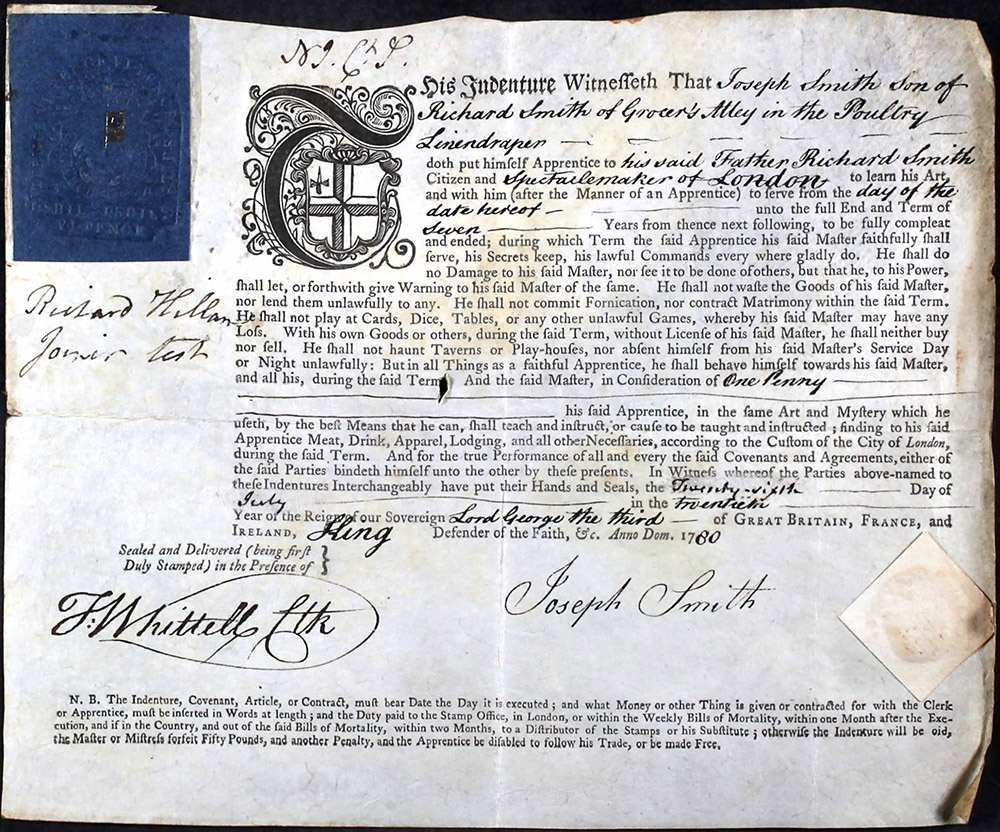 Figure 5. This might be the apprenticeship contract of our Joseph Smith. This boy was bound to his father, Richard Smith, who was a member of the guild of Spectaclemakers. However, the document describes Richard Smith's occupation as "linen draper".
&nbsp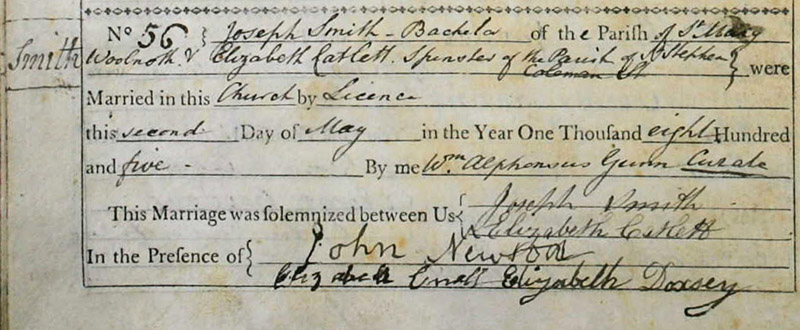 Figure 6. Parish record of the May 2, 1805 marriage of James Smith and Elizabeth Catlett. The ceremony was witnessed by her uncle, John Newton, who was a prominent abolitionist and author of the hymn "Amazing Grace".
&nbsp


Figure 7. Joseph Smith's entries in the "Post Office Directory of London" from the beginning and end of his business. Each edition would have been compiled toward the end of the previous year. Inclusion in the 1812 edition implies that Smith took over Long's shop very soon after the latter man's death in November, 1811.
&nbsp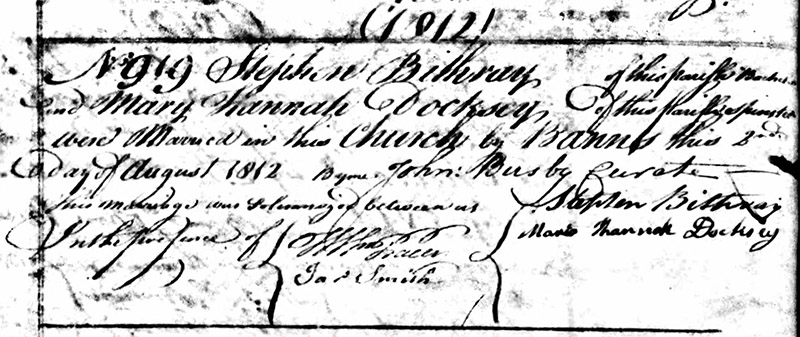 Figure 8. The 1812 parish record of the marriage of Stephen Bithray and Mary Hannah Docksey, witnessed by Joseph Smith. Bithray worked for Smith, and later acquired his business. Mary was probably related to the Elizabeth "Doxsey" who witnessed Joseph Smith's marriage (Figure 5), and who was a good friend of Joseph's wife.
&nbsp
Acknowledgements
My thanks to Jurriaan de Groot and Joe Zeligs for providing images for this essay.
&nbsp
Resources
Aitken, Jonathan (2007) John Newton: From Disgrace to Amazing Grace, Crossway Books, Wheaton, Illinois, page 343
Apprenticeship contract of Joseph Smith (1780) accessed through ancestry.com
Burial record of Joseph Smith (1825) Parish records of St. Mary Woolnoth, accessed through ancestry.com
Clifton, Gloria (1995) Directory of British Scientific Instrument Makers 1550-1851, Zwemmer, London, page 256
"Curiosmith" (accessed April, 2020) Elizabeth Catlett, https://curiosmith.com/pages/elizabeth-catlett
Marriage record of Joseph Smith and Elizabeth Catlett (1805) Parish records of St. Mary Woolnoth, accessed through ancestry.com
Marriage record of Stephen Bithray and Mary Hannah Docksey (1812) Parish records of St. Luke Old Street, accessed through ancestry.com
Newton, John (1809) Twenty-one Letters Written to a Near Relative at School
Post Office London Directory (1807) note: lists James Long, but not Joseph Smith, pages 170 and 248
Post Office London Directory (1812) "Smith Joseph, Optician, Royal Exchange, North Gate", page 286
Post Office London Directory (1815) "Smith Joseph, Optician, Royal Exchange, North Gate", page 306
Post Office London Directory (1820) "Smith Joseph, Optician, Royal Exchange North Gate", page 327
Post Office London Directory (1825) "Smith Joseph, Optician, Royal Exchange North Gate", page 373
Saunders, Ann (1997) The Royal Exchange, London Topographical Society, page 236
Will of Joseph Smith (1825) accessed through ancestry.com