J.W. Steele
either
John William Steele, 1878 - 1961
or
John William Steele, 1904 - 1994
by Brian Stevenson
Last updated September, 2017
Little is known about this microscope slide-maker, other than that he was one of two men, father and son, who lived in Stoke-on-Trent, Staffordshire, England.
Steele's slides appear with some frequency at auctions. They are generally of very good quality. The handwritten labels give the appearance of an amateur preparer, although printed labels with his address suggest that he made at least some for distribution. His name has not been definitively identified in association with any microscopical or scientific society, nor have any published advertisements been located. Steele appears to have been active during the twentieth century, which creates difficulties in tracking down information because most publications are still under copyright protection and not widely available, and census records are sealed from public view due to privacy concerns.
Microscope slides are known that bear what appears to be Steele's handwriting, with dates of 1930-35 (Figure 2). The 1911 census forms were filled out by J.W. Steele senior (Figure 3). Those examples of his handwriting are entirely different from that found on slides, suggesting that he may not have been the slide-maker. Conclusive evidence on which Steele was our microscopist is lacking, however.

Figure 1. Microscope slides that were prepared by John William Steele, or can be attributed to him. Some bear his typeset labels and others his handwritten initials, while some slides can be identified as probably made by Steele by the handwriting on the labels.
&nbsp


Figure 2. Labels of unsigned microscope slides that bear handwriting similar to that of microscopist John William Steele. The labels are dated between 1930 and 1935. Adapted for nonprofit, educational purposes from an internet auction site.
&nbsp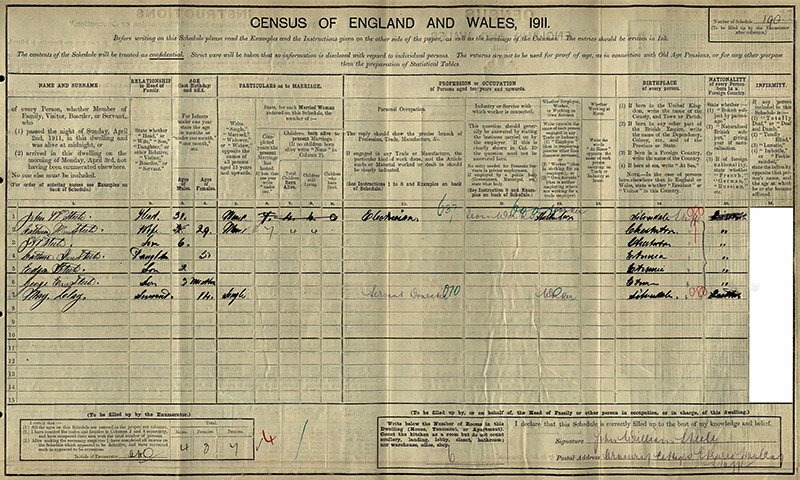 Figure 3. The 1911 census form that was filled out by John W. Steele, senior. This provides examples of his handwriting and signature. The contrasts between this writing and that found on microscope slides suggests that he may not have been the slide-maker, thereby pointing to his son, John W. Steele, junior.
A number of Steele's slides give his address as 1 Armoury Cottages, Hanley, Stoke-on-Trent (Figure 1). Two people named John William Steele were listed as living at Armoury Cottages in the 1911 English census (Figure 3). The father was 36 years old, and worked at a local iron works as an electrician. The son was 6 years old, born in 1904. The family evidently had some wealth, as they employed a live-in servant.
J.W. Steele, the father, was born ca. 1878, probably the boy by that name born to George and Ann Steele of Wolanston, Sheffield (which is adjacent to Hanley). The 1881 census listed George's occupation as "colliery engine driver". George died in 1890, at the age of 43, from "falling down a coal pit".
John married Catherine Mary Forrest during the early winter of 1904. Their first child, John William junior, was born during the third quarter of that year.
Other than the 1911 census, nothing more is known about the Steeles until their deaths.
John William Steele senior died on December 22, 1961. His home address at the time was 79 Bagnall Road, Milton, Stoke-on-Trent. The probate of his estate named John William Steele, electrical engineer, an executor.
John William Steele junior died on August 17, 1994, with home address 147 Baddeley Green Lane, Milton, Stoke-on-Trent. The probate record did not state his occupation.
&nbsp
Acknowledgements
My sincere thanks to Steve Gill for assistance in identifying historical records of the Steele family, and for his continued support of this project.
&nbsp
Resources
Death record of George Steele (1890) accessed through http://www.rootschat.com/forum/index.php?topic=86158.45
England census, birth, marriage, death, and other records, accessed through ancestry.com
Probate of John William Steele (1961) "Steele John William of 79 Bagnall Road Milton Stoke-upon-Trent died 22 December 1961 at St Edwards Hospital Cheddleton Staffordshire Probate Chester 30 March to John William Steele electrical engineer and Gertrude Jones (wife of Eric Millington Jones). Effects £731 5s", accessed through ancestry.com
Probate of John William Steele (1961) "Steele, John William of 147 Baddeley Green Lane Milton S-O-T (Stoke-on-Trent) died 17 August 1994 probate Birmingham 10 February (1995) £147053, 9581701237H", accessed through ancestry.com