William Clark Stevenson, Jr., 1848-1919
by Brian Stevenson (no relation)
last updated December, 2014
William C. Stevenson Jr. was a well-regarded amateur microscopist of the late 1800s - early 1900s, living in Philadelphia, Pennsylvania, USA. His specialty was microscopical fungi, although he also prepared slides of diatoms, insects and other objects (Figures 1, 2, 4 and 5). Harshberger's 1899 The Botanists of Philadelphia and their Work reported that, at that time, "Stevenson … has a mycological herbarium of some 5500 species, mostly of his own collecting, from Philadelphia, Chester and Delaware Counties, Pennsylvania", and "His habitat list, and list of plant diseases due to fungi, is very complete and full, and deserves publication by some learned society. The host plants are very carefully catalogued, as also the parasites which prey upon them". That may explain why the known Stevenson insect mounts are of agricultural pests. He was an early member and officer of the Fairmount Microscopical Society, in the 1870s, and later a member of the Philadelphia Academy of Natural Sciences and Societe Belge de Microscopie (Brussels, Belgium).
Stevenson's interest in microscopy and fungi evidently started relatively early. In 1875, when he would have been 27, a species of fungus was named after him: Pestalozzia stevensonii. He had discovered this microfungus on the scale of fir cones, and it appears to still be an accepted species name.
Among Stevenson's major contributions to mycology were his 1878 article, "Additions to Mr. Cooke's paper on 'the Valsei of the United States" (an analysis of sporidia of species previous uncharacterized by M.C. Cooke), and species indices for J.B. Ellis' major works The North American Pyrenomycetes and North American Fungi.
Diatom expert Charles Boyer reported that Stevenson provided him with numerous diatom specimens. The species Eunotia stevensonii was named by Boyer in his honor. The name appears to still be accepted for that diatom.
Stevenson was also deeply involved with photography (Figure 6). Among his publications on the topic was an 1887 "Notation for photomicrography" in which he described the simultaneous photographing of an object and a micrometer under a microscope, thus providing a scale of magnification when making prints.


Figure 1. A Stevenson slide of the fungus Puccinia myrrhis. He donated a slide of the same species to the New York State Museum of Natural History in 1882
&nbsp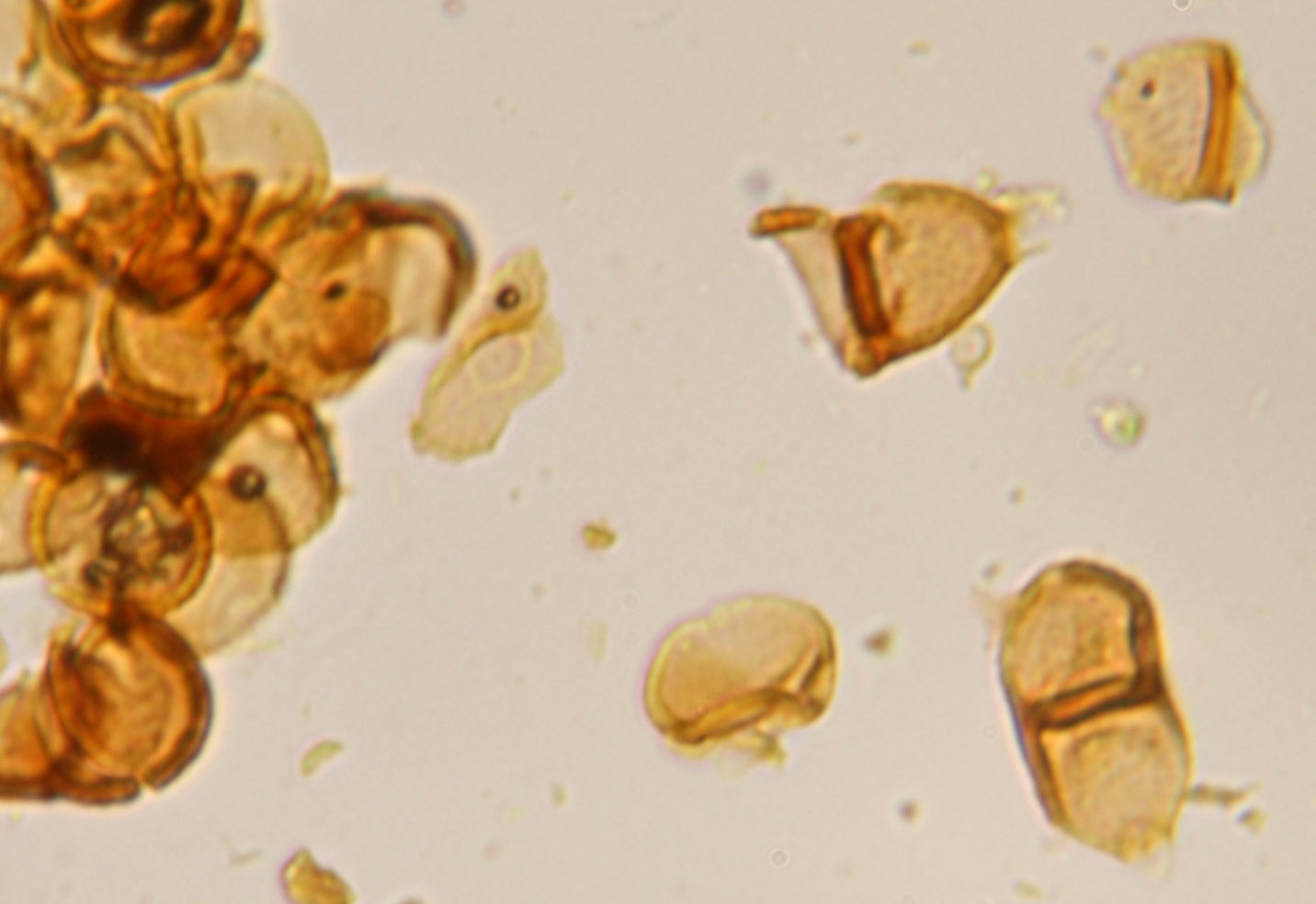 Figure 2. Magnified details of specimens in Stevenson's slide of Puccinia myrrhis (see Figure 1).
&nbsp


Figure 3. Stevenson ran this exchange offer several times during 1876, in The American Journal Microscopy and Popular Science. These are the only advertisements from him that have yet been located.
&nbsp


Figure 4. Three Stevenson slides of diatomaceous material. The top slide, from the Schuylkill River (Pennsylvania) is dated 1881. One of the pink-labeled slides, from the Yarrows, Scotland, is dated 1874, while the other, of Poplein Earth (Maryland) is undated.
&nbsp


Figure 5. An excellent flattened mount of Diabrothica duodecium punctata (now Crioceris duodecimpunctata), the spotted asparagus beetle. It was remarked by a contemporary that Stevenson's interest in the fungi of plants extended to insect pests of those plants.
&nbsp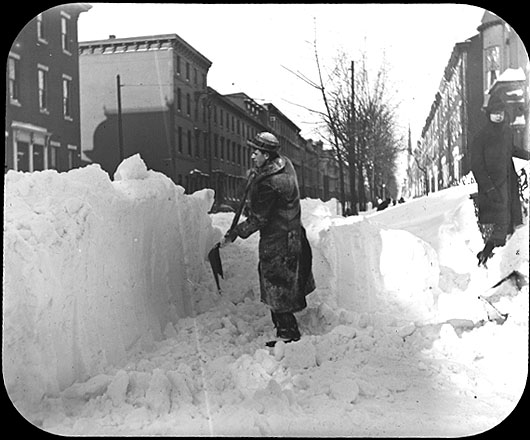 Figure 6. A photograph by W.C. Stevenson Jr., of snow removal outside his home at 1525 Green St. Philadelphia, after a blizzard in February, 1898.
&nbsp
William Clark Stevenson, Junior, was born on December 7, 1848, in Philadelphia. He was the only child of Mary Ann and W.C. Stevenson, Sr., descended of an old and relatively wealthy family. Although the 1850 and 1860 censuses listed the father as having been a "grocer", his was probably not a small shop. In 1860, he owned a $8000 in property and $11000 in personal value. Sometime shortly afterward, he became an officer of the Novelty Paper Box Company. although the 1880 census states that the father was then a "retired box manufacturer", an 1893 securities report stated that he was then Secretary and Treasurer of the company. Of note, in 1889 the Novelty Paper Box Co. shared manufacturing premises with the bookbinding machine factory of Hugo Bilgram, who was also a member of the Philadelphia Academy of Natural Sciences, and a well-regarded microscopist who once worked for Joseph Zentmayer.
W.C. Stevenson, Jr., appears to have lived in his father's home for the majority of his life. He married Elizabeth Curtis Hoopes in 1873, and they had one child, William Lawrie Stevenson. From 1870 to 1880, Stevenson was in the wholesale pharmaceutical business, then joined his father's box company in 1881. An 1893 account listed him as a Director of the Novelty Paper Box Company. He apparently retired in 1894, implying a substantial wealth for the then 46 year-old. The 1900 census supports that conclusion, with both Senior and Junior listed as retired box manufacturers. Overall, W.C. Stevenson Jr. led a rather quiet life, mentioned frequently for his contributions to mycology and other microscopical topics, but not much otherwise. He died at the age of 70, on June 30, 1919, a consequence of chronic nephritis.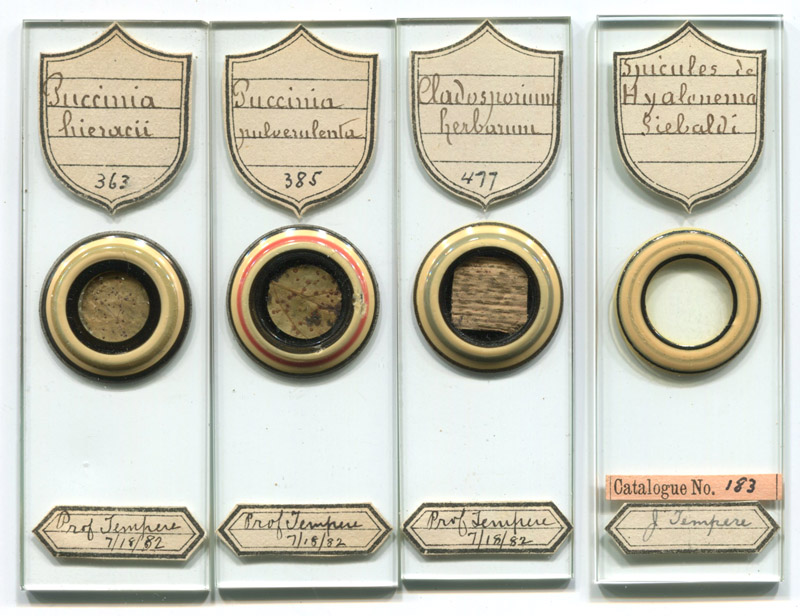 Figure 7. Four microscope slides by French/English professional slide-maker J.C. Tempere, which were once in the collection of William C. Stevenson, Jr. Tempere's name and the 1882 dates were written in Stevenson's hand. The pink "catalogue" label is also from Stevenson. Although Tempere is best known for his mounts of diatoms, he also prepared other types of specimen, such as these high-quality dry mounts of botanical fungi and balsam-mounted sponge spicules.
&nbsp
Resources
The American Journal of Microscopy and Popular Science (1876) Exchange offers from W.C. Stevenson, Jr., Vol. 1, pages 52, 63, 76, 88, 99, 138, and 144
The American Naturalist (1878) "Fairmount Microscopical Society ... secretary and treasurer, Wm. C. Stevenson, Jr.", Vol. 12, page 64
Annual Report on the New York State Museum of Natural History (1882) "Additions to the collections of the State Museum during the Year 1882… From W.C. Stevenson, Jr., Philadelphia, Pa. specimens of Puccinia Myrrhis, Schw.", Vol. 35, page 17
Boyer, Charles S. (1920) Rare species of North American Diatomaceae, "Eunotia Stevensonii sp. nov. Valves with arcuate dorsal margin and straight or slightly concave ventral margin tumid in the middle. Apices broad and rounded. Striae ten or eleven in 10 u, punctate. A sutural line or pseudoraphe extends between the terminal nodules as in E. americana Kain & Schultze, E. Clevei Grun. and others. Length of valve 88-113 u. [Fics. 12, 13.] Type Locality: pond near Lake Sunapee, New Hampshire. Distribution: fresh water (fossil), in the Monmouth, Maine, peat deposit. I take pleasure in naming this species after Mr. William C. Stevenson, Jr., mycologist, of Philadelphia, to whom I am indebted for numerous specimens", Bulletin of the Torrey Botanical Club, Vol. 47, page 69
Cooke, M.C. and J.B. Ellis (1876) New Jersey Fungi (mentions several discoveries by Stevenson), Vol. 5, pages 49-55
Death record of William Clark Stevenson, Jr. (1919) accessed through ancestry.com
Ellis, Job B. and Benjamin M. Everhart (1892) The North American Pyrenomycetes: A contribution to mycologic botany, "The index of genera and species at the end of the volume is the work of our friend W. C. Stevenson, Jr., to whom we are already indebted for the indices of species and their habitats in the 'North American Fungi'." Ellis and Everhart, Newfield, New Jersey, page iii
Harshberger, John W. (1899) "William Clark Stevenson, Jr., was born December 7, 1848, at Philadelphia. He attended the public schools, Rugby Academy and Polytechnic College of Pennsylvania. From 1870 to 1880, Mr. Stevenson was in the wholesale drug business, and in the paper box trade (Novelty Paper Box Company) from 1881 to 1894. Mr. Stevenson is more especially interested in mycology, and has a mycological herbarium of some 5500 species, mostly of his own collecting, from Philadelphia, Chester and Delaware Counties, Pennsylvania. A paper entitled "Additions to Mr. Cooke's Paper on the Valsei of the United States" appeared in the Proceedings of the Academy of Natural Sciences, April, 1878, pp. 86-88, and was the result of an examination of the Schweinitzian types in the Academy herbarium. He has been a life-long friend of Mr. J. B. Ellis. he has prepared a manuscript card catalogue of references, mostly American, bearing upon mycology. His habitat list, and list of plant diseases due to fungi, is very complete and full, and deserves publication by some learned society. The host plants are very carefully catalogued, as also the parasites which prey upon them. Mr. Stevenson is a member of the Academy of Natural Sciences, the Photographic Society of Philadelphia and Societe Belge de Microscopie, of Brussels, Belgium", The Botanists of Philadelphia and Their Work", Harshberger, Philadelphia, pages 345-346
Hexamer General Surveys (1889) "N. Twelfth St (west side), Hamilton St, and Noble St [12th St. and Noble St., NWC], Conaway, James, and Co., tenant; Bilgram, Hugo, tenant; Novelty Paper Box Co., tenant", Vol. 24, accessed December 2014, http://www.philageohistory.org/rdic-images/view-image.cfm/HGSv24.2312
Historical Record of the Polytechnic College of the State of Pennsylvania, First Edition, 1853-1890 (1890) page 100
McElroy's Philadelphia Directory (1856) Edward C. and John Biddle, Philadelphia, page 615
Morgan, John C. (1877) "W. C. Stevenson, Jr. , 1025 Green Street, Philadelphia, has the Puccinia xanthii on microscopic slides", The Hahnemannian Monthly, Vol. 12, page 646
Peck, Charles H. (1875) "A new Fungus from Pennsylvania. - Pestalozzia Stevensonii, Peck. - Pustules small, hysteriiform or pezizoid, erumpent, closely surrounded by the ruptured epidermis, black; spores fusiform, triseptate, .0007-.0008 inch long, (colored part .0005-.0006) the terminal cells hyaline, the two central ones colored, terminal bristles three or four, widely divergent; sporophores about equal in length to the spores, easily separating. Scales of fir cones, Abies excelsa, Westchester, Pa. W. C. Stevenson, Jr. The species differs from P. Guepini in habit and in the fewer septa of the spores. This latter feature and the rather long bristles will also separate it from P. funerea. I have dedicated the species to its discoverer", Bulletin of the Torrey Botanical Club, Volume 6, pages 135-136
Pennsylvania Securities (1893) The Novelty Paper Box Co., pages 156-157
Photo of snow removal at 1525 Green St. Philadelphia after Feb. '98 blizzard, accessed November, 2014 from http://www.brynmawr.edu/iconog/lsscans/lsdef.htm
Stevenson, John Rudderow (1902) Thomas Stevenson of London, England and his Descendants, Hiram E. Deats, Flemington, New Jersey, page 118
Stevenson, William C., Jr. (1878) Additions to Mr. Cooke's paper on "the Valsei of the United States", Proceedings of the Academy of Natural Sciences of Philadelphia, Vol. 30, pages 86-88
Stevenson, William C., Jr. (1887) Notation for photomicrography, The Photographic Times, Vol. 17, page 135
Tennessee School Report (1888) "A small collection of fungi has recently been contributed to the museum by Mr. W.C. Stevenson, of Philadelphia", page 339
USA census records, accessed through ancestry.com