Isaac Ferdinand Stidham, 1837 - 1913
by Brian Stevenson
last updated March, 2018
The Reverend I.F. Stidham, a Baptist minister, was an enthusiastic microscopist and entomologist. As a founding member of the American Society of Microscopists, he played a significant role in spreading appreciation for the microscope in the United States. Stidham is known to have produced microscope slides during his time in Columbus, Ohio (1872-1884) and in New Britain, Connecticut (1884-1897). Generally, his custom-printed labels are neatly written, and his specimens artistically arranged (Figures 1-3). I did not find any indications that Stidham sold his slides, suggesting that his relatively-uncommon preparations came from his personal collection or from exchanges with colleagues.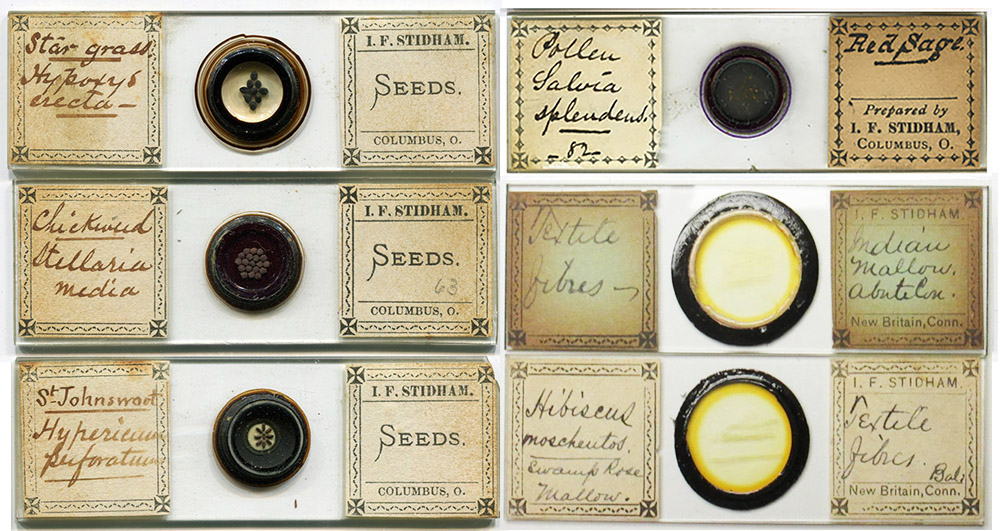 Figure 1. Microscope slides that were prepared by Isaac F. Stidham during his time in Columbus, Ohio (1872-1884) and in New Britain, Connecticut (1884-1897). The word "seeds" is type-set; he also used similar customized labels without that printing.
&nbsp
Isaac Stidham was born in Baltimore, Maryland, on November 26, 1837, to Jonas and Anna Stidham. His father was an affluent farmer.
Stidham studied religion at Baltimore College, graduating in 1860. He spent the following three years teaching theology at the College. He was ordained a Baptist minister in 1863.
Shortly afterward, in 1864, Stidham married. His wife's first name is variously recorded as Annie, Nannie, and Minnie, with maiden name Dutton. The couple had seven children, four of whom survived: one son and three daughters.
Isaac's first full-pastoral assignment came in 1868, when he was assigned charge of the Falls of Schuylkill Baptist Church, in Philadelphia, Pennsylvania. That lasted until 1872, when he was sent to the Russell Street Baptist Church, in Columbus, Ohio. During his time in Columbus, Stidham earned a Doctor of Philosophy degree from Denison University, and a Doctor of Laws degree from Columbus College.
It was also while Stidham was living in Columbus that he is first known to have been openly involved in microscopy and other scientific pursuits. A local scientific organization, The Tyndall Association, was formed in 1874. Stidham served as President of the Microscopical Section in 1876 and for several years afterwards. He represented the Tyndall Association at the 1879 National Microscopical Congress in Indianapolis, Indiana, where he helped lay the foundations of the American Society of Microscopists.
A biographer noted, "In 1884, however, after a pastorate of twelve years, Rev. Mr. Stidham, feeling that a change might increase the efficiency of both pastor and people, tendered his resignation to accept a call to the First Baptist Church of" New Britain, Connecticut.
Stidham also became involved with amateur science in that city. While known records are sparse, it is known that he was a member of the New Britain Scientific Association, and, on November 19, 1896, exhibited, "with Zentmayer's Army Hospital - (1) Leaf of Fuchsia, showing Raphides and Spiral Cells (2) Seed of Paalonina imperialis (3) Pollen, Cotton; with Zentmayer's Histological - (1) Leaf of Nettle, showing Stinging Hairs (2) Seed of Chickweed (3) Pollen Sunflower; and with Wales' New Working - (1) Stellate Hairs on leaf of Deutzia scabra (2) Fructification of fern (3) Pollen, Japan Lily". The list of exhibitors implies that Stidham may have used his own microscopes for the exhibition; examples of each are shown in Figure 4, below.
During the autumn of 1897, Stidham returned to his first church, The Falls of Schuylkill, in Philadelphia. It seems likely that he would have continued his microscope hobby in that city, although I am not aware of any of Stidham's slides with a Pennsylvania address. He certainly continued his insect studies: Stidham collected the type specimens of a new species of moth, Plagodis schuylkillensis, named after the river beside which he caught them.
Isaac Stidham died of cerebral hemorrhage on June 9, 1913, at his home in Queen Lane, Philadelphia. He was then 75 years old.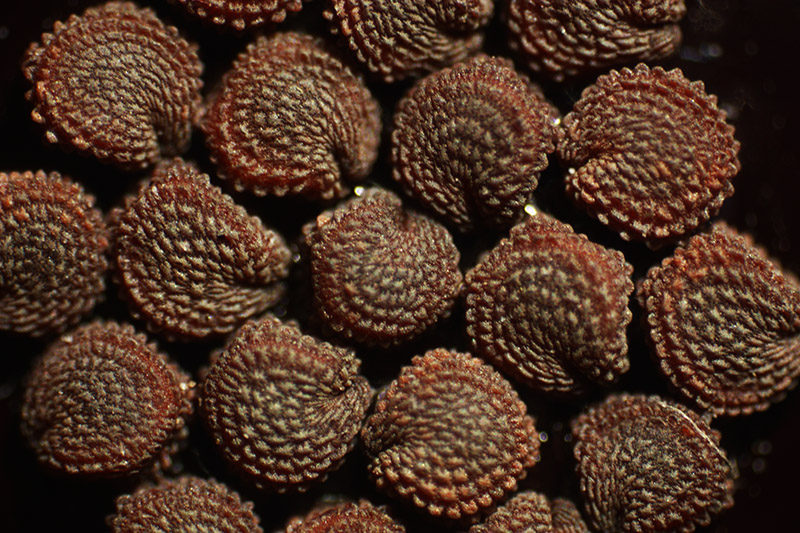 Figure 2. 4x magnified view of seeds from chickweed, Stellaria media, arranged by Isaac Stidham.
&nbsp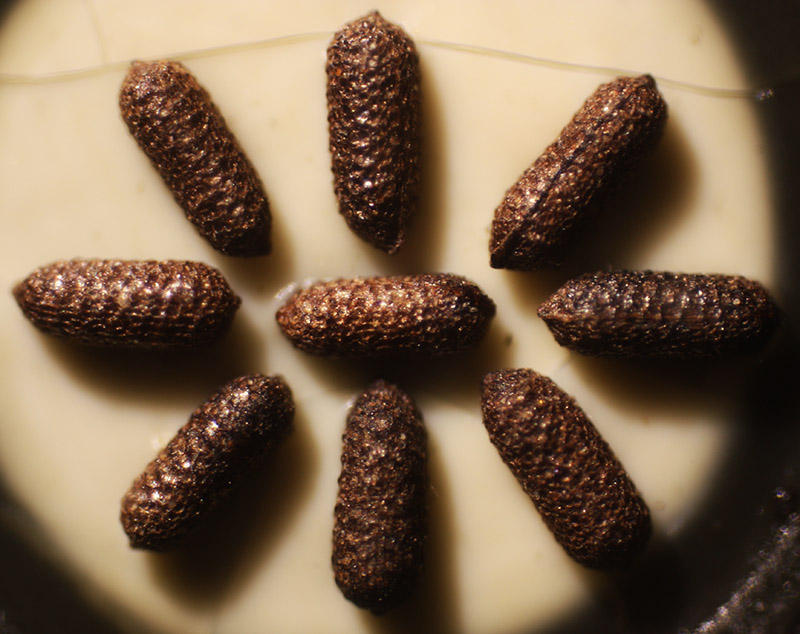 Figure 3. Arranged seeds of Saint John's-wort, Hypericum perforatum, arranged by I.F. Stidham.
&nbsp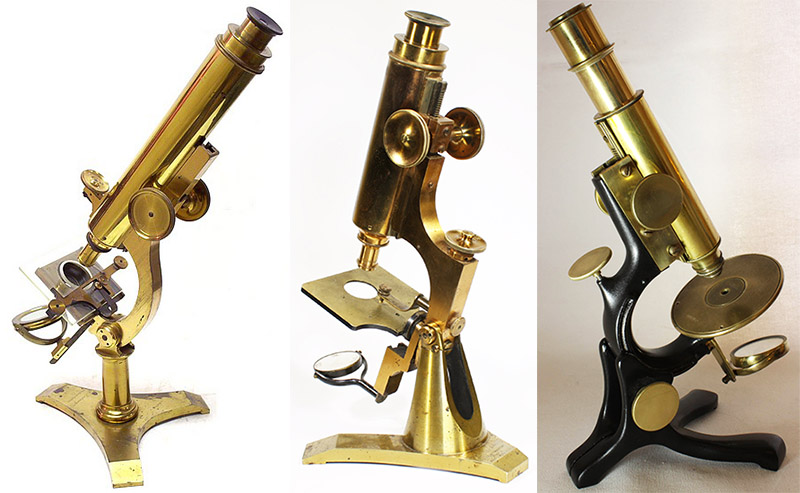 Figure 4. Examples of microscopes that Isaac Stidham used in 1896. It is likely that he owned one of each model. Left to right: Zentmayer Army Hospital, Zentmayer Histological, and Wales New Working. The left image is adapted from http://www.antique-microscopes.com/photos/Zentmayer_Army_monocularr_975.htm, the right image from http://www.microscope-antiques.com/walewithengr.html, and the center image from the author's collection.
&nbsp
Acknowledgement
Thank you to Ted Bernhardt for sharing images of Stidham's slides, and to Allan Wissner for sharing images of his microscope collection.
&nbsp
Resources
American Journal of Microscopy and Popular Science (1876) "Tyndall Association, Columbus, Ohio. Microscopical Section. Organized 1874. Meets first and third Saturday evenings of month. President, Rev. I.F. Stidham; Secretary, C. Howard; Curator, M. Hensel", Vol. 1, page 73
The American Monthly Microscopical Journal (1896) Report of the New Britain Scientific Association, Vol. 17, page 99
Entomological News (1913) Obituary: Rev. Dr. Isaac F. Stidham, Vol. 24, pages 321-322
Grossbeck, John A. (1908) Plagodis schuylkillensis: a new Geometrid, Entomological News, Vol. 19, pages 315-316
Lee, Alfred Emory (1892) History of the City of Columbus, Capital of Ohio, Volume 2, Munsell & Co., New York, page 682
Transactions of the American Microscopical Society (1880) Description of the formation of the American Microscopical Society, Vol. 1, pages 8-10
US census and other vital records, accessed through ancestry.com