William Walter Stoddart, 1821 - 1880
by Brian Stevenson
last updated November, 2017
Stoddart was a pharmaceutical chemist, who primarily worked Bristol, England. He was an expert microscopist, and wrote several articles on how to identify compounds through microscopical analysis. His scientific inclinations led in several directions, and he was a member of the Bristol Naturalists' Society and the Geological Scientist, as well as the Pharmaceutical Society and the Chemical Society.
He is the same slide-maker who was mentioned in Brian Bracegirdle's Microscopical Mounts and Mounters. That book illustrates three of Stoddart's preparations. However, the slide shown on Plate 32-S carries a label that indicates it was once owned by the Bristol Microscopical Society (B.M.S.), the initials of which were mistaken for Stoddart's.


Figure 1. A microscope slide of a thin-sectioned fossilized fin spine from a fish of the genus Ctenacanthus, collected in Leigh Woods. Stoddart wrote of such fossils, and of the coal fields of that location, in 1875.
&nbsp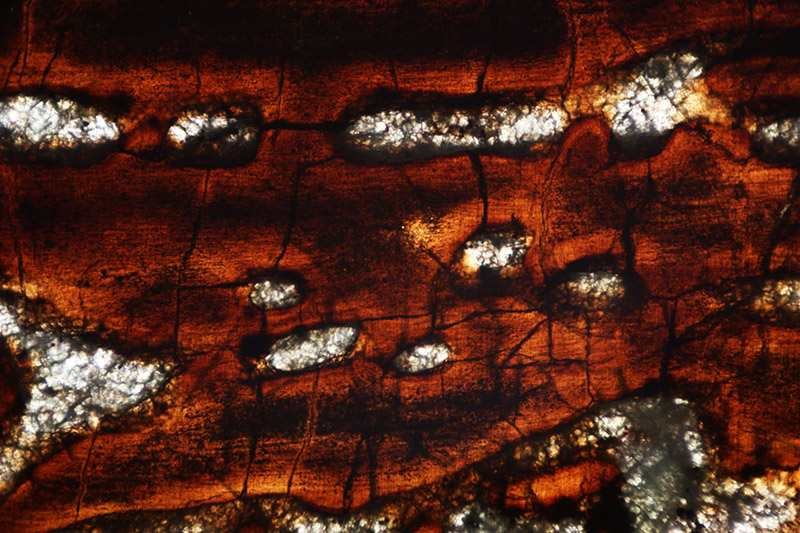 Figure 2. Detail of Ctenacanthus spine, with transmitted light. Photographed with a 10x objective lens and C-mounted digital SLR camera.
&nbsp
William Walter Stoddart was born on February 21, 1821, in Freshford, Somerset, a town near Bath. His father and grandfather, both also named William, operated a clothing business. In 1830, the elder Stoddarts, and their partner, Henry Turner, declared bankruptcy, and young William and family moved to Kidderminster, Worcestershire. His father then owned carpet manufacturing businesses. At least two partnerships were formed, with Henry Woodward (ended in 1841) and Joseph Boycot (ended in 1843).
A memorial that was published after William Walter Stoddart's death stated that "On leaving school, at the age of sixteen, he was first placed in a carpet manufactory with his father, at Kidderminster, where he learned the usual routine of weaving and dyeing". His father being the owner, it is very unlikely that William was a common laborer - he probably learned how to operate all the machines and processes, but worked as a supervisor. Life at home was certainly not difficult: the 1841 census recorded that the Stoddarts employed two female domestic servants.
Around the mid-1840s, William followed his longstanding interest in chemistry and began training as a pharmacist with William Hodgkinson, in Kidderminster. Two or three years later, he moved to Bath, and worked for the Steele and Smith pharmacy. The 1851 census listed Stoddart and two other assistant chemists living with "master druggist" Thomas Steele.
William married Ann Wallis during the summer of 1852. They had three children: two boys, then a girl.
Stoddart moved to Bristol in 1853, and took over the chemist's shop at 9 North Street. He remained at that location for the remainder of his life. Stoddart joined the Pharmaceutical Society at the same time he began his own business. He served as a member of the Society's Council from 1868 until 1875. He was President of the British Pharmaceutical Conference during the 1870 Liverpool and 1871 Edinburgh meetings. For many years, he was also Public Analyst to the city and county of Bristol and the county of Somerset, responsible for investigating incidents of adulteration, and testing water supplies.
The 1861 census indicates that Stoddart's business was quite successful. In addition to William, Ann, and their then-two children, the household included two apprentice chemists, a cook, and a nurse.
Stoddart was very active in the natural sciences by this time, and was a founding member of the Bristol Naturalists' Society: "The minutes of the first meeting of the Bristol Naturalists' Society on May 8th, 1862, bear Mr. Leipner's name as Hon. Sec of the Provisional Committee which framed the constitution of the Society. The members of the Provisional Committee were Steven Barton, John Beddoe, M.D., W.S. Fedden, Henry E. Fripp, M.D., C.T. Hudson, M.A., and W.W. Stoddart. And at this first meeting of the Society Mr. William Sanders was elected President, the Rev. Canon Guthrie and Dr. Alfred Day, Vice-Presidents, Mr. W.W. Stoddart, Treasurer, W. Lant Carpenter, Reporting Secretary, and Herr Adolph Leipner, Secretary".
As stated above, Stoddart applied the microscope to his pharmacy business. An example is his 1867 paper from The Proceedings of the British Pharmaceutical Conference, "Notes on the use of the microscope and its crystallographic application".
Presentations to his other societies similarly showed a merging of interests, such as a six-part series on the geology of Bristol coalfields that was presented to the Bristol Naturalists' Society between 1874 and 1879. Not surprisingly, the Stoddart slide shown in Figure 1, above, and the three examples in Bracegirdle's Microscopical Mounts and Mounters, are all geological specimens. There are no reasons to suspect that he did not prepare those mounts himself.
Stoddart's health declined significantly in early 1880, and he died of heart failure on May 30, 1850, at his home in Sneyd Park.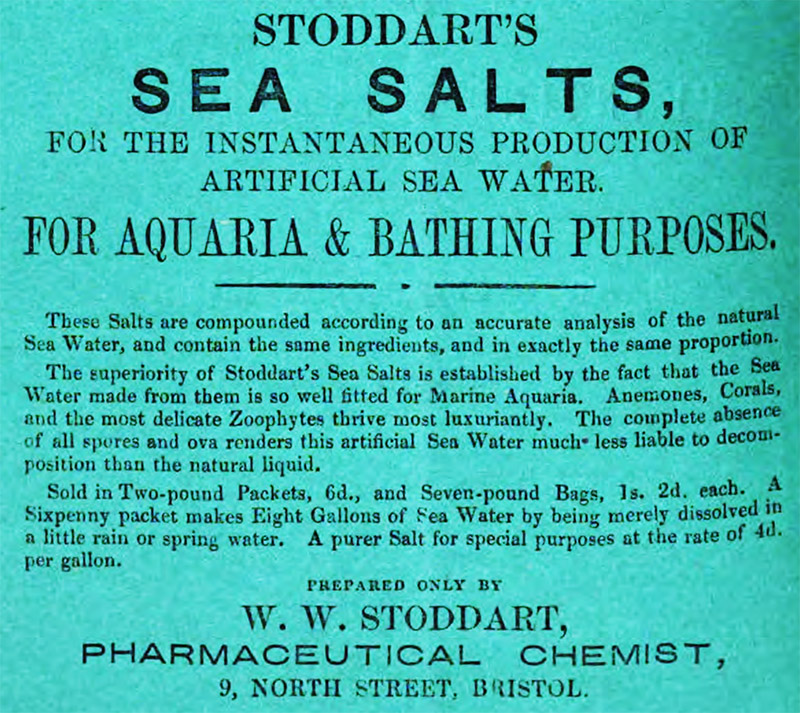 Figure 3. An 1866 advertisement from W.W. Stoddart's pharmacy.
&nbsp
Resources
The Analyst (1880) Death of Mr. W.W. Stoddart, Vol. 5, page 134
The Bankrupt Directory (1831) "Stoddart William, Freshford, Somersetshire, cloth manufacturer, Jan. 4, 1831", page 395
Bentey's Directory (1840) "Stoddart William, carpet & rug manufacturer, Church-street, house, Blake Brook; Stoddart and Boycot, carpet and rug manufacturers, Church-st.", page 35
Bracegirdle, Brian (1998) Microscopical Mounts and Mounters, Quekett Microscopical Club, London, pages 89, 168, and 172, and plates 32-R, 32-S, and 34-C
England census, marriage, and other records, accessed through ancestry.com
The Examiner (1843) "Partnerships dissolved … W. Stoddart and J. Boycot, Kidderminster, carpet manufacturers", page 686
Journal of the Chemical Society (1881) Mr. William Walter Stoddart, Vol. 39, page 190
The Law Advertiser (1830) Bankruptcies, "Stoddart William, sen., William Stoddart, jun., and Henry Turner, Freshford, Somerset, clothiers. Dec. 4", Vol. 8, page 509
The London Gazette (1841) "Notice is hereby given, that the Partnership between us the undersigned, William Stoddart and Henry Woodward, as Carpet Manufacturers, at Kidderminster, in the county of Worcester, trading under the style or firm of Stoddart and Woodward, has this day been dissolved by mutual consent. Dated this 22nd day of January 1841", page 226
The London Gazette (1843) "Notice is hereby given that we, the undersigned, William Stoddart and Joseph Boycot, carrying on business as Carpet Manufacturers, at Kidderminster, in the county of Worcester, have this day mutually agreed to dissolve the partnership between us. All debts due to or owing from the said partnership will be received and paid by the said William Stoddart: as witness our hands this 25th day of October 1843", page 3489
Matthews's New Bristol Directory (1863) "Stoddart Wm. W. family and dispensing chemist, proprietor of Humpage's medicated syrup of Horehound, 9 North street", page 229
The Pharmaceutical Journal and Transactions (1861) "Members … 1853, Stoddart, William Walter, Bristol", Vol. 20, page 83
The Pharmaceutical Journal and Transactions (1880) Death of Mr. W.W. Stoddart, page 984
The Pharmaceutical Journal and Transactions (1880) William Walter Stoddart, F.I.C. F.G.S., page 1030
Pigot's Directory of Worcestershire (1835) Carpet manufacturers and warehouses: "Stoddart and Woodward, Church st", page 645
Probate of the will of William Stoddart (1880) "Stoddart William Walter 13 July. The Will of William Walter Stoddart late of 1 and 2 Park-street in the City and County of Bristol and of Grafton Lodge Sneyd Park in the Parish of Westbury-upon-Trym in the County of Gloucester Analytical Chemist who died 30 May 1880 Grafton Lodge was proved at Bristol by Ann Stoddart of Grafton Lodge Widow the Relict the sole Executrix. Personal Estate under £4,000", accessed through ancestry.com
Proceedings of the Bristol Naturalists' Society (1866) Advertisement from W.W. Stoddart, October issue, back cover
Proceedings of the Bristol Naturalists' Society (1879) Members, "Stoddart, W.W., F.G.S., F.C.S., Grafton Lodge, Sneyd Park; Stoddart, Mrs. W.W., Grafton Lodge, Sneyd Park", Vol. 2, page 7
Proceedings of the Bristol Naturalists' Society (1900) Adolf Leipner, New series, Vol. 9, pages 80-83
Rawlings, F.H. (1998) William Walter Stoddart, Ph.C.: the first public analyst for the City of Bristol, Pharmaceutical Historian, Vol. 28, pages 6-7
Stoddart, W.W. (1864) Report on the purity of sulphate of quinine of commerce, Proceedings of the British Pharmaceutical Conference, page 45
Stoddart, W.W. (1867) Notes on the use of the microscope and its crystallographic application, Proceedings of the British Pharmaceutical Conference, page 26
Stoddart, W.W. (1868) Honey, its formation and changes, Proceedings of the British Pharmaceutical Conference, page 14
Stoddart, W.W. (1868) Lemon juice and its decomposition, Proceedings of the British Pharmaceutical Conference, page 47
Stoddart, W.W. (1869) Note on an application of spectral analysis to pharmacy, Proceedings of the British Pharmaceutical Conference, page 29
Stoddart, W.W. (1870) On the igneous rocks of Shropshire, Proceedings of the Bristol Naturalists' Society, page 43
Stoddart, W.W. (1870) Notes on the geology of Weymouth, Proceedings of the Bristol Naturalists' Society, page 66
Stoddart, W.W. (1873) Desmidieae, observed in the immediate neighborhood of Bristol, Proceedings of the Bristol Naturalists' Society, Vol. 1, page 96
Stoddart, W.W. (1873) Geology of the Bristol coalfields: Part 1, physical character, Proceedings of the Bristol Naturalists' Society, Vol. 1, page 115
Stoddart, W.W. (1874) Geological distribution of some of the Bristol mosses, Proceedings of the Bristol Naturalists' Society, Vol. 1, page 190
Stoddart, W.W. (1875) Geology of the Bristol coalfields: Part 2, Silurian and Devonian, Proceedings of the Bristol Naturalists' Society, Vol. 1, pages 262-272
Stoddart, W.W. (1875) Geology of the Bristol coalfields: Part 3, Carboniferous, Proceedings of the Bristol Naturalists' Society, Vol. 1, pages 313-334
Stoddart, W.W. (1875) Geology of the Bristol coalfields: Part 4, the coal measures, Proceedings of the Bristol Naturalists' Society, Vol. 1, pages 335-350
Stoddart, W.W. (1875) Ceratodus forsteri, Proceedings of the Bristol Naturalists' Society, Vol. 1, pages 145-146