William Henry Summers, 1835 - 1917
by Brian Stevenson
last updated December, 2020
Owner of a dry goods shop in Chicago, W.H. Summers was a long-time member and officer in the State Microscopical Society of Illinois. His main microscopical interest was diatoms, although notes in The Naturalists' Directory indicate that he also had some interest in cryptogams and insects.


Figure 1. A microscope slide with a strew of mixed fossil diatoms, prepared by W.H. Summers. He (or a later owner) evidently found a good example of Biddulphia brittoniana in the mix. Brian Bracegirdle's "Microscopical Mounts and Mounters" shows a Summers mount with slightly different custom-printed labels. Summers was involved with microscopy in Chicago from at last the mid-1870s until he left the city ca. 1911, so these slides could have been made at any date within that period.
&nbsp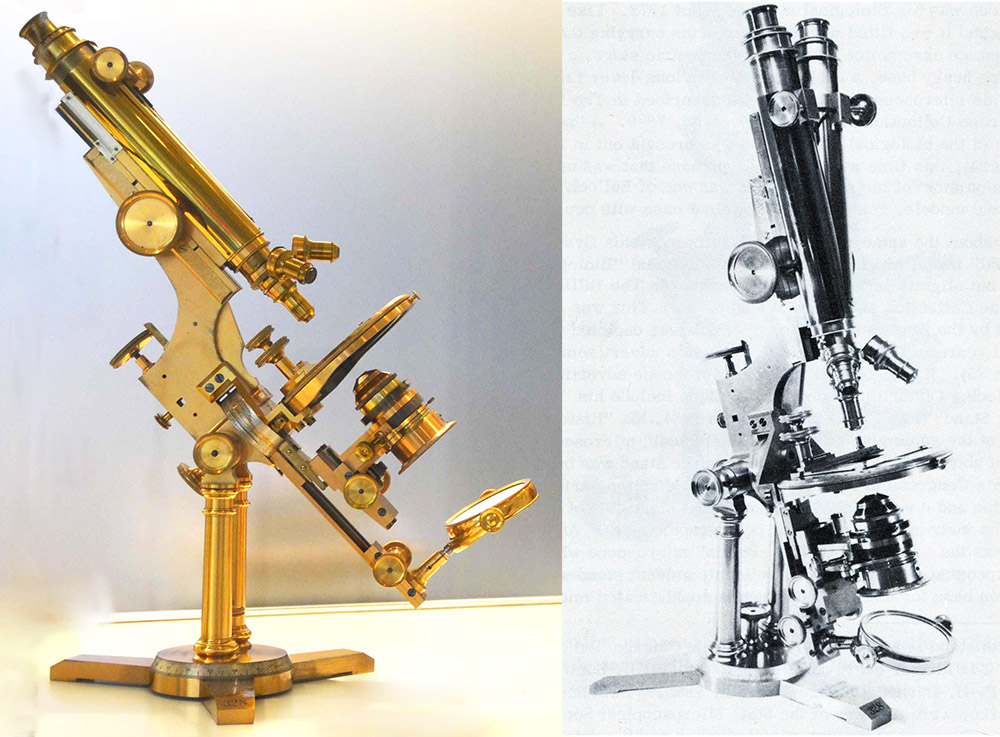 Figure 2. One of W.H. Summers' microscopes, a "Congress" model by Walter H. Bulloch, which was given to Summers in 1893 by R.P.H. Durkee. Summers, Bulloch, and Durkee were all members and officers of the State Microscopical Society of Illinois. Images adapted for nonprofit, educational purposes from (left) http://www.microscope-antiques.com/bullochcongr328.html and (right) Padgett, 1975.
&nbsp
William Henry Summers born on April 18, 1835 in Salem, Massachusetts. His father, also named William, was a sailor, recorded as a "coaster" in the 1850 census.
Young William's occupation was listed as "trader" on the June 28, 1858 record of his marriage to Martha Silsbee Driver. The 1860 and 1865 censuses, and his 1863 military draft registration all reported him to be a "clerk". William and Martha had two children, Martha (born in 1860) and Frederick (born in 1866). The son died in September of the year he was born, at 8 months of age, from "cholera infantum", a noncontagious intestinal malady. The daughter did not marry, but remained in the family home until she died in 1911.
Possibly motivated by the death of their son, the Summers family moved to Chicago in 1867. There, William opened a dry good store at 3450 Cottage Grove Avenue. That building also served as their home until after the turn of the century. Twenty years later, the business was described thusly: "W.H. Summers, Dry and Fancy Goods, Ladies and Gents' Furnishing Goods, No. 3450 Cottage Grove Avenue - This gentleman is an extensive dealer in dry and fancy goods, ladies' and gents' furnishing goods and has been established in the business here since 1867. The store is one of the popular attractions of the neighborhood and is liberally patronized by the elite of the community. The stock embraces dress goods. In house-keeping goods the line is complete and prices low, including table linens, towels, napkins, muslins, country blankets, yarns and flannels, at lower prices than ever. Here is also displayed a handsome line of new hosiery for ladies and children, from cheap domestic to finest French goods, hook and button kid gloves, also cashmere and silk gloves, underwear in scarlet and white for ladies, misses and infants, Ball's corsets in large variety, including health preserving corsets, Warner's Coraline and Model, Moulded, Tandem, Good Luck, bustles, hoopskirts, etc., a full line of embroideries, lace edgings and dress buttons. Mr. Summers is agent for Mme. Demorest's reliable patterns and keeps a full stock of all their styles. Mr. Summers is a native of Salem, Mass., and has been connected with the dry goods trade for the past thirty-six years".
I did not identify the date when Summers joined the State Microscopical Society of Illinois, although he was evidently well-regarded by 1878, when he was elected to the society's Board of Trustees. He filled other offices through the following years.
Summers' interest in microscopy provided him with more than just an occasional evening at the microscope, but also with a justification to leave work and enjoy nature. For example, he participated in the following multi-day excursion, which was described by freshwater sponge enthusiast Henry Mills: "On the 20th of September, 1886, a party consisting of B.W. Thomas and W.H. Summers, members of the State Microscopical Society, Chicago, and the writer made an effort to explore some of the lakes in Illinois, north of Chicago, with sanguine expectation of being able to add something to our list of genera and species of these and other microscopic objects; for, although the two Chicago gentlemen searched principally for Diatomaceous material, the writer gratefully acknowledges valuable help from them in the search for the objects of his special pursuit. We left Chicago by the afternoon train on the Chicago and Northwestern Railway, arriving at McHenry, McHenry County, in time to prepare for an early start up the Fox River in the morning. Each of the party had his boat, and collecting apparatus, and those who felt like using the oars did so, while those who felt so inclined secured others to do the hard work. It was a cloudy and rather cool morning, and by the time we reached Dutchman's Slough, which is the outlet of a small sluggish stream or creek three and one-half miles north of McHenry, there was a drizzling rain, which threatened to dampen the enthusiasm of the party; but as it did not last long, we were soon ready for work. Although not immediately successful, there was enough enchantment in the spot and its surroundings to inspire us with confidence, and in a short time we reached a place in the slough where the sponge could be hauled by the drags, with the weeds to which it was attached in large handfuls. The weeds or algae upon which the sponge grew consisted of a species of Utricularia, and Anacharis canadensis (both of microscopic interest), and some others not recorded. Unfortunately the sponge, on examination at home with the microscope, proved to be mostly immature, containing but few statoblasts, but enough to determine the species as mostly Carterius tubisperma Mills, Meyenia fluviatilis and Meyenia Calumetica Thomas. But in the interest of science the spot should be remembered, that future investigators may be benefited at least to the extent of our discoveries in this interesting locality. Other microscopical material, especially Diatomaceae, was present in great abundance. The sponge was beautifully clean, of a bright, buff color, a small piece or perhaps a separate sponge the size of a small hickory nut being attached to every frond of the Utricularia. After obtaining as much of this as we could care for, besides other material, we started up the river, passing through lakes Pistakee and Nippersink into Fox Lake, resting for the night at Hotel Sayles, situated on Hickory Point, the dividing ridge between Lake Nippersink and Fox Lake. The following morning we found only some Diatomaceous material, and soon pushed off in the direction of Cedar Lake, which is about four miles from our hotel and two miles from Fox Lake. Here the wind, from an approaching storm, so ruffled the water as to make all attempts at collecting futile. On our return to the neighborhood of the hotel we succeeded in finding a large quantity of Spongilla lacustris, which well repaid us for the disappointment in the earlier part of the day".
Prior to the 1893 World's Fair of Chicago, Summers joined with two other members of the Illinois State Microscopical Society to develop a microscopy exhibition at the fair. They set out to "ask all the microscope makers in Europe and the United States to make a display of their productions, and also, if possible, to get exhibits of mounted slides, &c., from various workers in different departments of science". It was reported that several makers "said they would rather make an exhibit in such a scientific display than in the commercial department", and "it is safe to say that the exhibit of modern instruments and accessories will be the most extensive that has ever been made at any World's Fair".
Martha Summers died in 1898. Soon afterward, William and daughter moved their home to Park Ridge, on the outskirts of Chicago, while also maintaining the shop on Cottage Grove Avenue. The daughter died on March 29, 1911.
William then moved back to Massachusetts. The 1914 Naturalists' Directory gave his address as 26 Concord Street, Malden, Massachusetts, and noted that he was interested in collecting diatoms and insects. W.H. Summers died on September 14, 1917.

Figure 3. An 1883 advertisement from the State Microscopical Society of Illinois, of which W.H. Summers was then Treasurer. From "Botanical Gazette".
&nbsp
Resources
The American Monthly Microscopical Journal (1883) Officers of the State Microscopical Society of Illinois, page 120
The American Naturalist (1878) Officers of the State Microscopical Society of Illinois, Vol. 12, page 410
Botanical Gazette (1883) Advertisement from the State Microscopical Society of Illinois, Vol. 8, advertising section
Bracegirdle, Brian (1998) Microscopical Mount and Mounters, Quekett Microscopical Club, London, pages 89 and 170, and Plate 33-S
Chicago Examiner (1917) Obituary: "William H. Summers, eighty-two years old, for fifty years identified with the dry goods trade in Chicago, died in Malden, Mass.", Vol. 18, September 16, page 61
Gravestone record of William H. Summers (accessed December, 2020) https://www.findagrave.com/memorial/203596180/william-h.-summers
Half-Century's Progress of the City of Chicago (1887) International Publishing Co., Chicago and New York, page 275
The Lakeside Annual Directory of the City of Chicago (1887) "Summers William H. dry goods 3450 Cottage Grove av.", page 1510
The Naturalists' Directory (1914) "Summers, William H., 26 Concord St., Malden, Mass. Diatomaceae and Insects. C.", S.E. Cassino, Boston, page 108
Padgitt, Donald L. (1975) A Short History of the Early American Microscopes, Microscope Publications Ltd., London, pages 68-70
The Scientists' International Directory (1896) "Summers, William H., 3450 Cottage Grove Ave., Chicago, Ill. Mic., Diatoms, Crypt. C. Ex.", S.E. Cassino, Boston, page 193
The Scientists' International Directory (1896) "State Microscopical Society of Illinois, W. H. Summers, Treas., 3450 Cottage Grove Avenue, Chicago, Ill.", S.E. Cassino, Boston, page 226
Smith, Frank (1921) Distribution of the fresh-water sponges of North America, Bulletin of the State of Illinois Department of Registration and Education, Division of the Natural History Survey, Vol. 14, Article 2, page 12
Tolman, Henry L. (1893) Microscopy at the World's Fair, The American Monthly Microscopical Journal, Vol. 14, page 17
U.S. census and other records, accessed through ancestry.com