Charles Lamson Swasey, 1815 - 1888
by Brian Stevenson
last updated February, 2019
Dr. C.L. Swasey was a physician and amateur microscopist of New Bedford, Massachusetts, USA. His slides are not particularly common, but those that are known are well-made, and feature neatly handwritten and typeset labels (Figures 1-2).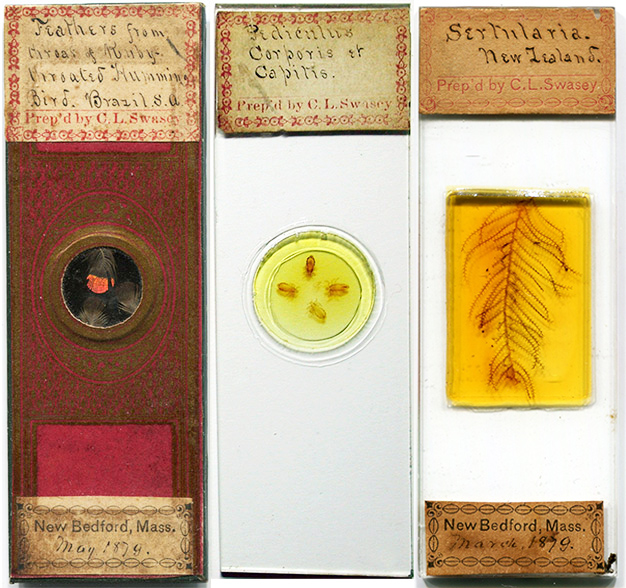 Figure 1. Microscope slides that were prepared by Charles L. Swasey. Dated between 1876 and 1879.
&nbsp

Figure 2. Details of "Feathers from throat of ruby-throated hummingbird, Brazil, S.A.", prepared in May, 1879 (see Figure 1). Top row: 3.5x objective. Bottom row: 10x objective. All photographed with a C-mounted digital SLR camera and indirect LED lighting.
&nbsp
Charles L. Swasey was born on December 14, 1815, in Limerick, Maine. His father, William Swasey, was a physician. The father died when Charles was young, in 1825. Mother Mary Polly Robinson Swasey died in 1836. Despite the loss of both parents, Charles evidently inherited sufficient money to attend college. He graduated from the Medical School of Bowdoin College, Maine, in 1838.
Shortly afterward, he married Hannah Brooks Perry and moved to Wakefield, New Hampshire (order not known, although Hannah was from Maine, and thus likely to have known Charles Swasey there). They had five children, a boy and four girls. Hannah died on December 14, 1856. Charles did not remarry, but his eldest daughter, Anne, stayed at home for the remainder of his life.
Just before Hannah's death, Charles moved the family to New Bedford, Massachusetts. He took on the position of the town's Port Physician, providing medical services to mariners. At that time, New Bedford was a major hub of the whaling industry. It is possible that some of Swasey's microscopical specimens were obtained from sailors who had travelled to South America and beyond.
The overall quality of the slides shown in Figure 1 suggests that Swasey was well-experienced in slide-making by 1876. He joined the New York Microscopical Society as an Associate Member in 1879. That year, he also published the only exchange advertisement I have yet to locate, an offer to swap microscope slides of nummilitic limestone from the Great Pyramids, foraminiferous limestone from India, deep sea dredgings, and Sertularia hydrozoans (Figure 3). In exchange, he requested histological or pathological specimens, which would have been beneficial to his medical practice.
Charles L. Swasey died on December 24, 1888, at the age of 73. He is reported to have maintained his medical practice to within a year or two of his death.


Figure 3. An 1879 exchange offer, from "American Journal of Microscopy and Popular Science".
&nbsp
Acknowledgement
Thank you to Howard Lynk for sharing images from his slide collection.
&nbsp
Resources
American Journal of Microscopy and Popular Science (1879) "New York Microscopical Society. The regular conversazione meeting was held June 20, 1879, President Hyatt in the chair, 13 members present. Mr. C. W. Rabadan, of New York, was elected an active member. Also Dr. Chas. L. Swasey, New Bedford, Mass.; Prof. A.H. Chester, of Hamilton College, Clinton, N.Y.; and Mr. Thos. Taylor, Microscopist, Department of Agriculture, at Washington, D.C., as associates", Vol. 4, page 140
American Journal of Microscopy and Popular Science (1879) Exchange offers from C.L. Swasey, Vol. 4, several issues
The Boston Medical and Surgical Journal (1888) "Charles Lamson Swasey, M.D., of New Bedford, died December 24, 1888, aged seventy-three", page 644
Ellis, Leonard Bolles (1892) "Dr. Charles Lamson Swasey was born in Limerick, Me, December 14, 1815, and died in New Bedford December 24, 1888. His early education was secured at the Limerick Academy, and later on he graduated from the Medical School of Bowdoin College, in the class of '38. He came to this city between 1850 and 1860 to take the place of Dr. Folsom. From that time on he practiced in New Bedford until within a year or two of his death, except for a short period in the early days of the war, when he was in the army as a surgeon. Dr. Swasey was at one time member of the board of health and quarantine physician. He was well versed in natural history, of which he was all his life an enthusiastic student, and was a strong believer in the theory of evolution and of the antiquity of the human race. He was for many years a zealous member of the school committee and of the New Bedford Lyceum in its palmy days", History of New Bedford and Its Vicinity, 1620-1892, D. Mason & Co., Syracuse, New York, page 673
Greenough's Directory of New Bedford (1875) "Swasey Charles L., port physician, 93 1/2 Middle, boards Parker House", page 213
Greenough's Directory of New Bedford (1875) "Quarantine Physician and Physician to the Board of Health - Charles L. Swasey. Office 93 1/2 Middle Street", page 284
Journal of the New-York Microscopical Society (1887) "Meeting Of January 21st, 1887 … On motion, the names of the following persons designated as Associate Members under the old Constitution and By-Laws, were directed to be printed in the forthcoming list of members of the Society as Corresponding Members; viz.: Charles L. Swasey, New Bedford, Mass.", Vol. 3, page 7
U.S. census and other records, accessed through ancestry.com