Joseph Cornelius Taylor, 1888 - 1970
by Brian Stevenson
last updated July, 2022
J.C. Taylor, "mineralogist", was a professional preparer of geological microscope slides and other mineral specimens in England between approximately the 1920s and the 1940s. His thin-sectioned preparations are of excellent quality. Later in life, Taylor worked as a museum curator.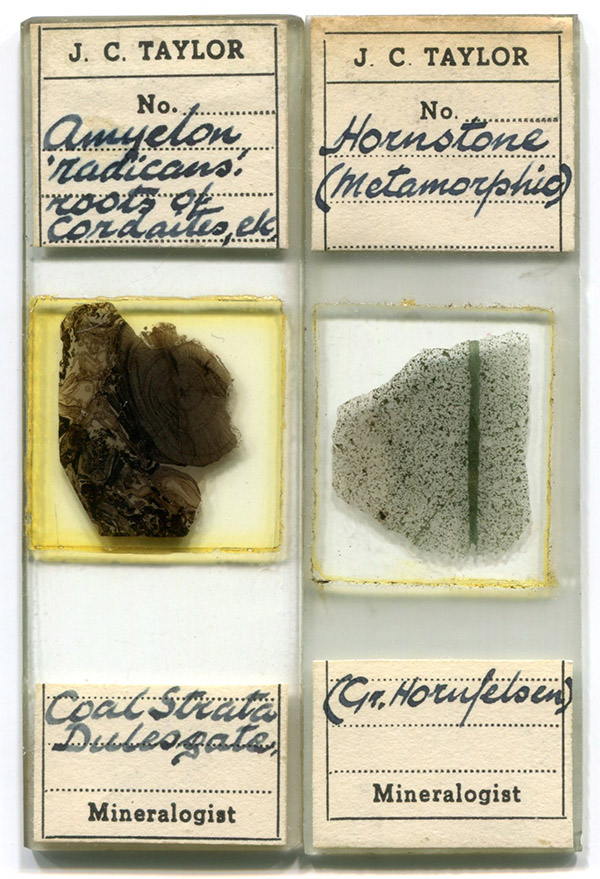 Figure 1. Circa 1920s-1940s microscope slides of thin-sectioned minerals, prepared by Joseph C. Taylor.
&nbsp
Joseph Cornelius Taylor was born on September 28, 1888, in Hove, Sussex. He was the only child of John Cornelius Taylor and Susan (Susannah) Elizabeth Cooper Taylor. The 1891 census records that father John worked as a "clerk". John died in 1892, at the age of only 32, just after Joseph's fourth birthday.
Susan remarried during the summer of 1897, to William King, who had recently been widowed. She and her young son moved to his home in Hendon, Middlesex.
The 1911 national census shows 22 year old Joseph with his mother and step-father in Hendon, and working as a clerk for the local gas company.
Joseph married Edith Hopper in early 1912, with whom he had at least one child, Gordon (born in 1917).
Taylor joined the Mineralogical Society on June 27, 1922. It can be assumed that he already possessed skills in that science, and may have been preparing and selling specimens for some time before 1922. He remained a member through 1937.
Joseph C. Taylor's occupation was listed as "mineralogist" on the 1939 national register, conducted at the outset of the Second World War.
From that information, we can conclude that Joseph C. Taylor was a professional mineralogist from around the early 1920s until the 1940s, and can likely date his slides to that time period.
During the early-mid 1940, Joseph Taylor appears to have worked with the Royal Museum in Canterbury. He donated a specimen of "reticulated or specular haematite (iron oxide) from Norway" to the museum in 1946. He was likely the J.C. Taylor who authored the 1947 booklet, Handbook and Guide to the Minerals, Rocks and Fossils in the Royal Museum, Canterbury.
Taylor became the curator of Eastgate House Museum, in Rochester, Kent, in April, 1949. He served in that capacity through at least 1959. A report of the successor museum's collections stated, "The museum houses a small but wide-ranging geological collection including fossils, minerals, gemstones, and rocks. The collection was gathered together by Mr. J.C. Taylor and formed a prominent feature of the collections at the old Eastgate House Museum in Rochester. Some of the best fossil specimens from this collection have been displayed in the museum's introductory displays (mainly characteristic local fossils of the Cretaceous, Gault Clay and London Clay deposits in Kent). Additional high quality fossils from other British localities and contexts are also on display in the museum".
Joseph Cornelius Taylor died on May 15, 1970, in Rochester.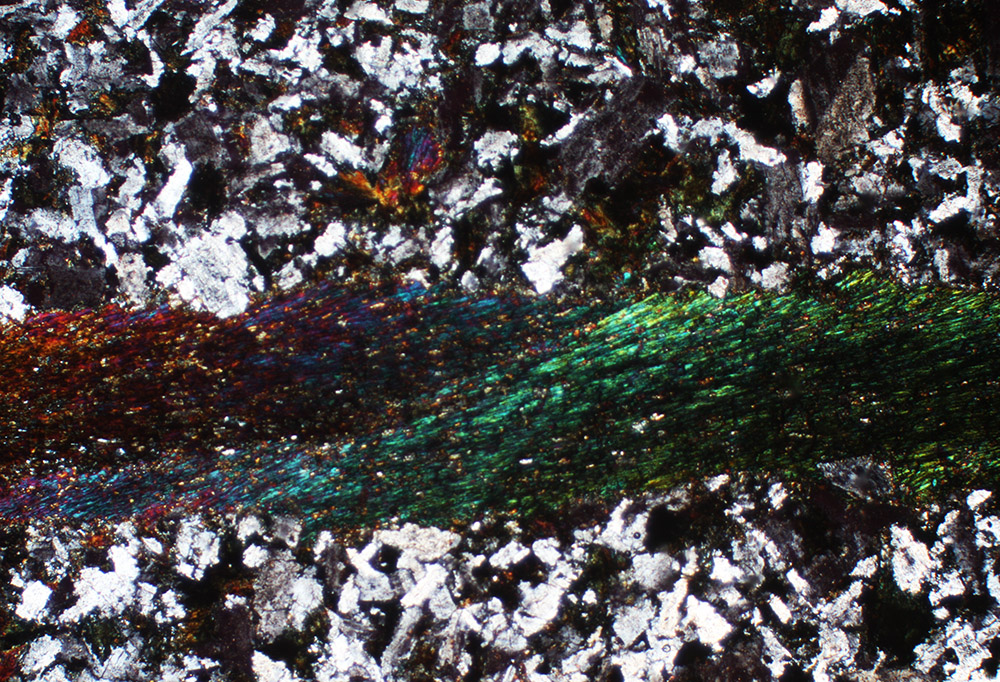 Figure 2. Photomicrograph of a thin-section of hornstone, prepared by J.C. Taylor. Photographed with crossed polarizing filters, a 3.5x objective lens, and a C-mounted digital SLR camera on a Leitz Ortholux II microscope.
&nbsp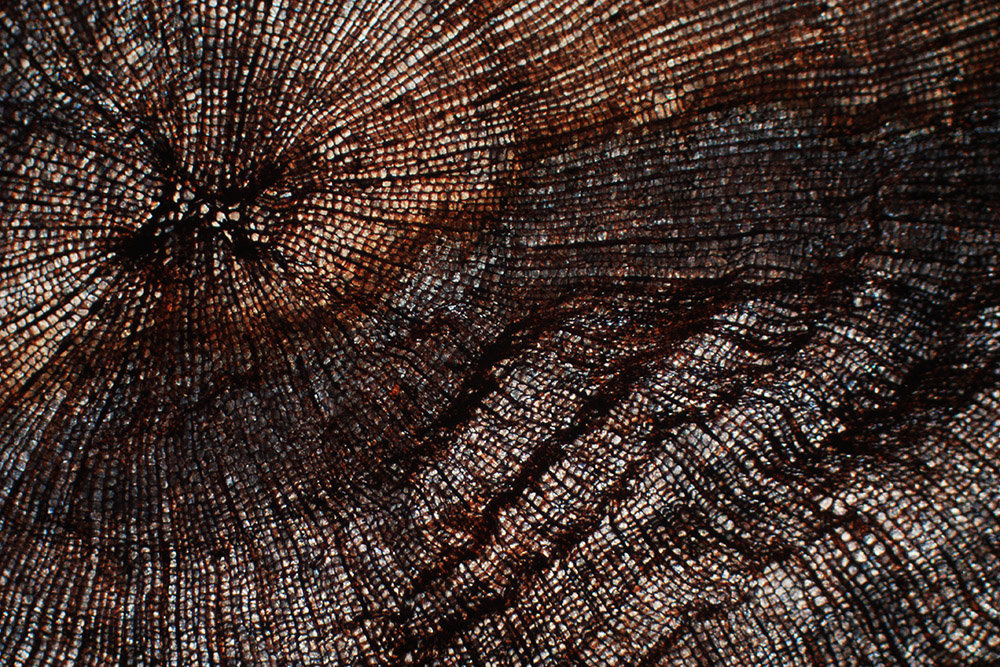 Figure 3. Photomicrograph of a thin-section of fossil wood from coal, prepared by J.C. Taylor. Photographed with crossed polarizing filters, a 3.5x objective lens, and a C-mounted digital SLR camera on a Leitz Ortholux II microscope.
&nbsp
Resources
Canterburymuseums.co.uk (accessed July, 2022) Reticulated or Specular haematite (iron oxide) from Norway, Presented by J C Taylor, 1946, reference: D4.A187, https://canterburymuseums.co.uk/case-contents/material-and-master/
England census and other records, accessed through ancestry.com
Guildhall Museum (Rochester), Acquisition and Disposal Policy 2008-2012
Jessup, R.F. (1959) Roman lead coffin from Rochester, Kent Archaeological Society Miscellaneous Notes
The Mineralogical Magazine (1926) Report of the Mineralogical Society, "J.C. Taylor - a selection of crystals of quartz, calcite, &e., illustrating various phenomena of crystal-growth", page 103
Museums Journal (1949) "Mr. Joseph C. Taylor has been appointed Curator of the Eastgate House Museum, Rochester, as from 11th April, 1949", page 72
Probate of the will of J.C. Taylor (1970) "Taylor Joseph Cornelius of 6 Queen Court John St Rochester died 15 May 1970 Administration Brighton 30 July. £520", accessed through ancestry.com
Proceedings of the Mineralogical Society (1922) Minutes of June 27, 1922 meeting, page xxiii
Proceedings of the Mineralogical Society (1937) "Mr. J.C. Taylor and Mr. K. Seto were removed from the list of members, being two years in arrears with subscriptions", page xxxi
Taylor, J.C. (1947) Handbook and Guide to the Minerals, Rocks and Fossils in the Royal Museum, Canterbury
Timberlake, Simon (1997) A scientific/historical/educational heritage for whom: the value of geological collections in a small museum, in The Value and Valuation of Natural Science Collections, Edited by John R. Nudds and Charles W. Pettitt, Geological Society, Bath