Reverend John Thornton, 1808 - 1887
by Brian Stevenson
last updated March, 2012
According to his contemporaries, the Reverend John Thornton produced and sold a significant number of microscope slides of insects in England during the second half of the 19th century. It is likely that most antique slide collections contain some of Thornton's works. But I am not aware of how one would recognize his mounts. Following are some clues from people who knew, or knew of, Reverend Thornton.
Microscopist/illustrator Tuffen West regularly wrote an article for the Journal of Microscopy and Natural Science, called "Half-an-Hour at the Microscope". In each article, he would discuss details of a half-dozen or so slides that were currently circulating among members of the Postal Microscopical Club. In early 1890, West described a slide of a "blunt-headed frog-hopper". Although he admire the preparation, West complained about the unscientific name provided on the slide, "Is it too much to hope that in time, as these structures come to be more studied microscopically, we may be furnished with the true scientific names instead of such as the above?" He continued, providing critical information on John Thornton's preparations, "Some years ago, a large proportion of the insect slides for sale at the London opticians were prepared by an excellent entomologist, the Rev. J. Thornton, of Aston Abbotts. To purchasers and students these were invaluable, from their having the correct names attached; be it constantly borne in mind that without this, and the help thus afforded to the acquiring a knowledge of the natural objects whence taken, all these beautiful objects really have almost no value."
Slide maker Frederick Enock stated that his uncle, Edmund Wheeler, sold slides by Thornton. Quite likely, some of these microscope slides bore Wheeler's custom wrapping papers and descriptive labels. Hence, some "Wheeler" insect slides may actually have been made by Thornton, just as many other "Wheeler" slides were made by Enock, his fellow apprentice Ernest Hinton, and Wheeler's children. Enock wrote, "When his son Edmund left him in 1870 to take up the art of photography, and his nephew F. Enock joined him, Edmund Wheeler had the largest stock of microscopical objects of all kinds in the world. These were not by any means all made by his own hands, for he gave an immense amount of labour in bringing before the scientific public the wonderful microscopic work of such men as the late Charles Fielding (sic) and his son Amos Topping, Rev. Thornton, Herr Maller (sic), and others who contributed to his enormous stock of objects."
Comments by J.S. Pratt provide additional insight into Thornton's work, "Some thirty years ago Mr. Enock explained to me his method of mounting insects' heads without pressure, asking me to keep the secret to myself, and, so far as I know, and I knew him very well, he never confided the secret to anyone else. He told me that the first idea was given him by seeing some of the Rev. Thornton's beautiful mounts which were evidently prepared without pressure."
From these statements, and the advertisement shown in Figure 1, several conclusions can be made about John Thornton's microscope slides:
(i) Thornton attached the "correct names" of insects to his works, i.e. the Linnaean binomial of genus and species.
(ii) Thornton mounted whole insects and parts of insects.
(iii) Thornton was a major producer of slides for the commercial market.
(iv) Thornton prepared mounts of insects without applying pressure. Of course, this does not mean that Thornton did not also make slides of flattened insects.
(v) Thornton produced slides for sale by Edmund Wheeler. Thus, some Wheeler-labeled mounts were probably made by Thornton, especially likely if the binomial of the mounted insect is listed.
Did Thornton distribute his microscope slides through markets other than Wheeler? Tuffen West's comments, and the advertisement shown in Figure 1, imply that Thornton's name was well-known in London microscopy circles. This suggests that Thornton sold under his own name, or labeled his slides with a monogram or distinctive device. If any readers have any clues as to what John Thornton's slides look like, please email the author at brian.stevenson@uky.edu.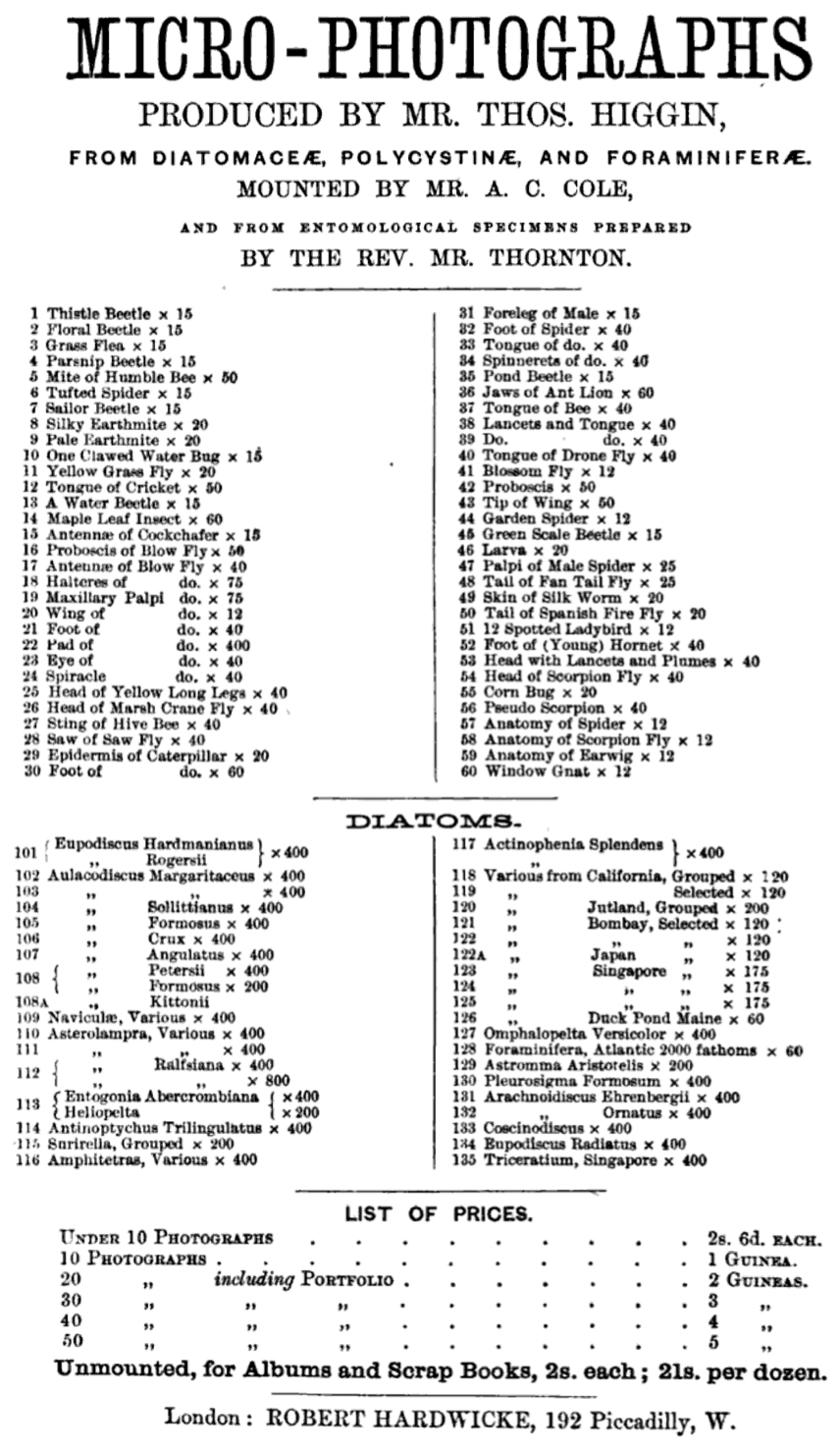 Figure 1. An 1871 advertisement from the 'Popular Science Review', which implies that the microscopical preparations of Rev. John Thornton were well known to microscopists of that time. This list also names some of Thornton's preparations.
&nbsp
John Thornton was born November 1, 1808, in Old Malton, Yorkshire, to John and Margaret Thornton. John Jr. earned an M.A. from St. Catherine's College, Cambridge. He married Ann Knowsley on October 31, 1840 in Driffield, Yorkshire. They had two children, Mary Ann, born 1842, and John Knowsley, born 1845. John Knowsley Thornton grew up to be a well known surgeon. At the time of the children's births, John was curate of All Saints' Church, Northampton. By 1851, he was headmaster of Kimbolton School, in Kimbolton, Huntingdonshire.
Reverend Thornton joined the Geological Society of London in 1848.
John Thornton's microscope slides of insects were well known by the 1850s. Jabez Hogg, in The Microscope, wrote, "In mounting whole insects, or parts of insects . . a medium is required which will destroy the muscular tissues, soften the chitine, and combine with turpentine or balsam; this medium, I believe, the Rev. J. Thornton, of Asten Abbots, has found out, and by this means he is enabled to mount the very beautiful insects which we see about".
Thornton made an aphid famous, which became well known among microscopists as "the Leaf Insect" (Figure 2). In 1852, the Royal Entomological Society of London reported that, "a paper by the Rev. J. Thornton, on the pupa of an insect [allied to Cionops], with leaf-like appendages, which had been proposed to be named Phillophorus testudinatus, was read at the Microscopical Society on the 28th of January, 1852, in which the writer considers that it is the pupa of an undescribed species of Aphis, forming a new species, if not a new genus. It is found in its different states on the leaves of Acer campestris". Jabez Hogg wrote, "The Maple-aphis, better known as the Leaf Insect . ., averages about the one-fiftieth of an inch in length, and, although long sold and exhibited under the name of the Leaf Insect; nothing was known of its origin and history, with the exception of what the Rev. J. Thornton stated in 1852, to whom we owe its discovery on the leaves of the maple; he, believing it to be a species of Aphides, called it Phyllophorus testudinatus. Subsequently it attracted the attention of the Dutch naturalist Van der Hoeven, who regarded it as the larval form of an undetermined species of Aphis, and named it Periphyllus. It has more recently engaged the attention of Dr. Balbiani and M. Siguoret, whose united investigations are given in the "Comptes Iiendus" of June 17, 1867. They have positively ascertained that it is the larva of Aphis aceris; a brown species is also met with during a great part of the year upon the young shoots of the maple".
In 1853, the Thorntons relocated to Aston Abbotts, Buckinghamshire, where John was the vicar. The 1883 Kelly's Directory described this town as, "a small village; yearly value £150 with residence, in the gift of Lord and parish 3 1/2 miles from Marston Gate station on the Aylesbury and Cheddington branch of the London and North Western railway and 5 1/2 north-east from Aylesbury, in the union and county court district of Aylesbury, hundred of Cottesloe, formerly a peculiar of the Bishop of London, but now transferred to the diocese of Oxford and archdeaconry of Buckingham and in the rural deanery of Mursley. The church of St. James is a small stone structure, chiefly of the Decorated period, consisting of chancel, nave, south porch, and a western tower with square turret, containing 5 bells, dated respectively - No. 1, 1652; 2, 1740; 3, 1739; 4, 1652; 5, 1652: there is a good Decorated piscina in the south wall of the chancel, in good preservation: the stained east window, executed at a cost of £70, is a memorial to Sir J. C. and Lady Ross, who died and were buried in the churchyard, the former in 1862 and the latter in 1857. . The living is a vicarage, gross yearly value of £150 with residence, in the gift of Lord Overstone and held since 1853 by the Rev. John Thornton M.A. of St. Catherine's College, Cambridge".
Reverend John Thornton died at Aston Abbotts during on April 9 1887, at the age of 78.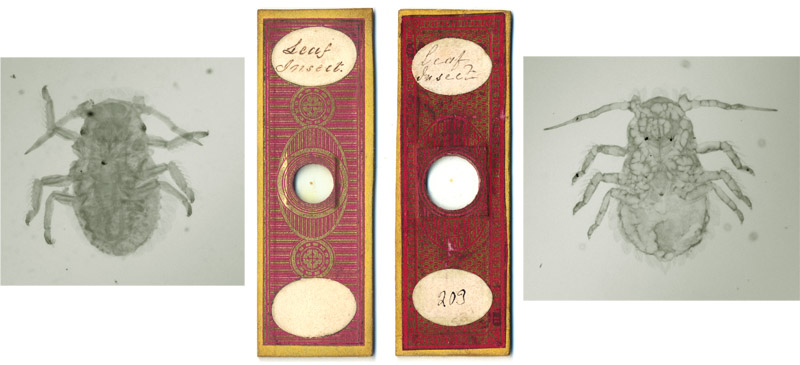 Figure 2. Preparations of the'Leaf Insect', by commercial slide makers Charles M. Topping (left) and John Barnett (right). From contemporary writings, it is very likely that Thornton also produced and sold slides of this aphid, but, what they looked like, remains unknown.
&nbsp
Resources
Bracegirdle, Brian (1998) Microscopical Mounts and Mounters, Quekett Microscopical Club, London. Brief note on Thornton on page 94
Clark, Louisa Lane (1863) Chelymorpha, Phyllophora, or the turtle-shaped leaf-bearer, Objects for the Microscope, second edition, Groombridge, London, page 121
England census, birth, marriage and death records, accessed through ancestry.co.uk
Hodgson, J. Spence, Frederic Enock, and Wilfred Whitten (1904) Edmund Wheeler, Reminiscences Of Ackworth School, Ackworth Old Scholars' Association, report No. 23, pages 65-70.
Hogg, Jabez (1859) On mounting insects, The Microscope, fourth edition, Routledge, Warnes and Routledge, London, pages 612-613
Hogg, Jabez (1859) On mounting insects, The Microscope, eleventh edition, Routledge and Sons, London, page 613
Journal of Obstetrics and Gynaecology of the British Empire (1904) Obituary of John Knowsley Thornton, M.B.C.M. (Edin.), J.P., Consulting Surgeon, Samaritan Free Hospital, London. Vol. 5, pages 198-203
Kelly's Directory of Berkshire, Bucks and Oxon (1883) Aston Abbotts, page 276
List of the Council, Secretaries, and Members of the Palaeontographical Society (1853) List of members, page xv
List of the Council, Secretaries, and Members of the Palaeontographical Society (1865) List of members, page 15
List of the Geological Society of London (1873) Members
The Popular Science Review (1871) advertisement for microphotographs by Thomas Higgin (see Fig. 1, above), Vol. 10
Pratt, Rev. J.S. (1921) Mr. Fred Enock's method of mounting heads of insects without pressure, Journal of the Royal Microscopical Society, pages 141-146
Probate of The Reverend John Thornton (1887) The will with a Codicil of the Reverend John Thornton late of Aston Abbots in the County of Buckingham Clerk who died 9 April 1887 at Aston Abbots was proved at Oxford by May Anne Thornton of Aston Abbots Spinster the daughter one of the Executrixes. Personal estate £1854 3s 9d, accessed through ancestry.co.uk
Transactions of the Royal Entomological Society of London (1852) Aphidae, New series, Vol. 2, page 78
West, Tuffen (1890) Half-an-hour at the microscope, Journal of Microscopy and Natural Science, New series, Vol. 3, pages 59-60