Ernest Wainwright, 1888 - 1954
by Brian Stevenson
last updated July, 2022
An amateur microscopist, Ernest Wainwright was highly skilled in arranging diatoms onto microscope slides. His known slides date from the 1940s and '50s, when he was an active member in the microscopy branch of his local Lincolnshire Naturalists' Union. Wainwright's excellent slides are occasionally seen in collections. They probably came from either his own collection or those of colleagues with whom he traded or gave gifts (Figures 1-4, 6).
In 1951, Wainwright shared some of his diatom-mounting methods in a paper he wrote for "The Microscope (reproduced in full as Figure 5, below).


Figure 1. Four microscopes slides that were prepared by Ernest Wainwright. Magnified details of the specimens are illustrated below in Figures 2-4 and 6. Note that Wainwright dated and numbered each of his slides.
&nbsp


Figure 2. Photomicrograph of arranged diatoms, mounted by E. Wainwright. A few diatoms have drifted over the years, but they originally spelled out "P.H. Shephard". The slide was prepared in honor of Percy Herbert Shephard (1917-1988), Wainwright's colleague in the microscopy branch of the Lincolnshire Naturalists' Union (see Figure 1). This undated mount was prepared from diatoms selected from fresh water fossil diatom frustules that were collected at Toome Bridge, Ireland. Wainwright noted this as slide number 605, and so was presumably made a short time before the 1954 slide number 640 that is shown in Figure 1. Photographed with a 10x objective lens and C-mounted digital SLR camera on a Leitz Ortholux II microscope, stitched from two overlapping images.
&nbsp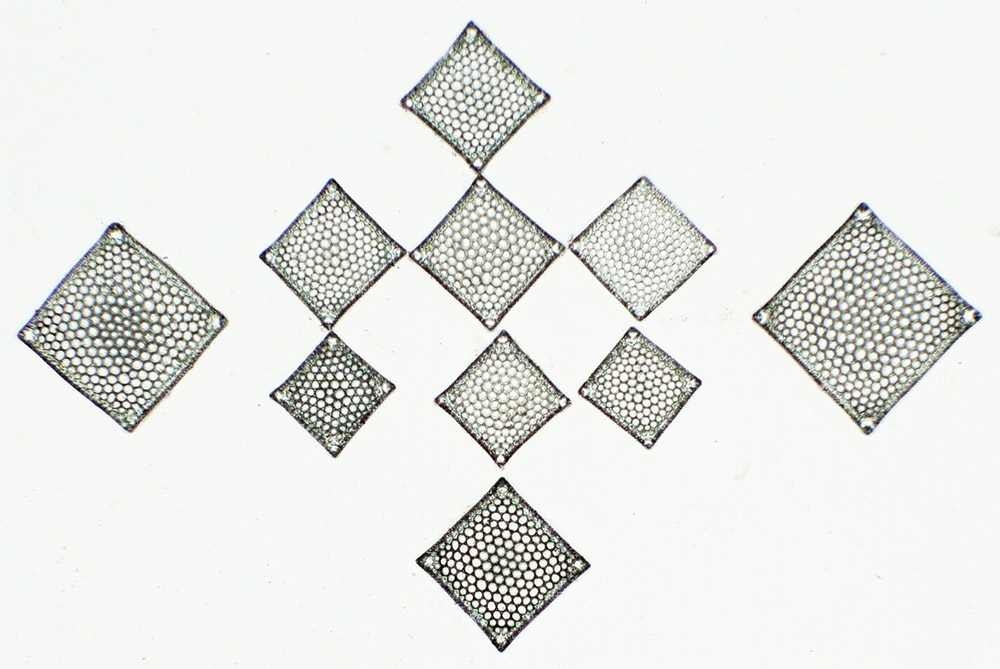 Figure 3. An arrangement of 8 unnamed diatoms from Oamaru, New Zealand, prepared in 1942 by E. Wainwright (see Figure 1).
&nbsp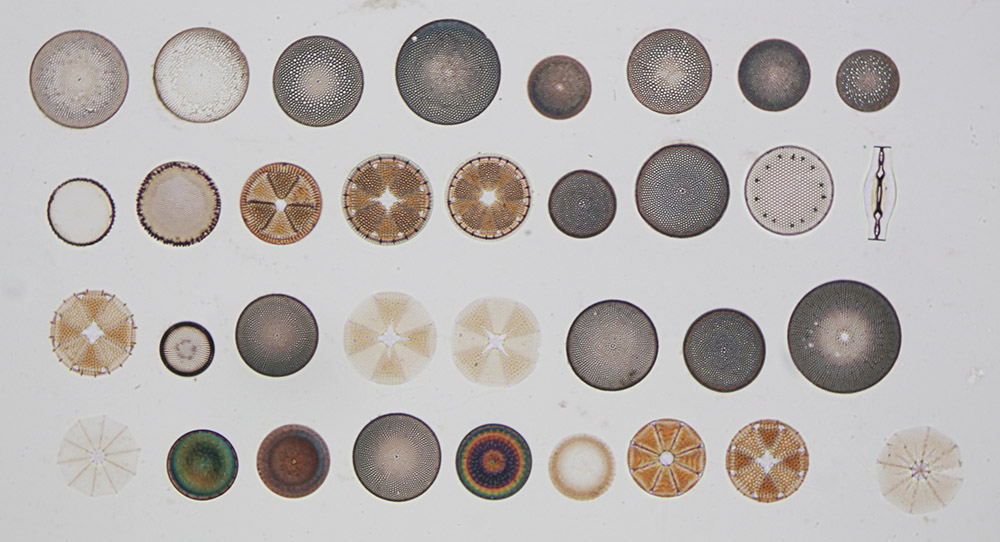 Figure 4. Array of 34 diatoms of various species from Dunkirk, France, prepared in 1944 (see Figure 1).
&nbsp
Ernest Wainwright was born on January 23, 1888, in Alford, Lincolnshire, England. He was at least the fifth child, and third son, of George and Betsy Ann Wainwright. George worked as manager of a shoe shop.
Ernest enlisted in the Army in 1909, joining the Fifth Lincolnshire Regiment. His occupation was listed as "assistant teacher", and he was recorded as living with his parents on Market Place, Alford. He was described as being 5 feet 8 1/2 inches tall (173 cm) and having a 35 1/4 inch chest (90 cm). Ernest's enlistment appears to have been part-time: the 1911 census recorded him as an "elementary school teacher", and boarding with a widow in Alford.
Wainwright married Mabel Rider during the autumn of 1917, in Lincoln.
He was called back to the Army during the First World War, and served in the Fourth Reserve Lincolnshire Regiment. Wainwright must have served in a combat area, as he was awarded both the British War Medal, which indicates active service during the war, and the Victory Medal, which indicates service in a war zone.
After the war, Ernest returned to teaching, and eventually grew interested in microscopes and diatoms. He was a member of the Lincolnshire Naturalists' Union by 1936. He then lived at 208 West Parade, Lincoln. By 1939, Ernest and Mabel had moved to 99 Nettleham Road, Lincoln. He was then headmaster of an elementary school. Mabel Wainwright died at home on January 21, 1945.
The 1948 Lincolnshire Naturalists' Union Presidential Address, by S.H. Robinson, focused on microscopes, with particular emphasis on those produced during the 1800s by Powell and Lealand. Those high-quality instrument were still in regular use during the mid-20th century. Robinson made special note of the "ring stage No. 1 with binocular body" that was owned by Ernest Wainwright, and described it as a "beautiful example".
Also during 1948, Wainwright served as Secretary of the microscopy branch of the Lincolnshire Naturalists' Union.
Wainwright published a short article in The Microscope in 1951, which described some of his techniques for mounting diatoms (Figure 4).
Ernest Wainwright died on March 31, 1954.
&nbsp
Figure 5. Ernest Wainwright's 1951 paper on mounting diatoms, from "The Microscope":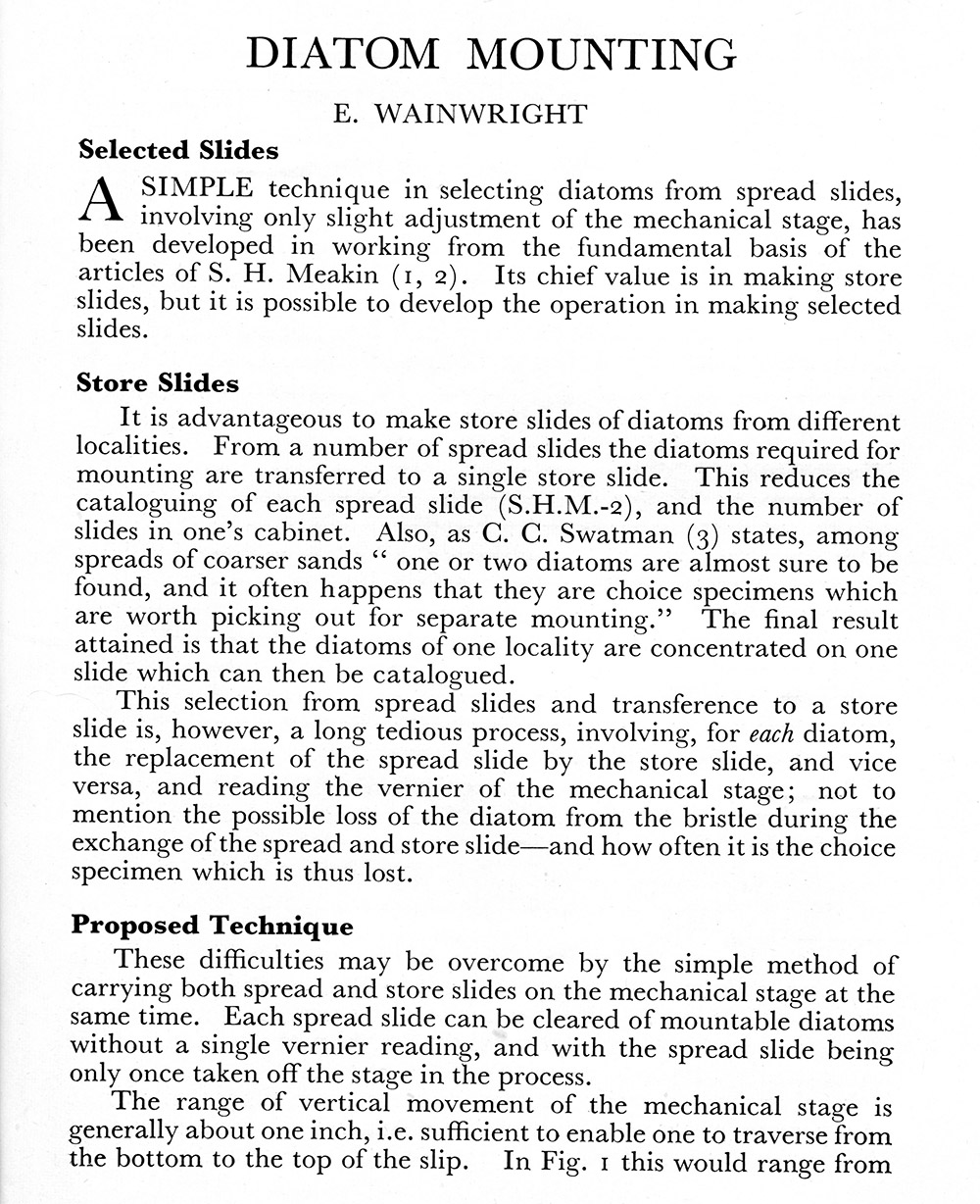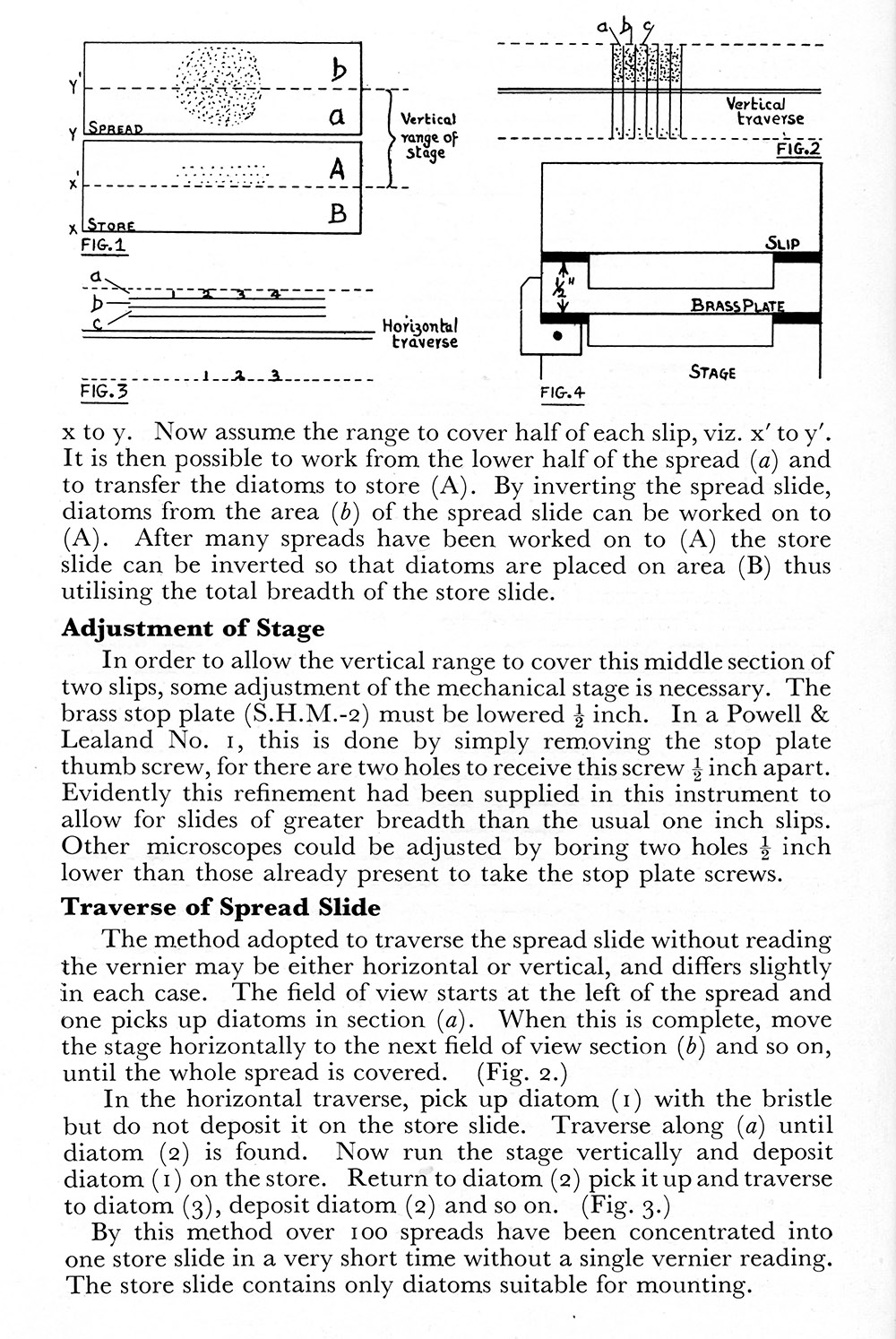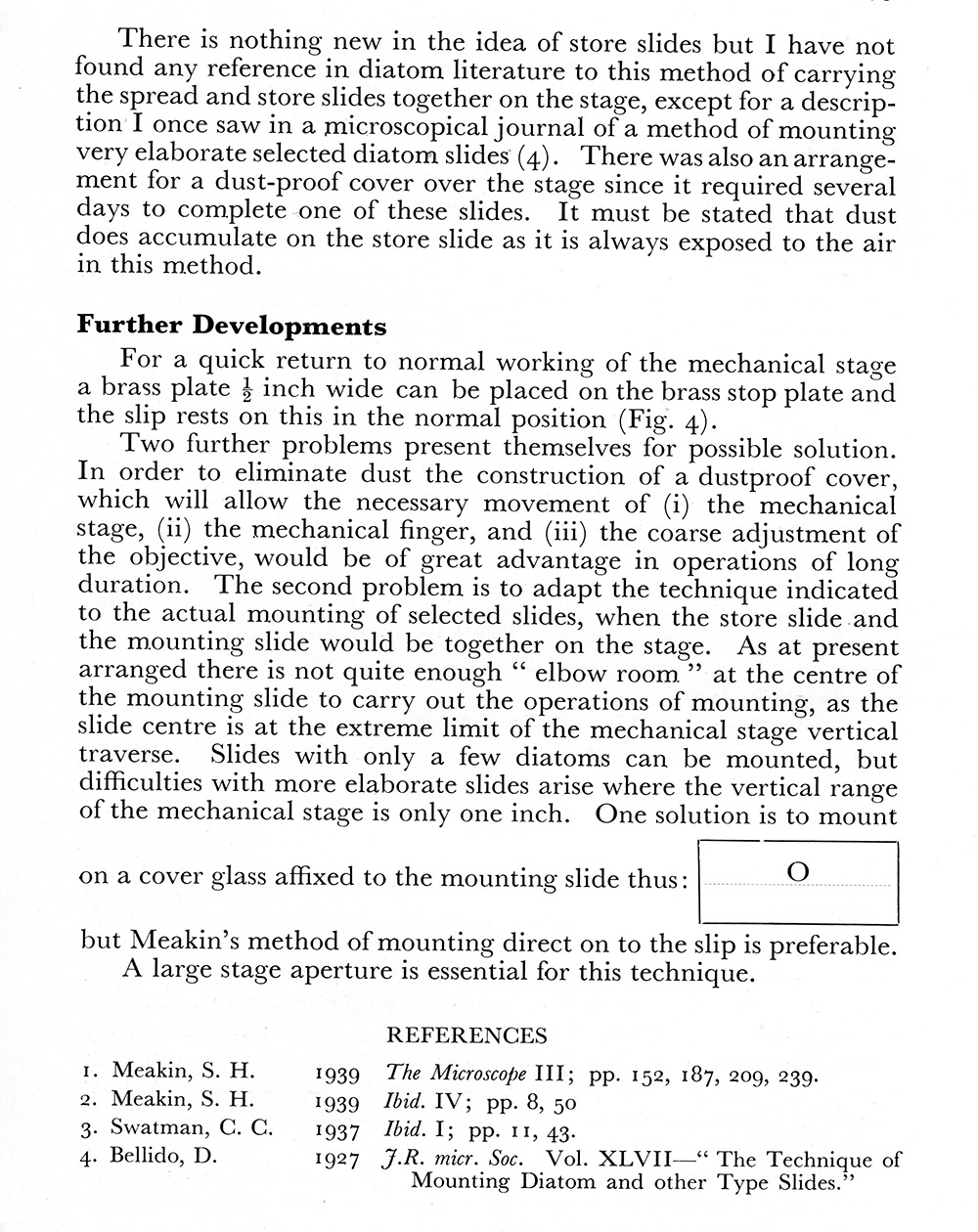 Figure 5. Ernest Wainwright's 1951 paper on mounting diatoms, from "The Microscope".
&nbsp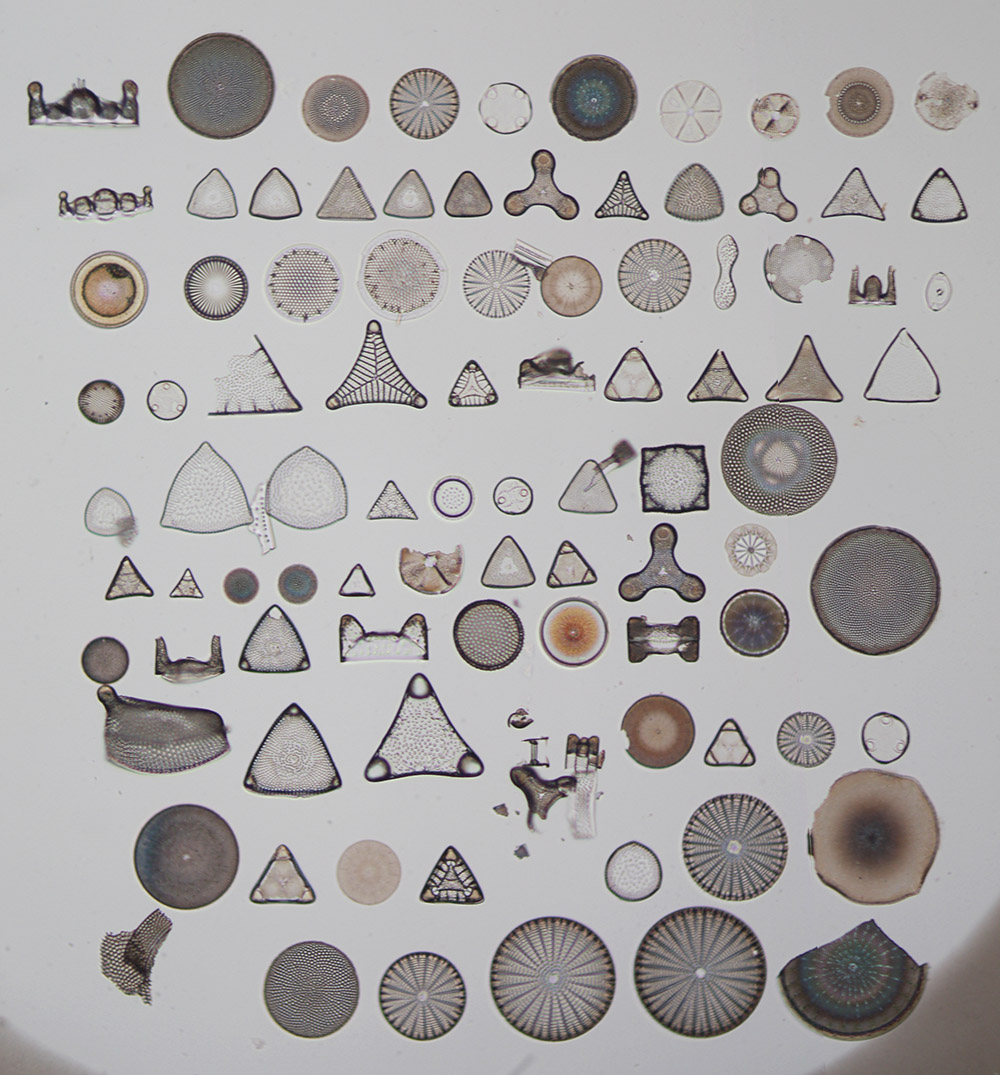 Figure 6. An arrangement of diatoms from Joe's River, Barbados, prepared in January, 1954 by E. Wainwright (see Figure 1).
&nbsp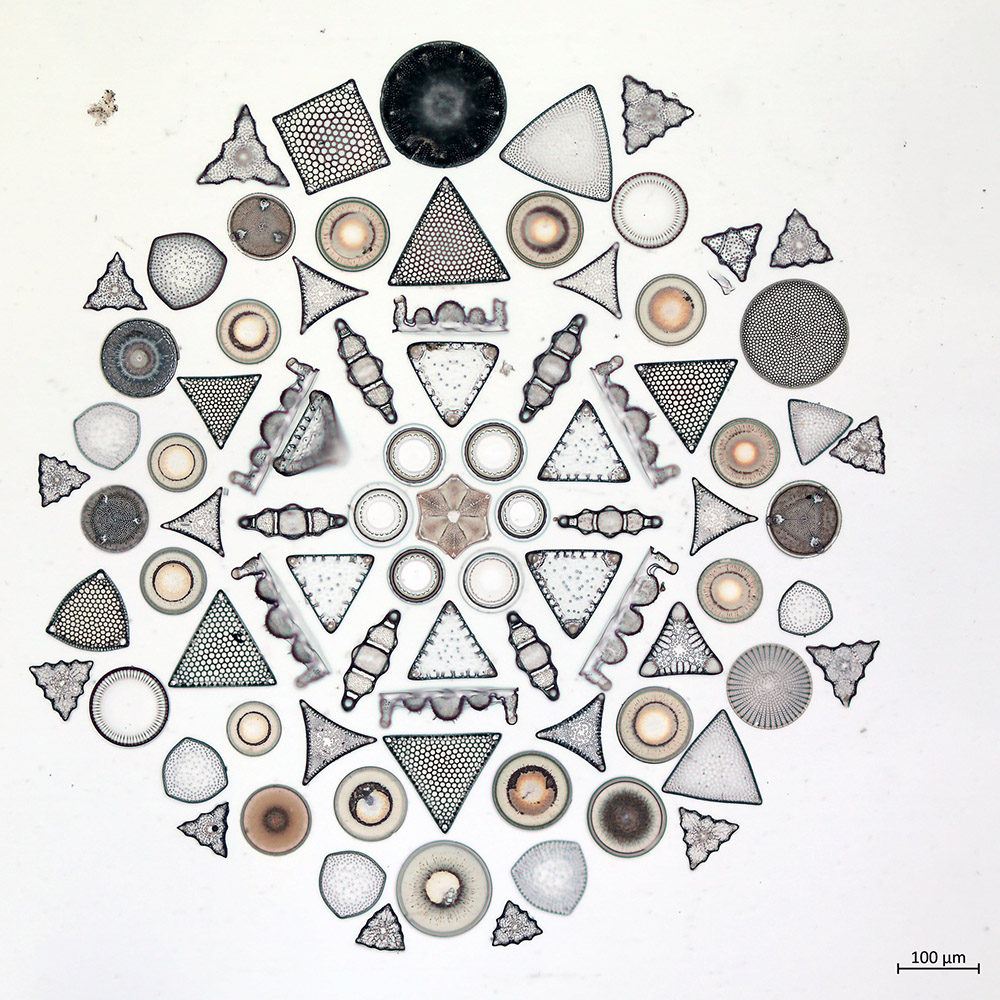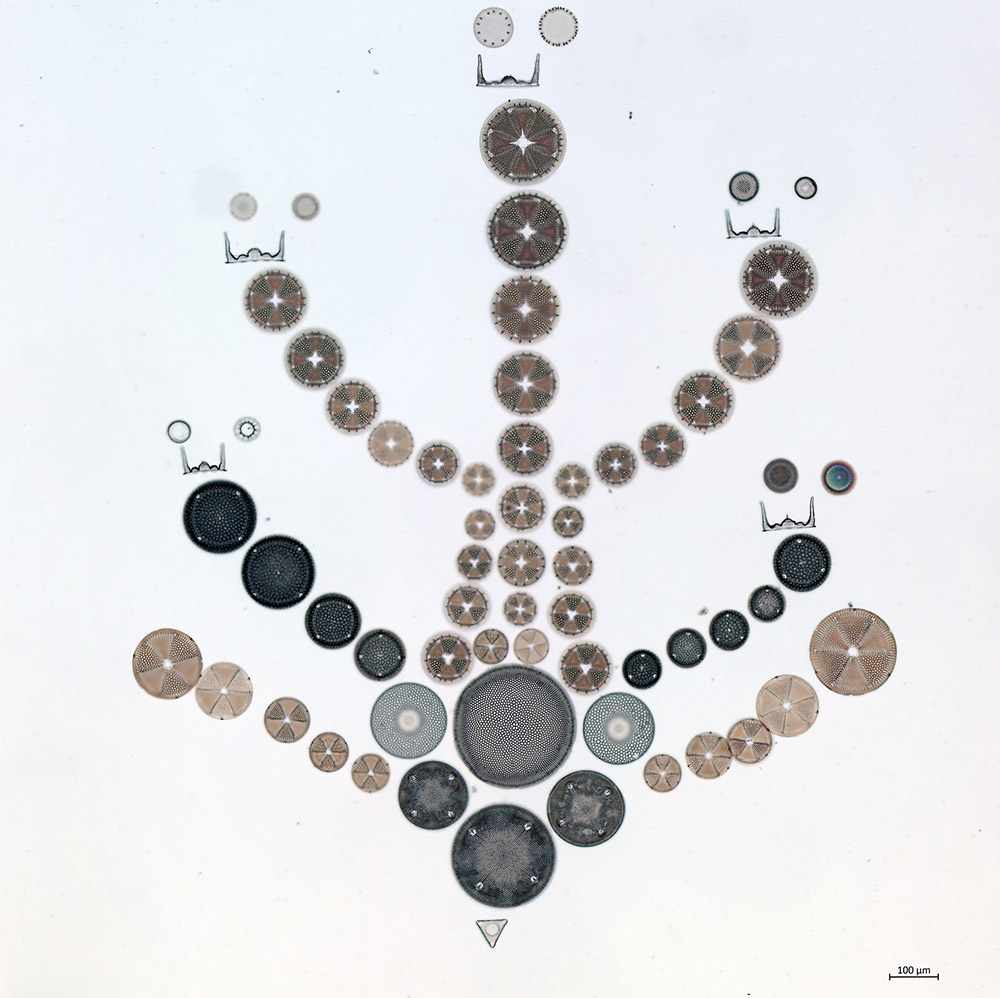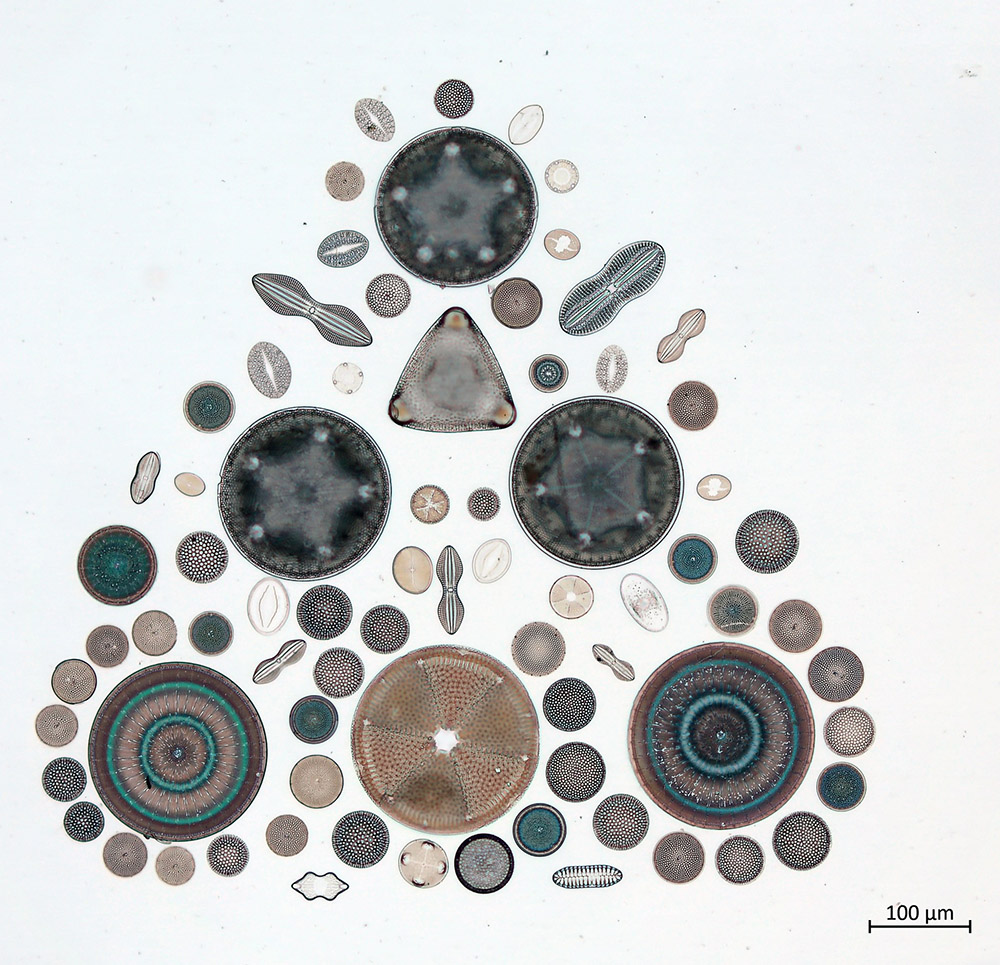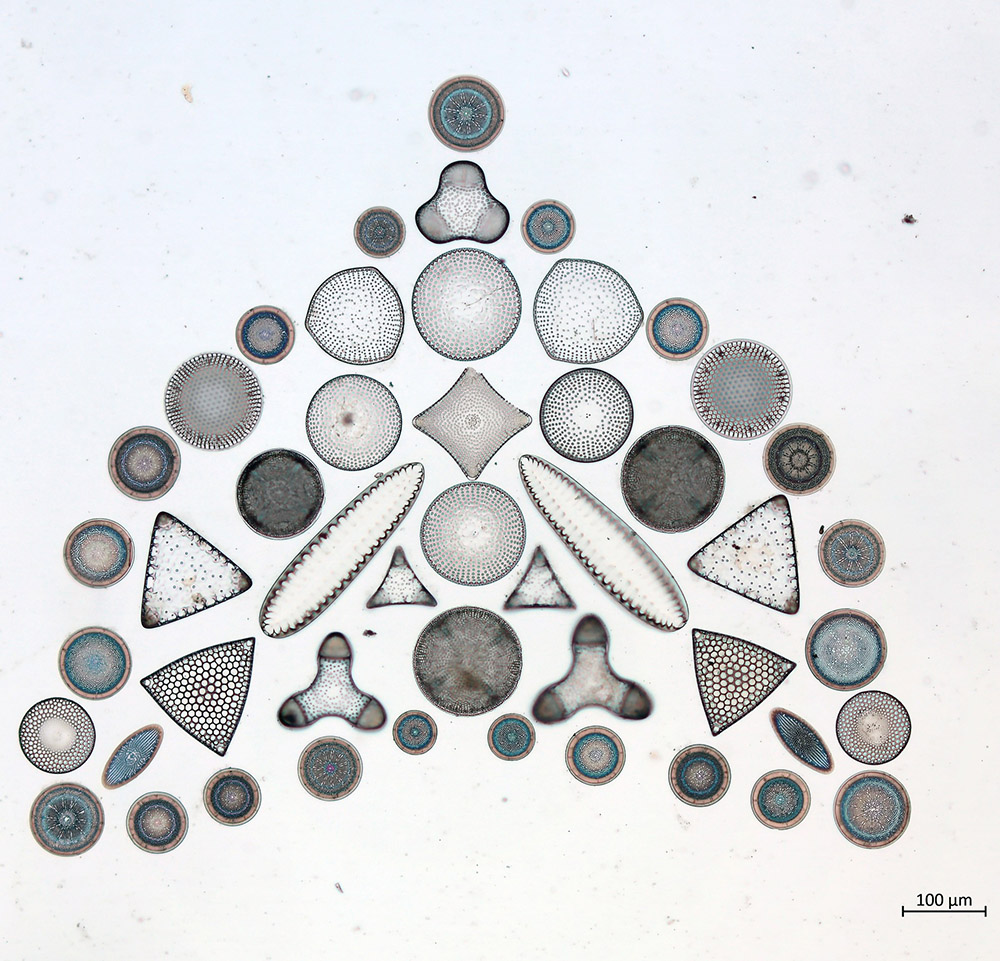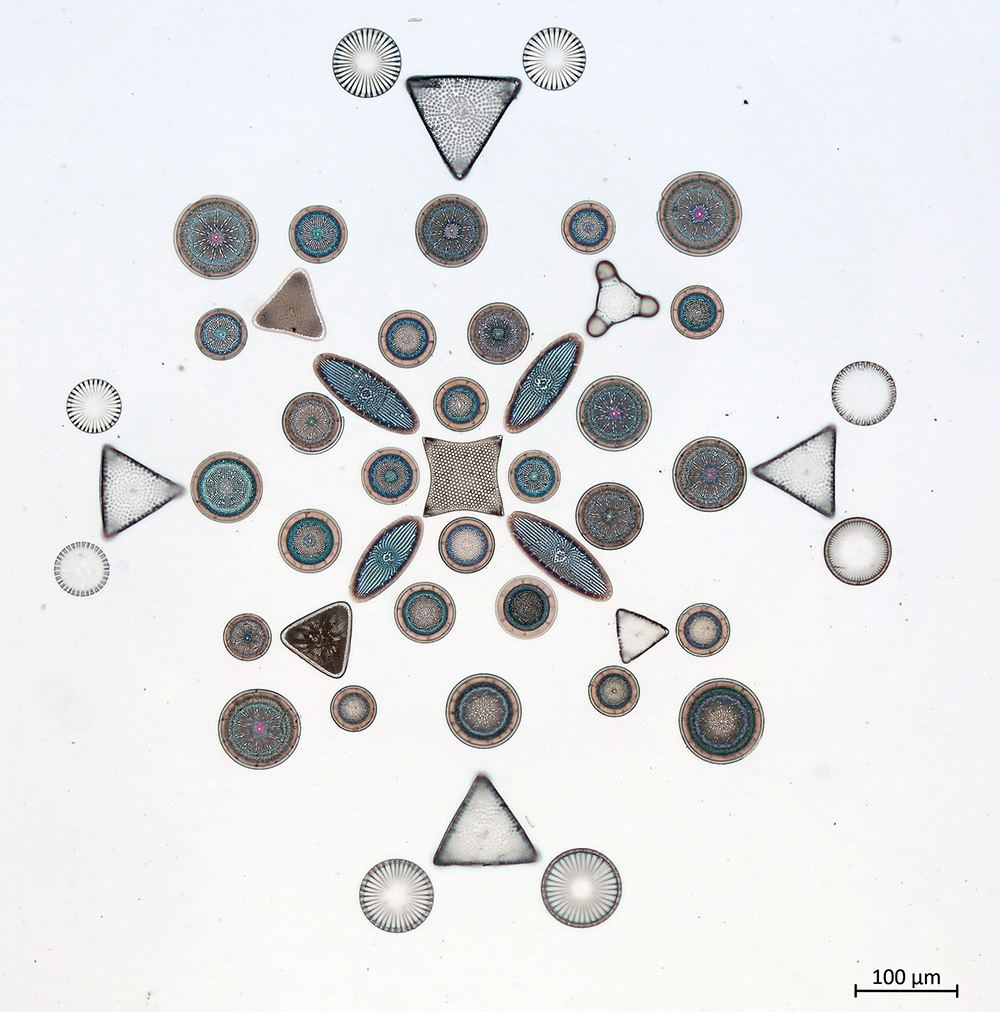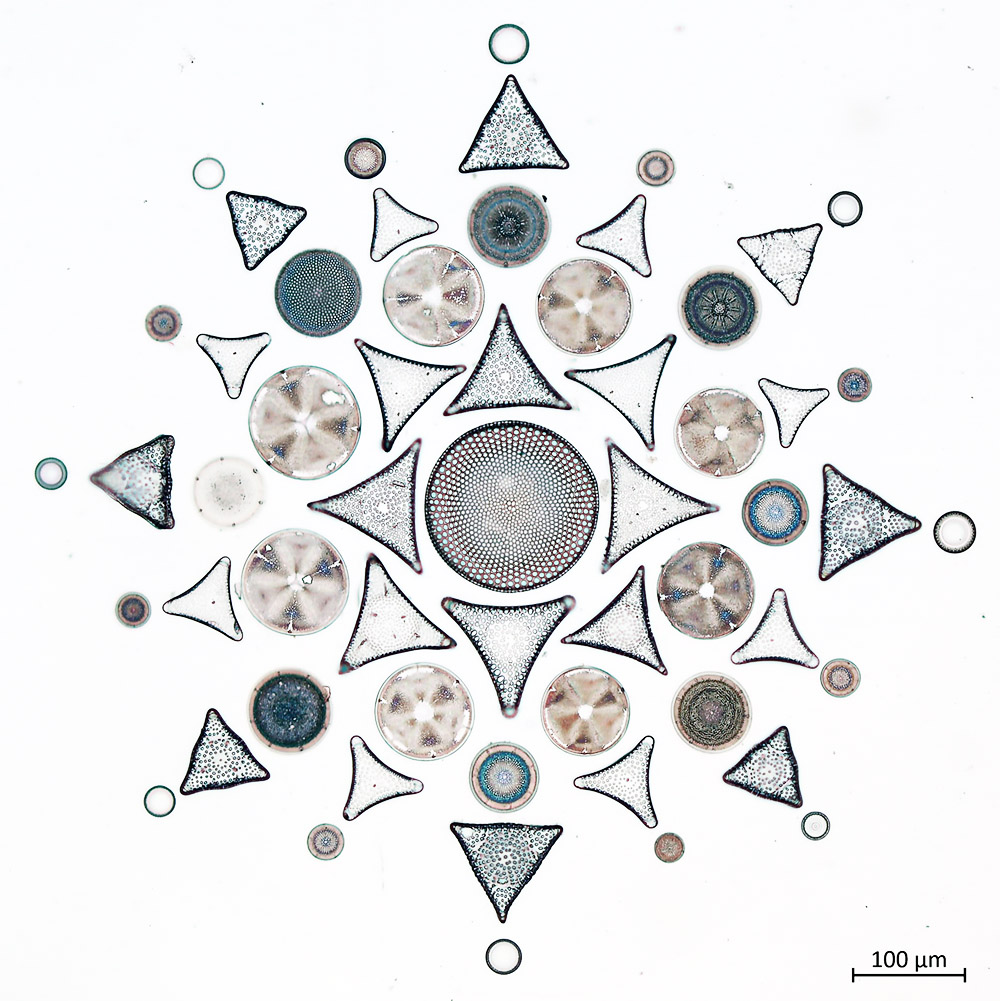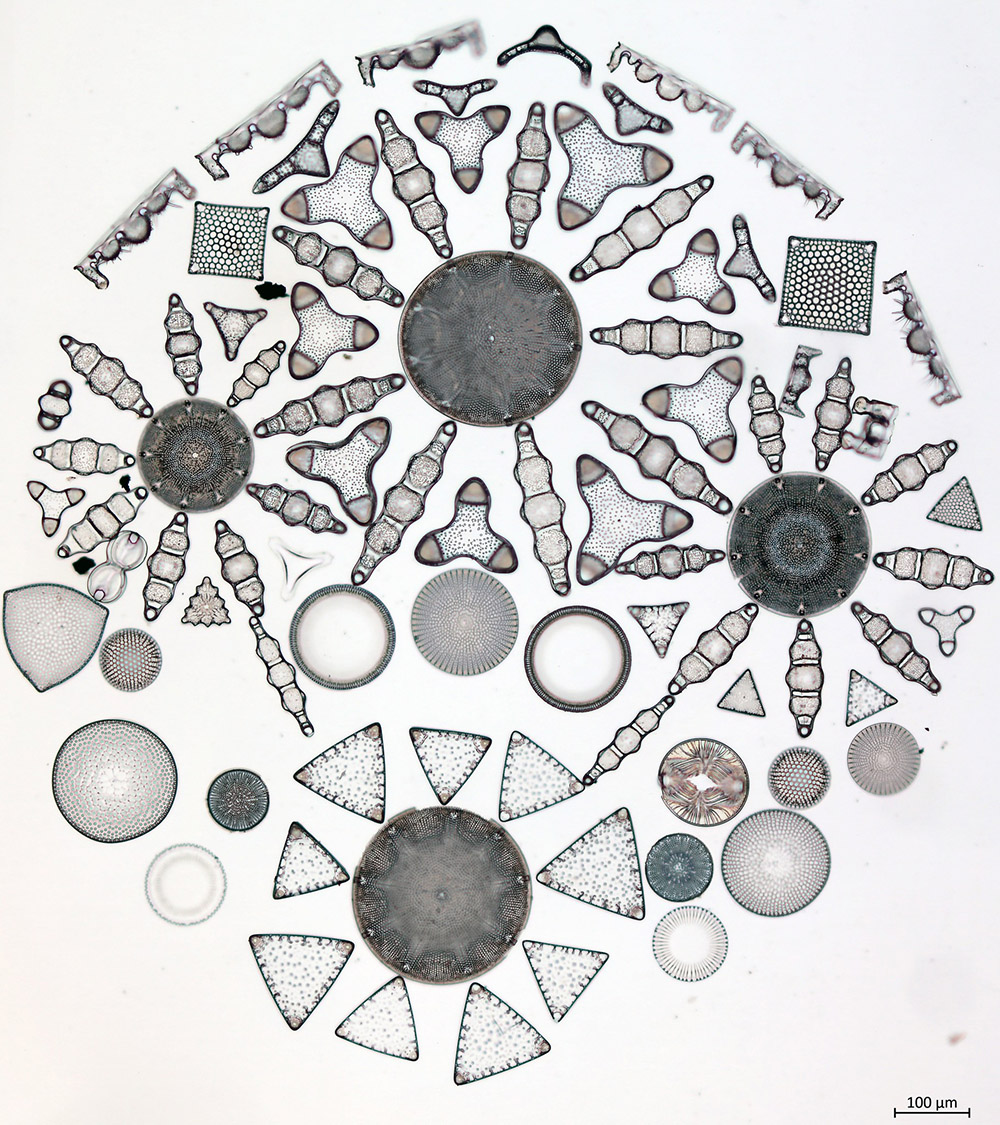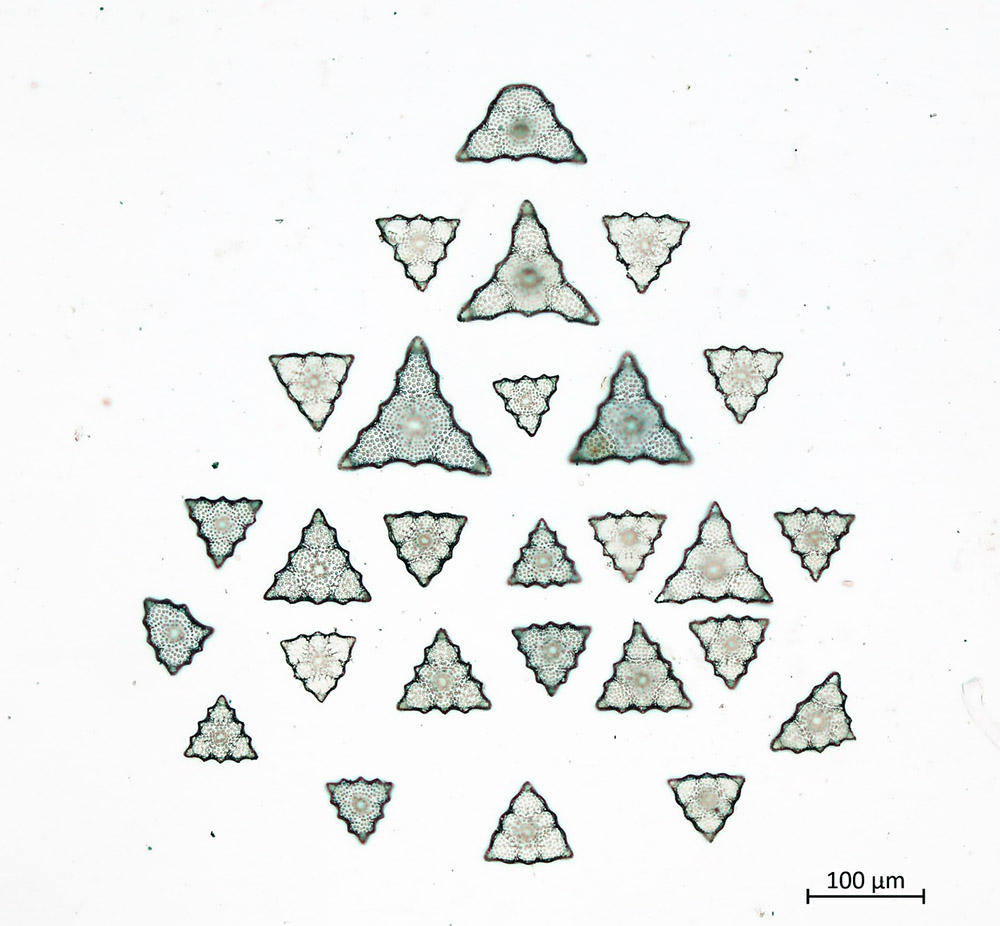 Figure 7. Arranged diatoms by E. Wainwright. Images generously provided by Ian Jones.
&nbsp
Acknowledgement
Many thanks to Ian Jones for providing photomicrographs of Wainwright slides in his collection.
&nbsp
Resources
Bracegirdle, Brian (1998) Microscopical Mounts and Mounters, Quekett Microscopical Club, London, pages 96 and 180, Plate 38-A
England census and other records, accessed through ancestry.com
Lincolnshire Naturalists' Union, Transactions (1935-1938) Members, Vol. 9
Lincolnshire Naturalists' Union, Transactions (1947-1950) "List of Officers, 1948, Microscopy … Secretary: E. Wainwright, 99 Nettleham Road, Lincoln", Vol. 12
Probate of the will of E. Wainwright (1954) "Wainwright Ernest of The Green Gate Sudbrooke Lincoln died 31 March 1954 Probate York 28 July to George Kenneth Wainwright site agent. Effects £6024 6s 8d", accessed through ancestry.com
Robinson, S.H. (1948) Presidential address: A short history of the microscope, with special reference to the microscopes of Messrs. Powell and Lealand, London, Lincolnshire Naturalists' Union, Transactions, Vol. 12, pages 12-31
Wainwright, Ernest (1951) Diatom mounting (selected slides), The Microscope, Vol. 8, pages 173-175