William Dickerson Wickes, 1844 - 1910
by Brian Stevenson
last updated February, 2023
W.D. Wickes was an enthusiastic amateur microscopist and biologist. He was a member of the Royal Microscopical Society, the Quekett Microscopical Club, the Linnean Society, and the Ray Society.
Considering his interest in microscopy, Wickes undoubtedly prepared a number of microscope slides. However, those that are known to bear his name were prepared by other people. Figure 1 shows slides by professional slide-makers John Barnett and Amos Topping that bear additional labels with Wickes' name and motto.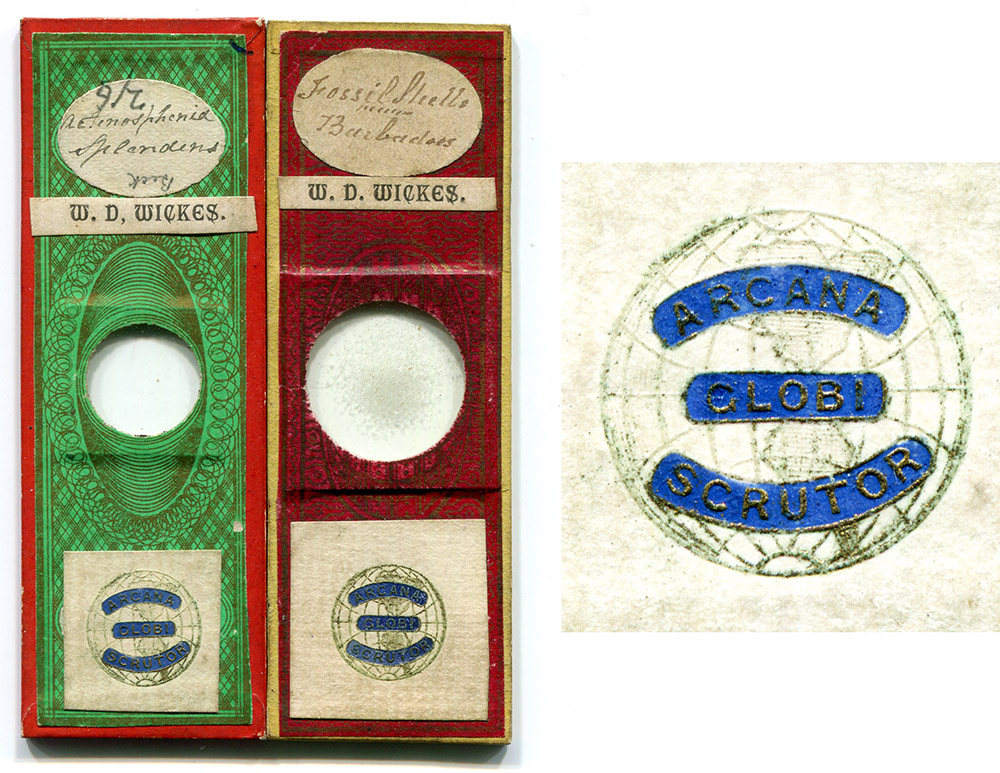 Figure 1. Two microscope slides that were once owned by W.D. Wickes. He attached labels with his name and the motto "Arcana Globi Scrutor" ("Investigator of the secrets of the Globe"). The illustrated slides were prepared by professional slide-makers (left to right) John Barnett (1816-1882) and Amos Topping (1831-1900). It is probable that Wilkes bought of both of these slides from their makers.
&nbsp
William Dickerson Wickes was born on November 17, 1844, in Camberwell, Surrey, England. His father, William Hawes Wickes, operated warehouses on the docks along the Thames River. "Dickerson" was the maiden name of his mother, Georgianna.
Young William was working full time when a teen. The 1861 census reports that the 16 year-old was then a "commercial clerk" for a "lead, oil, and color warehouse". He and his father supported the large Wickes family, which consisted of the mother, 6 younger siblings, and Georgiana's widowed mother. The family could afford a domestic servant. Father William Hawes Wickes died in 1867, at the age of only 48.
Our microscopist was evidently capable of supporting his mother and siblings. He was financially stable enough to marry Marian Storie in 1870. The 1871 census showed William, Marian, and their two month old son living with William's mother and 6 siblings in Mile End Town, Middlesex. William's occupation was listed as "ship broker's clerk".
William Wickes joined the Quekett Microscopical Club on June 25, 1880. His joining is the earliest record I found of Wickes' involvement with microscopy or science. He did not make any formal presentations to this or any other group, as far as I can tell. The slides that he exhibited at meetings were probably commercial preparations, as the specimens would have been beyond his ability to prepare: "skin from pad of dog's foot, opaque injection" (1882), "intestine of jay" (1882), and "stomach and ovary of cat" (1883).
The 1881 census listed Wickes' occupation as "banker's clerk". He, Marian, and their 5 young children now lived at 3 Cottage Grove, Mile End Town. They enjoyed the assistance of a domestic servant. By 1891, they had moved to 32 Burlington Gardens, Acton, Middlesex.
On April 2, 1891, William Wickes was admitted as a Fellow of the Linnean Society of London. Also during the 1890s, he became a member of the Ray Society, a scientific publishing society that produced books for members/subscribers.
William attended meetings of the Royal Microscopical Society. He exhibited slides of "crystal of sulphate of copper and magnesia; platinocyanide of tetrium(sic)" at the April 4, 1894 RMS Annual Conversazione. He became a Fellow of the RMS around 1900.
The 1905 Naturalists' Universal Dictionary noted that Wickes was particularly interested in entomology.
The 1908 list of members of the Quekett Microscopical Club listed Wickes with notations that he was still a Fellow of the Linnean Society and the Royal Microscopical Society. He then lived in Southend-on-Sea, Essex.
William D. Wickes died in London on November 12, 1910, at the age of 66.
&nbsp
Resources
Baptism record of William Dickerson Wickes (1845) Parish records of St. George, Camberwell, accessed through ancestry.com
Buckler, William (1895) The Larvae of the British Butterflies and Moths, Ray Society, London, Issue 73, list of subscribers
England census and other records, accessed through ancestry.com
Journal of the Quekett Microscopical Club (1880) Members, "June 25, 1880, Wickes, Wm. Dickerson, 65 Malmesbury-rd., Bow, E."
Journal of the Quekett Microscopical Club (1881) Members, "June 25, 1880, Wickes, Wm. Dickerson, 3 Cottage-grove, Bow-road, E."
Journal of the Quekett Microscopical Club (1882) Special Exhibition meeting, page 133
Journal of the Quekett Microscopical Club (1883) Special Exhibition meeting, page 248
Journal of the Quekett Microscopical Club (1891) Members, "June 25, 1880, Wickes, W.D., F.L.S., 32, Burlington gardens, Acton, W."
Journal of the Quekett Microscopical Club (1899) Members, "June 25, 1880, Wickes, W.D., F.L.S., 32, Burlington gardens, Acton, W."
Journal of the Quekett Microscopical Club (1901) Members, "June 25, 1880, Wickes, W.D., F.L.S., F.R.M.S., 3, Cumberland Road, Acton, W."
Journal of the Quekett Microscopical Club (1904) Members, "June 25, 1880, Wickes, W.D., F.L.S., F.R.M.S., 20, Warrior Square, Southend-on-Sea"
Journal of the Quekett Microscopical Club (1908) Members, "June 25, 1880, Wickes, W.D., F.L.S., F.R.M.S., 20, Warrior Square, Southend-on-Sea"
Journal of the Royal Microscopical Society (1894) Conversazione, page 413
The Naturalists' Universal Directory (1905) "Wickles (sic) W.D., 32 Burlington Gardens, Acton W Ent"
Probate of the will of William Dickerson Wickes (1910) "Wickes William Dickerson of 20 Warrior-square Southend-on-Sea Essex died 28 November 1910 at 22 Old Broad-street London Probate London 21 January to Marian Maria Wickes widow. Effects £1674 14s", accessed through ancestry.com
The Zoologist (1891) Linnean Society of London, page 196